News
Batman Game Teased Again by Arkham Origins Studio
Are you ready to swoop back into Gotham? The makers of Batman: Arkham Origins are teasing a new Court of Owls game...
WB Games Montreal is at it again. This time, they've taken to Twitter to share a new image (logo?) that seems to be teasing a new Batman game. The image below almost looks like the symbol of the GCPD:
There's not a lot to really talk about in terms of confirmed information, but "Capture the Knight" certainly feels like a Batman-related piece of text. Actually, this studio's Twitter account has used that very tagline before:
Rumors have been circulating for ages that WB Montreal is working on something Bat-based, with a popular theory suggesting that the villainous Court of Owls could be the focus of the new game. Back in August, concept art for an allegedly cancelled WB Montreal Batman game was leaked. That title would have followed on from Arkham Knight and put Damian Wayne in the Bat-suit.
Things finally seem to be moving forward for WB Montreal, though. The studio started teasing the new game over the weekend. To celebrate mark Batman Day, the team from Montreal tweeted for the first time since 2015, posting a video of a Bat symbol shining in Montreal, intercutting mysterious still owl-themed symbols throughout. You can watch the video below…
And this fan's tweet gives you a closer look at those symbols…
Comic book writer Scott Snyder, who created the criminal cabal known as the Court of Owls back in 2011, also quote-tweeted the original video with the caption "Wait for it… #bewarethecourtofowls":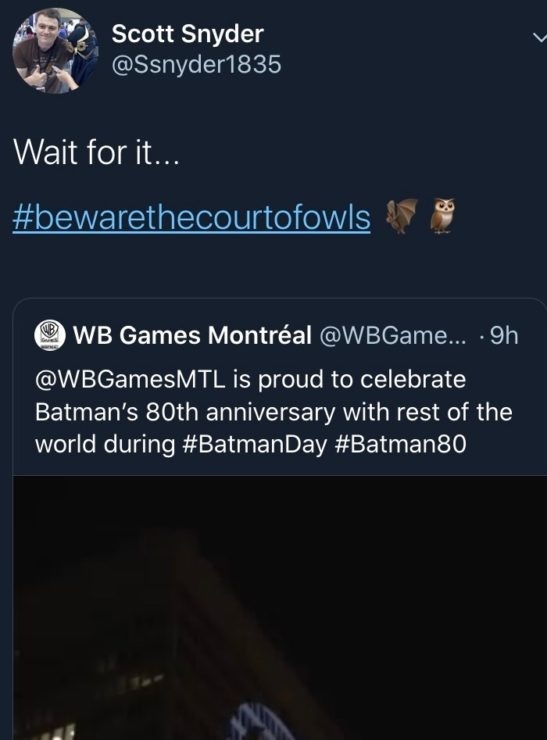 Snyder's tweet, which he quickly deleted, was screengrabbed by fans and shared widely around the web. Many fans took the retweet as a fairly iron-clad confirmation that WB Montreal is working on something that will feature Snyder's bird-themed brigade of baddies.
Building on the Batman Arkham universe that Rocksteady created, WB Montreal previously brought us the Batman: Arkham Origins prequel game and theBatgirl: A Matter of Family DLC, the latter of which served as an optional add-on to Rocksteady's Arkham Knight. With so much time having passed sinceArkham Knight, we would hope that WB Montreal's new project will be a full game rather than another piece of DLC, but whether it's another prequel (like Arkham Origins) or a sequel (like that canceled project) is anyone's guess.
Rocksteady, the creator of the Arkham series, has also been hiring marketing people to promote "an exciting AAA game," but the exact nature of this title – and whether it includes Gotham's Dark Knight – remains to be seen. We do know it isn't a solo Superman title, though.
Whatever happens, we're always happy to have new superhero games to play. The Batman Arkham formula may get a bit repetitive, but enough time has passed since the last outing that we'd happily swoop back into Gotham for a new adventure. We'll keep you posted as we hear more…
Read and download the Den of Geek Lost In Space Special Edition Magazine right here!