News
Atari Is Getting Into the Hotel Business
You'll soon be able to stay in a gaming-themed hotel courtesy of Atari.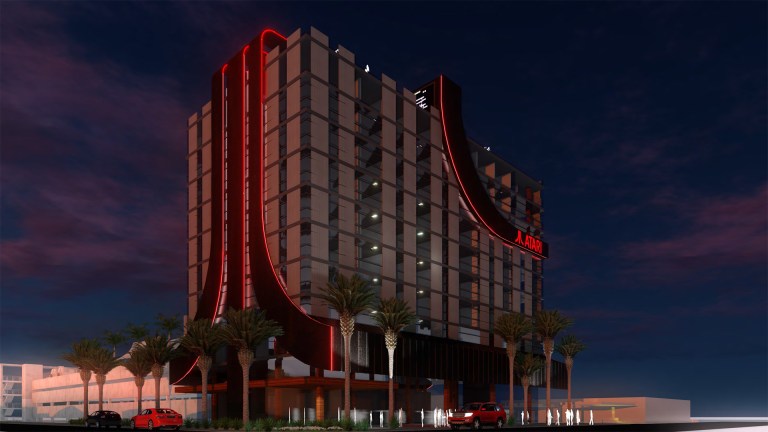 Are you ready to immerse yourself in the world of games like never before? Well, the big-wigs at Atari have come up with a unique new experience to offer you: they're planning to open a chain of Atari-themed hotels around the USA.
No, we aren't making this up. The former console-making giant Atari has announced through a new website, called AtariHotels.com, its intention to build "video game-themed Atari Hotels in the United States, with the first location breaking ground in Phoenix, AZ later this year."
The announcement vaguely describes Atari Hotels as "a unique lodging experience combining the iconic brand with a one-of-a-kind video game-themed destination." That's a bit of a wishy-washy description, but the official cyberpunk-looking concept art (which we've included at the top of this page) will probably be enough to get some people excited.
As for what you'll actually be able to experience at an Atari Hotel, we're told these new complexes will "level up hotel entertainment with fully immersive experiences for every age and gaming ability, including the latest in VR and AR." At least none of these activities depends on the weather!
"Select hotels will also feature state-of-the-art venues and studios to accommodate esports events," the official announcement adds, pointing to another way in which Atari is hoping to make some money from this new venture. If they can attract big games companies to host some esports events, as well as pulling in punters that want a geeky vacation destination, perhaps Atari could be onto something here.
It's clear that the bosses at Atari Interactive are keen for the brand to find new relevance. As well as opening these hotels, the company has also been developing TV game shows, arcade-style cabinets, mobile games, and the Atari VCS console. Whether these seemingly-scattershot ideas are going to propel the Atari name back to the upper echelons of gaming excellence remains to be seen, but we would very much like to try out one of these hotels.