News
Animal Crossing New Horizons: Fireworks Show Dates, Start Time, and New Items
Animal Crossing: New Horizons' fireworks show event returns in August. Here's what you need to know about the special occasion.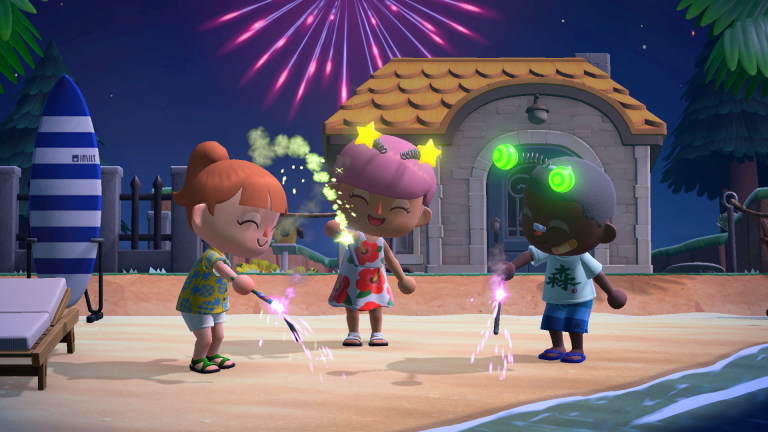 If you've taken a break from Animal Crossing: New Horizons since the game became one of last year's biggest hits, the August fireworks show event may just be the perfect time to get back in on the fun.
The fireworks show isn't exactly the deepest or most rewarding limited-time event in New Horizons, but in a strange way, its limited commitment may make it that much more appealing to lapsed New Horizons players who are looking for an excuse to visit their islands again without feeling like they need to commit to the daily grind.
So if you want to check out a few fireworks (including your own custom designs), earn some prizes, and just hang out with your New Horizons neighbors again, here's what you need to know about the ongoing event:
Animal Crossing New Horizons: 2021 Fireworks Show Dates and Start Time
Just as it was last year, the fireworks show in Animal Crossing: New Horizons runs every Sunday throughout the month of August starting at 7 PM (local time). Both Northern and Southern Hemisphere players are able to participate in the event.
Here's a list of the currently scheduled 2021 fireworks show dates:
August 1st, 2021
August 8th, 2021
August 15th, 2021
August 22nd, 2021
August 29th, 2021
Animal Crossing New Horizons: How Long Does the 2021 Fireworks Show Last?
The annual fireworks show is certainly one of Animal Crossing: New Horizons most beautiful events, but a big part of the reason it's so beloved is that it's ultimately only viewable for a relatively brief period of time.
The New Horizons fireworks show event runs from 7 PM to 12 AM on the five Sundays listed above. The fireworks can be seen in the sky above your village during that time period, and you'll also be able to participate in all event-related activities until the clock strikes midnight. You should have more than enough time to see everything this event has to offer, but just be aware that the show's limited dates and limited times mean that you will have to save the dates in order to participate.
Animal Crossing New Horizons: How to Make and Submit Custom Firework Designs
One of the best things about the fireworks show event is the ability to create custom fireworks designs. While the quality of those custom designs is obviously up to your own abilities, the actual submission process is thankfully pretty painless.
To create and submit custom fireworks designs, you just need to speak to Isabelle during the fireworks show event dates/times (you should find her wandering around the Town Plaza). She'll then ask you to submit up to 10 custom firework designs from the same design portal you use to make every other custom design. The game does a surprisingly good job of converting your designs into fireworks, but just know that some designs will naturally look better than others.
You should also know that your firework designs will be launched in the order you submitted them and that it may take a little while for your designs to actually appear in the night sky. When your fireworks appear is based on when you submitted them, but you should see all of them before the day's festivities are over.
Animal Crossing New Horizons: What is Redd's Raffle?
You probably know Redd as New Horizon's most beloved (and sometimes shady) art dealer, but he also runs a raffle that you're able to participate in during the fireworks show event.
The raffle itself is pretty simple. You just need to buy a ticket from Redd's booth (located in the Town Plaza) sometime during the festival. Each ticket costs 500 bells and is guaranteed to reward you with one of 24 event-exclusive prizes.
The bad news is that you have no control over which of the 24 prizes you'll actually receive. Furthermore, many of the possible rewards are consumable, which means that you're not going to get a lot of mileage out of them outside of event-related celebrations.
The good news is that you can buy as many tickets as you want, so as long as you've got the extra bells, you should be able to unlock everything (or even multiples of particular items you really want) eventually.
Animal Crossing New Horizons: 2021 Fireworks Festival New Items
The vast majority of the new items you can acquire during the New Horizons fireworks show event come from Redd's aforementioned raffle booth. Here are the 24 (random) items you're able to win by participating in Redd's totally on the level raffle:
Red Sparkler
Blue Sparkler
Fountain Firework
Bubble Blower
Uchiwa Fan
Pinwheel
Tweeter
Blue Balloon
Red Balloon
Yellow Balloon
Green Balloon
Pink Balloon
Ramune-Soda Frozen Treat
Orange Frozen Treat
Chocolate Frozen Treat
Plain Cotton Candy
Melon Cotton Candy
Ramune-Soda Cotton Candy
Strawberry Cotton Candy
Boba Milk Tea
Boba Coffee
Boba Strawberry Tea
Boba Mango Tea
Boba Green Tea
In addition to those raffle items, there are also four "Bopper" items you can get by speaking to Isabelle during the fireworks show. She only gives you one at a time, but since there are four items and five fireworks show dates, you should be able to collect all of them before the month is over.
Bub Bopper
Flower Bopper
Heart Bopper
Star Bopper