Sponsored
Unboxing The AndaSeat Marvel Gaming Chair
We take a closer look at AndaSeat's Marvel Gaming Chair and give our readers a chance to win one themselves!
This giveaway is presented by AndaSeat.
With WandaVision dominating the conversation in the streaming world, and Falcon and the Winter Solider on deck for Disney+, there was no better time for AndaSeat to send us a Marvel Gaming Chair to unbox. The Marvel series from AndaSeat includes Captain America, Iron Man, Spider-Man, and Ant-Man. Yes, the Ant-Man chair is full-sized just like the others.
Having our pick of the lot, we decided to go with the Captain America edition, and you'll see why it's one of their very best Marvel gaming chairs in a second.
First, let's take a closer look at the specs before we dive into the unboxing. The AndaSeat Marvel series features AD Plus PVC Leather, AD Mold Foam, 90-160 degrees of recline (ideal for midday naps), and memory pillows for back and neck support. In short, an emphasis on comfort makes this chair an excellent choice for working from home before jumping into your after hours gaming sesh.
As far as the aesthetic design goes, we received a chair worthy of the First Avenger. Let's take a look at how the Cap chair all came together. Plus, scroll on to the bottom for details on how you could win your very own Captain America Gaming Chair from AndaSeat!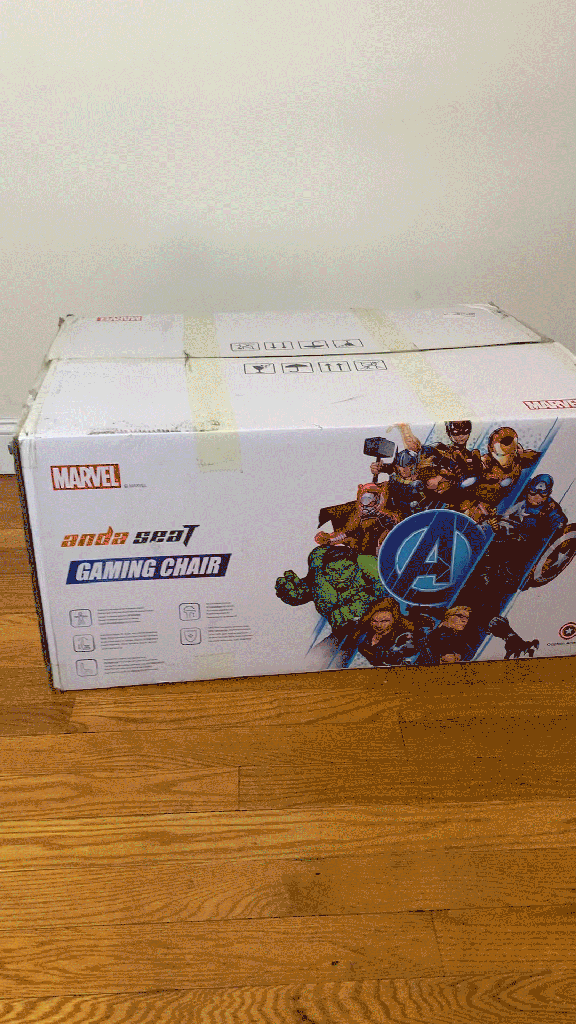 It takes a Hulk to carry the Marvel Gaming Chair box. Weighing in at 80 pounds, this is no lightweight office chair.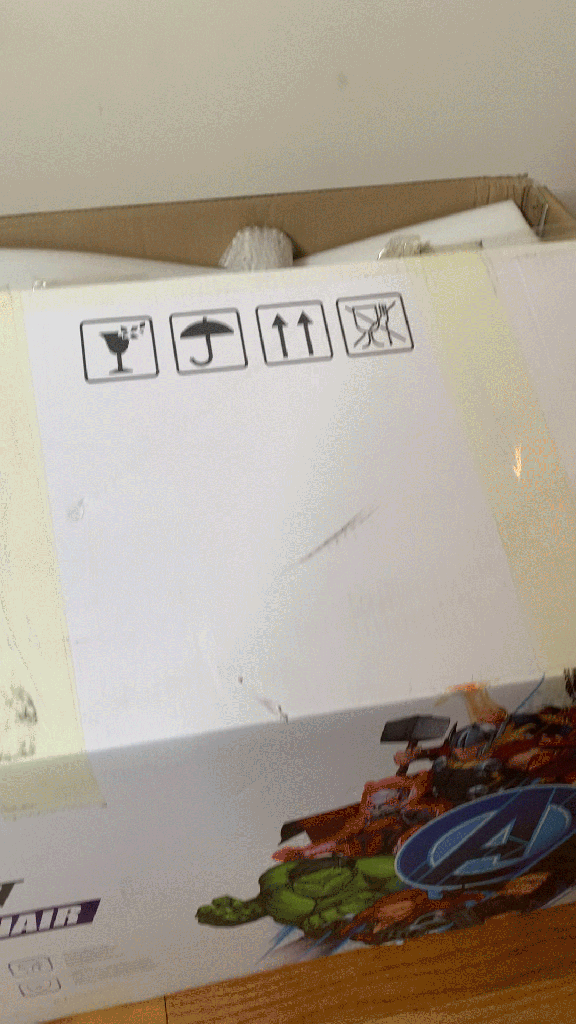 When you first open the box, you get a look at the neck pillow with Cap's "A" adorned on it. Any Avenger knows a stiff neck could seriously impact their ability to save the world, so the pillow is a welcome feature of this chair.
Below, you'll see the main piece of the chair, with Cap's logo squarely in the middle.
We'll spare you the GIFs of us fumbling to put it together. Seriously, you want no part of watching us trying to screw in the base! All joking aside, it took roughly an hour to assemble the Captain America chair. A more handy Avenger (looking at you, Tony Stark) could have got it done in 15 minutes.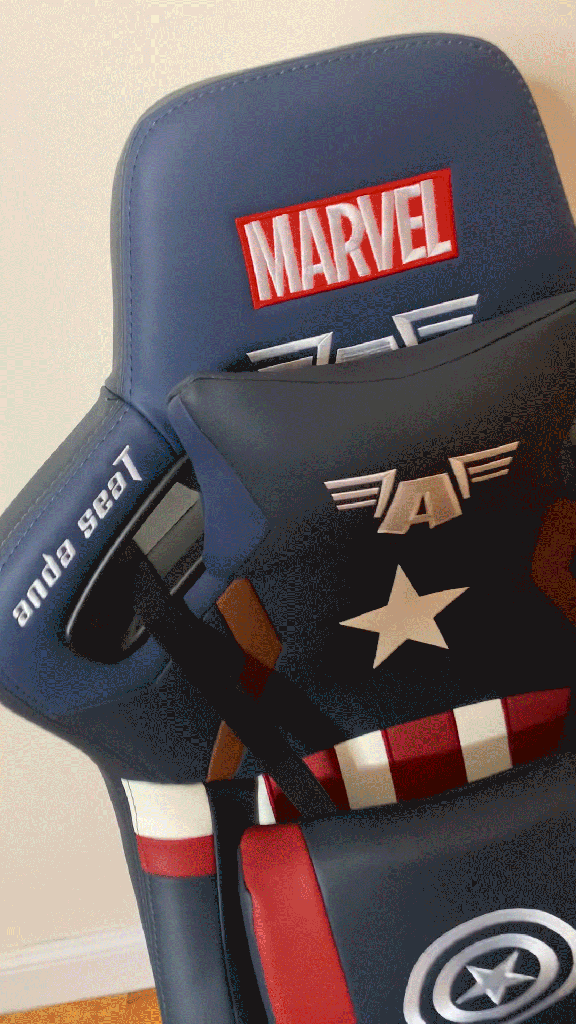 As a nice added touch, AndaSeat includes a floor mat with each chair. Cap's shield has never looked better. In the GIF above you get a good look at the lumbar support and neck pillow. Below, you'll see us having a bit too much fun giving this chair a spin.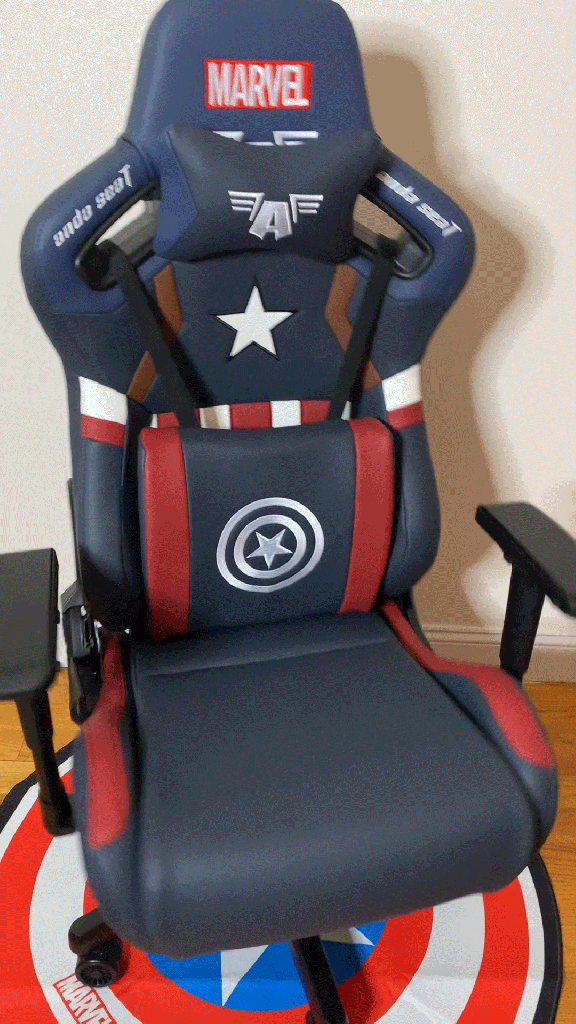 Marvel, you've done it again…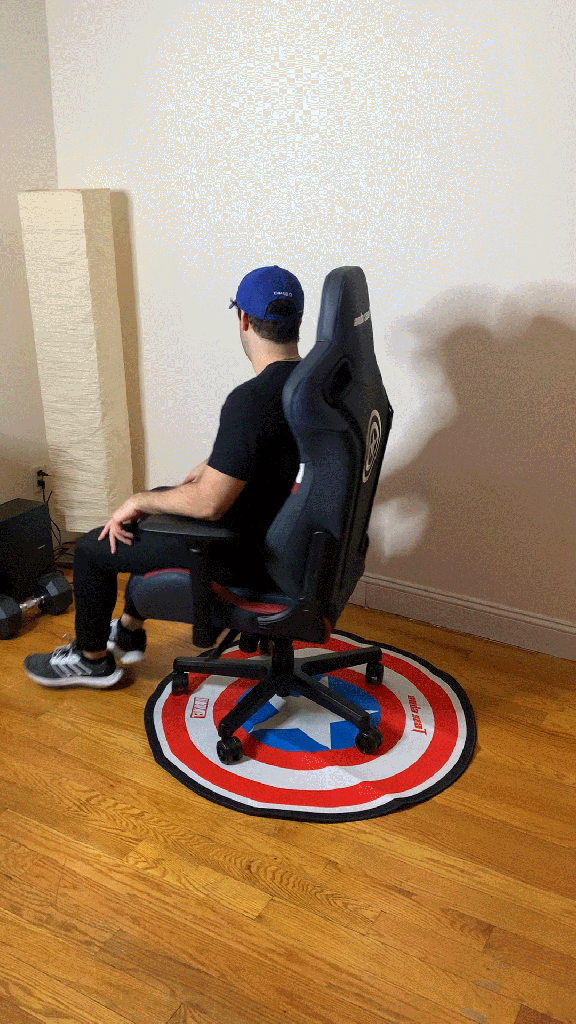 Now that the Den of Geek (home) office looks like Avengers HQ, we're working with AndaSeat to give our readers a chance to join us in the Marvel Universe. Want to win your own AndaSeat Captain America Gaming Chair? Enter below for your chance to win!
Andaseat X DenofGeek giveaway