News
Star Wars: Rare Boba Fett Toy Hits Market at Staggering Price
The greatest Star Wars collectible of them all, a rocket firing Boba Fett action figure, is once again on the market.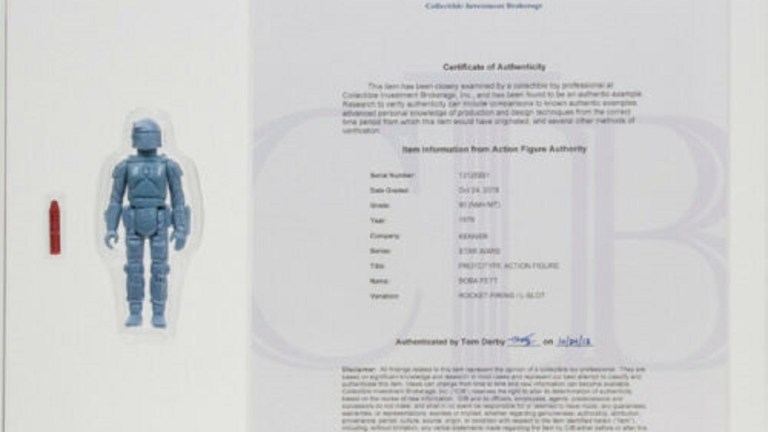 The infamous rocket-firing Boba Fett action figure prototype is up for auction…but it will cost you.
With the possible exception of getting to own a living, breathing Baby Yoda, the most exciting Star Wars item for collectors is the rocket-firing Boba Fett. Why? Because the item was never commercially available. As explained in an episode of Netflix's The Toys That Made Us and spoken about with hushed reverence online and at fandom conventions for decades, a figure of the popular bounty hunter who made his debut in the otherwise regrettable Star Wars Holiday Special was announced for sale in 1978 with an incredible action feature — a red rocket that users could fire at other toys, siblings, pets, etc.
Unfortunately, around the same time a four-year-old child died after asphyxiating following an accident involving a missile from one of Mattel's Battlestar Galactica Cylon Raider toys. The potential of being responsible for a similar accident combined with public outcry against projectile toys and engineering issues with the mechanics of the Boba Fett figure resulted in Kenner cancelling the action figure. Instead, children were disappointed to see that Boba's missile was glued into his back for all of eternity…or at least until they abandoned him in their toy chests for He-Man figures.
Yet some missile filing protoytpes remained, ones that go for amounts that will blow up your mind quicker than the Rebels destroying a Death Star. According to The Hollywood Reporter, "a year ago, another rocket-firing Fett sold for $112,926, breaking a record, ABC News reported. That record did not last long as just a few months later, someone bought another one for $185,850."
And now, it is happening again.
If you just so happen to have $225,000 lying around — and in this economy who doesn't, oh wait, shit — you can get your carefully-gloved-so-as-to-not-destroy-the-item-with-your-filthy-nerd grease-hands on a "Star Wars Vintage Prototype Boba Fett Rocket-Firing L-Slot" figure on eBay. As of this writing the auction has 1,016 watchers but no one has bought it as of yet. The seller, located in Dubai, has provided the following video to give potential buyers some more context into what they'll be purchasing (as if they didn't already know).
If someone reading this right now purchases this, can we come over and take selfies with it? As for everyone else, this is a fascinating — but super pricey — glimpse into the world of hardcore, next-level collecting.