News
Star Wars Offers Best Look at New Boba Fett Suit
As The Book of Boba Fett prepares to spotlight Star Wars' iconic bounty hunter, an action figure based on his new look has been unveiled.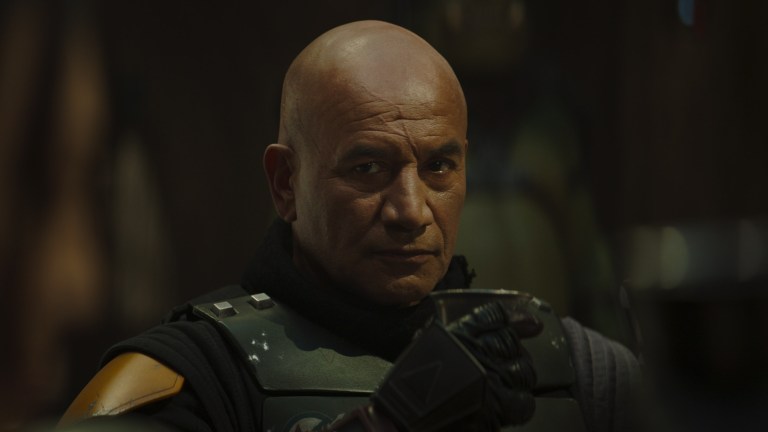 Star Wars and action figures have gone hand in hand since the very first Kenner figures were hastily solicited in advance in the infamous "Early Bird Set" carboard box back in 1977. Thus, the notion of figures for imminently-debuting Disney+ television show The Book of Boba Fett being unveiled for releases that purportedly won't occur until late-2022 is hardly unconventional. However, the touted figure photos do provide an intriguing glimpse at everyone's favorite Sarlacc-surviving bounty hunter in his new, color-popping solo series duds.
Hasbro has provided an advance look at an inevitable accompaniment to The Book of Boba Fett with two key offerings from its Star Wars: The Black Series line of 6" scaled figures: Boba Fett and cohort in intergalactic crime Fennec Shand. Yet, the reveals come with caveats, since their scheduled respective releases are still quite far away, with the accessory-heavy deluxe Boba Fett (Throne Room) ($31.49) eyed for a Fall 2022 release, and the standard Fennec Shand ($22.99) reportedly set earlier for the spring. However, in a development likely to be considered good news by collectors, the two figures will be readily available at mass retail, rather than the dreaded designation of store exclusives, which, due to existing issues exacerbated by the supply chain crisis, have proven even more difficult to obtain than they were in normal times.
Get a look at The Book of Boba Fett Black Series figures just below.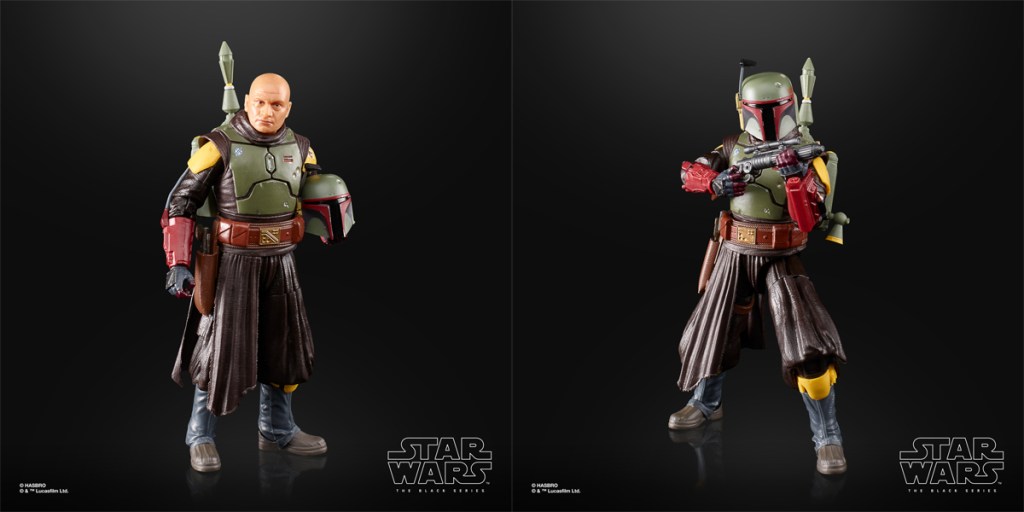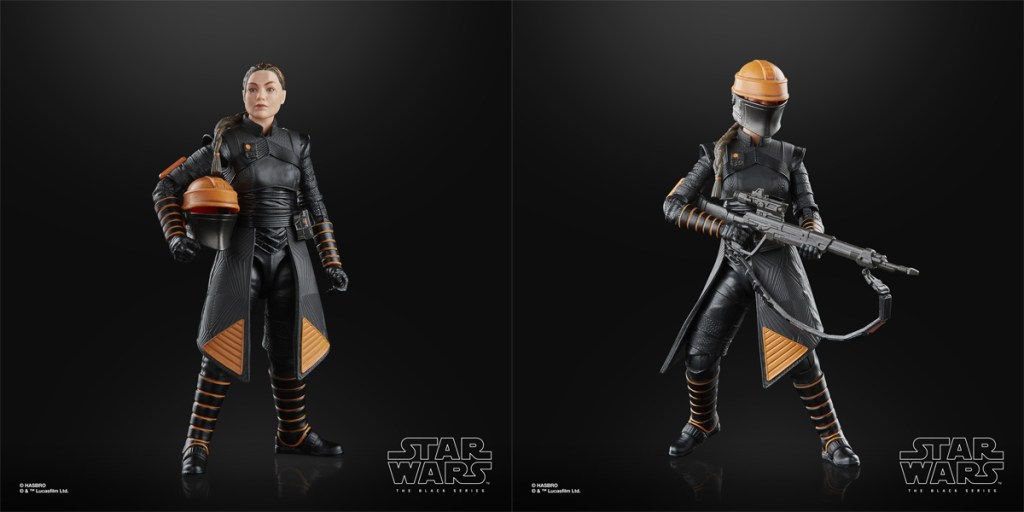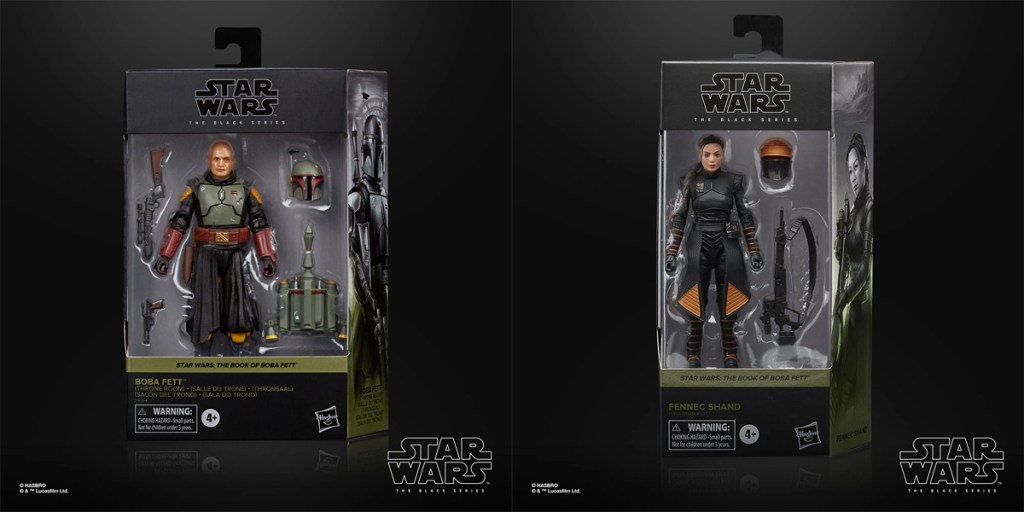 While there's nothing particularly revelatory about Boba Fett's new outfit, which we saw quite clearly in action on The Mandalorian, the details can be appreciated in this 6" scale action figure. The look presents a hybrid of the raggedy chic he rocked during his canonical resurfacing on Tatooine and the recognizable elements of his iconic getup that—as fans curiously pointed out—bore some intriguing on-the-fly alterations, with much of its signature dings and weathering smoothed out, complemented by a striking new paint job. It was a task for which Boba curiously found time between the scant moments of Din Djarin's recovery of the precious plating from Cobb Vanth (who is also getting a Black Series figure,) and the applause-inviting scene in which he stepped off the (imminently name-changing) Slave I in his refurbished duds. However, you'll also have the option to display him sans helmet with the reproduced, improved photo-real countenance of actor Temuera Morrison.
Interestingly, the Boba figure's "Throne Room" subtitle gives it specificity. Having aided Din Djarin in his battle against Imperial remnants, Boba continued to rock the duds in the second season's post-credits scene, in which he, joined by Shand, returned to Jabba the Hutt's palace. In the aftermath of Jabba's death some five years earlier in the timeline, the place fell under the control of his shady, scheming Twi'lek translator, Bib Fortuna. Having become complacent and corpulent, Bib ruled over a dwindled fiefdom while sat atop a throne placed where the hedonistic slug's dais once rested. That was, until Boba's homecoming bypassed any heartfelt reunion between former colleagues as Boba proceeded to shoot the throne occupant in cold blood, after which he flung the body aside and took the chair—and the power it represents—for himself. Consequently, with the figure clearly bearing The Book of Boba Fett label, the "Throne Room" designation likely indicates that Boba will continue spending time in the seat.
Likewise, the Fennec Shand figure doesn't appear to tease any secrets, and reflects how the character looked on The Mandalorian. It nevertheless appears to be a solid release, and will be an essential acquisition for any self-respecting collector of Star Wars figures, especially those focused on Boba Fett's seedy, scum-and-villainy side of the franchise's evolving official continuity. Akin to the Boba, the face of the Fennec figure showcases a shockingly realistic representation of actress Ming-Na Wen. And, for what it's worth, said face might just make the figure fodder for Marvel customizers looking to create the never-realized Agents of SHIELD Melinda May Marvel Legends figure.
The Book of Boba Fett is set to showcase the ongoing exploits of a certain deliverer of carbonite-sealed smugglers when the series premieres on Disney+ on Wednesday, December 29. As for the vaunted figures, major online retailers such as Big Bad Toy Store and Entertainment Earth have already opened preorders for Fennec Shand, and Boba Fett will be available tomorrow, starting at 1 PM EST.