News
Sci-Fi Explosion: Join Den of Geek and Warner Archive for Virtual Fun, Trivia, and Prizes
We've got a great collaboration with the Warner Archive Collection in our next Sci-Fi Explosion show on Sept. 18. Here's the scoop!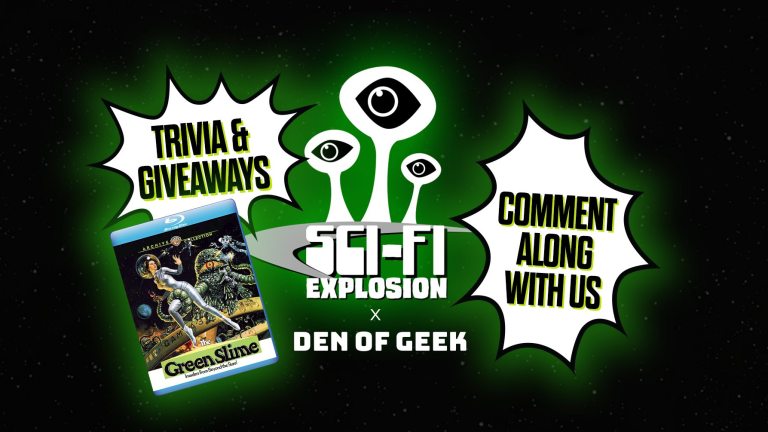 We're hosting another Sci-Fi Explosion in conjunction with the Warner Archive Collection. You can watch the live stream event below:
Far beyond the usual sci-fi space stories there lies a strange galactic outpost where inexplicable Star Wars-themed music videos rub shoulders with cosmic cartoons, weird robot PSAs and other forgotten orphans of genre insanity.
WATCH HERE: Subscribe to our Twitch channel and catch the show tonight!
This is the domain of Sci-Fi Explosion.
For the past six years I have been bringing this cosmic cabaret of craziness to conventions and other genre events throughout the East Coast, and I'm beyond pleased to be teaming up with Den of Geek this Friday night for a celebration of the Warner Archive Collection.
In case you are new to this galaxy, let me bring you up to speed. Since 2009 the Warner Archive Collection has been bringing a jaw-droppingly diverse assortment of titles from the studio's impressive catalog to Blu-ray and DVD, manufactured on-demand. What this means is that thousands of film and TV tiles from Warner Bros. ranging from film noir favorites such as The Big Sleep to obscurities like The Completely Mental Misadventures of Ed Grimley (one of the best forgotten cartoons ever) are available on physical media. A lot of these are niche releases, meaning that without the Warner Archive they would evaporate into the mists of forgotten media.
I've been a fan of the work being done at the Warner Archive Collection since its inception, so you can imagine how thrilled I am to have the opportunity to put together a showcase of the label's greatest sci-fi and genre titles for this week's Den of Geek collaboration.
And what a show it will be!
Among the features included will be the following:
• A tribute to The Green Slime (and its rocking theme song), perhaps the best science fiction film you've never seen! Seriously, your brains aren't prepared for this.
• A retrospective on the V mini-series', including footage and an analysis of their enduring pop culture impact.
• Celebrations of the TV series' Beyond Westworld, Logan's Run, The Man from Atlantis, and other short-lived sci-fi favorites.
• An exploration of some of the great cartoons for genre lovers that are available through the Warner Archive Collection — from The Jetsons to Josie and the Pussycats in Outer Space!
• Examining why the Joan Crawford film Trog is a quiet masterpiece.
• And much more, including trivia and giveaways!
This all takes place this Friday night, September 18th, at 8:30pm EDT on our Twitch channel. (Click here for the Facebook event). We encourage you to not only watch, but get involved in the discussion by commenting live and sharing the fun with our entire Twitch community.
Sci-Fi Explosion: Warner Archive Edition is going to be one for the ages. Don't miss it!