Features
Our pick of the best soundbars to make your home cinema even more awesome
Soup up your sound situation with an audio-improving soundbar from this awesome array of options...
Living in a time when films are harder and harder to find in local cinemas and getting more expensive to boot, it's no wonder more of us than ever are turning to online streaming platforms, video games and simply opting for our home cinema set-up rather than shelling out for a sticky floor and smell of nacho cheese. Plenty of TV shows can rival big blockbusters and games are becoming increasingly cinematic, so now is the perfect opportunity to supercharge your living room and transform your telly area into an epic home cinema.
Sorting out the sound situation is a key step in making this happen, and so picking up a top quality soundbar is one of the easiest ways of doing just that.
Make the most of your TV's audio output and unleash the benefits: watching tense action scene will now jangle your nerves even more than before, and putting on a horror film will leave you a nervous wreck (in a good way). Just try playing the trailer for a Christopher Nolan film – it will sound like a foghorn is going off right in your face. These are all experiences you want to have in your front room, right?
With your affirmative answer to that question in mind, we've compiled a buyer's guide to help you pick the perfect soundbar to soup up your home viewing. Read on to discover the best soundbars.
Here's our rundown of the best soundbars to buy
Samsung HW-N850: The very best soundbar
Price the last time we looked: £899 from Hughes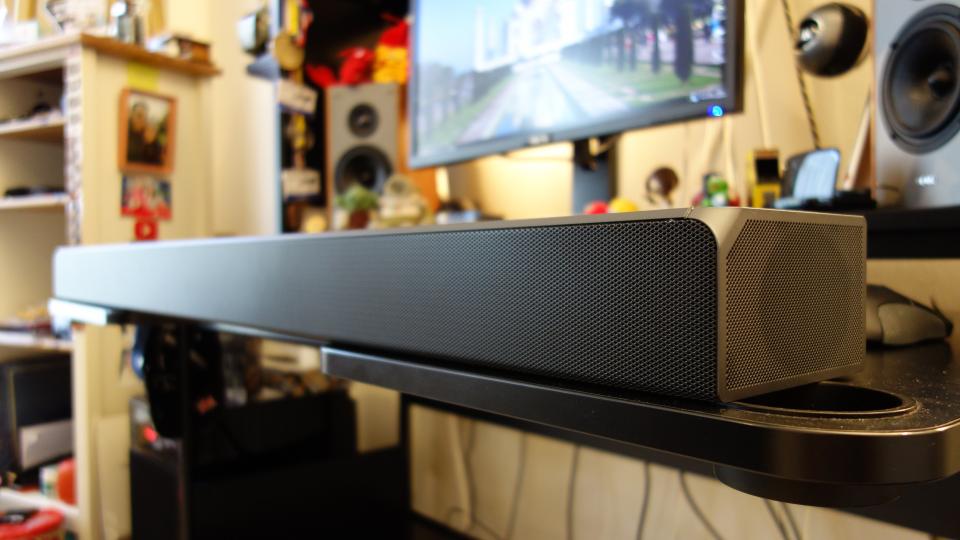 This high-end option from Samsung is rather expensive, but it really is the best soundbar on the market. With 13 drivers and a hefty subwoofer, it is guaranteed to fill your living room with pristinely clear audio. The sound experts at Harman Kardon tuned this powerful device, and the result is some of the best home audio that money can buy. It may not come with separate speakers to position as you please, but it does have a combination of upward-firing and sideward-firing speakers built in. Also, this snazzy soundbar supports both Dolby Atmos and DTS:X, which means that movies will sound particularly great on it.
Handy stuff to know – Speakers: 13; RMS power output: 372W; Dimensions: 1292 x 136 x 83mm; Weight: 8.8kg; Connectivity:; Wi-Fi, Bluetooth, HDMI, Optical, 3.5mm
GooDee 2.0 Channel Sound Bar: Best budget soundbar
Price the last time we looked: £31 from Amazon
If you really want something on the lowest end of the price scale, then the GooDee 2.0 soundbar is a great way to go. Despite the price tag, the speaker promises 85db sound pressure, built-in Bluetooth so you can use wired or wireless, and a nice compact design that makes it easy to move around. The battery also offers up to seven hours of life once fully charged. All in all, while more expensive alternatives might offer better sound and more features, the GooDee 2.0 more than holds its own.
Handy stuff to know – Speakers: 4; Dimensions: 58 x 5 x 5mm; Weight: 0.85kg; Connectivity: Bluetooth, RCA
Philips Fidelio B5: A slightly cheaper, but still quality, surround sound experience
Price the last time we looked: £633 from Amazon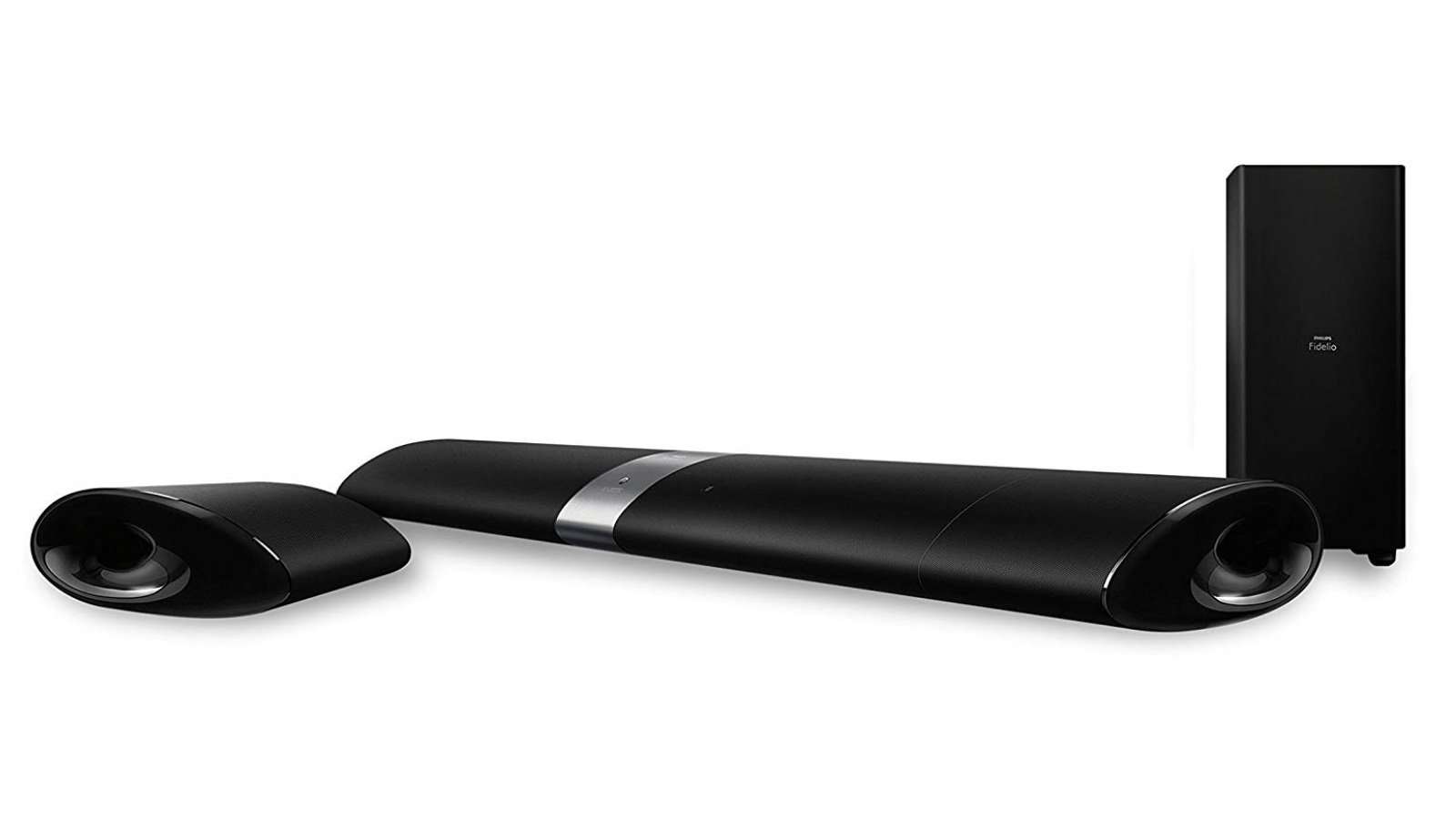 The Philips Fidelio is a really smart piece of kit, and it's not as expensive as some of the other surround sound options on the market. The coolest thing about it is the design: if you're listening to something with a surround sound audio track, you can pop the ends off of this soundbar and position them where you need them around the room; but if you're listening to something that doesn't require surround sound, you can pop the ends back on and opt for one tidy and powerful soundbar. These removable ends also work as separate Bluetooth speakers, if you fancy wireless playing music – or other forms of audio – around the house.
Handy stuff to know – Speakers: 6; RMS power output: 120W; Dimensions: 1,035 x 156 x 70mm; Weight: 4.18kg; Connectivity: Bluetooth aptX, HDMI, Optical, RCA, 3.5mm
Samsung HW-MS650: The best soundbar under £600
Price the last time we looked: £350 from Amazon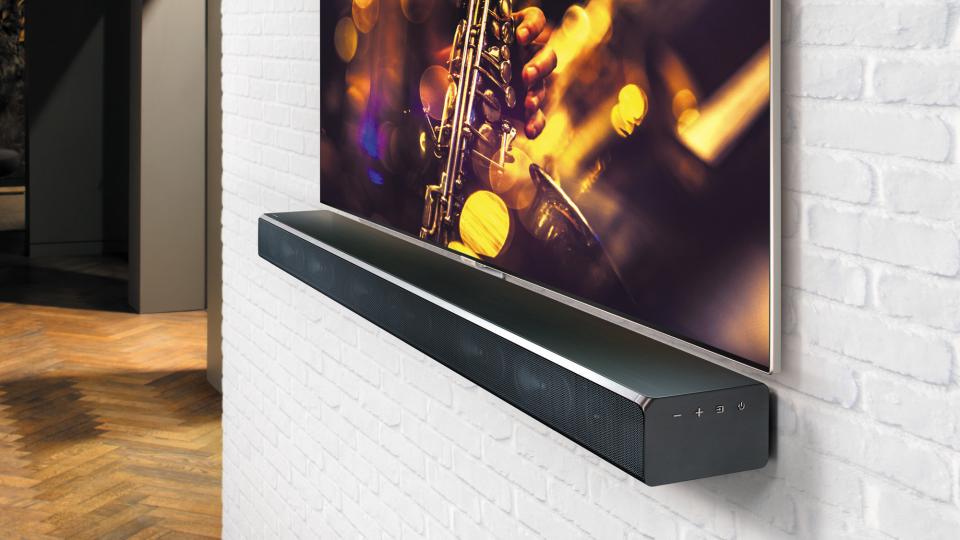 With a sleek and shiny brushed aluminium look, the Samsung HW-MS650 is certainly one of the most coolest-looking soundbar options on this list. It can live happily on a shelf or be mounted on a wall, and it won't look intrusive in either position. It's a standalone soundbar that packs a powerful punch all over the frequency range, although you can purchase a subwoofer separately if you want to boost your bass. There is also some patented distortion-cancelling technology in the soundbar itself. It might be a cheaper option, but this soundbar still has top-notch overall sound quality and all the usual connectivity options.
Handy stuff to know – Speakers: 9; RMS power output: Unknown; Dimensions: 1060 x 130.5 x 78mm, Weight: 6.2kg; Connectivity: Bluetooth, HDMI, Optical, 3.5mm
Polk Magnifi Mini: The best compact soundbar
Price the last time we looked: £250 from Amazon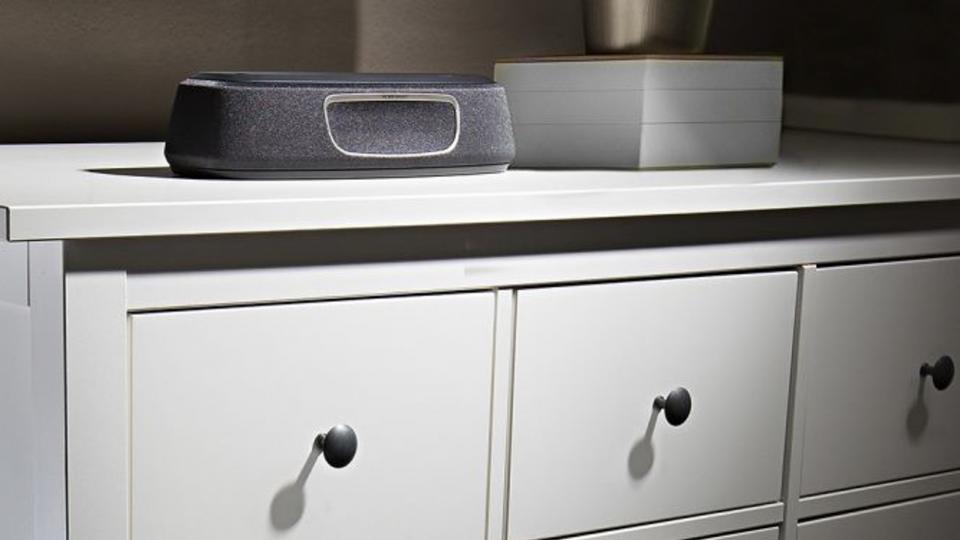 Less of a soundbar and more of a soundblob, the Polk Magnifi Mini is a perfect little option to go spruce up your sound set-up, especially if you don't have space in your living room for a chunkier model. Impressively, this soundbar – which is basically the size of a loaf of bread – manages to feature six powerful drives and provide a wide soundstage, despite being a fraction of the size of its competitors. It also has plentiful connectivity options, as well as GoogleCast compatibility. There is a wireless subwoofer included, too, which you can pair with the main soundbar to add some extra oomph.
Handy stuff to know: – Speakers: 2.1; RMS power output: 150W (soundbar) Dimensions: 340 x 109 x 81mm; Weight: 1.76kg; Connectivity: Wi-Fi, Bluetooth, Optical, 3.5mm
Creative Sound BlasterX Katana: The best soundbar under £300
Price the last time we looked: £220 from Amazon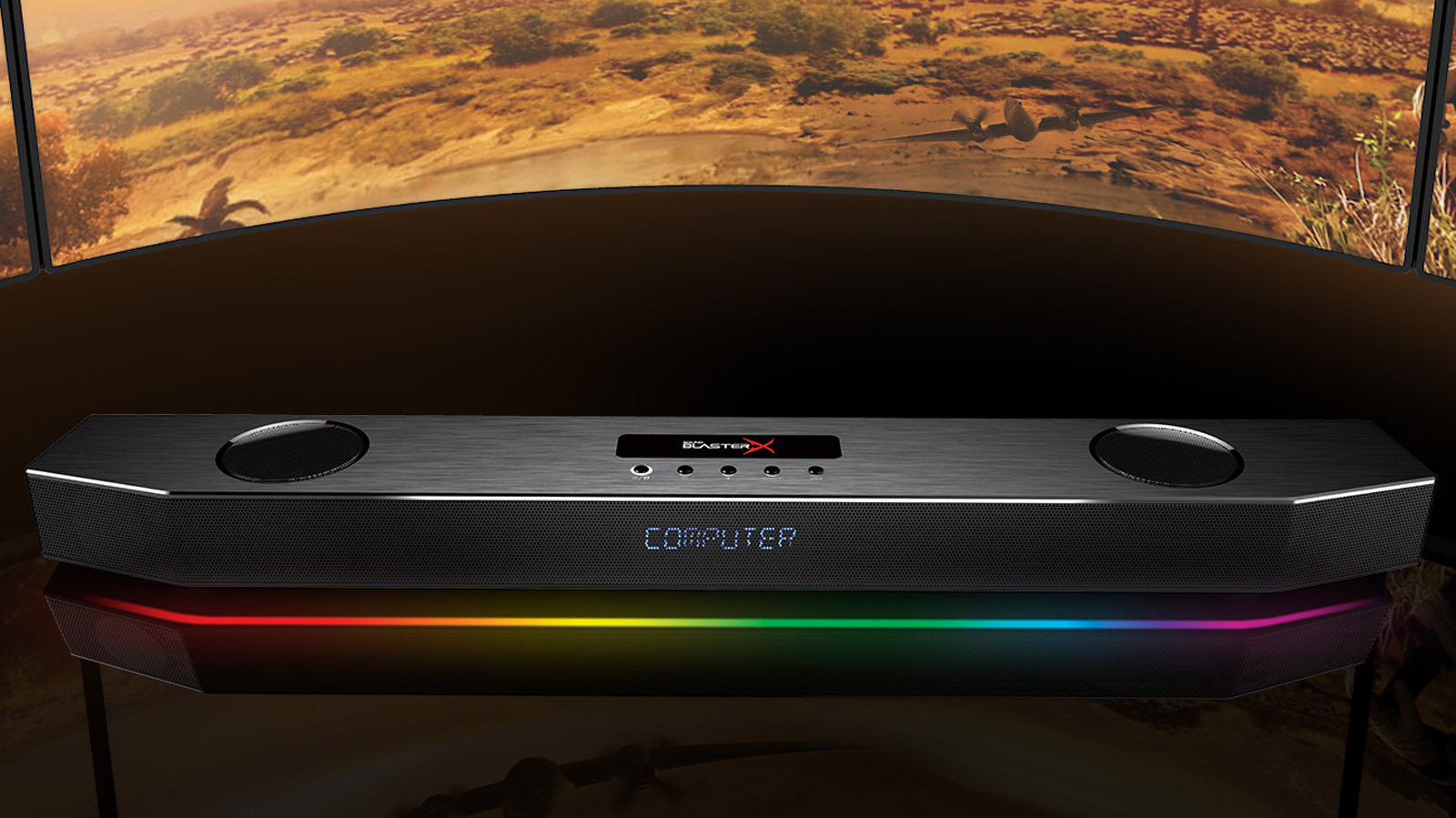 If you're looking to keep your budget below £300, you might want to consider the Creative Sound BlasterX Katana. As well as having a very cool name, this snazzy piece of kit boasts the functionality of both a TV soundbar and a PC speaker. When combined with the subwoofer included, it will fill your living room with five drivers' worth of immersive audio. It has loads of connections, a certified Dolby Digital decoder and 7.1 channel audio input. And as a fun extra, you can also customise the lights which emit from the soundbar using the Aurora reactive lighting system. This soundbar also has a headphone jack, so you can switch seamlessly into quiet night time gaming/viewing if your session outlasts the patience of the people nearby.
Handy stuff to know – Speakers: 5; RMS power output: 75W; Dimensions: 600 x 79 x 60mm, Weight: 1.5kg, Connectivity; USB, Bluetooth, Optical, 3.5mm