Features
Our pick of the best external hard drives
Beef up the storage on your PC, PlayStation 4 or Xbox One with these excellent external hard drives…
These days, we're all drowning in peak TV, blockbuster movies and huge video games. It is no bad problem to have, but this ever-growing pile of hot content – all of which we're desperate to consume – does create some difficulties when it comes to storage. It's very easy to fill up the storage capacity on a PC, a PlayStation 4 or an Xbox One at the moment, without even scratching the surface of all the cool stuff you want to check out.
The best way to work around this problem is to pick up a nice big external hard drive, bolstering the maximum capacity of your chosen device and making loads of extra space to store games, movies, TV shows and anything else you fancy holding on to. There are, however, loads of options on the market – it can be hard to know which hard drive is the right one for you.
To help out with that, we've put together a buyer's guide that rounds up some of the very best external hard drive options. Read on to check out favourites, and feel free to click away and make a purchase if one of them tickles your fancy.
Here's our rundown of the best external hard drives to buy
WD MyPassport
Price the last time we looked: From £48 on Amazon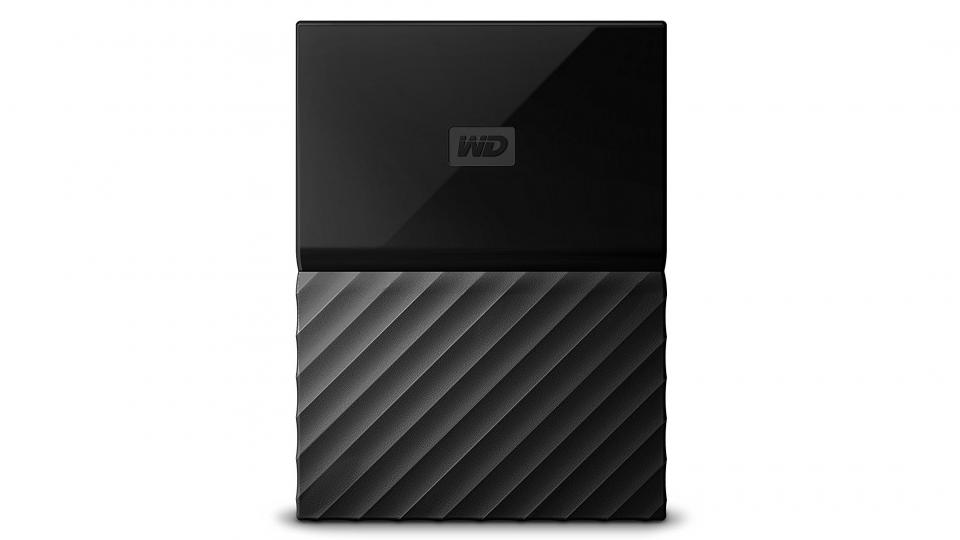 Offering a nifty balance of capacity and price, the MyPassport external hard drive from Western Digital is an excellent and affordable option. And as an added bonus, over on Amazon, there are four sizes to choose from and eight colours, which means you can really match your purchase to your desires and tastes.
Whichever size and design you opt for, you'll be able to use your WD MyPassport external hard drive with the PC or console of your choice. You'll also be able to use it for automatically backing-up and password-protecting your files if you fancy doing either of those things.
Handy stuff to know – Type: Portable HDD; Connectivity: USB 3.0; Spindle speed: 5,400RPM
Maxone 2.5-inch Portable External Drive
Price the last time we looked: £22 on Amazon
Available in a choice of three colours, the Maxone 2.5-inch drive combines compact portability with top-notch specs such as super-fast transfer speed of up to 5 Gbit/s with USB 3.0, 160 GB of hard disk space, and the ability to just plug and play without the need for external power supply. 
All of this is contained in an incredibly light 2.5-inch package, making it ideal to carry around with you for work or when you travel. The drive is compatible with Windows 7-10, Mac OS 10.6.6 and above, or smart TV. 
Handy stuff to know – Type: Portable HDD; Connectivity: USB 3.0
Seagate Backup Plus Ultra Slim
Price the last time we looked: From £55 on Amazon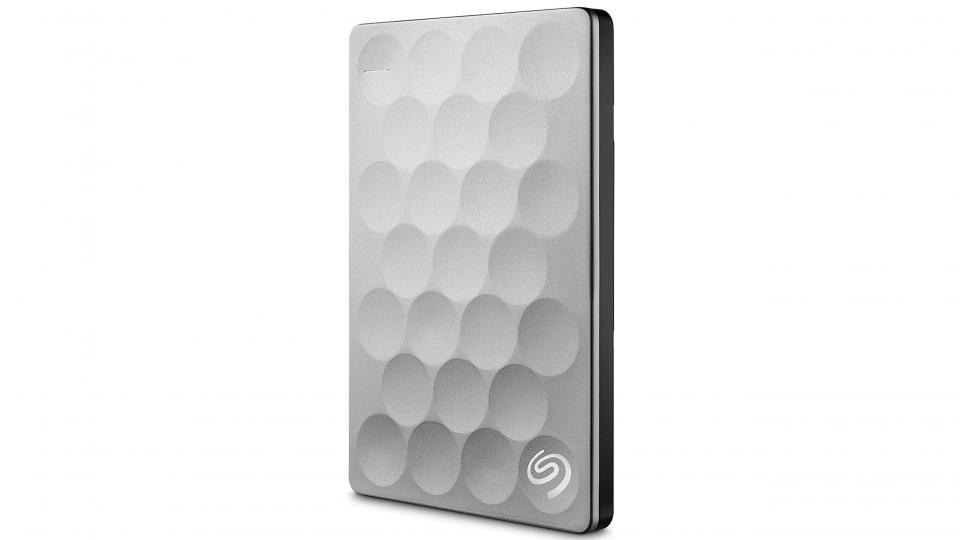 If it's a slimline HDD option that you're after, you'll want to consider the Seagate Backup Plus Ultra Slim. This lightweight external hard drive is available in six colours and four sizes, with the smallest version offering 1TB of storage despite only being 9.6mm wide and weighing just 135g.
As for added bonuses, this one comes with a two-month free membership to the Adobe Creative Cloud Photography Plan. And it also works across Windows and Mac computers without needing to reformat. Plus, we're big fans of the snazzy dimple design, which looks a bit like a TARDIS interior. Slimline storage that offers a sci-fi feel without breaking the bank? What more could we possibly ask for! 
Handy stuff to know – Type: Portable HDD; Connectivity: USB 3; Spindle speed: 5,400RPM
iStorage diskAshur Pro2
Price the last time we looked: From £248 on Amazon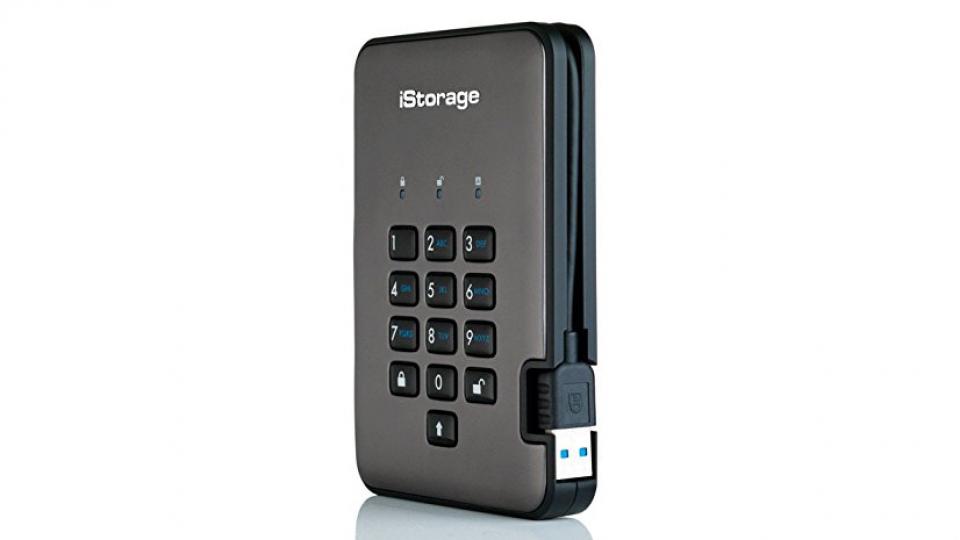 If you're looking for the best security possible with your new external hard drive, the iStorage Pro 2 is ideal. Winningly, this piece of kit allows you to secure your hard drive with a 7-to-15-digit pin code. It's available in HDD or SDD, with nine capacity options to choose from.
It will work on any system with a USB drive, and it the iStorage Pro 2 also has built-in physical protection mechanisms which protect it from external tamper, bypass attacks and more. It will lock into a frozen state if anyone attempts to forcibly access its files, making this the ultimate choice for all your high-security files. So, if you're looking to transport the IMF NOC list or a similarly top-secret document, you'll want to consider picking up one of these.
Handy stuff to know – Type: HDD or SSD; Connectivity: USB 3.1; Spindle Speed: N/A
Seagate Backup Plus Hub
Price the last time we looked: From £116 on Amazon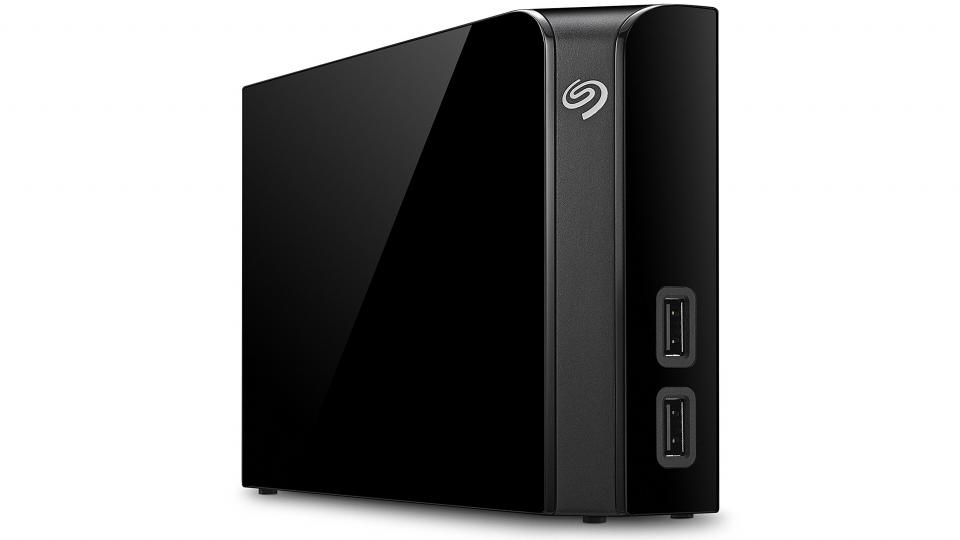 A chunkier option for those with a whole lot of stuff to store, the Seagate Backup Plus comes in four sizes: the smallest one has 4TB of storage, and the biggest one goes up to 10TB. It has a slick black design, which will match any monoliths from 2001: A Space Odyssey that you happen to have lying around, and it also has a fair few snazzy bonus features.
On top of the hefty storage capacity, you'll also get a two-month Adobe Creative Cloud Photography Plan, as well as the ability to transfer files from Windows to Mac without having to reformat. You'll get access to the Seagate Mobile Backup app, too, which will allow you to back up photos and videos from your mobile device onto your drive or the cloud.
Handy stuff to know – Type: Desktop HDD; Connectivity: 1x USB 3 upstream, 2x USB 3 downstream; Spindle speed: 5,400RPM
WD My Passport SSD
Price the last time we looked: From £99.99 on Amazon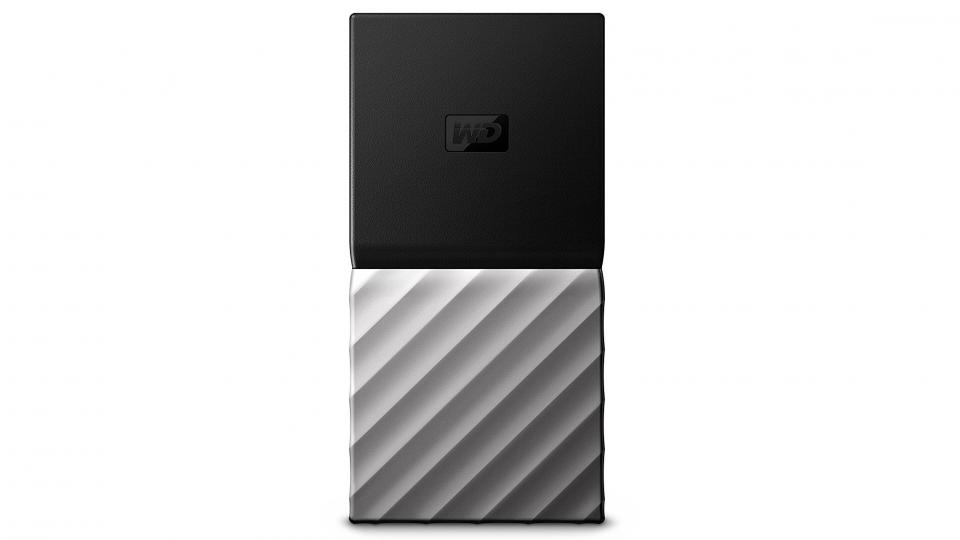 As portable SSD drives go, the WD My Passport SSD is one of the most affordable and appealing. It truly is incredibly easy to lug around: these handy little drives are just 1cm in width and 41g in weight, but they offer storage of between 256 GB and 2 TB, depending how much dosh you're able to part with.
As well as being tiny, the My Passport SSD is also highly durable, and it offers automatic backups and utterly rapid file transfers. You can also password protect it for extra security, and make the most of hardware encryption to ward doubly against unauthorised access. For under a hundred quid, then, this is a brilliant piece of kit that it's well worth picking up.
Handy stuff to know – Type: Portable SSD; Connectivity: USB 3.1 Gen2; Spindle Speed: N/A
If you have your own recommendation for an awesome external hard drive, do let us know in the comments below…