News
New One Piece English Dubbed Episodes to Arrive in August
Funimation announces that next batch of Punk Hazard arc episodes from One Piece will hit digital storefronts in August.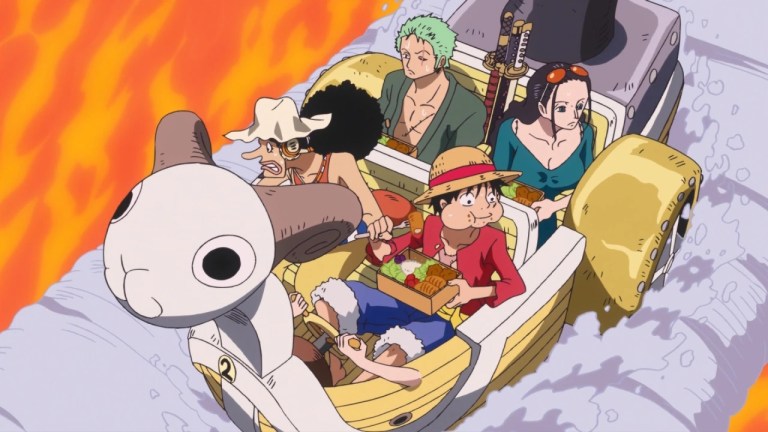 It's been a difficult road for fans of the One Piece dub. The series' release schedule is often sporadic with lengthy gaps in between arcs and fans are always left with some level of doubt that the newest batch of episodes could be the last and that a dub is not longer worth doing. Despite these ups and downs, it's been an exciting few months for One Piece fans and the news of even more dubbed episodes shows that this trend isn't changing.
Funimation released the start of the series' Punk Hazard Arc on June 2, which included episodes 575-587. Additionally, Funimation also made the dub of the latest One Piece film, One Piece: Stampede, available to stream for free. These efforts have gone a long way with the community and given fans a little more hope for the series' future. At FunimationCon 2020—Funimation's first "virtual convention"—the team behind the dub was able to confirm that more episodes are coming and that they'll even be here this summer. 
Referred to as Season 10 Voyage 2, episodes 588-600 will hit digital storefronts in August, Funimation revealed at their recent convention. A date for a home video release or when it will be streaming on Funimation's service has yet to be announced, but Funimation assures audiences that this is happening and that there will be additional news to come. 
One Piece's Punk Hazard Arc puts Luffy and the rest of the Straw Hat Pirates on Punk Hazard island, a territory that's full of dangers, an abandoned research lab, and extreme terrain. The pirates also have to deal with a vengeful samurai who makes their mission especially interesting. It's one of the more focused arcs from this stretch of One Piece and features some memorable fight scenes. It's the next arc, the Dressrosa Arc, that is seen as a low point in the series for many fans, so it's exactly the kind of material that a top quality dub could give value to in new ways.
If this trend is to be continued, then it stands to reason that episodes 601-613 will hit around early October and if this schedule is maintained than Punk Hazard will come to a close by the end of 2020, with 2021 giving fans their first taste of the Dressrosa Arc dubbed. At the pace that they're releasing these episodes, it's possible that the dubbing for the Dressrosa Arc episodes has already begun, although it's currently not clear if Funimation has licensed them or if the conclusion of Punk Hazard will mark another lengthy break for dubbed episodes.
Hopefully Funimation can keep this momentum going as they power through the next collection of episodes, as there's still hundreds more to go. The response has been positive and audiences are eager for as much new One Piece as they can get.