New Donald Glover Album Arrives on Streaming in Surprise Drop
It's not Childish Gambino, but Donald's Glover's new album is streaming now.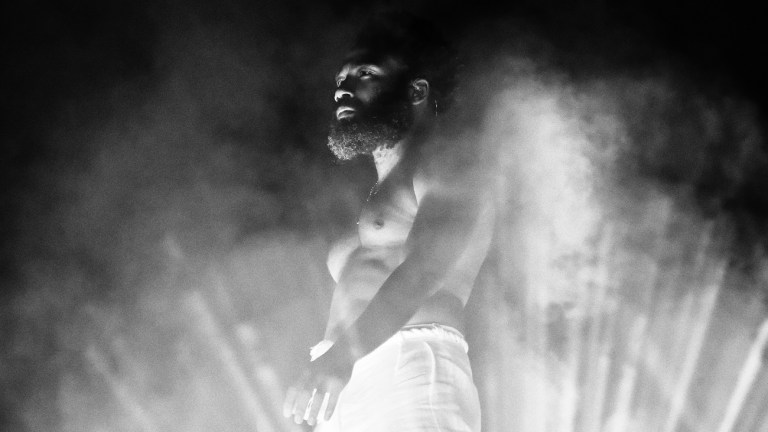 Giving fans something to do amidst coronavirus isolation, Donald Glover dropped a new album last night. The 12-song collection, called Donald Glover Presents, is currently streaming on loop on his website. The stream includes new takes on previously released songs like "Feels Like Summer" and "Algorythm."
"What's good?" Glover asks in the song "Under the Sun." There is "love in every morning" and "the cup runneth over" on every track available. The album features more R&B than rap, and the productions are lush and beautiful, fun and funky. The stream includes the song "Time," which features Ariana Grande. "Seven billion people trying to free themselves said a billion prayers trying to save myself," he sings while Grande offers a "breath of fresh air, like a cold in the breeze." This is the second collaboration between Gambino and Grande, who teamed with Glover for the 2014 song "Break Your Heart Right."
21 Savage, who pulled Glover in for his 2018 album I Am > I Was, and SZA, who hasn't released anything with Glover before, join him for the experimental R&B track "Vibrate." Gambino appeared in the music video for SZA's "Garden (Say It Like Dat)." The five-time Grammy-nominated returned the favor by gracing Glover's "This is America" with her commanding presence.
The track "Why go to the Party?" was first teased as the introduction to the song "Human Sacrifice,"which was first heard in a Google Pixel 3 ad which was broadcast during the Grammys. Now we hear it is a full song.
Here's the full tracklist (via Variety)
Intro (Warlords)
Little Foot Big Foot
Why Go To the Party
Feels Like Summer
Don't Worry About Tomorrow (The Violence)
Under the Sun
We Are (Interlude)
Algorythm
Time (Ft. Ariana Grande)
Vibrate (Ft. 21 Savage & SZA)
To Be Beautiful
Sweet Thing / Thank You
There is no word yet on whether this will ultimately be a Childish Gambino album, or even if this is the final playlist. There are no details at all as Glover lets the music be its own news. The artwork on the website is a black and white four-paneled sketch of a city scene peopled with characters in widely varied emotions. Some look panicked, others are giddy, there's a happy couple taking a selfie, and above them all it looks like fire and smoke.
Is there a riot going on? A block party? A meteor-shower? An album-release event?
Glover said he was retiring his alter ego after he headlined the Governor's Ball in 2017, and hasn't put out a full-length Childish Gambino album since Awaken, My Love! in 2016. His hit "This Is America" won Record of the Year and Song of the Year Grammys in 2018.
As Gambino, Glover toured North America, playing Coachella, and was a musical guest on Saturday Night Live. As an actor, he was featured as Lando Calrissian in Solo: A Star Wars Story, and is a regular on the series Atlanta. He voiced Simba in Disney's live-action remake of The Lion King. His last musical release was his 2019 collaboration with Beyoncé and Jay-Z, "Mood 4 Eva," from The Lion King: The Gift album.
There is no word yet on when or what form the Donald Glover Presents will come out, but it is streaming now.