News
NBA Legend Kobe Bryant Dies in Helicopter Crash
Former NBA star Kobe Bryant, his daughter Gianna, and seven other people have died in a California helicopter crash.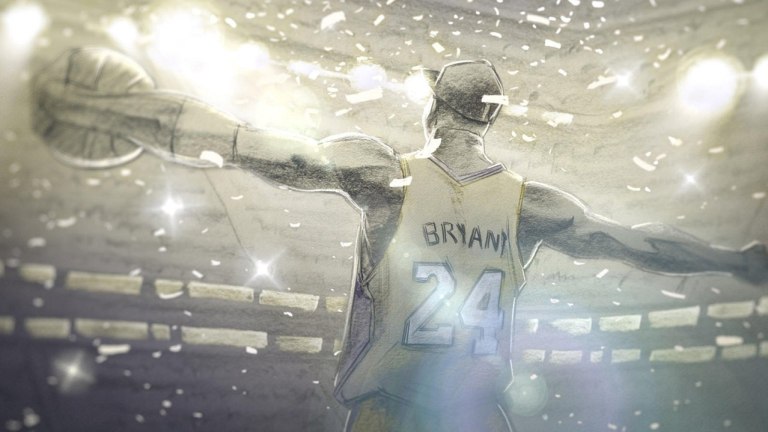 Former basketball star and Oscar-winning producer Kobe Bryant died early Sunday, January 26 in a helicopter crash in Calabasas, California. He was 41 years old. TMZ first reported the news.
TMZ later reported that Bryant's 13-year-old daughter, Gianna, was also aboard the helicopter and has died. During a new conference, Los Angeles County officials revealed that a total of nine people were aboard the helicopter and there were no survivors of the crash and subsequent brush fire. The names of the other passengers aboard the helicopter are unknown at this time as is the cause of the accident. Los Angeles has turned the investigation over to the National Transportation Safety Board, per Deadline.
Bryant is survived by his wife Vanessa and three daughters.
Bryant has been known to travel by helicopter for years, going back to his playing days in which he would occasionally fly in to games. According to ESPN NBA reporter Adrian Wojnarowski, Kobe and Gianna Bryant were on their way to one of Gianna's travel basketball games and that another young player and parent were also aboard. Gianna was an up and coming basketball star in her own right and played for Mamba Sports Academy, a basketbal training program and team created and supported by her father. 
Bryant was born in Philadelphia, Pennsylvania in 1978. His father was a professional basketball player and as such Kobe spent several years of his youth in Italy where he learned to speak Italian fluently and developed a strong interest in soccer and basketball. 
During his basketball career Bryant was known as Black Mamba (a nickname he shrewdly gave himself) and became one of the most decorated, popular, and successful players in NBA history. Drafted out of high school by the Charlotte Hornets in 1996, he was shortly thereafter traded to the Los Angeles Lakers and would go on to play his entire 20-year career with the team. Bryant was a five-time NBA champion, won two NBA Finals MVPs, and one NBA MVP. He was selected to the NBA All-Star game 18 times, and was named an All-NBA player 15 times.
At the time of his retirement, Bryant had the third highest career point-total in NBA history. Current NBA star and a close friend of Bryant, LeBron James, passed Bryant in the record book on January 25, just hours before his death. Bryant's last tweet was congratulating James on the achievement.
Also during his NBA career, Bryant was arrested for sexual assault and went through subsequent criminal and civil trials. In July of 2003 the sheriff's office in Eagle, Colorado arrested Bryant after a 19-year-old hotel employee filed a sexual assault complaint against him. The accuser stated that Bryant had raped her while awaiting a knee surgery in the Colorado hotel in which she worked. Bryant admitted to a sexual encounter but claimed it was consensual. The criminal case was dropped after the accuser refused to testify in court following Bryant's defense teams' strategy of aggressively questioning her credibility and character. Bryant and the accuser later settled the case in a civil trial for an undisclosed sum.
In his post -NBA life, Bryant became a venture capitalist and film producer. Dear Basketball, a short he produced based on his retirement letter, won an Academy Award for Best Animated Short. He also founded production company Granity Studios, which has produced several film, television, and podcast projects.
Many in the both the sports and entertainment worlds have shared their grief at Bryant's passing and their condolences for Kobe and Gianna's family on social media. 
Alec Bojalad is TV Editor at Den of Geek and TCA member. Read more of his stuff here. Follow him at his creatively-named Twitter handle @alecbojalad