Reviews
Matt Hardy AEW Debut Throws Dark Order Theories
AEW is the best wrestling show on TV even without a crowd, and the arrival of Matt Hardy and Brodie Lee should only help that.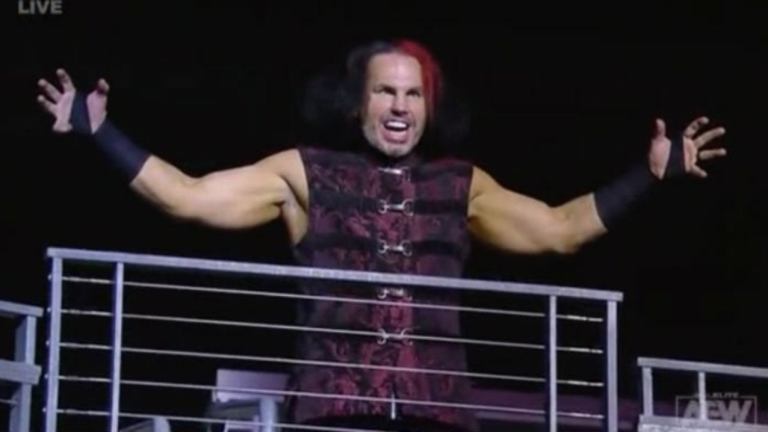 For a show that was run without a live crowd, AEW delivered with its latest episode of Dynamite on TNT. AEW utilized Daily's Place, a concert venue in Jacksonville, Fla. owned by the Khan family, and only wrestlers and essential personnel were allowed into the venue. Everyone who entered the building was also examined by medical staff before entering.
AEW took some lessons from WWE on the empty-arena concept and corrected some of the issues WWE had with RAW and SmackDown. First, AEW did technically have people in the crowd. An outside audience wasn't allowed in, but AEW had the wrestlers not involved in the match on the outside of the guardrail yelling and creating an atmosphere during the matches.
On top of that, this episode of Dynamite was insanely newsworthy.
First, Brodie Lee was revealed as the exalted one and the leader of the Dark Order. Lee was formerly Luke Harper in WWE. Lee even took a direct shot at WWE chairman Vince McMahon, telling Christopher Daniels in a promo that he wasn't the first "out of touch old man who didn't believe in me." Lee's debut was a perfect case of misdirection by AEW. A lot of wrestling fans and journalists thought that Matt Hardy would be revealed as the leader of the Dark Order, and AEW and Hardy himself even teased that on YouTube in recent weeks.
After Lee debuted, at least within the reaction on Twitter, almost everyone forgot about Matt Hardy. Others, like Ryan Satin of ProWrestlingSheet, even tweeted that they hoped AEW and Hardy could connect on something in the future because he would be a good fit in the company.
In the show's main event, The Elite fought The Inner Circle to see which team would have the advantage in the Blood and Guts match scheduled for the next episode of Dynamite. Blood and Guts is essentially War Games, but WWE owns the trademark for that match name.
After the match, with Inner Circle won, Matt Jackson was cutting a promo talking about how the Elite was short a man due to Nick Jackson being home with an injury. But, Jackson said that he called in a favor and the sides would be even for Blood and Guts.
The camera peeled back to reveal Hardy standing in the balcony of Daily's Place, and he started his signature "delete" motion as the show went off the air. Hardy, it would seem, is back to utilizing his "Broken" character that he used in TNA and then at times in WWE when he was "Woken" instead of "Broken." Hardy, 45, acknowledged on Twitter on Thursday that he knew he didn't have a lot of time left as an active wrestler, and he wanted to be with a company where creativity was celebrated and embraced.
AEW continues to get a lot of things right. From the way it produced the empty-arena Dynamite to the way it introduces new characters. Dynamite is the best weekly wrestling show on television.