News
Link Tank: Unforgettable Moments From Oscar Nights Past
Bizarre Oscar moments, The Wolf of Wall Street lawsuit, best plant-based ice cream, and more in today's Link Tank!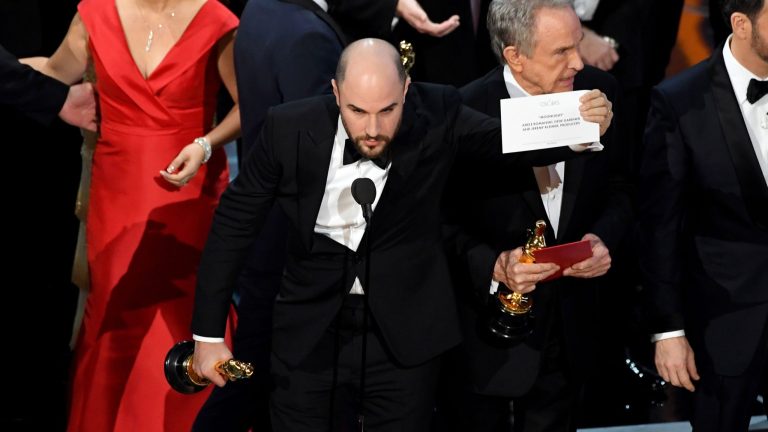 Oscar ceremonies are always nights for bizarre moments. Take a look back at some of the most memorable ones.
"The unforgettable 2017 snafu where La La Land was erroneously awarded Moonlight's Best Picture Oscar might very well be the strangest thing to ever happen at the Academy Awards, but it's definitely not the only one. Gear up for the 92nd Oscars, which will be handed out on February 9, by revisiting 12 other unexpected events from ceremonies past."
Jordan Belfort, portrayed by Leonardo DiCaprio in The Wolf of Wall Street, has sued the producers of the film yet again.
"Martin Scorsese's 2013 film The Wolf of Wall Street told the true story of Jordan Belfort, a stockbroker and master fraudster who was sentenced to 22 months in prison after pleading guilty to money laundering and securities fraud. The film was a wild ride showcasing corruption, cons, and crime that was almost too over-the-top to be true—and now the real-life Belfort is providing the world with a lawsuit that shows the sequel might be just as wild."
If you've never had plant-based vegan ice cream, they taste better than they sound, according to our friends at Thrillist.
"When I attempted my first taste of Portland restaurateur Micah Camden's Little Chickpea ice cream I did what everyone always does: I took a tiny spoonful and raised it slowly, hesitantly to my mouth. Can you blame me? Ice cream made from chickpeas… (shudder) I was braced for a sandy/watery texture, a funky bean aftertaste, and that awkward moment when I smile anyway and say something polite. For my second taste, I went for a much larger spoonful."
Elon Musk wants to power the whole of the US with solar energy. But his plan may have a major flaw.
"Elon Musk has an idea: move the entire United States onto solar energy, using a 100-by-100 mile patch of land. The only problem is, you'd probably need a bit more than that. The idea, a long-time favorite of Musk's, resurfaced in December 2019 when a Twitter user asked Musk about an old quote from Bill Gates. The Microsoft co-founder declared in 2011 that solar was "cute," but the answer lies in solutions like nuclear. Musk declared that Gates was 'def wrong,' declared that solar power offers one gigawatt per square kilometer, and cited a 2015 blog post from University College London written by energy research associate Andrew Smith."
Daniel Radcliffe has made some interestingly weird career choices after Harry Potter…
"Daniel Radcliffe could've sailed into early retirement after the Harry Potter films, but his career has kept going at a brisk pace. He's done rom-coms, action flicks, and regular ol' dramas, but he's also quite clearly committed to keeping it weird whenever possible. Here are six examples—the good, the bad, and the WTF."
A London tech startup has developed a smart watch that helps you pick groceries based on your DNA.
"DnaNudge uses a miniaturized DNA test to determine possible health risks based on genetic makeup. Through a mail-order kit or in its physical shop, the company takes a sample of your DNA by swabbing your cheeks and tests it against genetic markers of four conditions: diabetes, hypertension, high cholesterol, and obesity. In a companion app, DnaNudge breaks down how your body is affected by salt, saturated fat, caffeine, and so on."