News
Link Tank: The Real World-Based Backstory of Stargirl's Wildcat
Wildcat on CW's Stargirl, Tommie Smith and John Carlos, spy novel recommendations, and more in today's Link Tank!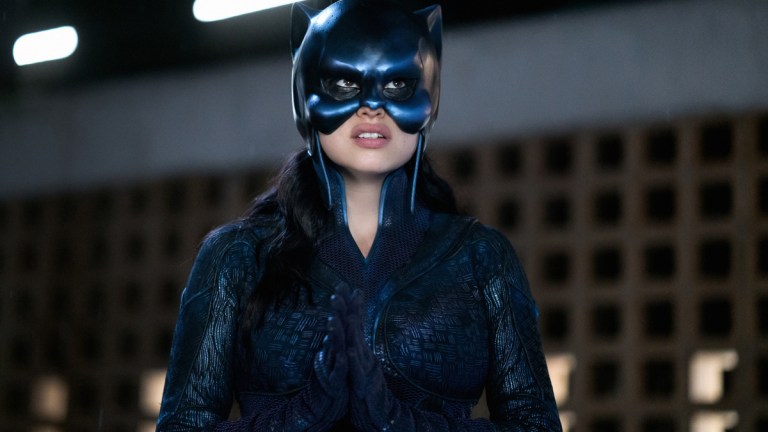 Actress Yvette Monreal and comic book legend Geoff Johns talk the real-world based origin story of Stargirl's Wildcat.
"The new DC Comics series Stargirl looks and feels like a vintage superhero show. But in the fourth episode, 'Wildcat,' the series plants its feet firmly in the 21st century introducing a new and more relatable origin to Yolanda Montez, an honor roll student who dons the mask of the fallen JSA superhero, Wildcat."
On this day, we celebrate Tommie Smith and John Carlos, who sacrificed their careers protesting against racism in the 1968 Olympics.
"On October 16, 1968, track and field stars Tommie Smith and John Carlos stepped onto the Olympic podium in Mexico City to receive their medals for the 200-meter dash; Smith had won the gold, Carlos the bronze. They were wearing black socks—no shoes—and badges that read 'Olympic Project for Human Rights.' Smith had also donned a black scarf, while Carlos had unzipped his jacket (which was against Olympic rules) and slung a long string of beads around his neck."
The streaming wars are getting increasingly data and business driven. Here's how having the brains from Silicon Valley micromanage film and TV proves to be a bad idea.
"With everyone clamoring to get into the streaming wars—from tech titans to industry veterans to Silicon Valley newbies with stupid amounts of funding to pump into something new that nobody asked for—one thing has become very clear: The big tech dweeb contenders are fucking it up, specifically by micromanaging the talent and opportunities they do have to create a product that doesn't supremely suck."
Netflix's The Last Days of American Crime has a 0% on Rotten Tomatoes—and it's easy to see why.
"Early on in The Last Days of American Crime, a dystopian action thriller that dropped on Netflix last Friday and quickly claimed a place on the streamer's Top 10 chart, a character explains in a growly, self-serious voiceover that he prefers to use diesel fuel when torturing his enemies because it burns 'much slower.' It's advice that the makers of this laborious would-be epic, which aims to mix the world-building allegorical pop of The Purge series with the gun-toting macho heft of Heat (or, more accurately, the far goofier recent Heat-ripoff Den of Thieves), clearly took to heart. Everything burns slow in this loud, ugly 149-minute shoot-em-up, leaving your patience in ashes."
Check out six spy novels recommended by award-winning journalist and long-time novelist David Ignatius.
"In David Ignatius' 11th and latest espionage thriller, The Paladin, a disgraced former CIA officer, seeks revenge in Italy and uncovers a deeper conspiracy. Below, the veteran Washington Post columnist and editor names his favorite spy novels of all time."
Amazon is set to spend $4 billion on biweekly COVID-19 testing for warehouse workers.
"Following 'several' coronavirus outbreaks at its fulfillment centers, Amazon plans to implement COVID-19 tests for warehouse workers every two weeks, CNBC reports. A clinical professional will supervise employees as they test themselves with nasal swabs."