News
Link Tank: The Potential Future of Jessica Jones in the MCU
Could Jessica Jones make a comeback, Nope was filmed entirely with IMAX cameras, the etymology of Harry Potter words, and more in Link Tank!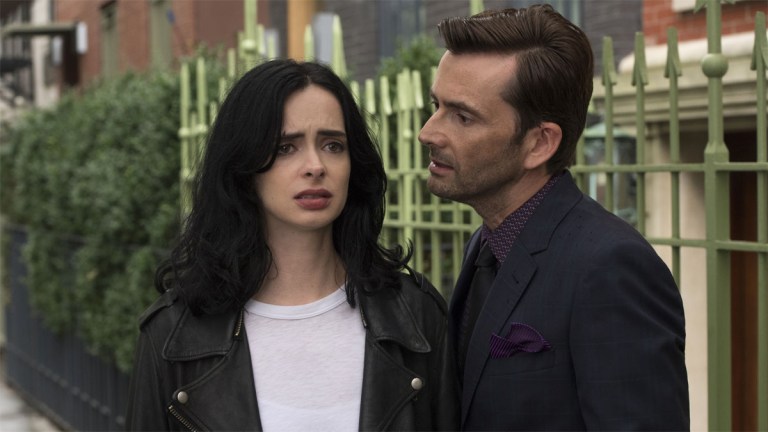 Daredevil and Kingpin have already made their return to the MCU, so is Jessica Jones next?
"Over the weekend, MCU Direct reported that Disney+ had changed the title of Jessica Jones on the platform to A.K.A. Jessica Jones—the original working title of the series when it was planned as an ABC show, and seemingly a nod to the show's episode title conventions, all of which begin with 'A.K.A.' What followed was fervent speculation from news sites that the name change is setting the groundwork for a revival and/or reboot of the character as part of Disney+'s offerings of MCU TV series, much in the vein of Jessica's fellow Defender Daredevil, currently set to see a revival with the return of Charlie Cox as the titular hero on the streamer."
Chrissy didn't wake up, and Eddie Munson was next, but fans of Stranger Things really, really want the character back for season 5.
"Netflix's Stranger Things fans are taking action by petitioning the series creators, the Duffer brothers, to bring back fan-favorite character Eddie Munson (Joseph Quinn). When Stranger Things season 4 premiered on Netflix on May 27th, 2022, it didn't take long for audiences to latch onto one of the show's new characters, Eddie. He's an adorably quirky misfit who doubles as his school's drug dealer and the leader of its Dungeons & Dragons club, the Hellfire Club. While his unique style and love for heavy metal and D&D make him a bit of an outcast, those who get to know Eddie love him."
The Good Place star Jameela Jamil is letting fans know that there's a reason for her costume in the upcoming She-Hulk series to look the way it does.
"Since Disney+ dropped the smash-tacular trailer for Marvel's upcoming TV series She-Hulk: Attorney At Law, people online have had many things to say. There was, of course, the abundance of discussions on the CGI hulkifying of Tatiana Maslany, while others were either shocked or elated at the horny energy the trailer was giving off. Not even She-Hulk's supervillains are safe, as Jameela Jamil's Titania received online criticism for her WWE style look in a recently released photo from the show."
A new glitch in The Legend of Zelda: Breath of the Wild was discovered, and it lets your weapons become more OP than ever before.
"A sequel might be on the horizon, but there's still a lot of game left in The Legend of Zelda: Breath of the Wild. Half a decade after its release, players are still finding new ways to crack Nintendo's open-world RPG wide open. Just this week, glitch hunters have discovered what might be the most game-breaking exploit yet: It is now possible to rewrite weapon modifiers."
Have you ever wondered where some of your favorite Harry Potter words came from?
"Do you know the meaning behind Harry Potter spells like Expelliarmus and Wingardium Leviosa? How about where Dumbledore's name comes from, or the debated etymology of the word horcrux? Find out all that and more in this list, adapted from an episode of The List Show on YouTube."
Ahead of its release next week, it was revealed that Jordan Peele's Nope is the first horror film to be entirely shot with IMAX cameras.
"A new featurette has revealed that Jordan Peele's upcoming film NOPE is the first horror epic to be shot using IMAX Film Cameras. The two-minute behind-the-scenes clip explores how Peele and cinematographer Hoyte Van Hoytema utilized the technology of IMAX's iconic 15/65mm cameras for NOPE, allowing them to fill the IMAX screen directly 'with unprecedented crispness and clarity.' The director shared, 'IMAX is movie magic pushed to its limit. When you see a film in an IMAX theater, it feels like you are there. It's complete immersion, and there's nothing quite like it. And we are only at the beginning, there's still so much to be explored in this format.'"