News
Link Tank: Is Sundance Festival Film Mayday Worth a Watch?
A review of Mayday, Charisma Carpenter's statement on Joss Whedon, questions about Marvel's Eternals, and more in today's Link Tank.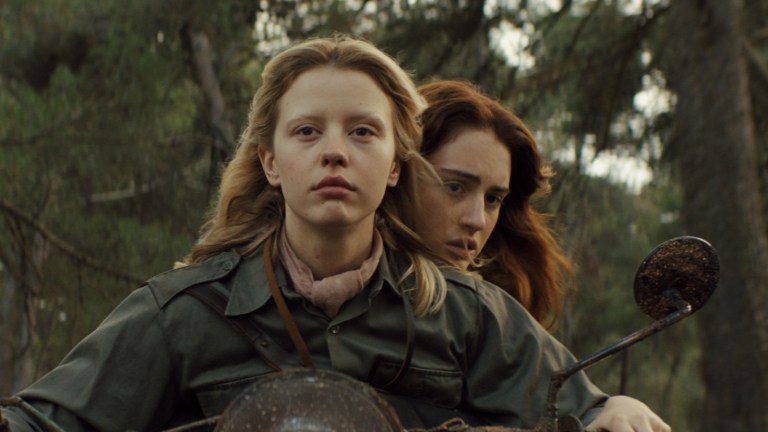 Mayday, one of this year's Sundance Festival lineup, tells the compelling story of a woman trying to piece together her fragmented memories.
"The situations that bring Ana, the disoriented heroine of writer-director Karen Cinorre's Mayday, to the movie's remote, windswept island are as disturbing as they are integral to the movie's message of survival. After losing herself in a storm of the world's brutality, Ana comes to on a seemingly deserted island, unsure of what's happened, and fuzzy on the details about her past."
Actress Charisma Carpenter, who played Cordelia in Buffy the Vampire Slayer and Angel, released a statement about Joss Whedon's alleged abusive behavior on the set of those shows.
"More than a decade and a half after her character was abruptly written off of the Buffy spinoff Angel, Charisma Carpenter has released a statement detailing the abusive environment she says Joss Whedon cultivated on the shows."
Netflix's new Korean space opera movie Space Sweepers is the science fiction film we didn't know we need in 2021.
"Right from its first, electrifying sequence involving a bunch of bounty hunting spaceships chasing after a careering piece of garbage, Space Sweepers is fantastic fun and spins a far-future of multicultural, multilingual human life in space that's as exhilarating as it is crushingly dystopian."
A lawyer in Texas's hilarious kitten filter incident during a live court session over Zoom is going viral.
"Before you start a Zoom meeting, you might want to make sure your face filters have been turned off. On Tuesday, a lawyer in Texas learned this lesson the hard way when he accidentally appeared as a cat during a live court session."
From It Happened One Night to The Big Sick, here are 20 of the best romantic movies of all time to check out this Valentine's Day.
"Every Valentine's Day, the 'I hate rom-coms' crowd comes out, decrying the subgenre as either a homogenous mass of the same tired tropes or as an elaborate fantasy with no bearing on 'real' relationships. While it's certainly possible to dislike most rom-coms, we'd argue that almost everyone can find at least one romantic comedy that resonates with them."
Got burning questions about Marvel's upcoming Eternals movie? Our friends at Inverse have some answers.
"Don't ask us how we know, but we know some of your most burning questions about Marvel's history-sweeping epic, Eternals. And no, we don't just mean 'When is its release date?' (November 5.) Originally meant to open in theaters in November 2020, the ensemble Marvel sci-fi blockbuster was delayed for a year for… obvious reasons."