Link Tank: The Scariest Star Wars Scenes to Revisit
Netflix's latest price hike, the Pennywise costume, Elon Musk explains Tesla's 2030 goal, plus more news.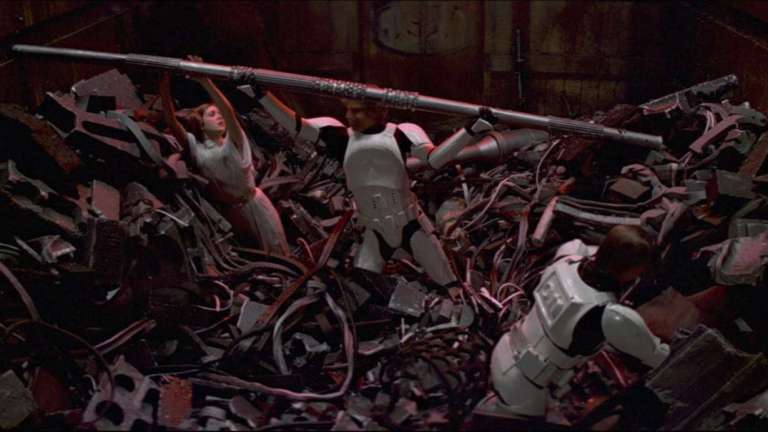 Star Wars is by no means a horror franchise, but that doesn't stop it from having some absolutely terrifying scenes.
"Fear may be a path to the Dark Side but it's not something most people associate with Star Wars. When you think Star Wars you think sweeping sci-fi adventure or maybe even laid back Western swagger. You rarely think of nail-biting dread or shocking jump scares. They're in there though and this Halloween, we've gone ahead and picked our favorite scary scenes in Star Wars, in chronological order."
Are you a Stephen King fan with $30,000 to spare? The complete Pennywise costume from the 2017 It movie is up for auction.
"For Stephen King fans, the complete Pennywise costume worn by actor Bill Skarsgård in 2017's It promises to liven up any living space. The white satin outfit was distressed by the production team to better represent Pennywise's sewer-dwelling proclivities. It even comes with a red balloon. It's expected to sell for between $20,000 and $30,000."
Elon Musk is aiming to produce 20 million Tesla cars per year by 2030. Here's how he plans for that to happen.
"Tesla has shipped just over one million cars in 12 years. But CEO Elon Musk wants to go much further – with an ambitious goal to produce 20 million cars per year by 2030. Musk mentioned the goal during the company's Battery Day presentation in September, when he also outlined new technologies that could massively boost battery production and bring down costs.
There's been a long-time debate on whether or not Toni Morrison's Beloved should be classified as a horror novel. Here's why it is horror, and how it's also so much more.
"As of writing this, it will be almost 34 years since Toni Morrison's Pulitzer Prize-winning novel, Beloved, was published. And since then, there have been countless discussions, critiques, and arguments on whether or not Beloved should be classified as a horror novel."
Netflix is raising its standard and premium prices again for US users, from $12.99 to $13.99 and $15.99 to $17.99.
"Depending on your plan, get ready to shell out more per month for Netflix. Yes, the purveyor of entertainment ranging from holiday trash like Holidate to David Fincher's Mank is raising the prices of both its standard and premium plans. According to Variety, the standard will go up $1 a month from $12.99 to $13.99, while the premium will go from $15.99 to $17.99."
Talk about irony. Google is launching a VPN service as part of its Google One cloud storage service.
"The VPN will be a free perk to the $9.99-a-month 2TB plan on Google One, the company's cloud storage service. Soon, the Google One app for Android will display a new function that can activate a VPN over the user's smartphone."