News
Link Tank: Plague Inc.'s New Mode Lets You Save the World From a Pandemic
Plague Inc.'s new mode, Frozen 2 versus Maleficent 2, hoaxes people believe, and more in today's Link Tank!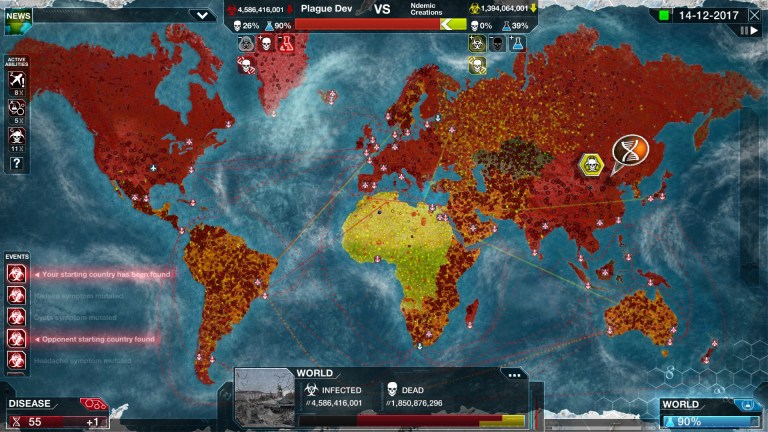 The game Plague Inc. is getting a new mode that lets you save the world from a pandemic instead of destroy it.
"The game Plague Inc. is best known for letting you create a disease to wipe out humanity. But in light of the ongoing coronavirus pandemic, Plague Inc. will add a new game mode that'll let you do the opposite and save the world from a deadly outbreak. The game's developer Ndemic Creations is creating the new game mode on feedback from the World Health Organization and the Coalition for Epidemic Preparedness Innovations."
The plots of Disney's Frozen 2 and Maleficent: Mistress of Evil have a lot in common.
"Remember that Disney sequel last year where the sweet princess found out that her people had been involved in some light genocide of an indigenous race, but not to worry, her older magical guardian would save the day? If you're trying to figure out which sequel I mean between Frozen 2 and Maleficent: Mistress of Evil, you've just proven my point."
A new study has found just how much you should walk each day to improve your health and longevity.
"Physical activity is undeniably good for your health, and plain old walking remains to be one of the easiest and cheapest ways to keep fit. Exactly just how much walking is thought to be optimal for your health, however, has been a point of contention for years."
If you're a gullible person, chances are you've fallen for one of these hoaxes.
"While at her mother's funeral, a girl meets a guy whom she doesn't know; she falls in love with the guy on the spot, and then a few days later, that girls kills her own sister. What is her motive for killing her sister? If you answered that she was hoping that guy would appear at her sister's funeral, you think like a psychopath, as proven by a genuine psychological test conducted by a famous psychologist. The only problem is it isn't a question from a genuine psychological test conducted by a famous psychologist. It's just an internet hoax you probably got in a forwarded email."
Animal Crossing: New Horizons is the perfect game to play in times like these.
"In these hell times, I, like with many, many others, have absconded to my own private desert island to resettle. It is called "no mercy Island" and I hope you come and visit my beautiful getaway destination as soon as you download Animal Crossing: New Horizons for your Nintendo Switch, which should hopefully be right about now."
Check out this sneak peek of the latest new entry of the Dresden Files series by Jim Butcher, Peace Talks.
"Chicago wizard Harry Dresden returns for more magical mayhem in Peace Talks, the latest in fantasy author Jim Butcher's Dresden Files series, which marks its 20th anniversary this year. At long last there's some hope that the supernatural conflicts that've been tearing the city apart might be resolved—but will it last?"