News
Link Tank: Looking Back at Marvel's Howard the Duck Movie
A Howard the Duck retro review, people who hated Pride and Prejudice, why you should watch FX's Pride, and more in today's Link Tank.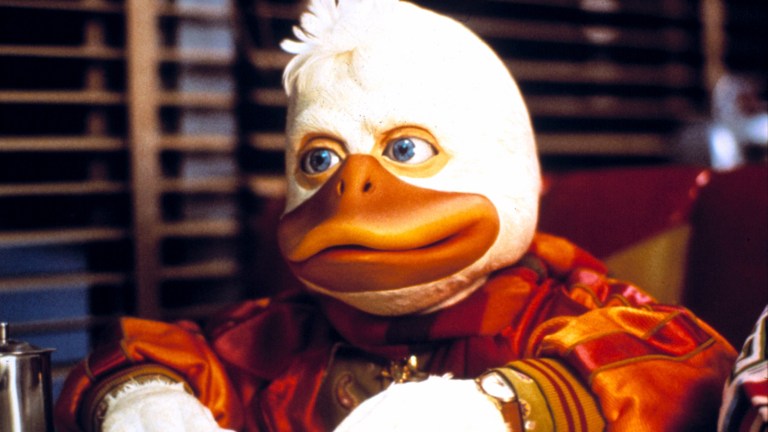 Almost 35 years on, Howard the Duck still holds the crown of Marvel's weirdest movie to date.
"Over 20 years before Iron Man kick-started what's now the Marvel Cinematic Universe—the pop-culture juggernaut that devours so much of the box office—another Marvel hero got his chance to save the world. Big difference, though: the star of Howard the Duck didn't exactly set the world on fire with his efforts."
Few novels are as universally loved as Pride and Prejudice, but even Jane Austen's most famous work had its contemporary critics.
"It is a truth universally acknowledged that few books are as beloved as Jane Austen's Pride and Prejudice, which was published on January 28, 1813. It appears on best-loved literature lists across the globe, is a fixture in high school classrooms, and has spawned a rabid fan base and countless film and television adaptations."
LeVar Burton has agreed to returning for a Community movie should one ever happen.
"We might finally be getting a Community movie. In 2020, Donald Glover said he'd return to Greendale Community College for one last adventure. Now, one more cast member tells Inverse they're also interested: LeVar Burton. 'Without question, absolutely,' Burton says when asked if he'd participate in a Community movie. 'I love Donald Glover. He's a genius. Any opportunity to interact with him. I had a blast on the two episodes that I did. The answer is an unequivocal yes.'"
FX's new docuseries Pride is essential viewing for anyone who wants to start learning about LGBTQ+ history in the United States.
"FX's docuseries Pride is about remembering where we started, what got us here, and the fight that we still have on our hands as members of the LGBTQ community. It tells the story of 6 decades of activism over the span of 6 episodes, each with its own director. The first three, which are now available on FX, are directed by Tom Kalin, Andrew Ahn, and Cheryl Dunye."
A new merger between WarnerMedia and Discovery will see the companies' two streaming services combined.
"With the merger of WarnerMedia and Discovery, AT&T is jettisoning another media property to form a new, standalone video-streaming competitor with a huge amount of content. The deal, announced this morning, creates a new media entity with control of the Warner Bros. movie studio, as well as Adult Swim, Animal Planet, Food Network, Cinemax, CNN, Cartoon Network, DC, Discovery, HBO, and more."
Spiral, starring Chris Rock and Samuel L. Jackson, is a part of the Saw film franchise. Here's how this serial killer thriller connects to its predecessors.
"If you only caught a glimpse of its stark, minimalist poster, which highlights the names of stars Chris Rock and Samuel L. Jackson against a fog-drenched city street, you might assume Spiral, a serial killer thriller debuting in theaters this weekend, was a prestige crime drama airing on HBO or FX. After all, Rock just appeared in Season 4 of Fargo. Or maybe it's a David Fincher movie? But then you look close and notice the subtitle: Spiral: From the Book of Saw. Wait, Saw? Like the grungy, nu-metal-y horror franchise from the '00s?"