Link Tank: What We Know About The High Republic Star Wars Game Eclipse
A new Star Wars era comes to life in a video game, why LEGO is a better investment than stocks, Steven Spielberg's worst movie, and more in Link Tank!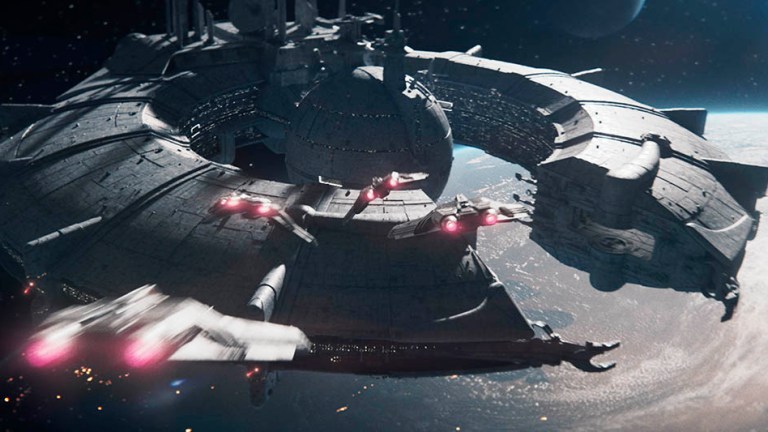 Our first look at Quantic Dream's Star Wars game Eclipse showcases some beautiful imagery of the high republic era.
"We already knew this was coming, but a reveal at The Game Awards tonight makes it official: Quantic Dream, the controversial developers of games like Detroit: Become Human and Heavy Rain, are working on a brand new game set in the Star Wars universe, on what looks like a brand new world of their creation."
Could these teases in Hawkeye be setting up Laura Barton, played by the incomparable Linda Cardellini, to be something more than just a superhero's spouse?
"There are only two episodes left in Marvel's Hawkeye, and the wildly entertaining Disney+ series clearly has more tricks up its sleeve. Episode 4 delivered more clues about the mysterious Rolex found in the wreckage of the Avengers compound. But whose Rolex is it, and why is it so important to Clint Barton? After all, he seems plenty busy corralling Kate and tracking down his Ronin suit."
Straight Outta Compton star O'Shea Jackson has one goal for his career in Hollywood; to fix video game movies.
"Jackson is dead-set on fixing the video game adaptation curse. 'It's been my life's work since I was in college. I went to USC to write scripts for video games.' And he's getting closer to making his dream a reality. 'I have a couple of meetings with PlayStation that I can't wait to talk to people about. I'm on my way to my nerd kingdom,' Jackson tells Inverse. He's got no shortage of ideas either. When I asked him what his dream project would be, he rattled off a laundry list: God of War, Shadow of the Colossus, and The Last Guardian. 'I have the best idea for a Metroid game,' he says, a huge smile on his face."
Are you thinking about investing your money in something like gold or stocks? Think again because retired LEGO sets appreciate at a higher rate.
"While some people may consider gold, jewelry, art, wine, or antiques good investments in the long-term, a new study challenges that notion and presents a unique and more lucrative alternative: LEGO sets. Economists from the Higher School of Economics in Russia have found that the market prices of retired LEGO sets sold on the secondary market grow by at least 11% annually, which is higher than the average returns provided by gold, large stocks, bonds, and alternative investments."
Steven Spielberg has another critical success with West Side Story on his hands, but what is the famed director's worst outing?
"As his remake of West Side Story begins its theatrical run with critical raves and awards buzz, perpetually successful filmmaker Steven Spielberg may be in a celebratory mood. If he wants to keep the 2021 party going, he has a few weeks left to commemorate the 40th anniversary of Raiders Of The Lost Ark or the 20th anniversary of his secret masterpiece A.I.; fans could even take note of how his Adventures of Tintin/War Horse double feature is turning 10. What Spielberg may prefer to leave to the likes of millennial-driven entertainment publications is the fact that his Peter Pan-grows-up adventure fantasy Hook, widely if not universally considered his worst movie, turns 30 today."
You know the song well, or do you? Here are some interesting facts about Wham!'s mega-hit "Last Christmas."
"Over the course of his illustrious career, George Michael gave the world many gifts. One that keeps on giving is 'Last Christmas,' the 1984 holiday classic by Wham!, Michael's pop duo with Andrew Ridgeley. 'Last Christmas' is such a uniquely beloved song that it inspired a 2019 film of the same name, and an internet game that people play each holiday season—but that's just a small part of the 'Last Christmas' story. Read on for 10 fascinating facts about this seasonal synth-pop favorite."