News
Link Tank: Kathryn Hahn to Star as Comedian Joan Rivers in Showtime Series
Kathryn Hahn has another Emmy-contending role on her hands, Armor Wars could unite some interesting MCU characters, Supergirl is ending too soon, and more in Link Tank!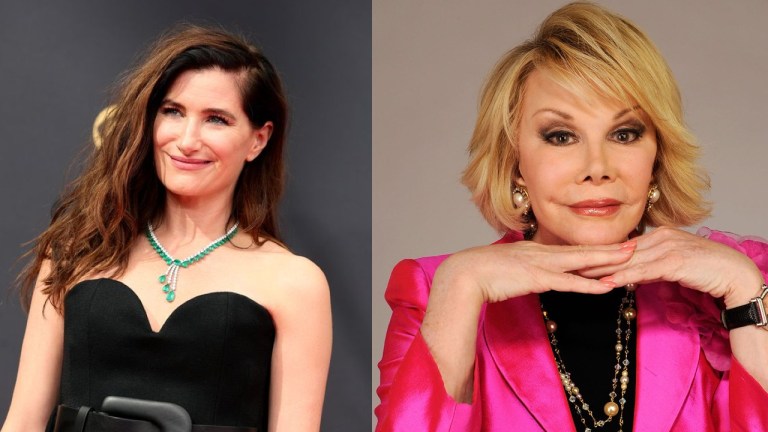 WandaVision star Kathryn Hahn is set to star as the legendary comedian Joan Rivers in a new series for Showtime.
"Though she didn't end up getting an Emmy for her work on WandaVision (despite the fact that it was Agatha all along), Kathryn Han may have lined up another gig with some Emmy potential. According to Variety, she's going to star in The Comeback Girl, a new limited series for Showtime about the mid-career revival of legendary comedian Joan Rivers."
The upcoming Marvel Disney+ series Armor Wars could feature some unlikely team-ups of MCU characters.
"Long before the Marvel Cinematic Universe became a behemoth multimedia empire, the comic book Avengers characters led the franchise charge themselves. In 1984, the New York-based cadre of superheroes licensed out the business of saving the world on the West Coast to a California off-shoot known, fittingly, as the West Coast Avengers."
More familiar faces are returning for Halloween Kills, the latest installment in the horror franchise.
"When the Halloween reboot continuity/spin-off/whatever came out, I loved it a lot. I ended up watching it in theaters twice and deeply enjoyed watching Jamie Lee Curtis be a total badass as OG scream queen Laurie Strode. However, once it became clear that, rather than being a one-and-done, but the start of a new trilogy, I became concerned."
Disney+ has coined November 12th as "Disney+ Day" as they are prepping to release a plethora of exciting content.
"Fans who were unable to head to a theater to see Shang-Chi and the Legend of the Ten Rings should make the 11th ring around November 12 on their calendars. That's the day the latest Marvel Studios film will make its streaming debut on Disney+, and it's only one of a long list of exciting things happening that day."
More drama is taking place over at Blizzard as their lawyer of over three years resigns during the midst of the lawsuit.
"Blizzard Entertainment's chief legal officer, Claire Hart, has resigned from the embattled company. She announced the news in a LinkedIn post yesterday, saying that last Friday, September 17, was her final day. Hart, who had been in the role for three years—and who previously clocked a decade at Google, according to LinkedIn—did not cite a reason for her resignation, saying only that, 'The past three years have been full of unexpected twists and turns, but I feel honored to have worked with and met so many great people at Blizzard and across the Activision Blizzard businesses.'"
The final season of Supergirl is ending the series with a bang, but it's too soon for this show to go.
"Kara Danvers' (Melissa Benoist) return from the Phantom Zone in the Supergirl mid-season premiere "Welcome Home, Kara" brought back more than just Kara. After a season and (almost) a half of Supergirl that failed to focus on developing the regular characters by giving far too much attention to the series' villains like Lex Luthor (Jon Cryer), the final season is finally (in the back half) returning to the character-focused stories that lead to exemplary growth for the main players."