News
Link Tank: The Good and the Bad of Kipo and the Age of Wonderbeasts Season 2
Kipo and the Age of Wonderbeasts Season 2, why you should put self-care before productivity, and more in today's Link Tank!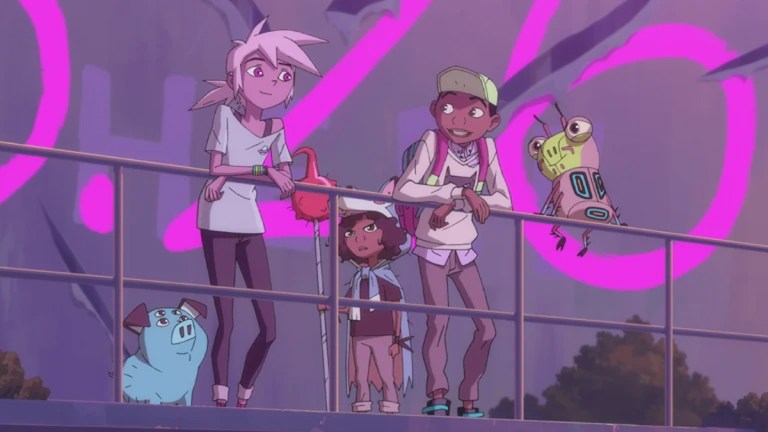 Kipo and the Age of Wonderbeasts Season 2 just hit Netflix last week. Our friends at Gizmodo break down what they like and dislike.
"Kipo and the Age of Wonderbeasts is one of those word-of-mouth shows that started small and grew into a tidal wave. The post-apocalyptic story of a half-jaguar girl and her friends roaming a brightly colored wasteland continues with season two, which wonderful expands its world while making a few sophomore missteps."
Season 2 of Netflix's hit series The Witcher will have less timeline confusion, according to the showrunner.
"The Witcher was a massive success, and while production was stalled because of COVID-19, that doesn't mean that work isn't still being done. Showrunner Lauren Schmidt Hissrich shared some information about season 2 of The Witcher with The Wrap, discussing what would be different going into this new season. For those that hated them, multiple timelines are now gone."
With the quarantine still going on in the United States, there's a pressure to be productive with our newfound free time. But it's arguably time to put self-care before productivity.
"Now doesn't feel like the right time to worry about personal productivity, and yet we all have things we need to get done. But with the world in a state of pandemic; unemployment skyrocketing; and mass protests against police violence and systemic racism deserving our attention, time, energy, and emotions, we're all experiencing more stress than ever. When we're overstressed, we can't get things done⁠—which leads to more stress."
Here's everything you need to know about New Pokémon Snap, Nintendo's new take on the classic N64 game.
"Pokémon Snap is a classic Nintendo 64 game that broke the mold of what we expect from the traditional Pokémon experience, and interest in a remake or sequel has been high ever since it was re-released for the Wii U in 2017. The Pokémon Company finally announced a follow-up, aptly titled New Pokémon Snap, during a presentation on June 17, 2020."
Merriam-Webster's Dictionary is revising its definition of racism to better include systemic prejudice.
"Merriam-Webster defines racism as the belief that 'racial differences produce an inherent superiority of a particular race' or 'a political or social system founded on racism.' Now, in light the current social movement sparked by the killing of George Floyd, the dictionary is planning to revise the entry for the first time in decades, The New York Times reports."
Hannibal has arrived on Netflix, and it's the perfect time to binge this serial killer show.
"When Hannibal premiered in 2013, the network crime procedural needed to be carved up, cooked over a hot stove, and served on a shiny platter. With basic cable shows like Mad Men and Breaking Bad and premium cable dramas like Game of Thrones and Homeland soaking up attention and winning accolades, more old-fashioned networks like NBC, where Hannibal initially aired, decided to take some bigger, more ambitious creative swings to compete."