News
Link Tank: Why The Mummy Deserves a Rewatch
You can now buy the creator of Star Wars in action figure form, why you should revisit Brendan Fraser's The Mummy series, the most-watched shows and movie on Netflix, and more in Link Tank!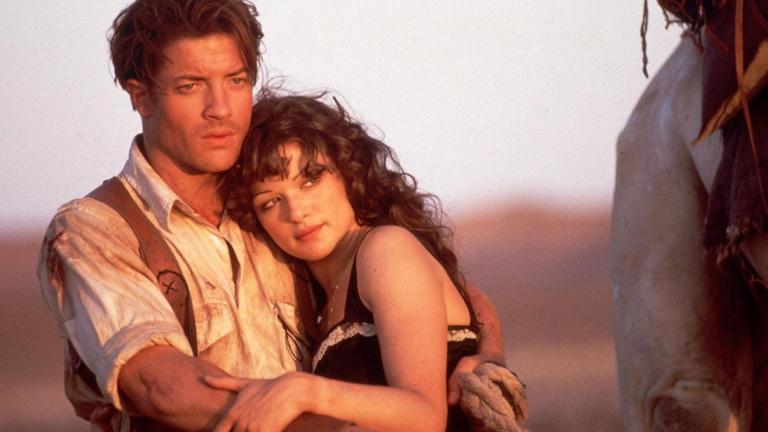 As Brendan Fraser steps back into the public spotlight, now is the time to go back and revisit his ridiculously fun The Mummy movies.
"In fact, 1999 saw Hollywood make one of its best post-Raiders adventure flicks in the form of The Mummy. One of the most fun and lighthearted American studio blockbusters of the past thirty years, the film is only elevated by star-making turns by its leads. Ever seen it? No problem. The Mummy is available to stream now on HBO Max."
You can now snag your own George Lucas action figure as part of the Star Wars The Black Series collection.
"The Maker is coming to your toy collection. StarWars.com is thrilled to reveal that George Lucas, the legendary creator of Star Wars, will join Hasbro's vaunted 6-inch Star Wars: The Black Series line of action figures. Created in celebration of Lucasfilm's 50th anniversary and in tribute to its founder, the figure cleverly depicts Lucas in stormtrooper armor and comes with a removable helmet and blaster. Lucas reports in for duty in 2022."
Find out what the most popular films and TV shows are currently streaming on Netflix.
"Netflix is known nearly as well for its secrecy around how many people are actually watching its shows as it is for being the streaming service to beat as the competition heats up. Whether it's to figure out why your favorite show was inexplicably canceled in its second season or just to help decide what's a safe bet to watch tonight, viewership data can be helpful, and we recently got a new look into that information."
Was it worth the wait? Early reaction teases No Time To Die as the most emotional James Bond film yet.
"No Time to Die, the 25th James Bond movie, almost feels like 25 movies in one. So much happens in its complex story—filled with so many sprawling, varied set pieces—that by the time you get to the end, the events of the beginning feel like they happened 18 months ago. Which, if you remember, they were supposed to. Don't forget, the only reason audiences had to wait six years between James Bond movies was the covid-19 pandemic."
Before the live-action version hits Netflix this fall, check out these awesome episodes of Cowboy Bebop to prepare.
"On November 19, Netflix is set to launch a live-action adaptation of iconic anime series Cowboy Bebop starring John Cho, Mustafa Shakir, and Daniella Pineda. As part of its recent Tudum event festivities, the streaming platform showed off it's brand new, surprisingly good opening credits sequence for the series. Well, "brand new" might be overselling it, because the reason the Netflix intro is such a pleasant surprise is that it retains the original theme song (series composer Yoko Kanno's "Tank!") and the aesthetics are pulled straight from the original anime."
One very skilled The Legend of Zelda player just completed a "minimalist" run of Breath of the Wild in 5 hours.
"When it comes to cool feats in The Legend of Zelda: Breath of the Wild, you probably think you've seen it all. You've caught the speedrunners and Korok seed completionists. . You've seen someone, or perhaps many someones, run essentially naked up to Calamity Ganon's throne and defeat him effortlessly. But hold on there, this one might be new to you: A "minimalist" run."