News
Jujutsu Kaisen: Season 2, the Prequel Movie, and Their Possible Connections
Between a prequel movie and a likely Season 2, it's a good time to be a Jujutsu Kaisen fan.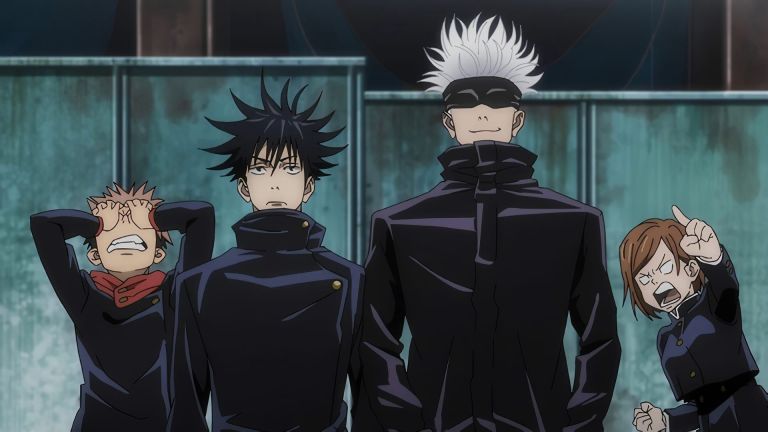 Season 1 of Jujutsu Kaisen ended last month on a high note with a stellar, action-packed finale. Since the anime launched last year, the series has been lauded for its stupendous animation and fight sequences, but the exciting team-up between the protagonist Yuji Itadori and his classmate, hammer-wielding Nobara Kugisaki, left us hyped and hungry for more.
Jujutsu Kaisen Season 2 Release Date
Unfortunately, we'll have to wait a little while longer for another season. While MAPPA, the production studio behind the anime, has teased future episodes, a projected air date has yet to be revealed.
Based on comments made by the production staff and how well-received Jujutsu Kaisen season 1 was, it's almost guaranteed there will be a follow-up season at the very least. As for when, it'll likely be after the prequel film is released.
It's not all doom and gloom for Jujutsu Kaisen fans, though. Shortly before the Season 1 finale aired, the anime's official Twitter account announced a prequel film for the series. And if that wasn't enough to whet our appetites, they dropped a teaser trailer for the movie after the season finale finished broadcasting.
When is the Jujutsu Kaisen movie coming out?
While we don't have a concrete date yet, the teaser trailer projects a Winter 2022 release. In anime speak, that means early next year. Even though that potential release date may disappoint fans hoping for something right now, it may be easier to swallow with the knowledge that Studio MAPPA is also handling the production for the prequel movie. Given the stunning visuals and slickly choreographed action sequences MAPPA delivered for the anime series, as well as the studio's history for working on well-received series like Yuri on Ice and Dorohedoro, the result will likely be worth the wait.
Since we don't have an official release date yet, we can't be sure how the film will be distributed outside of Japan. But considering the anime's popularity, it's safe to assume there will be a North American, English-language release.
Yuta Okkotsu and the Jujutsu Kaisen Movie Plot
The film will adapt Jujutsu Kaisen 0, the prequel of the main manga series. Creator Gege Akutami originally released Jujutsu Kaisen 0 as a standalone, four-chapter oneshot. But after the miniseries proved more popular than expected, they began serializing the main Jujutsu Kaisen manga the following year. And aren't we all glad for that?
Based on the teaser trailer, the prequel will focus on Yuta Okkotsu, a student with enormous cursed energy. We can assume that Yuta has come to Tokyo Jujutsu High School to learn how to control his abilities based on the trailer's narration. He appears to be standing at a crossroads where he can either use his powers to save people or destroy them.
It's doubtful that his training will go off without a hitch, though. While the trailer focuses on Yuta, it opens with Suguru Geto talking about unleashing a Night Parade of 100 Demons on Christmas Eve. Since we last saw Geto allying himself with cursed spirits during Season 1 of the anime, his motivations for doing so can't be anything good and most likely have a lot to do with Yuta.
How does the Jujutsu Kaisen film connect to the anime series?
While the prequel focuses on a different protagonist, this isn't the first time we've been introduced to Yuta Okkotsu. He's been mentioned throughout Season 1 of Jujutsu Kaisen. He's a classmate of Maki Zenin, Toge Inumaki, and Panda, and his absence was noted during the Kyoto Sister School Exchange Event by numerous people. Most notably, Aoi Todo—a third year from Kyoto Jujutsu High—was dismayed when he learned Yuta wouldn't be participating in the competition. His reaction tells us that whatever happens in the prequel, Yuta will become a force to be reckoned with.
The Night Parade of 100 Demons is also referenced before the exchange event arc when Todo and Mai Zenin drop by Tokyo Jujutsu High to survey their future rivals. From that encounter, we know it becomes known as a terrorist attack. We also know Todo distinguished himself during the attack when he exorcised five first-grade and one special grade cursed spirits by himself.
So while the film may not tie directly into the main series, its events and characters have an impact upon the current storyline. That said, Yuta's absence in the anime is conspicuous considering how often he was brought up during Season 1. Keeping that in mind, chances are good that he may make a future appearance. After all, why is he absent during the exchange event? Maybe the film will provide a clue.
Will we see characters from the main series in the Jujutsu Kaisen movie?
In addition to Yuta and Geto, the teaser trailer also features a voiceover and glimpse of Satoru Gojo. It makes sense that Gojo would be present, because not only is he an instructor at Tokyo Jujutsu High School, he's also the most powerful jujutsu sorcerer currently alive. Yuta's abilities would definitely interest him.
Beyond that, due to the movie being a prequel, it's unlikely we'll see Yuji or Nobara since they're both freshmen in the main series. There is a chance we may see Megumi Fushiguro, despite his also being a freshman in the current timeline, because of his connection to Gojo and the illustrious Zenin clan. On the other hand, there is a high probability we'll see Maki, Inumaki, and Panda. They're Yuta's classmates at Tokyo Jujutsu High, which gives the prequel an opportunity to explore their characters more in-depth than we've seen in the anime series so far.
The teaser also briefly shows a young girl and a cursed spirit attached to Yuta. Without a doubt, the film will explore their connection to Yuta and each other.
Season 1 of Jujutsu Kaisen is currently streaming on Crunchyroll.