News
Hugh Grant Caught Coronavirus, Made Dolls Kiss, Sniffed Garbage
Hugh Grant has been reflecting on his pandemic experience.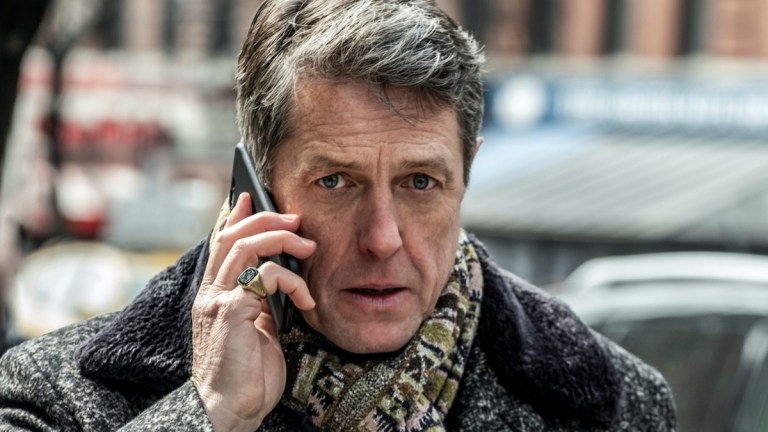 Hugh Grant has confirmed that he caught coronavirus at the start of 2020, describing his various symptoms as both embarrassing and panic-inducing as they developed.
The actor, who is currently doing the rounds promoting his new psychological thriller miniseries The Undoing, where he stars opposite Nicole Kidman, didn't paint a particularly fun picture of his COVID-19 experience when he popped up on The Late Show with Stephen Colbert this week.
Grant apparently caught coronavirus all the way back in February when he was in London with his wife, Anna Elisabet Eberstein. He didn't get tested (it was virtually impossible in the UK at that time anyway) but confirmed that he now has the relevant antibodies, which he says he's "rather proud of".
"I kept breaking into a terrible sweat. It was like a poncho of sweat. Embarrassing, really. And then my eyeballs felt about three sizes too big and a feeling as though some enormous man was sitting on my chest," recalled Grant, adding that it was like "Harvey Weinstein or someone" but that he wasn't sure what exactly was wrong with him as his strange symptoms were progressing at a stage where we knew so little about the virus.
"I was walking down a street one day, and I thought, 'I can't smell a damn thing,'" he recalled. "And you start to panic 'cause by then people were just starting to talk about this as a symptom. And I start sniffing flowers, nothing. And then you get more and more desperate. I started sniffing garbage cans and then you want to sniff strangers' armpits because you can't smell anything. I eventually went home and sprayed my wife's Chanel No. 5 directly into my face."
Like most of us, Grant tried to find, um, creative ways to pass the time in lockdown – constructing an erotic fantasy world with his kids' dolls.
"Well, one of them was Barbie and one of them was Elsa, I think, from Frozen," he explained. "And they developed an affair. I took photographs of them kissing each other and sent them to friends. That's what happens in a really long lockdown."
Colbert joked that the 60-year-old actor describing Barbie porn for them would lead to "a huge [ratings] bump."
You can watch Grant's interview below…
The Undoing is currently airing on HBO. Grant stars as Jonathan Fraser, a child oncologist who seems to have a nice life with his wife Grace (Kidman) and their 12-year-old son, but a gruesome murder turns their whole world upside down, and when Jonathan suddenly goes missing, Grace is left with a mystery to solve.
"Jonathan isn't entirely as lovely as he seems," noted Grant. "But you don't know if he's evil or not. The thing I kept coming back to was bedside manner, that smooth way a doctor approaches a patient. I've always found that creepy. I think that's how Jonathan is in his whole life."