Features
How Ghost Adventures: Quarantine Came Together
The Ghost Adventures spinoff explores the theory that paranormal activity is elevated due to the global pandemic.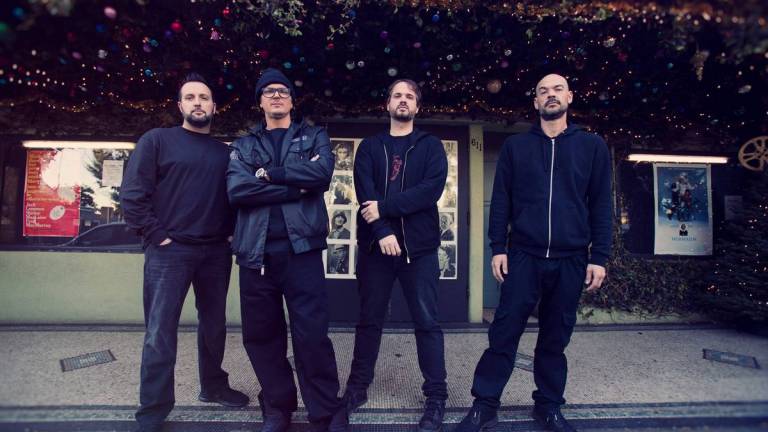 To set the tone for his new Travel Channel miniseries Ghost Adventures: Quarantine, paranormal investigator Zak Bagans didn't begin with creepy footage of dolls, but rather the empty streets of his adopted home Last Vegas.
Filmed in the early days of quarantine, the four-part Ghost Adventures spinoff—which premiered on June 11, and airs Thursdays at 9 p.m.—explores the theory that paranormal activity is elevated due to the global pandemic, and the emotional stress that has resulted from such death, and uncertainty.
Essentially, to borrow from Dr. Spengler, if the normal amount of psychokinetic energy in the Las Vegas area could be represented by a standard Twinkie, then COVID-19 has expanded that energy to a Twinkie 35 feet long weighing approximately 600 pounds.
Bagans hits that notion home with his eerie opening shots of him driving down the stretch of South Las Vegas Boulevard known as The Strip. Rather than bustling with tourists, it looks empty and post-apocalyptic.
From there, Bagans sets up the paranormal investigation that will unfold for the following episodes. Along with Aaron Goodwin, Jay Wasley and Billy Tolley, Bagans' Ghost Adventures crew quarantines themselves for two weeks onsite at Zak Bagans' Haunted Museum in Vegas.
Bagans has shared that his own museum, which he says is rife with paranormal activity, already frightens him. However, he adds he believes that activity was already increasing leading up to the pandemic, and that is has exploded since the quarantine began.
While the network has heavily promoted an upcoming episode where Bagans opens the Dybbuk Box, a supposedly haunted object with a rich internet, last night's premiere centered around three main acts: A room full of supposedly haunted dolls; artifacts connected to assisted suicide proponent Dr. Jack Kevorkian, and museum visitors tormented in the exhibit dedicated to him; a potential haunting involving actress Natalie Wood, and the captain of Splendour yacht she was on when she mysteriously died. The captain, Dennis Davern, emailed and called Bagans from the Philippines while they were filming after they hadn't spoken for years.
In the following conversation, Bagans opens up about the evidence he and his team picked up during the first episode of Ghost Adventures: Quarantine.
What do you believe you captured when you gathered the haunted dolls together?
What I will tell you is that, one, we gathered the dolls. We only got, I believe, one bit of communication from one particular doll. We make a capture on the [Structured Light Sensor] camera centering around Peggy, the doll—it's unlike anything that we have ever seen before. Another doll, I believe it was Lily, we captured something on a full-spectrum camera. I already know these dolls can indeed harbor an attachment, but to see the visual evidence that we got?
You can see something behind the doll Lily…
You can see a figure behind Lily. We just could not debunk that at all, and we are going to be showing that as concrete proof that these haunted dolls at my museum, truly do have some type of attachment. I just don't know if it's a human attachment or something demonic. But it was really cool. It was more visual evidence with the dolls, which I was happy to get.
You grouped the dolls together for a paranormal experiment, but the Natalie Wood activity was random, and seemed to occur after you moved a mannequin into a room with an exhibit dedicated to her.
We had this ripple effect with something with Natalie Wood and the captain. Something happened to him at his house, and he was literally calling us, crying…
He emailed you saying his wardrobe flew across the room, and that he sensed Wood's spirit…
Just the timing of that! I haven't heard from this guy in literally three years. How does that happen on that night? How does he know that we were even there? I don't know. It's just weird how he knew that I was in that room at that moment, and I felt a presence when I was dropping that mannequin off in there. I talked to Natalie. I physically spoke her name. "Is that you, Natalie." That's when he starts having this stuff happen. So, it's just some weird shit, man.
It's raw, and emotional, and there feels like unfinished business for him. But with the Kevorkian room, you guys think you're talking to one of his patients, named Gale. If he chose to end his life, why would he be sticking around, or scaring tourists who visit?
The guy who I believe that we may have started making contact with, this Gale guy… I don't believe that that guy is the same one that's been making these women faint or something like that. I think that is something different. But, like I said, in that moment, we started getting some good evidence, though, around that, the van and in that room in particular.
So how does all this play into your long-term paranormal research?
I'm using the museum for my own paranormal experiment, something that I can research over a long period of time. I have people there as my eyes and ears, too. I have my groups of people that I use to observe and see these reactions. If people are having the same exact symptoms in the same area, then that's something alarming.