Giveaway: Win the Back to the Future Ultimate Trilogy in 4K Ultra HD!
35 years after the release of Back to the Future, we're celebrating the legacy of the trilogy by giving away THREE Ultimate Trilogy Bundles on 4K Ultra HD!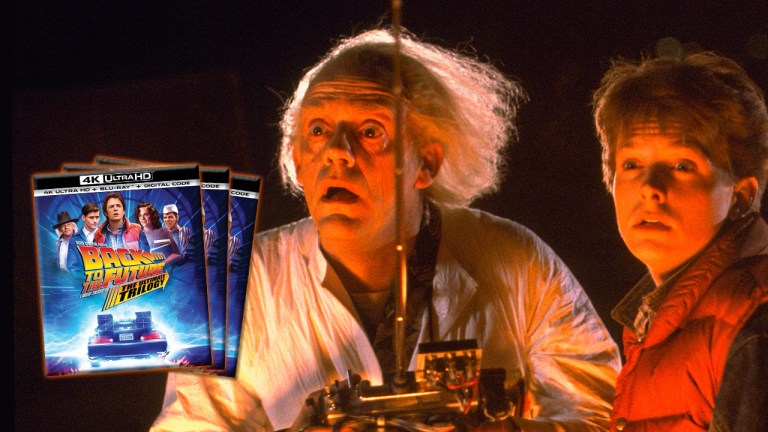 Great Scott! It's been 35 years since the release of one of the most culturally relevant movies of all time. To celebrate, Den of Geek is hosting a giveaway of the Back to the Future Ultimate Trilogy 35th Anniversary Edition in glorious 4K Ultra HD! Just in time for Back to the Future Day.
Click here to enter via our official giveaway page!
Three lucky fans will win the trilogy bundle of all three classics, available in beautiful 4K Ultra HD for the first time ever. The anniversary combo pack, which is out today in the UK and releases in the US on October 20, also comes with a bonus disc chock-full of bonus features such as rare audition footage from Hollywood stars Ben Stiller, Kyra Sedgwick, Jon Cryer, Billy Zane, Peter DeLuise and C. Thomas Howell. It's difficult to imagine anyone playing Marty McFly other than Michael J Fox, but it's also been 35 years so just watching Ben Stiller audition would…make anyone feel as old as Doc was.
The set also comes with a tour of the film's props and memorabilia hosted by co-writer/producer Bob Gale, a sneak peek at the new musical show, and a special episode of the popular YouTube Series Could You Survive The Movies? We're also greeted by Doc Brown from the past (2015) with an exciting, never-before-seen message for fans.
If you know what a DeLorean is, know whose mom is whose, and know what the Libyans had to be angry about then you know you need this set to add to your collection of what we assume is a very well-stocked video library. Plus, your time-travelling marathon doesn't have to end with just the movies. Once you've finished watching the triple-feature, savor the interview with Michael J Fox which covers how he got the role, the stunts he pulled and of course, his character's relationship with Doc.
Click here to enter via our official giveaway page!
Entries will be accepted until October 29. Three (3) lucky winners will be chosen and then notified via email. The winner must reply to the email within 48 hours with shipping information in order to accept the prize, otherwise another winner will be chosen. No cheating using a DeLorean, please. Good luck!