Reviews
Fear and Loathing in Aspen Plants Its Freak Flag High
Gonzo journalism and counterculture voting rights get smoked by locals in Fear and Loathing in Aspen.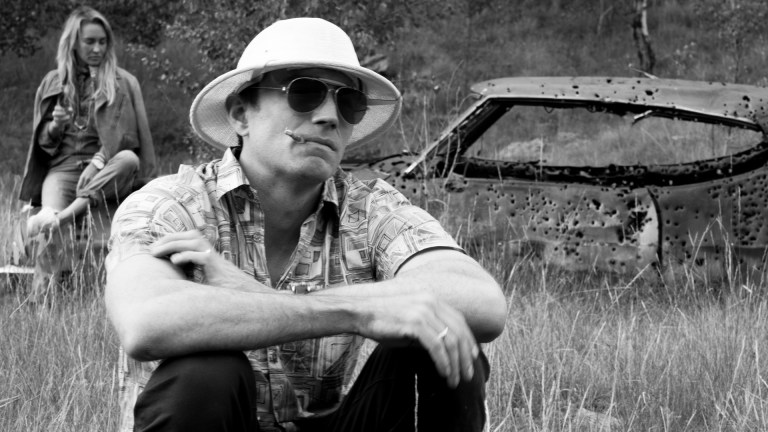 Hunter S. Thompson is a confounding figure. Though he didn't invent Gonzo journalism, he is the most identifiable face of it. His first-person narrative style of news gathering makes him partially accountable for the overriding trends of internet journalism, on both sides of the aisle and all the cleanup calls which go along with them. Thompson's 1970 attempt to run for sheriff of Pitkin County, Colorado, marked the beginning of baby boomer politicking. Writer-director Bobby Kennedy III's Fear and Loathing in Aspen tells that story with wit, wisdom and weirdness.
Set just before Thomson, played by Jay Bulger, caught his stride with his 1971 novel Fear and Loathing in Las Vegas: A Savage Journey to the Heart of the American Dream, the film conjures the energy of strange, new beginnings. Much of it is shot on vintage grade, grainy film stock, and it looks like the actors were free to taste at least medium grade, seedy, hemp stock, as well as mescaline, cocaine, and plain old tobacco, dipped in PCP. More than merely recreating the era, Fear and Loathing in Aspen accurately captures the underground filmmaking experience of the time period.
My favorite Bill Murray performance is his turn as Thompson in Where the Buffalo Roam. Though I love Terry Gilliam's Fear and Loathing in Las Vegas, Art Linson's film more accurately captures the offbeat social divide because it was closer to the source material. Murray was himself, with Thompson's impish soul egging him to be what he was naturally. He sprinkled Thompson's singular speaking approach like pepper, and never offended the chef. Bulger captures Thompson's mannerisms without ever approaching caricature. It is a deeply felt performance, especially when Bulger allows Thompson to reveal his own inner disappointments, something which never occurs to Johnny Depp until The Rum Diary.
Murray and Depp got to hang out with Thompson in the flesh. Bulger doesn't project inner wildness on the inner projector behind his eyes, but spent a large part of his real life immersed in Thompson's job. He was also a gonzo journalist and Rolling Stone writer, and puts himself behind those tinted aviator glasses, converse sneakers, crumpled hat, and cigarette holder. We don't doubt he is who he's playing, and when we see the 8 mm home movie footage, we can imagine ourselves being fooled into thinking of Hunter with a full head of hair. The audience is guided by Hunter S. Thompson himself, through recordings he made during his political run. Thompson almost traded writing articles for tickets, and found a new buzz: political addiction. Bulger gives a visceral impression of the thrills and lows of the high.
While Gillian tried to bring the inner LSD experience to an artistic fruition, Fear and Loathing in Aspen shows the exterior surface of indulgent tripsters. But the low-budget, we-can-do-this-at-home intimacy explores the players' interiors more deeply. It's even hard to fear the sheriff Hunter is trying to depose when he says he got the chalk for his map of local intransigeants from his kids.
Thompson is as much an outlaw as Doc Holliday and Billy the Kid to Sheriff Carroll Whitmire (Laird Macintosh). He's just running 'em out of Dodge. He'd probably envy the handguns, rifles and other weaponry available up at Thompson's place. But he's at least reasonable. Whitmire's opponent is running on a very Democratic "Jail Thompson" ticket, and de-pigs the top cop. Thompson runs on the "Freak Power" ticket. One inspired sequence shows Hunter shaving his head just so he can call the encumbered, incumbent Republican candidate for sheriff "his long-haired opponent."
"The Battle of Aspen" was Thompson's first Rolling Stone piece, and can be found in his essential collection The Great Shark Hunt. The race was also the focus of last year's documentary Freak Power: The Ballot or the Bomb. After riding with the Hell's Angels, former sports writer Hunter fled to a cabin in the woods to start a family and write a novel at the end of the 1960s. Acid clarity inspires him to discern unnatural elements in the stream, and to pour a bucket of the foul-smelling stuff at an Aspen town council meeting. This leads to the exposure of the town's great divides, generational, racial, economic and corporate.
Cheryl Hines, as Aspen Mayor Eve Homeyer, is fun to loathe here. She brings a deliciously bland middle American flavor, and leaves an indistinct aftertaste. Homeyer is oblivious to how manipulative she is. She doesn't see what she's doing as wrong. Sees no evil in driving the real people of Aspen out to make room for the developers and the rich. The film's main focus is subtle small-town bigotry and the overt insular structure which keeps the system in place. Kennedy keeps it contemporary by targeting gentrification, the unfairness of drug laws, calls for police reform and demilitarization, and a plea for the Colorado environment.
Amaryllis Fox, who was a former CIA analyst, plays Thompson's fictionalized campaign manager. She also serves as his Jiminy Cricket, as well as Cricket lighter, burning feelings of conscience into his ear and grass in his pipe. Fear and Loathing in Aspen also presents Thompson's home life. He educates his son on the ways of life, and toys with his wife in the ways of sons. Bobby Kennedy III, met Thompson as a child along with his father, Robert Kennedy Jr., the son of Robert F. Kennedy and a lifelong friend to the Gonzo writer. He ensures Thompson the person comes out as much as the man who railed against social disparities and dysentery with equal rage, and often in the same sentence.
The only thing missing is a representational soundtrack. The score, written by Wayne Kramer, John Paul Roney, and The Futurebirds, captures the sound and feel of the time, but a recognizable song or two would have done wonders for the puzzles of the period piece.
A lot of what was outlaw in 1970 is mainstream now. Thompson, who died by suicide at age 67 on Feb. 20, 2005, is as much a reason for this as Chicago 7 alumni or Angela Davis. The freak has inherited the earth, but it's still out of our price range. The end credits admit "This is a fictional story with fictional characters adapted from a true story." Which is a roundabout way of saying you can't make this shit up. It's organic, and as real as it feels. Fear and Loathing in Aspen feels good, even though it doesn't have a strictly happy ending. But feeling good is good enough in this case. It's short, but satisfying, and yet frustrating enough to consider giving something like this a try at home.
Fear and Loathing in Aspen will be available on digital and on demand Aug. 31.