News
Bruce Springsteen New Single Drops With An Album on the Way
Bruce Springsteen and the E Street Band reassemble for the single "Letter to You," title track of upcoming new album.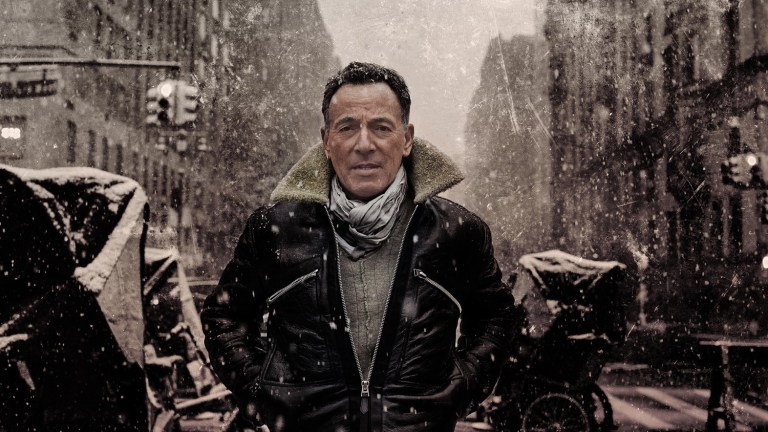 Columbia Records will release Bruce Springsteen's new album Letter to You on Oct. 23, according to Rolling Stone. The 12-track album is the first to feature The E Street Band since High Hopes in 2014. As an introductory salutation to his 20th studio LP, Springsteen released the title-track lead single "Letter to You."
"I love the emotional nature of 'Letter to You,'" Springsteen said in a statement, via Rolling Stone. "And I love the sound of the E Street Band playing completely live in the studio, in a way we've never done before, and with no overdubs. We made the album in only five days, and it turned out to be one of the greatest recording experiences I've ever had."
This is the first time Springsteen has performed with the E Street Band since The River 2016 tour. The music video shows the band working in Springteen's home studio in New Jersey. Fans of The Sopranos will notice the air-drumming consigliere Steve Van Zandt at the center of things. Springsteen is also backed by Roy "The Professor" Bittan, Nils Lofgren, Garry "the foundation of the E Street Nation" Tallent, "the mighty" Max Weinberg, Charlie Giordano, Jake Clemons and Springsteen's wife Patti Scialfa.
Springsteen "Dug deep in my soul and signed my name true," for his new single, and dug into his outtake vaults for three of the songs on the upcoming album. The tracklist includes new recordings of "If I Was the Priest," "Song for Orphans" and "Janey Needs a Shooter," which Springsteen wrote in the early 1970s.
Letter to You will also include nine recently written songs. The Boss spent much of 2017 and 2018 performing multiple nights per week at his Springsteen on Broadway. The performance was issued as an album and a Netflix film, directed by Martin Scorsese. In the film Springsteen on Broadway, Springsteen talked about new material. "About a month or so ago, I wrote almost an album's worth of material for the band. And it came out of just… I mean, I know where it came from, but at the same time, it just came out of almost nowhere," he said. "And it was good, you know. I had about two weeks of those little daily visitations, and it was so nice."
Letter to You was produced by Springsteen and Ron Aniello, who has produced every Springsteen album since Wrecking Ball in 2012. The Boss's last first full album of originals his homage to sixties Southern California pop, Western Stars. Released in June 2019, he followed it up with his directorial debut for a concert film, which premiered at the Toronto International Film Festival.
Springsteen streamlined a socially distanced performance with Dropkick Murphys at an empty Fenway Park in Boston this spring. He has been mainly busy on his SiriusXM radio channel DJing "From My Home to Yours" since the pandemic hit. He dedicated two hours of music to the late George Floyd in a June broadcast. "We remain haunted, generation after generation, by our original sin of slavery," he said. "It remains the great unresolved issue of American society. The weight of its baggage gets heavier with each passing generation. As of this violent, chaotic week on the streets of America, there is no end in sight."
Letter to You tracklist:
01 One Minute You're Here
02 Letter to You
03 Burnin Train
04 Janey Needs a Shooter
05 Last Man Standing
06 The Power of Prayer
07 House of a Thousand Guitars
08 Rainmaker
09 If I Was the Priest
10 Ghosts
11 Song tor Orphans
12 I'll See You in My Dreams
Springsteen reissued five albums, The Rising, Devils & Dust, Live in New York City, Live in Dublin, and 18 Tracks, this year. Be sure to check back for new releases before the album hits. Springsteen put out three singles before Western Stars came out last year.
Letter to You will be available on Oct. 23.