News
Bob Dylan Biopic to Focus on Electrifying Folk Music
Timothée Chalamet is in talks to play Bob Dylan in upcoming biopic from Walk the Line director James Mangold.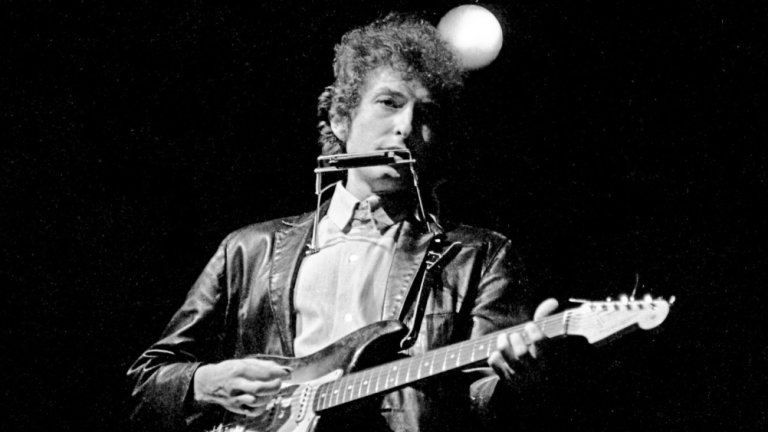 Folk music enthusiasts loved Bob Dylan when he played his acoustic set at the 1963 Newport Folk Festival. But reports said Dylan "electrified one half of his audience, and electrocuted the other" when he plugged in for his July 25, 1965 appearance. While the sound engineer of the show contradicts it, the press wrote Dylan was booed during the set. A filmmaker caught an audience member calling the singer "Judas" before Dylan instructed the band "play it fucking loud," and tore into "Like a Rolling Stone." The incident will be the basis of James Mangold's upcoming as-yet-untitled film. Timothée Chalamet is in talks to play Dylan, according to Deadline.
The feature will be based on Elijah Wald's 2015 book Dylan Goes Electric. The screenplay was written by former Time and Newsweek film critic Jay Cocks, who wrote the screenplay for Gangs of New York. The film will be produced by Jeff Rosen, Dylan's manager. Fox Searchlight acquired the rights to use Dylan's music.
read more: Rolling Thunder Revue: A Bob Dylan Story by Martin Scorsese Release Date, Poster Released
Mangold (Ford vs. Ferrari) directed the 2005 Johnny Cash-biopic Walk the Line, which starred Joaquin Phoenix and Reese Witherspoon. Chalamet, whose Little Women is currently in theaters, is taking guitar lessons. He will make his London stage debut the Old Vic production of Amy Herzog's Pulitzer-nominated drama 4,000 Miles, which runs April 16 until May 23. He is also acting in Wes Anderson's The French Dispatch and Denis Villenueve's adaptation of Frank Herbert's science fiction classic Dune, which comes out December 18. Casting for the roles of Pete Seeger, Joan Baez, and Woody Guthrie have not been announced yet.
This is the first big Dylan project since the 2007 film I'm Not There, which starred Christian Bale, Cate Blanchett, Marcus Carl Franklin, Richard Gere, Heath Ledger, and Ben Whishaw as Dylan. Martin Scorsese's documentary No Direction Home came out in 2005. A Dylan musical called Girl from the North Country will open on Broadway on March 5. The show ran in London and Toronto.