Features
An Introduction to Terry Goodkind's The Nicci Chronicles
Are you a Sword of Truth or Legend of the Seeker fan? Either way, The Nicci Chronicles is a fantasy series worth your time.
Terry Goodkind's Shroud of Eternity, the second book in The Nicci Chronicles drops this week. It's the story of Nicci, a warrior-sorceress who first appeared in the popular Sword of Truth books. Now, she's got her own series to rule over.
If the Sword of Truth series mean nothing to you, that's OK. The Nicci Chronicles represent a whole new entry point into this magical world. If you're a fan of female-led genre series that include fantastical world-building and epic battles, then Shroud of Eternity should definitely be on your radar.
Here are your different options for diving into Shroud of Eternity and Terry Goodkind's larger fantasy world…
The Sword of Truth Route
Readers originally met Nicci in Goodkind's Sword of Truth fantasy series, which you may recognize from its cheesy, yet enjoyable TV adaptation Legend of the Seeker(starring Agent Carter's excellent Bridget Regan).
The Sword of Truth series follows magical power couple Richard and Kahlan as they fight to restore justice and peace back to their world. The 14-book series (and four-book follow-up) starts with Wizard of the First Ruleand ends with Warheart, which was published in 2015.
Nicci is introduced in Stone of Tears, the second book in the Sword of Truth series. Richard meets Nicci when she captures him in an attempt to convince him that the Imperial Order represents the greater good. (Spoiler alert: it doesn't.)
Instead, Richard manages to turn Nicci to the side of light, and Nicci goes on to become one of Richard and Kahlan's greatest allies and friends in the war against the Imperial Order. Nicci's path from dark to light is one of the more interesting backstories of the entire Sword of Truth series. Her badass warrior skills are pretty cool, too.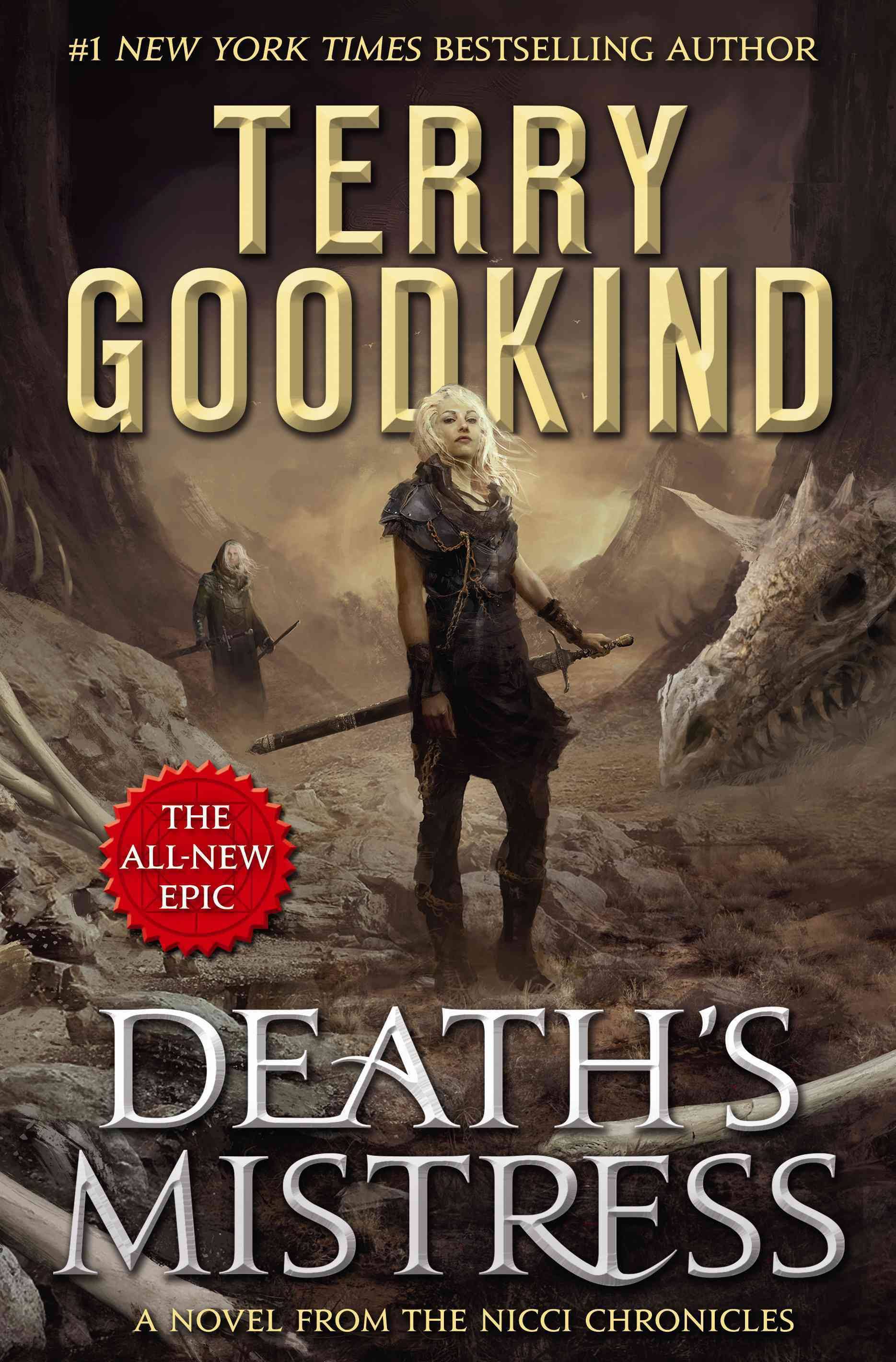 The Nicci Chronicles Route
Who has time to read 17 books, amirite? If you're looking for a fun, thrilling, female-led fantasy series, then The Nicci Chronicles could be the saga for you. As I previously mentioned, Shroud of Eternity is the second book in the new series, so there's only one previous book you have to read if you want to catch up fully with what's happened so far. 
The Nicci Chronicles starts with Death's Mistress, which has Nicci going out into the far reaches of Richard and Kahlan's kingdom to spread news of Richard's triumph over Emperor Jagang. As a former lieutenant in Jagang's army, where she was known as "Death's Mistress," Nicci is the perfect person for the job. She is joined in her quest by Nathan, an ex-prophet and wizard; Bannon, a young sailor and former cabbage farmer whose life Nicci saves; and Thistle, a young orphan girl.
Death's Mistress is a new lease on fantasy series life for Goodkind, whose Sword of Truth books had both the pros and cons of being part of such a long narrative. While the number of books in the series lent the universe a depth of world and character, they also had the weight of ongoing prophecy and what had already come before to shoulder. The Nicci Chronicles, while informed by the Sword of Truth series, have only tangential ties to the original series.
If you haven't read the Sword of Truth books, it may take you a little extra time to become invested in Nicci's journey, but not much. The Nicci Chronicles are designed for new readers to enjoy and you are quickly pulled into Nicci and Nathan's quest to find Kol Adair, as prophecized by a witch called Red.
The book follow their episodic adventures, from fighting off selkies to saving a fishing village from a fleet of Norukai slavers, as they undertake their larger quest. Dark, swashbuckling fun!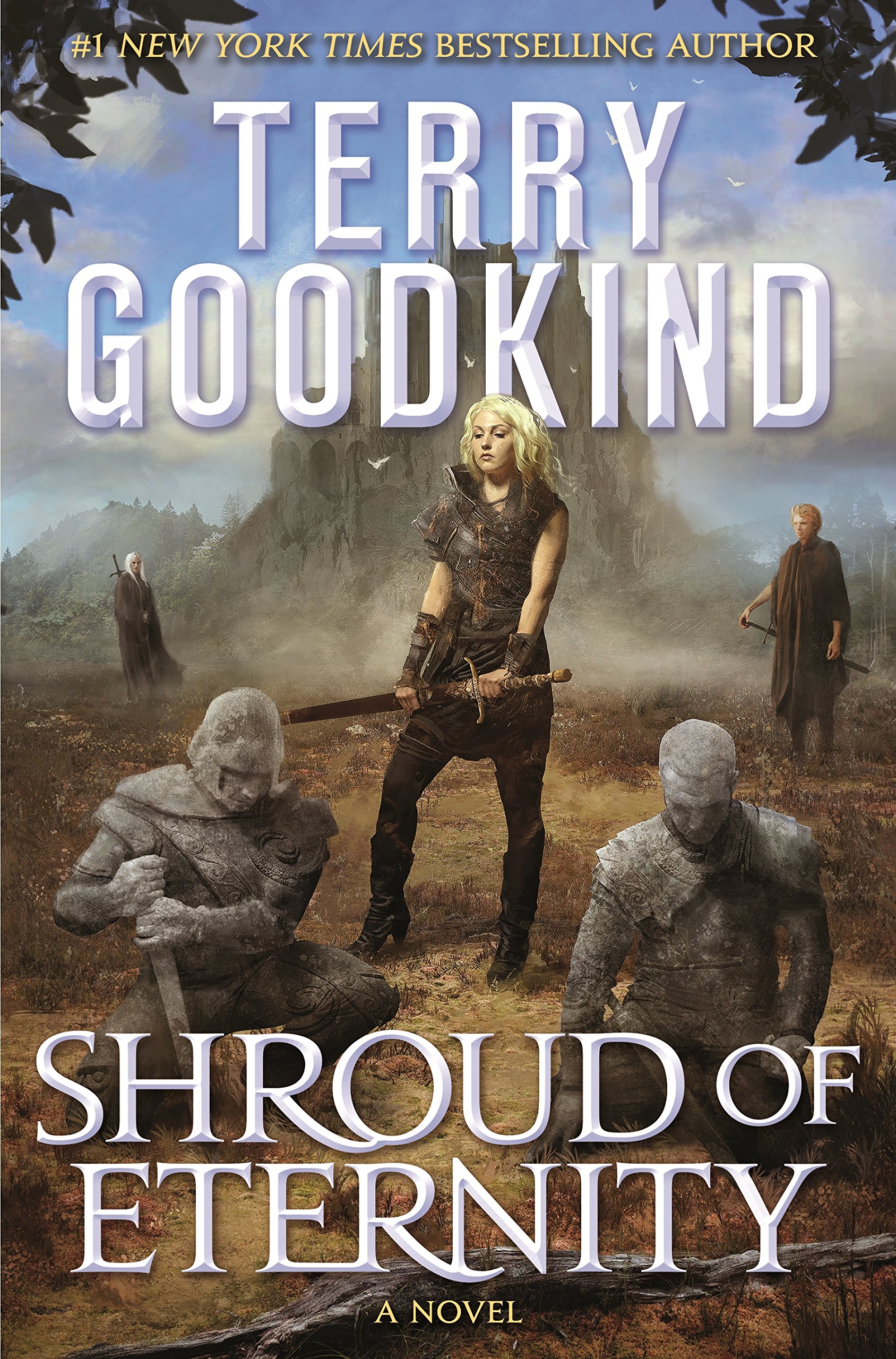 The Standalone Route
Some people just want to dive into a series with the book everyone is currently reading and talking about. (Fun fact: I started the Harry Potter series with Chamber of Secrets before going back to read the first book in the series.) If you're one of those kinds of readers, here's what you need to know to hit the ground running with Shroud of Eternity, the second book in the Nicci Chronicles series.
Shroud of Eternity picks up where Death's Mistress leaves off, with Nicci, a magic-less Nathan, and Bannon journeying deeper into the Old World. Nicci and Nathan have dual missions: Nathan, to restore his magic; Nicci, to save the world. Following the advice of the witch Red, they continue on to the ancient city of Ildakar, a place hidden from time and space by a magical shroud that has been in place for over a millenia.
At first glance, Ildakar seems like a paradise, filled with immortal beings living in a self-described "free city," but there is something disturbing beneath the surface of this gleaming metropolis. You'd think that a book that begins with the line "Rotten human flesh glistened in the sunlight, discolored by the bruised hues of putrefaction" couldn't get much darker, but Shroud of Eternity doesn't pull any punches when it comes to exploring the more disturbing uses of magic. 
Nicci, Nathan, and Bannon get pulled into the city's internal power struggle, and must make some tough decisions about what they are willing to sacrifice in service of their larger goals.
Because of it's relatively contained nature (unlike Death's Mistress, it takes place mostly in one place: the city of Ildakar), Shroud of Eternity makes for a relatively good standalone read—though, I should warn you, it ends with a bit of a cliffhanger. Perhaps from all of the practice from writing the Sword of Truth series, Goodkind knows how to give readers the relevant information in the book's early pages to ground the reader in the story. 
At more than 500 pages, Shroud of Eternity may seem like a daunting read, but its action-packed pages make for a quick, exhilarating read that may find you seeking out more Goodkind books while you wait for the next installment of The Nicci Chronicles. You've been warned!