Features
The Walking Dead Season 9: A Spoiler-Filled Guide to A New Beginning and the Whisperers
The Walking Dead season 9 is heavily inspired by the comics. We've dissected the comics for midseason finale spoilers!
This Walking Dead article contains spoilers.
If you watched The Walking Dead season 8 finale, "Wrath," you may have noticed an interesting trend. Rick Grimes had quite a bit to say about "a new world" or a "new beginning." In fact, the entirety of season eight and its finale seemed to be setting up the arrival of a very different world. A world where not only is there no all-out war against the Saviors, there is no war at all. 
Well, season 8 may have been foreshadowing something very specific. The next saga in The Walking Dead comic universe looks very different from everything that came before it. Robert Kirkman tried something rather experimental in terms of storytelling and time jumps. 
Related Article: A Spoiler Guide to the Whisperers and the Whisperer War
Given what we've seen in footage from season 9, it's clear that The Walking Dead season 9 will adapt the "A New Beginning" arc from the comics this season. That's The Walking Dead issues #127-132 by Robert Kirkman and Charlie Adlard. We've gone back to the comics to see what season 9 has in store!
Read on to find out what "A New Beginning" entails. But beware – the following contains HUGE spoilers for The Walking Dead comic series and possibly the TV show.
New Faces
The Walking Dead's Volume 22 "A New Beginning" represents a dramatic time jump for the series that allows writer Kirkman a chance to interact with his characters in a new context. On a capitalistic level though, it also conveniently provides an easy jumping on point for viewers of the TV show who want to give the comic a shot but are intimidated by the 126 issues already in circulation. 
To help with both those artistic and financial goals, "A New Beginning" introduces several new characters right off the bat to serve as our guides to this new world. Issue 127 opens with a new group of survivors we haven't met before. A woman named Magna is their de facto leader and other members include Luke, Yumiko, Kelly, Connie, and Bernie. Magna's group is experiencing a bit of a crisis. They've survived the zombie apocalypse by traveling around with a trailer that was hitched to horses. The trailer is no longer a safe haven as Magna's group quickly and unexpectedly becomes surrounded by a group of walkers that emerge from the woods. 
Magna nearly gets bit on the arm before our old friend Paul "Jesus" Monroe arrives to rescue them, though sadly Bernie is killed by the horde. Jesus shepherds (hehe) Magna and her remaining crew to Alexandria where they act as the reader's cipher, being introduced to a world and a community that is completely foreign to us now that two years have passed (though producers say the time jump in the show will be one and a half years).
Related Article: The Walking Dead – Rick Grimes' Ending Explained
Since Magna and her friends' introduction, the comic series hasn't found many relevant or interesting things to do with them. They largely functioned as an introduction into this new time-jumped storyline and have operated only as tertiary characters since then, though Magna and Yumiko have seen more opportunities as of late. Still, they're an important part of the time jump and the show may even find some renewed uses for them beyond that. 
"A New Beginning" also introduces the character of Siddiq, but we're already pretty familiar with him. The only question is whose role from the comics will he take on in season 9? Another character the volume introduces is someone we may have already seen. Dante (more on him in the fourth section) is a head-strong and charming Hilltop soldier who develops feelings for Maggie. Dante kind of resembles a current character on The Walking Dead season 8 – the captured Savior soldier turned sympathetic Hilltoper named Alden (Callan McAuliffe). He certainly seems to harbor a lot of respect for Maggie Rhee. With Lauren Cohan leaving the show midseason, maybe they'll find someone else for Alden. I hear Michonne will soon be available…
New Looks for Old Faces
The Jesus who rescues Magna's group looks a bit different from the Jesus we're used to. As it turns out, people can change quite a bit in two years. Take a look at the man that fans have endearingly referred to as "Bushido Jesus."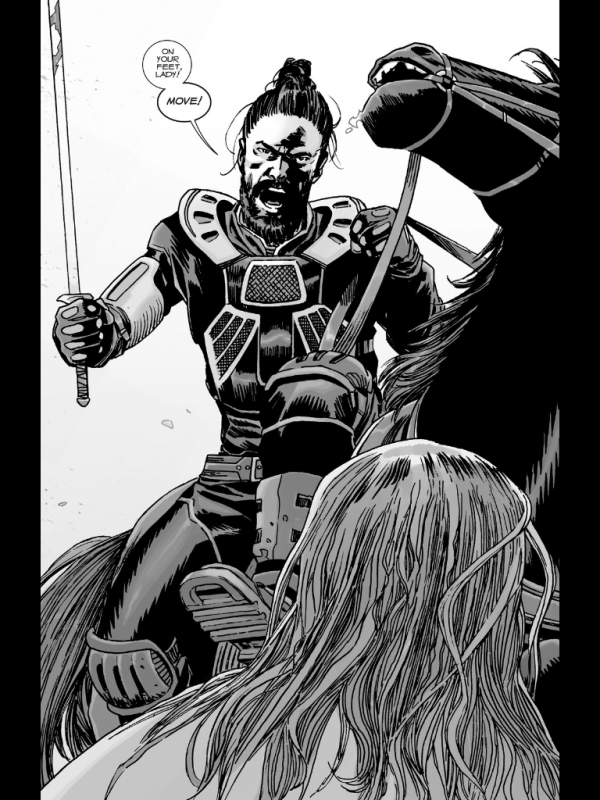 Paul has let his hair grow out and it makes him look more badass than ever before. Almost all of the key characters look different in "A New Beginning." Not only that but they are sometimes slightly different people overall from who we're used to. 
Rick is now "Old Man Rick." He's shaved his graying hair, walks with a limp thanks to Negan, and now has a prosthetic hand covering up his stump. That likely won't be a part of the show, as Rick's hands remain accounted for.
Related Article: Rick Grimes Is Getting a Walking Dead Movie
The old Sheriff has essentially retired from the life of adventuring and has settled into the role of Alexandria's full-time leader. He's a welcome face for all new potential citizens.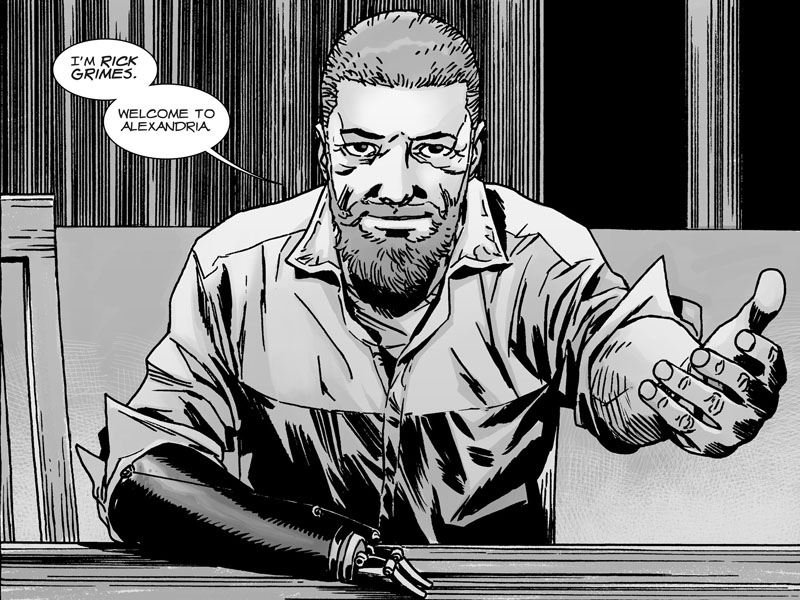 His son, Carl, is growing into a pretty relatable young man himself. 

Pictured: "relatable."
The show, of course, has made the baffling decision to kill off Carl, so maybe when season nine opens, Siddiq will be missing an eye and take to wearing cool bandanas.
Like Rick, Maggie has embraced her leadership role at the Hilltop. Her appearance and demeanor changes as a result. She appears to be more "motherly" while the general aura she projects is that of a resolute leader more than ever before.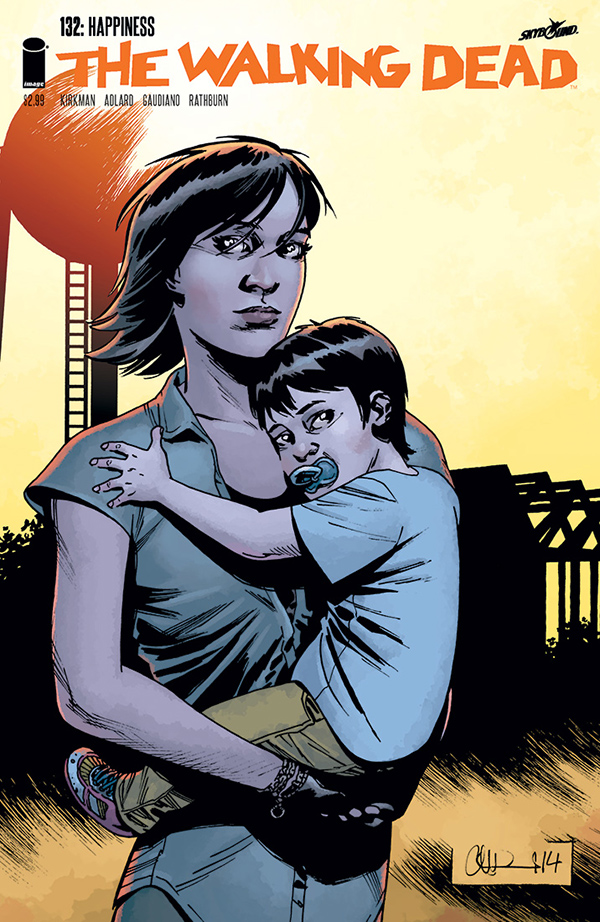 Rick and Maggie actors Andrew Lincoln and Lauren Cohan will be departing the show at some point in season 9 so our appreciation of their new looks will be fleeting, so expect a big detour from the comics concerning their storylines.
Dwight has finally realized that growing his hair out will cover that ugly burn. He is now a full-time Alexandrian and is an important deputy and ally to Rick, much like Tyreese and Abraham in the comics and Daryl on the show. Dwight's role in season nine will likely change now that Daryl has scared him off. He may not appear next season at all.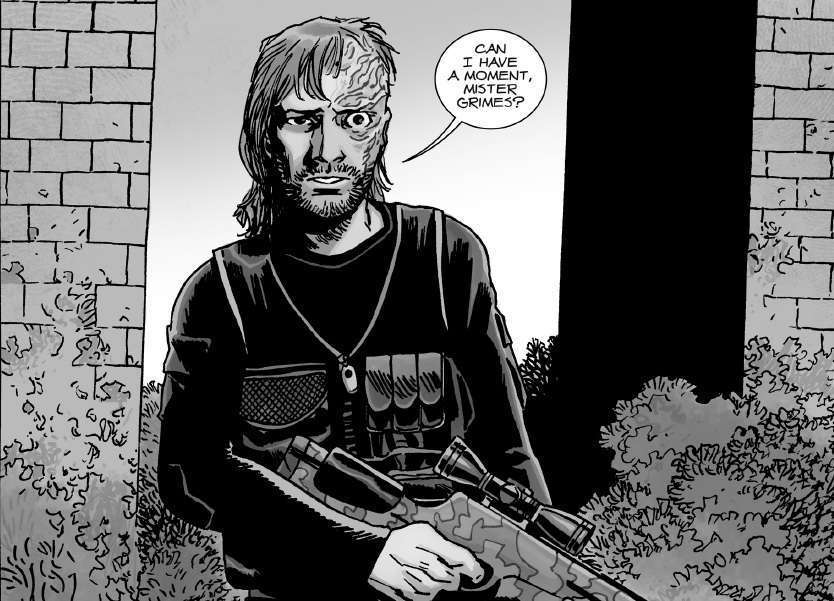 No character, however, has undergone a bigger change than Negan. Once the "swinging dick of the world," Negan is now a prisoner at Alexandria. His hair and beard are overgrown and unkempt but he does maintain his rather dark sense of humor. Both Rick and Carl like to visit him in his cell during times of need as though he is their own private Hannibal Lecter. He's an asshole and therefore knows how other assholes that Alexandria might encounter will act.
Related Article: The Walking Dead Season 9 Episode 1 Review
Other characters haven't had extreme makeovers physically but do begin the new arc in quite different places. Eugene has gone from cowardly pariah to one of the most important men in the new world. His ability to carefully read and follow instructions have made him Alexandria's foremost scientist and engineer.
In the comics, Michonne has quite simply run away after the traumatic events of "All Out War." She now lives in Oceanside and spends her days fishing for the network of communities. Since Michonne's role on the television show has evolved quite a bit, it remains to be seen if she will take over for Rick as the leader of Alexandria once the Sheriff is gone…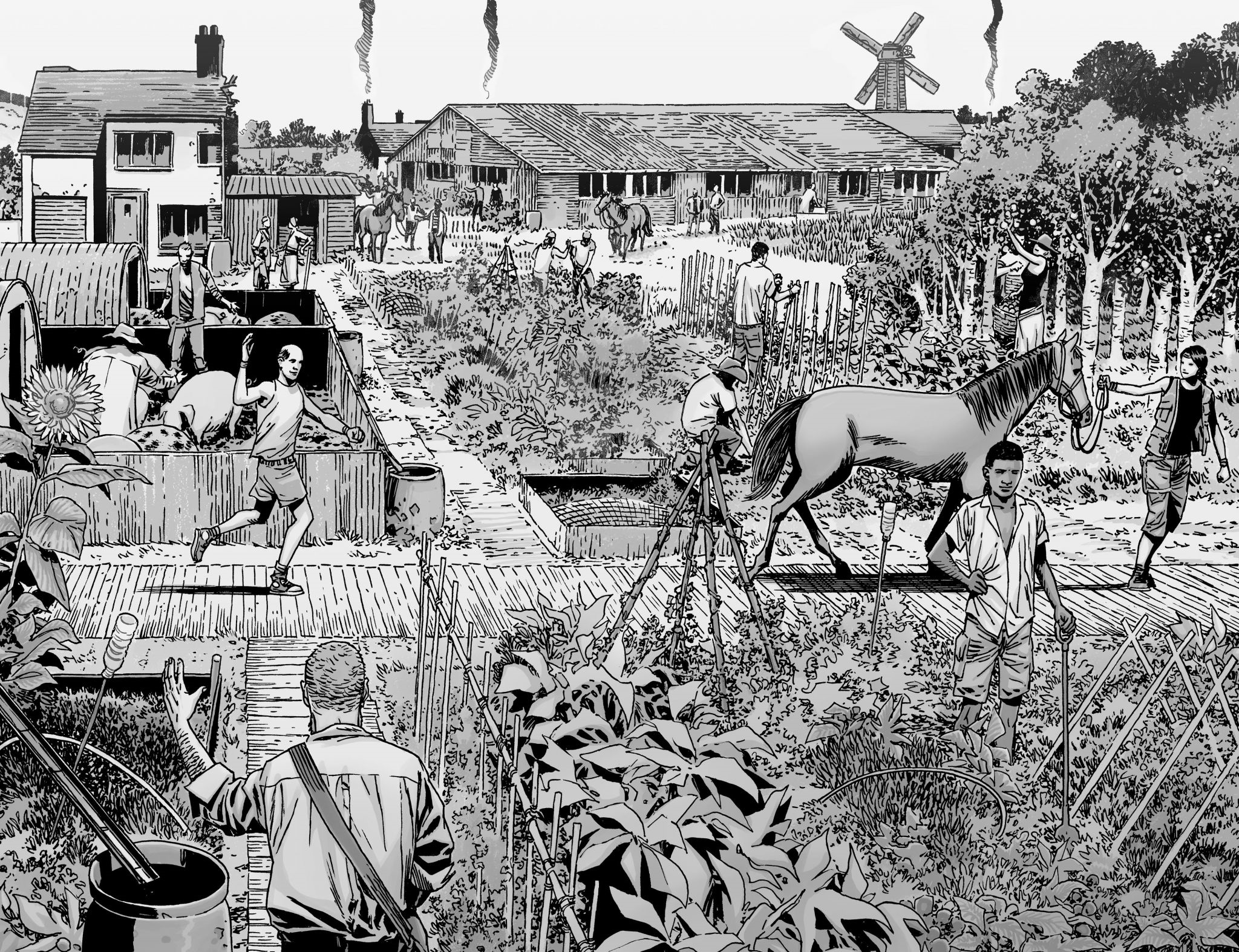 Alexandria Block Party
In addition to most major characters receiving a makeover, Alexandria receives one itself. Following "All Out War" in both the show and comics, Alexandria is in rough shape. It's been attacked by gunfire, grenades, and more. Many houses are just burnt out husks. By the time "A New Beginning" roles around, Alexandria has largely recovered.
Buildings have been rebuilt for one, but more importantly, the Alexandrians are building new things on their own. Alexandria, the Hilltop, and the Kingdom all have thriving agriculture and trade with each other. Even Oceanside and the Sanctuary are involved in this trade network that is meticulously maintained through well-guarded and patrolled routes. 
Thanks to the genius of Eugene, Alexandria has windmills, grain houses, irrigation, and many other Medieval-era luxuries. In the comics, Kirkman correctly assumes that all readers will accept these modest technological advancements within a relatively short timeframe. The show, however, has already introduced an agent of change to quicken the pace. Remember Georgie and her gift of knowledge to Maggie? That knowledge comes in the form of books and Eugene is still around to read those books, so expect some "advancements" at the settlements.
Further Reading: The Walking Dead's Most Shocking Deaths
So what do the Alexandrians do now that they have an extended era of peace and prosperity? Throw a party of course! The three volumes that season nine is likely to cover are "A New Beginning," "Whispers into Screams," and "Life and Death" (or issues 127-144). All of these volumes deal with the Alexandrians planning a spring festival for members of all the communities to visit. The festival finally comes around in "Life and Death" and all in all it goes pretty well! 
Alexandrians, Hilltoppers, Kingdomers, ex-Saviors, and Oceansiders are all able to trade their wares with one another. Eugene even finds a nice CB radio that could come in handy. Things turn dark, however, when people start to go missing from the festival and then a line of heads on stakes are discovered on the outskirts of the communities' territory. The Whisperers have arrived.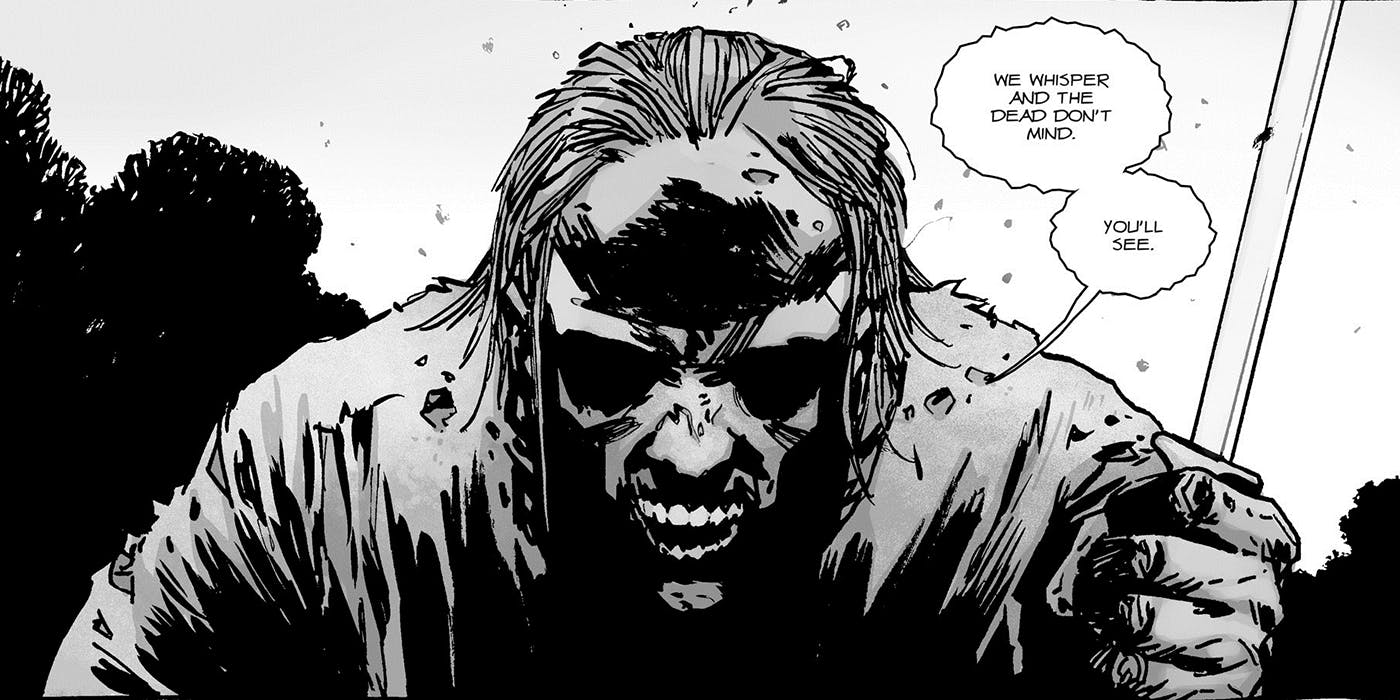 The Whisperers
Nearly every era of The Walking Dead is defined by a singular villain. The early years were the Governor and Woodbury and then Negan and the Saviors. At first, "A New Beginning" looks like it will just be a leisurely study in agriculture and farming techniques for our protagonists. Alas, that is not to be, as the end of the volume introduces a new, dangerous, and – quite frankly – disgusting threat. 
The Whisperers are a group of individuals who have chosen to survive the zombie apocalypse by becoming the dead. They remove the flesh and viscera of corpses and wrap it around themselves as gruesome coats and masks. This is the strategy of masking one's scent from the walking dead that Rick and the other characters sometimes use. The Whisperers, however, take it to the absolute extreme – living most of their lives within those undead "costumes."
The Whisperers received their name from frightened Hilltoppers and Alexandrians who hear their "whispers," as the villains walk among the dead. A group, led by new character Dante, is ordered by Maggie to go find and rescue a member of a missing caravan. They eventually run afoul of this group of Whisperers, making first contact. Dante is taken hostage and the communities must gather together to negotiate his release.
Further Reading: How Angela Kang Could Change The Walking Dead 
The Whisperers will offer a fascinating new dynamic for the show. Their "society" is somewhat bestial and completely amoral, similar to the TV show's "The Wolves." They eschew names altogether. Their leader, a middle-aged woman, is named "Alpha." And her second-in-command, a hulking seven-foot tall man, is called "Beta."
Alpha and Beta have both been cast for season 9. As has Alphas' daughter, Lydia…so full steam ahead on the Whisperers.
The communities and the Whisperers eventually go to war, but that might be a story for another season. The Walking Dead season 9 will be jam-packed as is with just these few volumes.
Alec Bojalad is TV Editor at Den of Geek. Read more of his stuff here. Follow him at his creatively-named Twitter handle @alecbojalad.
Read and download the Den of Geek NYCC 2018 Special Edition Magazine right here!