Features
The Flash Season 5 Villain: Who is Cicada?
Who is The Flash Season 5 villain? We dig in to the DC Comics history of the Cicada, played by Chris Klein.
This article contains The Flash spoilers.
His arrival has been teased since the first bit of footage for The Flash Season 5 arrived, but the Cicada (played by Chris Klein) has remained a mystery. Even The Flash season 5 premiere, the excellent "Nora," waited until quite literally the last minute of the episode to introduce him. And when they did, it was to dispatch that episode's disposable villain, Gridlock, who won't be missed.
And while the character is definitely a villain from the comics, The Flash season 5 has opted to handle Cicada as an almost completely different character. But like Savitar and The Thinker, he continues the show's tradition of elevating otherwise obscure villains to the prestige role of season big bad. It makes some sense. After all, once you've done Thawne and Zoom, and since Captain Cold had a brilliant arc of his own to handle (across multiple shows, no less!), most Flash villains (as great as they are) aren't quite up to the challenge of sustaining an entire season of their own. A character like Cicada is practically a blank slate, as we saw from his longer introduction in "Blocked" and the completely new origin concocted for him in "Oh Come All Ye Thankful."
For starters, he even looks pretty different from the character from the comics. See for yourself…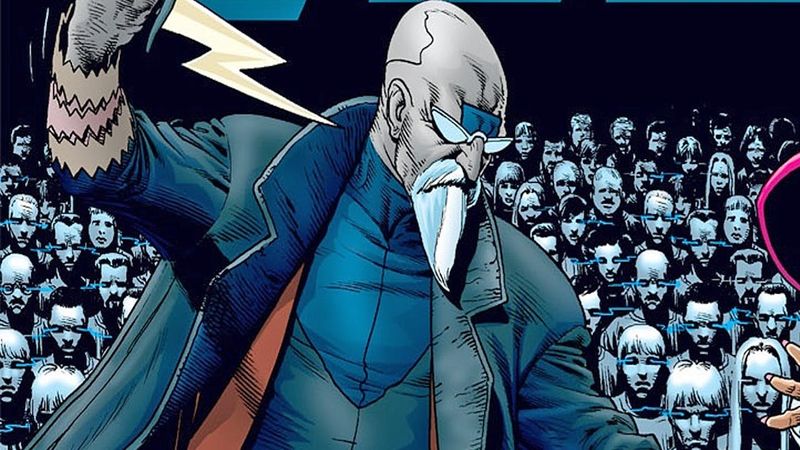 A fondness for overcoats and jagged daggers aside, you'd be hard pressed to even identify these as the same character if you saw them next to each other. Anyway, for characters like this, looks are the least important thing. Just consider how much cooler Savitar looked than his comic book counterpart!
Cicada first appeared in The Flash #170 (2001) by Geoff Johns and Scott Kolins (it's collected in The Flash by Geoff Johns: Book One). That story kicked of "Blood Will Run" and it was actually a Wally West tale. This was early in Johns' tenure as writer on The Flash, long before he brought Barry Allen back to life. It was also an early appearance of Officer Fred Chyre, who you may remember was played by Al Sapienza in the first episode of this series…where he was also killed off. Damn shame, as Chyre was a fun character. Anyway…
A rash of killings was taking place in Keystone City, and the common thread among the victims was that they had all been rescued by Flash at some point. The victims were being killed by a cult, accumulating their life-force via special lightning bolt shaped knives (we saw this at the end of "Nora" as well). Cicada (real name: David Hersch) was over 100 years old, having been struck by lightning shortly after the death of his wife (hint: she didn't die of natural causes). That lightning bolt gave him the ability to absorb life force and become essentially immortal.
further reading: The Flash – Who is Jay Garrick?
Thanks to the lightning bolt connection, Cicada's cult believed that Flash had been saving people specifically to help them accomplish their goal, which was not only to extend Cicada's life, but also to bring his wife back from the dead. If we get a creepy, half-preserved wife mummy this season that Chris Klein is weeping over, I'm going to be pretty darn pleased. Anyway, as you can probably guess, Wally didn't take kindly to the cult's thinking (particularly when it was time to have his own life force drained), and Cicada was put away, and has more or less languished in obscurity ever since. 
What was interesting about this story was how it was so specifically tailored to Wally at the time. This wasn't just a villain for Wally to stop, it was a villain that made Wally confront some of his own indiscretions. Specifically, Wally had spent a chunk of his early career as Flash as something of a womanizer, and one of the Cicada's victims was an ex-lover of his. Oh, and an ex-girlfriend he did wrong (remember Magenta from season three?) was a Cicada cultist, as well.
As we've seen on the show, though, TV Cicada doesn't seem interested in people Flash has saved. Instead, he has it in for metas in general. He's taking it out on metas because of the events of the season four finale, which left his adopted daughter in a coma, essentially subbing her in for the mummified wife. Will he ever assemble a collection of cultists? My guess is probably not, since that angle was already played with back in the Alchemy and Savitar days, but I'll update this article with more info about the TV version of Cicada and how he lines up with (or doesn't) with his DC Comics history as I can.
Keep up with all our news and reviews about The Flash season 5 right here!
Mike Cecchini is the Editor in Chief of Den of Geek. You can read more of his work here. Follow him on Twitter @wayoutstuff.
Read and download the Den of Geek NYCC 2018 Special Edition Magazine right here!