News
Plastic Man Gets Twisted for Valentine's Day
Sina Grace & Mike Norton tackle DC's funniest hero and the results are predictably excellent.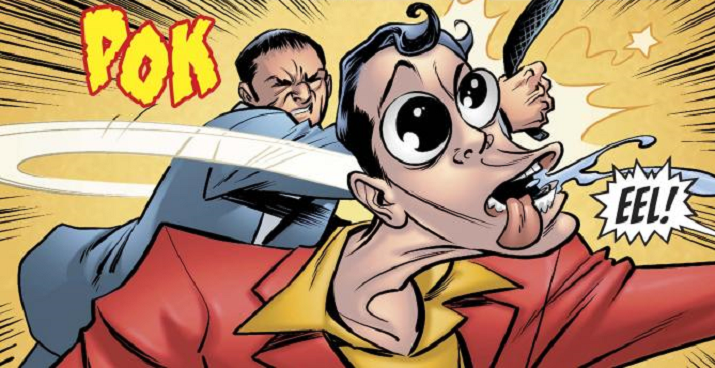 It's not a massive retcon, or a huge character being brought back to prominence, by my favorite low-key development in comics in 2020 so far is Sina Grace gettting more work at DC. He wrote one of my favorite lost period X-comics and probably the definitive Iceman story, and his work at BOOM! is consistently entertaining. He has such a strong authorial voice that shines through in all his work – it's clear and distinct, and balances dry and absurd comedy along with character drama so well. So handing him Plastic Man for a Valentine's Day-themed anthology book, DC's Crimes of Passion, is absolutely perfect.
In another moment of serendipity (or just really good editing), he's paired with Mike Norton. Norton is the creator of Battlepug, so obviously he's got a handle on cartooning ridiculous physical comedy.
The two of them together give us a Plastic Man story that is a great demonstration of what has made these periodic anthologies that DC's been putting out so worthwhile. It's a chance for character work that can get lost in the churn of the event cycle, and a focus on characters who are out of the way, who don't otherwise have a chance to shine. We get a peek at Plas' history and the jokes that are fundamental to a good Plastic Man story. such a distinct, clear voice & stuffs every scene with character
Here's what DC has to say about it:
DC CRIMES OF PASSION #1 written by James Tynion IV, Steve Orlando, Sina Grace, Jay Baruchel,Stephanie Phillips, and othersart by Greg Smallwood, Riley Rossmo, Andie Tong, Mike Norton, Anthony Spay, and otherscover by YASMINE PUTRIPassion. Betrayal. Murder. When you're a private investigator, these are things you experience daily. But when you add capes to the mix—like Batman, Catwoman, and Harley Quinn? Things get even messier. The name's Slam Bradley, and I'm telling you that this year's Valentine's Day special has more intrigue than you can shake a stick at. Ten tales of love—the kind of love that can push people over the edge. Don't miss it…or I'll make you pay.
Take a look at these preview pages and tell me I'm wrong.