News
New Green Lantern Series Expands Cosmic DC Universe
Geoffrey Thorne drops hints at a bigger picture in the expanded DC Universe in Infinite Frontier's new Green Lantern.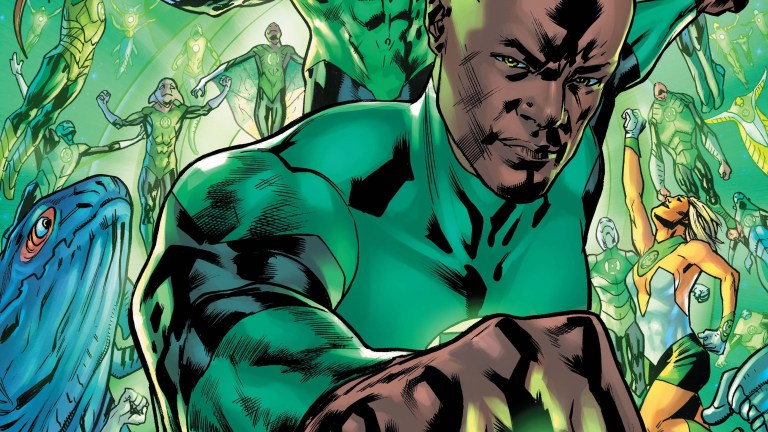 Geoffrey Thorne is very detail-oriented. That helps explain the density of Green Lantern #1, his new book bringing the Green Lantern Corps into the Infinite Frontier era.
"I apologized to Dexter [Soy, one of his creative partners on Green Lantern] and to Tom Raney [his art partner on Future State: Green Lantern]," Thorne tells us in an interview about the new run, "because the first things they had to draw that I wrote had a cast of thousands." But it works: the new book launches with Lanterns from several corps accompanied by a veritable who's who of DC's cosmic stable standing in a smoking pile on Oa.
Thorne comes to the book in a period of great transition; for the Green Lantern Corps, which has to deal with a new intergalactic government for the first time, throwing their role as the galaxy's self-appointed police force into disarray. For the characters – Keli Quintanela's Teen Lantern, the 11-year-old with a bootleg (?) Oan power gauntlet is traveling to the central power battery for her first assessment; Simon Baz is smack in the middle of his Lantern career; while John Stewart is one of the most trusted Lanterns in the galaxy to the point where he's being consulted by the Guardians on problems. And it's a period of great transition for DC's cosmic realm, which got put in a bag, shaken around, and dumped back on the table by Dark Nights: Death Metal.
Thorne's first instinct, like the characters he's writing, is to bring creative order where there was none before. "Cosmic DC has never really been organized a particular way," he says. "People forget, the Legion of Super-Heroes is the primary cosmic DC, which takes place 1000 years in the future. I thought it was an interesting trick to pull to have the United Planets start now."
Thorne read up on as much of the Corps' history as he could get his hands on when he got the title, and one of the things that struck him was how much of Green Lantern lore was inward looking – about the history of the corps, mythical early lanterns,what events would mean reflected back on the Green Lantern Corps' ethos, and enemies developed from mistakes made by the Guardians. Much less time had been spent on how the Corps interacted with the rest of the universe, something shocking to realize when you think about a group of space police numbering among them a guy with a volcano for a head, a blind space whale, a sentient planet, and more. That changes almost immediately in the first issue of the new series. "It's going to be a much harder sci-fi bent," he says.
The most immediately striking change is on Oa. At one point during the first issue, Simon Baz does something completely incongruous for the Oa we have grown to know and understand: he gets two sticks of street meat from a vendor. "They've opened the doors, basically," Thorne tells us. This is an intentional tone shift on his part, one that makes Oa feel more lived in, more of a presence in the galactic tapestry.
That tone shift tracks to the characters, too: Thorne is very clearly having a blast writing Teen Lantern.
"If you look at the cracks of her," Thorne tells us, "she's a tween. She has no particular technical skills – she got given this device in a back-ass Abin Sur-gives-it-to-Hal Jordan way. But she's a kid. I'm playing her like she's a kid." She's a believable kid throughout, too, reacting with a defensive craftiness that feels authentic to the character.
Part of that authenticity comes from the art. Dexter Soy and Marco Santucci split penciling duties, and they handle their scenes beautifully. And while each artist has their own track – Santucci draws the UP conclave meeting, while Soy handles the outside-the-room action – the two are united by the volume of detail packed into every shot. "That guy's a monster!" Thorne gushes about Soy's level and volume of detail. He was equally effusive about Santucci's crowd work: "That one spread of all the delegates that [Marco] did, I was just like 'holy shit." Combined, the two have basically put together a who's who in the DC Cosmos in one, 20-page comic.
Those details matter. Between the myriad of deep cut alien species represented on Oa, and the clues laid out on every panel to the direction of the story, this is a book that demands a close read. Several times in the conversation, Thorne hinted at something bigger coming in the DC cosmic realm. "Pay attention to the background of a lot of books you wouldn't think would have a component like that," he says. "Moments that look like throwaway moments are absolutely not throwaway moments."
Green Lantern #1 is on sale April 6th online and in comic shops everywhere.