Features
Eisner Awards 2019 Predictions
Once again we try and predict this year's Eisner Awards winners. Once again, we're probably entirely wrong.
Happy Comic-Con Eve, all! I had a whole "'Twas the night before Comic Con" bit lined up, but APPARENTLY it's considered a faux pas to reveal the location of the annual SDCC post-Eisners key party on the internet, so you'll have to just hang out here for a while as we pick over the list of nominees for comics' most prestigious awards and tell you why the books we liked most will win! And then come back after the ceremony to tell us why we were completely wrong.
Best Short Story
– "Get Naked in Barcelona," by Steven T. Seagle and Emei Olivia Burrell, in Get Naked (Image)
– "The Ghastlygun Tinies," by Matt Cohen and Marc Palm, in MAD Magazine #4 (DC)
– "Here I Am," by Shaun Tan, in I Feel Machine (SelfMadeHero)
"Life During Interesting Times," by Mike Dawson (The Nib), Supply Chains," by Peter and Maria Hoey, in Coin-Op #7 (Coin-Op Books)
– "The Talk of the Saints," by Tom King and Jason Fabok, in Swamp Thing Winter Special (DC)
Institutional bias against webcomics will probably be enough to keep Dawson's comic from winning, but I would probably give it to "Life During Interesting Times." It's a thoughtful look at the world we live in that tries to place it into historical context, simultaneously playing up the urgency of the terrible world we live in and expressing hope for the future. It's also full of really great storytelling tricks – overlapping panels dissolving into each other telling the same story in multiple times. Dawson's a talented storyteller who should get some recognition for his work.
Best Single Issue/One-Shot
– Beneath the Dead Oak Tree, by Emily Carroll (ShortBox)
– Black Hammer: Cthu-Louise, by Jeff Lemire and Emi Lenox (Dark Horse)
– No Better Words, by Carolyn Nowak (Silver Sprocket)
Peter Parker: The Spectacular Spider-Man #310, by Chip Zdarsky (Marvel)
– The Terrible Elisabeth Dumn Against the Devils In Suits, by Arabson, translated by James Robinson (IHQ Studio/ Image)
I screwed up. I read a ton of comics through my subscription services that are a couple of months behind, and because of that I didn't read the last issue of Zdarsky's Peter Parker: The Spectacular Spider-Man until months after it came out. It is the best Spider-Man comic I've ever read. It cuts to the core of why this character has endured for so long. It's an absolutely beautiful book about how the world views Parker that made me cry at least twice, and one of those times was when I was remembering what happened in it. 
Best Continuing Series
– Batman, by Tom King et al. (DC)
Black Hammer: Age of Doom, by Jeff Lemire, Dean Ormston, and Rich Tommaso (Dark Horse) 
– Gasolina, by Sean Mackiewicz and Niko Walter (Skybound/Image)
– Giant Days, by John Allison, Max Sarin, and Julaa Madrigal (BOOM! Box)
– The Immortal Hulk, by Al Ewing, Joe Bennett, and Ruy José (Marvel)
– Runaways, by Rainbow Rowell and Kris Anka (Marvel)
There isn't really a wrong choice in this category: King's Batman is one of the best sustained runs on the character I've ever read; Ewing and Bennett's Immortal Hulk is my favorite Hulk run of all time; Giant Days is a terrific slice of life YA-adjacent comic; and Rowell should be on a ton of best new comics writer shortlists (despite her being a great everything else writer).
But Lemire's Black Hammer hits that perfect sweet spot in his work where it captures the surreal eeriness of his indie stuff with his wonderful ability to build staggering, fascinating superhero universes, and Ormston and Tommaso help make that world so rich and beautiful that it's hard to pass Black Hammer up.
Best Limited Series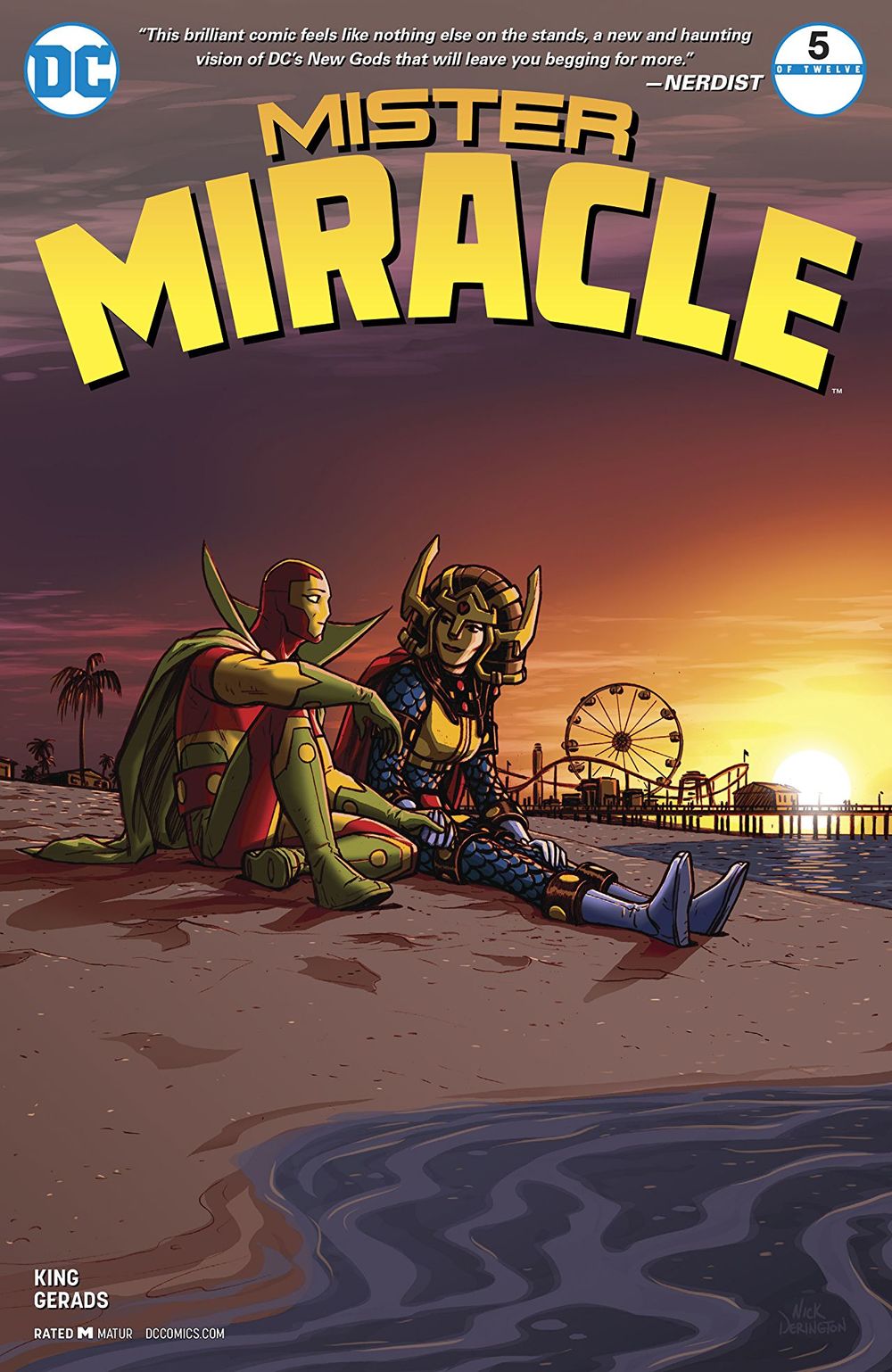 – Batman: White Knight, by Sean Murphy (DC)
– Eternity Girl, by Magdalene Visaggio and Sonny Liew (Vertigo/DC)
– Exit Stage Left: The Snagglepuss Chronicles, by Mark Russell, Mike Feehan, and Mark Morales (DC)
Mister Miracle, by Tom King and Mitch Gerads (DC)
– X-Men: Grand Design: Second Genesis, by Ed Piskor (Marvel)
If I was placing bets on this category, I'd put a lot of money on Mister Miracle and a small but significant amount on The Snagglepuss Chronicles. I don't understand how we lucked into a great history of the gay rights movement that's also got a bunch of colorful Hanna Barbera animals as leads. That's one of the most amazing accomplishments I've ever seen in comics.
However, Mister Miracle is the best comic I've bought monthly ever. It's beautiful, ambiguous, thoughtful, methodical. It's a masterpiece of form and function that tells a story that takes these bizarre Jack Kirby characters and uses them to tell a real story about mental health, parenthood, work, relationships and love. And it doubles as a love letter to comics history.
Best New Series
Bitter Root, by David Walker, Chuck Brown, and Sanford Greene (Image)
– Crowded, by Christopher Sebela, Ro Stein, and Ted Brandt (Image)
– Gideon Falls, by Jeff Lemire and Andrea Sorrentino (Image)
– Isola, by Brenden Fletcher and Karl Kerschl (Image)
– Man-Eaters, by Chelsea Cain, Lia Miternique and Kate Niemczyk (Image)
– Skyward, by Joe Henderson and Lee Garbett (Image)
I think Walker, Brown and Greene's Bitter Root will probably eek by. It's so much fun – a family of monster hunters living through the Harlem Renaissance dealing with family drama and supernatural stuff. Greene is one of the best artists working in comics today, and their Power Man and Iron Fist is one of my favorite superhero books of the era because of the energy he brought to the art. 
Best Publication for Kids (ages 9–12)
– Aquicorn Cove, by Katie O'Neill (Oni)
– Be Prepared, by Vera Brosgol (First Second)
– The Cardboard Kingdom, by Chad Sell (Knopf/Random House Children's Books)
– Crush, by Svetlana Chmakova (JY/Yen Press)
The Divided Earth, by Faith Erin Hicks (First Second)
Hicks' The Divided Earth was one of my favorite books from last year. It's a perfect all-ages comic: just scary enough, just heavy enough, but bright and vibrant and earnest. When we talked about this as one of our best comics of 2018, I mentioned that I can't wait to hand this off to young family members, and I'm serious: this series is sitting on my shelf waiting for them to hit the right age.
Best Graphic Album—New
– Bad Girls, by Alex de Campi and Victor Santos (Gallery 13)
– Come Again, by Nate Powell (Top Shelf/IDW)
– Green Lantern: Earth One Vol. 1, by Corinna Bechko and Gabriel Hardman (DC)
– Homunculus, by Joe Sparrow (ShortBox)
My Heroes Have Always Been Junkies, by Ed Brubaker and Sean Phillips (Image) Sabrina, by Nick
– Drnaso (Drawn & Quarterly)
Green Lantern: Earth One is an outstanding Green Lantern comic, one of my favorite sci-fi books of the last decade. But Brubaker and Phillips' Criminal comics are Eisner bait the same way that a movie about Hollywood's golden age is Oscar bait. My Heroes Have Always Been Junkies is the same ridiculously high quality comic we've come to expect out of the pair, and it will almost certainly win.
Best Writer
– Alex de Campi, Bad Girls (Gallery 13); Twisted Romance (Image)
– Tom King, Batman, Mister Miracle, Heroes in Crisis, Swamp Thing Winter Special (DC)
– Jeff Lemire, Black Hammer: Age of Doom, Doctor Star & the Kingdom of Lost Tomorrows, Quantum Age(Dark Horse); Descender, Gideon Falls, Royal City (Image)
– Mark Russell, Exit Stage Left: The Snagglepuss Chronicles, Green Lantern/Huckleberry Hound, Lex Luthor/Porky Pig (DC); Lone Ranger (Dynamite) 
– Kelly Thompson, Nancy Drew (Dynamite); Hawkeye, Jessica Jones, Mr. & Mrs. X, Rogue & Gambit, Uncanny X-Men, West Coast Avengers (Marvel)
– Chip Zdarsky, Peter Parker: The Spectacular Spider-Man, Marvel Two-in-One (Marvel)
Every single writer on this list deserves to win. Zdarsky's shift from gross-out absurdism to one of the best superhero writers in the industry should be recognized. Thompson's Rogue & Gambit/Mr. & Mrs. X is one of the best X-Men runs in recent memory. De Campi has long been one of the best writers in the business. And King and Lemire are perennial favorites.
But if Mister Miracle starts cleaning up, I can see Russell take this category. Every comic he writes has a certain amount of shock value to it – not that the content is itself shocking, but that it even got made at all. Lex Luthor/Porky Pig is razor sharp satire of modern industry and social media, and Lone Ranger is better than it has any right to be. Russell wins this narrowly.
Best Penciller/Inker or Penciller/Inker Team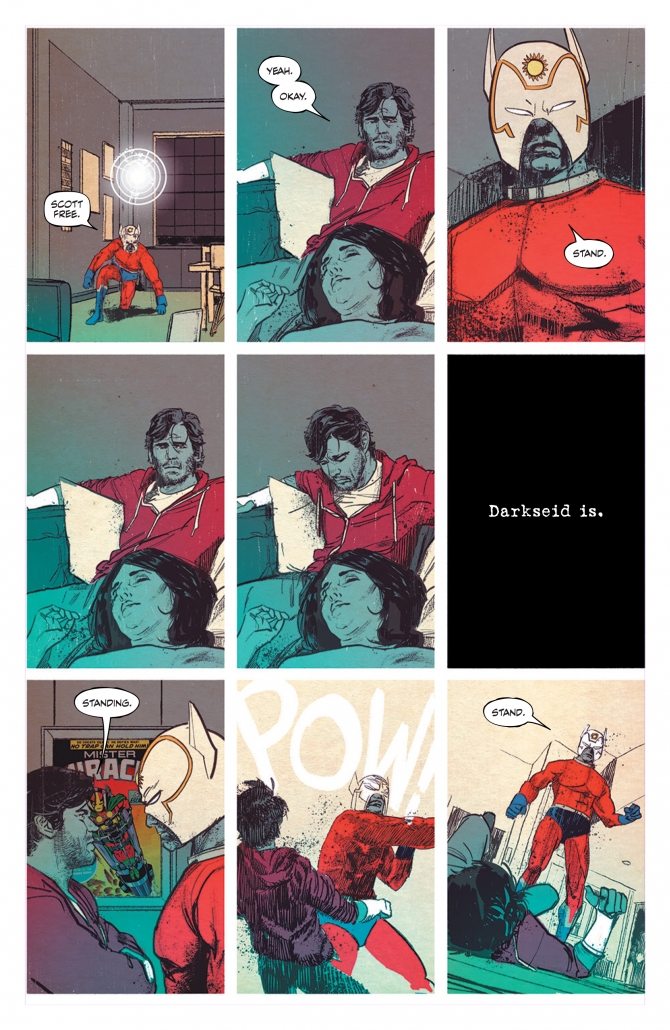 – Matías Bergara, Coda (BOOM!)
Mitch Gerads, Mister Miracle (DC) Karl Kerschl, Isola (Image)
– Sonny Liew, Eternity Girl (Vertigo/DC)
– Sean Phillips, Kill or Be Killed, My Heroes Have Always Been Junkies (Image)
– Yanick Paquette, Wonder Woman Earth One, vol. 2 (DC)
Another killer category, but I don't see how Gerads doesn't win. His design work, glitching panels to further the story, is so integral but so outside the norm of what you expect from superhero books, that it almost certainly will be recognized for how innovative it is.
Best Painter/Multimedia Artist (interior art)
– Lee Bermejo, Batman: Damned (DC)
– Carita Lupatelli, Izuna Book 2 (Humanoids)
Dustin Nguyen, Descender (Image) Gregory Panaccione, A Sea of Love (Magnetic/Lion Forge)
– Tony Sandoval, Watersnakes (Magnetic/Lion Forge)
Bermejo is one of the greats, but he's probably penalized for showing too much of Batman's batarang. Nguyen is also unbelievably gifted, and try and imagine Descender with a different artist: it moves three thousand copies and nobody notices it in a sea of sci-fi/fantasy robot comics. Descender was instead regularly the most beautiful books on the stands with textured watercolors building a gorgeous universe that was at the top of my to read pile every month.
Best Coloring
– Jordie Bellaire, Batgirl, Batman (DC); The Divided Earth (First Second); Days of Hate, Dead Hand, Head Lopper, Redlands (Image); Shuri, Doctor Strange (Marvel)
Tamra Bonvillain, Alien 3 (Dark Horse); Batman, Doom Patrol (DC); Moon Girl and Devil Dinosaur, Multiple Man (Marvel)
– Nathan Fairbairn, Batman, Batgirl, Birds of Prey, Wonder Woman Earth One, vol. 2 (DC); Die!Die!Die! (Image)
– Matt Hollingsworth, Batman: White Knight (DC): Seven to Eternity, Wytches (Image)
– Matt Wilson, Black Cloud, Paper Girls, The Wicked + The Divine (Image); The Mighty Thor, Runaways (Marvel)
This is an impossible category to handicap, but I think Bonvillain's range wins out. Doom Patrol is so vastly different from Alien 3 or Batman, but each book's story was greatly enhanced by her ability to match pallette to art style. Everyone here should win, but Bonvillain is doing the best work of her career and should be recognized for it.
Best Comics-Related Periodical/Journalism
– Back Issue, edited by Michael Eury (TwoMorrows)
– The Columbus Scribbler, edited by Brian Canini, Jack Wallace, Steve Steiner, and Derek Baxter 
– Comicosity, edited by Aaron Long and Matt Santori,  www.comicosity.com
– LAAB Magazine #0: Dark Matter, edited by Ronald Wimberley and Josh O'Neill (Beehive Books)
– PanelxPanel magazine, edited by Hassan Otsmane-Elhaou
We're big fans of the work done by Michael Eury on Back Issue, and TwoMorrows continues to be a delightful resource for fans of any era of comics.