Features
Deadpool 2: Who Are X-Force? A Brief History
With X-Force officially making their movie debut in Deadpool 2, we look at the history of the team.
For nearly a decade, the New Mutants were the second generation of Professor Charles Xavier's students, the wide-eyed kids finding their way through a world that hated and feared them, and was also often a demon-infested hellscape and/or Asgard. But after nearly 100 issues, Marvel was itching for a change, so they handed the reins of New Mutants to a hot new artist named Rob Liefeld, who brought a new energy, new characters, and eventually a new name to the book, carving out a thematic niche for the team that would endure for the next 30 years.
However, that niche was wide and held a lot of different variations in it. With X-Force making their screen debut in Deadpool 2 (sorta), and with Drew Goddard taking the reins of the upcoming X-Force movie (which will also feature Cable and Deadpool), we thought it would be worth looking at the various incarnations and iterations of X-Force, Marvel's proactive, paramilitary-ish mutant team.
X-Force
The original X-Force team was a fairly logical outgrowth of the New Mutants. For years, Cannonball, Sunspot, Mirage, Magik, Cypher, Warlock, and Wolfsbane were stifled as teenage mutants trying to grow into  the second generation of mutant heroes at Xavier's school. First under the tutelage of Professor Xavier, then under Magneto, the team was constantly rebelling against restrictions placed on them, even after those rebellions ended up getting a mess of them killed or horribly damaged.
After leaving Magneto, and following a series of defections, deaths and new colleagues joining the team, they cast out on their own and were eventually taken under the wing of Cable, a mysterious mutant from the future, and trained not to be pacifist schoolchildren, but a preemptive strike force. The then-core team consisted of time-displaced military leader Cable; heart of the New Mutants and secretly the most popular guy in the Marvel universe Cannonball; ultimate survivor and friend of Beyonders Boom-Boom; and preternaturally fortunate mercenary Domino. They added former Hellion and younger brother of the deceased Thunderbird, Warpath; Feral, a savage, former Morlock cat lady; and Shatterstar, a Mojoverse refugee who carried two swords with parallel blades. They rebranded as X-Force and set out to influence the future by being proactive in their own time. That mission statement would stick: every reinvention of the team (but one) would be centered around using whatever means necessary to proactively protect mutantkind.
Unfortunately, it wasn't a very sustainable thesis for a long-term single run.
Caught up in the tumult of real world bullpen politics, X-Force saw some significant changes early in its run, including the departure of its creator, Rob Liefeld, and a shift in publishing strategy towards editor-driven annual crossovers. The team added and lost members – Mirage, the Cheyenne former leader of the New Mutants; Rictor, an earthquake-causing geomorph; Siryn, Banshee's daughter; and Sunspot, the rich Brazilian ex-New Mutant and best Avenger ever are among the most famous of the rotating cast. The ongoing changes eventually ground down the book's identity, and while it went on being published for 100 issues, it lost the voice it burst onto the scene with and became just another X-Men book with a different cast.
This wave of X-Force had a dying gasp. Along with the rest of the X-comic line, there was a flurry of change ahead of the new movie and the impending anniversary issue, X-Men #100. X-Force, along with Generation X and X-Man were handed over to Warren Ellis, the legendary writer who was then hip-deep in Planetary and Transmetropolitan. He turned Cannonball, Boom-Boom, Domino, Warpath, and Bedlam into a covert ops group handled by Pete Wisdom and the British government. This lasted for roughly 15 issues before the team, and the entire core concept behind it, were overhauled completely.
X-Statix
Marvel, crawling out of creative and financial bankruptcy, appointed almost entirely new leadership in their comic division around 2001. Joe Quesada, the new Editor-in-Chief, brought with him a former Vertigo editor, Axel Alonso, who himself brought his Vertigo sensibility to Marvel. That meant hiring some…odd picks…for his team books.
Peter Milligan's most famous work to this point had been a thoroughly weird revamp of Shade, the Changing Man, that was more a musing on mental illness than it was a superhero comic. Mike Allred created Madman, a deep indie superhero who was as much pop art as it was story. They were…not a natural fit for the paramilitary underground mutant group that X-Force had been, so Milligan, Allred and Alonso changed the team to be a send up of all millennial pop culture. Characters like Phat, U-Go Girl, or someone who DEFINITELY WASN'T a resurrected Princess Diana were a mix of Britney Spears and reality television stars. The book was a pretty savage takedown of pop culture and superhero comics, with the entire team being killed off more than once and the title changing from X-Force to X-Statix.
Unfortunately, the book was also not a great seller, so despite its critical acclaim, the series was cancelled after two years and the X-Force name lay fallow for a bit.
Mutants with Knives and Claws
Following a couple of original X-Force miniseries by creator Rob Liefeld, the X-line braintrust found a compelling story reason for reintroducing the team name to the world. After House of M depowered all but 200 of the world's mutants, and a series of attacks by mutant hating foes The Purifiers killed a gaggle of the remaining students, the X-world went nuts when the first mutant in years was born in Alaska. Cyclops, teetering on the edge of becoming a full fledged revolutionary, pulled together a team to find and secure the baby, and eventually bring her to him. This team consisted of Caliban (clawed ex-Morlock with tracking powers), Warpath (giant inaugural X-Force member who carried two big knives), Wolfsbane (lycanthropic, clawed ex-New Mutant), Hepzibah (designated Sexy Cat Lady of the Starjammers, who had claws), Wolverine (you know this guy), and X-23 (Wolverine clone with knife claws in her knuckles and feet).
Eventually, the baby was sent into the future with Cable, but Cyclops found having his own hit squad to be fairly useful, especially with the mass-murdering Purifiers still in the world, so he kept them around as his black ops team. The team eventually gained several members, including Elixir, Domino, Archangel and Vanisher, while others left or were dropped, like Wolfsbane or Hepzibah. Craig Kyle and Chris Yost wrote this as a sort of follow up to their prior X-work – they previously helmed New X-Men: Academy X where they were the writers responsible for a teenage bloodbath, killing somewhere in the vicinity of 50 students of Xavier's school in their tenure. The Purifiers were responsible for most of those deaths, so naturally they spend a good chunk of this run getting ripped to shreds.
Clayton Crain digitally painted the majority of these issues, and his dark colors matched the book's tone well. Eventually during Second Coming, the existence of Cyclops' personal hit squad was revealed, forcing him to disband and disavow X-Force.
They got better, though.
Uncanny X-Force
There is a superhero comics criticism theory that says that cape stories cycle every 20 years or so – that Marvel tries to recreate Peter Parker for every generation of readers, or that Grant Morrison was just riffing on Chris Claremont's five big stories. Rick Remender and Jerome Opena took over the X-Force team in 2010, and, following this theory, started mining Apocalypse's lore for everything he was worth. The major difference between Uncanny X-Force and its '90s ancestors is this book is one of the greatest X-Men comics of all time.
Remender's Uncanny X-Force follows on the heels of Yost/Kyle's, and takes a somewhat different team off to a dark corner of the X-Men universe. It opens with Wolverine, Psylocke, Deadpool, Archangel, and Fantomex as they discover that Apocalypse, the evil, immortalish mutant responsible for some of the greatest horrors in mutant history, was being reincarnated by the cult dedicated to his worship. When they arrive, they discover that Apocalypse is actually a preteen being groomed to develop into En Sabah Nur, and what follows is the superhero equivalent of a "Should we kill baby Hitler" argument. Fantomex tires of the argument, and shoots the kid in the head. The rest of the series has the team deal with the fallout of this decision: musings on fate and destiny; the slow descent of one of their own into Apocalypse's heir; a deep, DEEP continuity dive on Apocalypse's history in all its multiversal forms; the weaponization of the Superman myth to save the world; and two of the most heartbreaking death scenes in any comic ever.
This series more than any other was the logical goal of the X-Force line of mutant storytelling. It was a deconstruction of the "proactive paramilitary group" trope, weaved together with bits of X-Men lore and some cool Deathlok stuff. If you haven't read it yet, this is HIGHLY recommended.
Cable's Return
The critical acclaim that Remender's Uncanny X-Force brought led to Marvel trying to cash in on its popularity. They followed it up with two books: a second volume of Uncanny X-Force, where Psylocke, Bishop, Storm, Puck (from Alpha Flight) and ⅔ of Fantomex, where the thrust of the story was about Psylocke trying to accept or move past her self-identification as a killer after the events of the previous series. The other book was Cable & X-Force, where Cable led a team with Dr. Nemesis, Colossus, Domino, Hope, Boom Boom and Forge.
This team operated in a more similar way to the traditional X-Force mission statement: Cable's powers had gone awry, giving him glimpses into the near future. He used this team to try and prevent the visions from coming to pass. Neither of these books were terribly substantive (though Cable & X-Force did introduce a relationship between Colossus and Domino that turned out to be a lot of fun), and both were cancelled after a year and a half or so.
X-Force proper had one last gasp before its current status. Simon Spurrier and Rock-He Kim reimagined the team as the intelligence service for a newly sovereign mutant race. He took Cable, Psylocke, Marrow, Fantomex, and Dr. Nemesis, and matched them with new member MeMe (a sentient computer program), and had them battle underground threats to the mutant race, like a Russian businessman repowering former mutants and turning them into weapons, or Strikeforce Morituri. Really.
This version of X-Force was interesting, but not exactly a sales darling. It was cancelled in 2015 after 15 issues, and the X-Force moniker has not been used to headline a book since.
Uncanny X-…Men?
In recent years, as the X-Men line has edged closer to creative and financial insolvency, Marvel decided to take the concept of a proactive group of mutants doing morally questionable things and made that the point of the entire line of comics. Following the detonation of a Terrigen bomb, the X-Men found themselves in a world that hated and feared them that was also poisonous to them. The majority of the X-Men retreated to Limbo, while a small group (Magneto, Psylocke, M, Mystique, Fantomex and a reformed/inverted don't ask Sabretooth) did "whatever it took" to protect mutants on Earth. Because this was the main theme of the entire X-Line, this team was published under the name Uncanny X-Men, and recently wrapped following the big IvX crossover where the X-Men fought the Inhumans and their oldest, deadliest foe: a cloud.
It's not good, and it was scrapped when the most recent relaunch, ResurrXion, kicked off.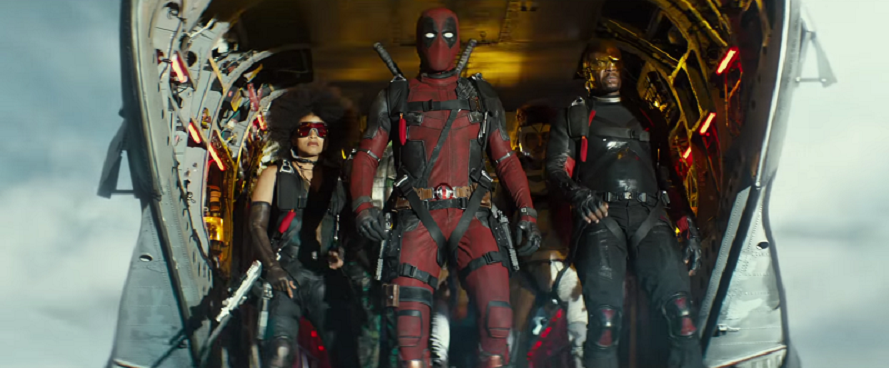 Movie X-Force
With New Mutants and Deadpool 2 wrapped, Fox signed Drew Goddard (of Daredevil and The Martian fame) to take over development of X-Force as the next property in their slate of X-movies, and judging by early news, his take will fall right in the middle of the spirit implied by the name. Goddard said the new team will be a mutant black ops group led by Deadpool and Cable, with founding members Domino and Shatterstar, while the rest of the team may be a kind of ragtag group of mutants we meet in Deadpool 2. It sounds like if you're a long-time fan of X-Force teams, it's okay to be cautiously optimistic about the movie version.
Read the latest Den of Geek Special Edition Magazine Here!