News
Best New Comics in 2018: Winter and Spring Recommendations
We want to keep you up to date on all the best new and upcoming comics out there!
Editor's Note: Be sure to bookmark this page for new comic book recommendations as the year goes on!
The monthly Previews catalogue presents comic fans with a daunting task: to weed through 700 pages of variant covers to porn comics that nobody reads so you can find the comics, trades, collectibles, action figures and games that you might want; preorder them; and save comics. That's why we at Den of Geek have decided to do your job for you: each month, we're going to go through the catalogue and find the ten most interesting things you need from Previews. 
Superboy Book 1: Trouble in Paradise
The '90s are still a thing, right? It doesn't get more '90s than Karl Kesel and Tom Grummett's immensely enjoyable tales of young Conner Kent…before he was even called that.
In the aftermath of the "Death of Superman" and the return of the Man of Steel, the new Superboy moves to Hawaii! But as his powers develop, the young clone of Superman must learn to be a hero as he battles villains including Sidearm and Knockout, and faces the effects of the dread clone plague! Collects issues #0-11.

This picture isn't entirely accurate. The main image for the article is what shows up in Previews if you're looking to preorder the second omnibus-sized hardcover edition of Matt Fraction and Chip Zdarsky's critically acclaimed, surprisingly sensitive comic adaptation of an abridged list of Urban Dictionary sex positions. The above picture, the book titled Down, Boy, is in fact what you would see if you removed the dust jacket from the first oversized hardcover collection of Sex Criminals. My local comic shop had a copy sans dust jacket sitting on the front table when I first went in, but it sold before I could come back and buy it and I have regretted it ever since. Don't be that guy.
BIG HARD SEX CRIMINALS HC VOL. 2NOV170713(W) Matt Fraction (A/CA) Chip Zdarsky

When Jon and Suzie have sex, time stops-literally. What happens next? They rob banks, of course. Now they must try to stay out of trouble, too-and also love-but mostly trouble, yet everything keeps on complicating and getting all feelings-y and stuff. 

Gathering together for the first time in full glorious color on oversized pages and almost entirely in the right order comes the pulse-quickening, pants-tightening, heart-pokening third and fourth arcs of the award-winning, bestselling, can't-believe-this-is-actually-our-jobs sex comedy SEX CRIMINALS, with bonus content (some created exclusively for this volume) and a modesty cover beneath the dust jacket to enable shame-free public consumption.

Collects SEX CRIMINALS #11-20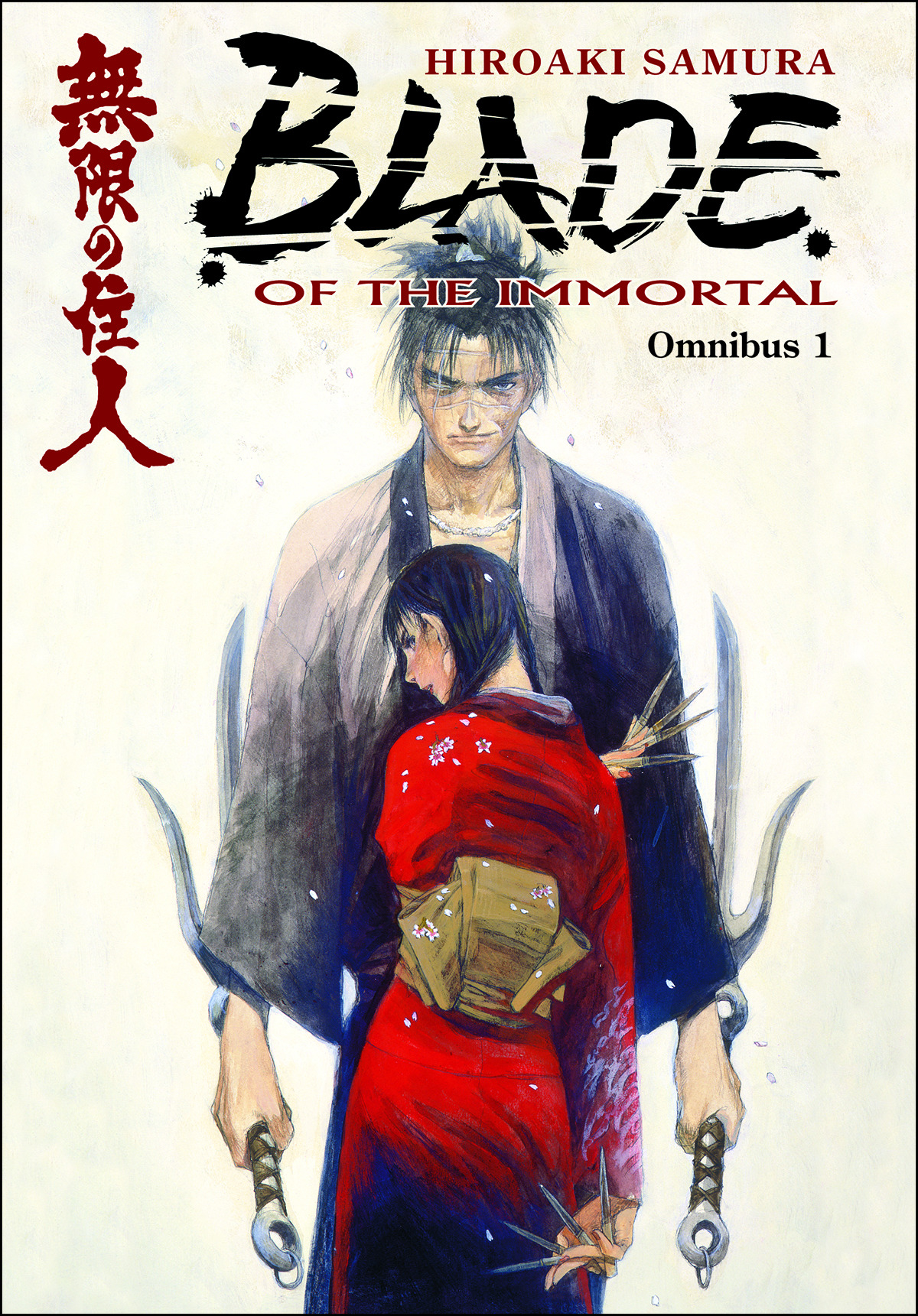 This is just a fresh printing of a book that Dark Horse has had on shelves for a couple of years now, but this collection of Hiroaki Samura's acclaimed manga is being reissued to coincide with Takashi Miike's glorious, majestically gory film based on it. This book looks fantastic, and went on forever, so if you're looking for a series to disappear into for the new year, you've found it.
BLADE OF THE IMMORTAL OMNIBUS VOL. 1MAR178639(W) Hiroaki Samura (A/CA) Hiroaki Samura

A cursed, seemingly immortal warrior aids a young girl in her quest for revenge. Samuramassive manga series spawned an anime run, a spinoff novel, an art book, and a live-action film! Intense and audacious, Blade takes period samurai action and deftly combines it with a modernist street idiom to create a style and mood like no other work of graphic fiction! Collects volumes 1-3.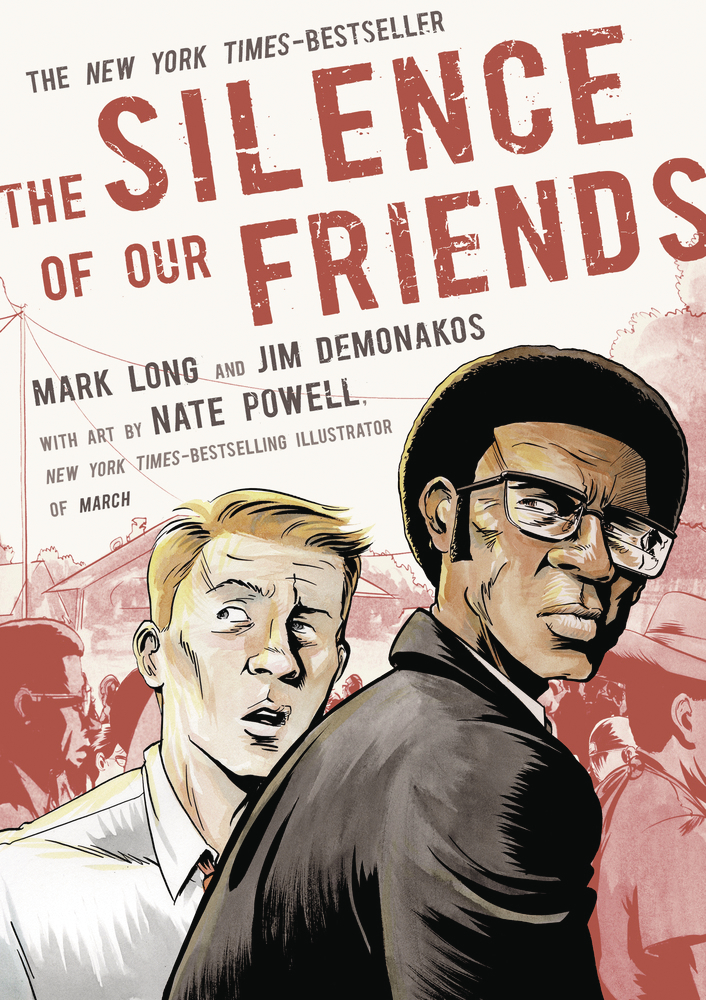 This is another timely reissue of an earlier work by Nate Powell that tells a semi-fictionalized story about the early days of the civil rights movement in Texas. Powell is a TREMENDOUS artist who we've praised 
before
, and that should be enough to get you to buy this. This world needs more good civil rights movement era stories.
THE SILENCE OF OUR FRIENDSNOV171692(W) Mark Long, Jim Demonakos (A/CA) Nate Powell

As the civil rights struggle heats up in Texas, two families-one white, one black-find common ground. This semi-autobiographical tale is set in 1967 Texas, against the backdrop of the fight for civil rights. A white family from a notoriously racist neighborhood in the suburbs and a black family from its poorest ward cross Houston's color line, overcoming humiliation, degradation, and violence to win the freedom of five black college students unjustly charged with the murder of a policeman. Semi-fictionalized, this story has its roots solidly in very real events. The Silence of Our Friends is a new and important entry in the body of civil rights literature for older teens and adults.
CS Pacat and Johanna The Mad's story about competitive high school fencing feels like some really fun sports manga, but without any of the cultural gaps that some readers tend to hit in the less fantastical manga genres. It's real and earnest and well drawn and characterized, and it has the added benefit of being about fencing, which is IRL super badass. Although I wish the International Olympic Committee would lean into all this fancy new wireless technology already and introduce a new fencing discipline: Team Swashbuckling.
FENCE #3NOV171355(W) C.S. Pacat (A/CA) Johanna the Mad

As Nicholas works to become a better fencer, Seiji takes an unexpected interest in his journey.

In Shops: Jan 17, 2018SRP: $3.99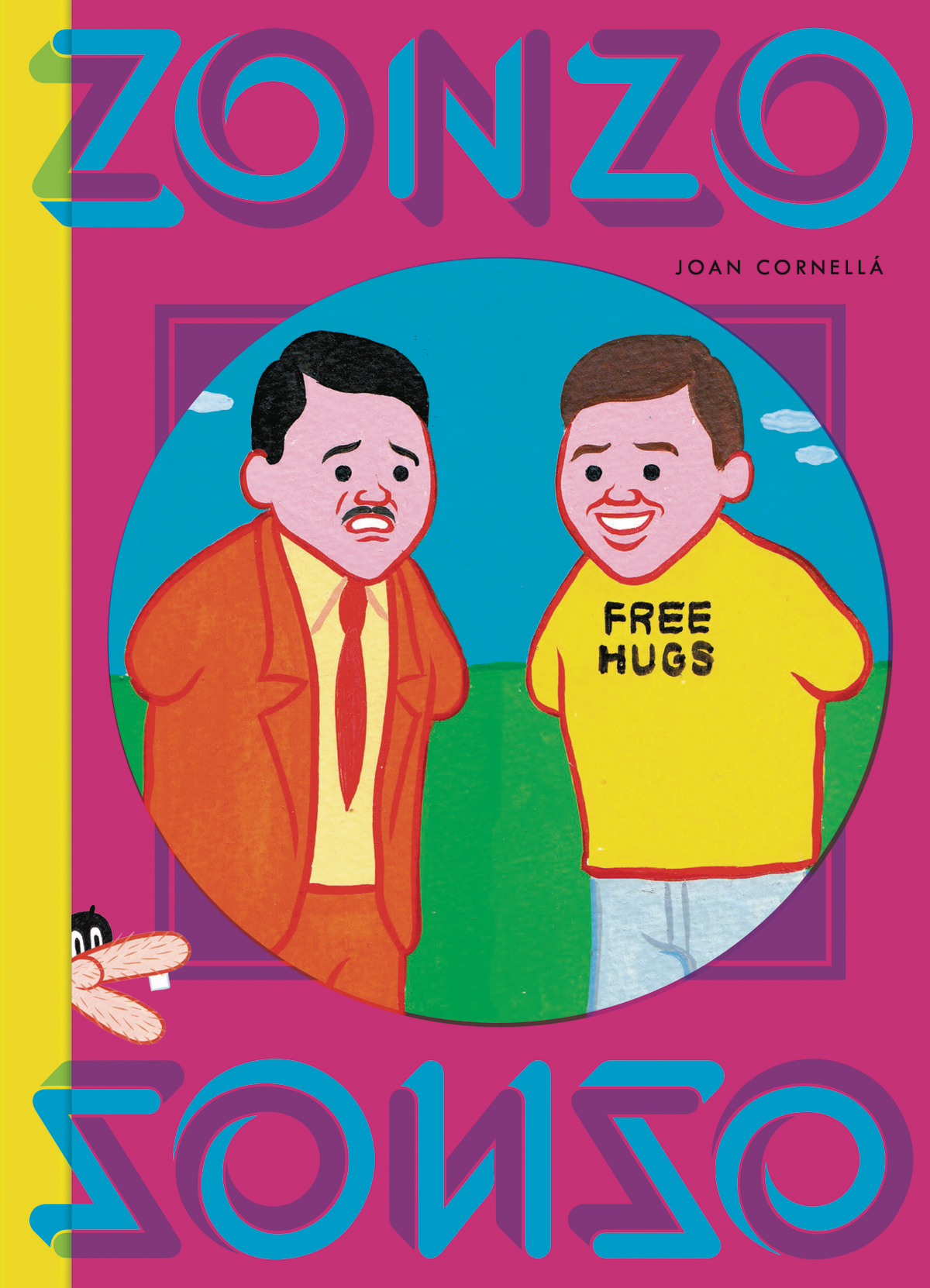 Joan Cornella is MESSED UP. His first book, Mox Nox, is one of the most darkly funny things I've ever read. His comics are half Cyanide and Happiness, half The Far Side, half French silent cartoon. The fact that he doesn't put words in the comics adds a degree of difficulty, and the fact that he pull it off and still manages to make screwed up dark comedy with just body language and staging makes him a borderline genius. 
ZONZONOV161564(W) Joan Cornella (A/CA) Joan Cornella

Following the success of Joan Cornellà's first book, the viciously funny Mox Nox,Zonzo continues the tradition with 50 all-new strips of smiling psychopaths (human and anthropomorphic) and (often literal) side-splitting farce. Cornellà's humor mixes the absurdist comedy of Michael Kupperman with transgressive, political incorrectness.

In Shops: Jan 18, 2017SRP: $14.99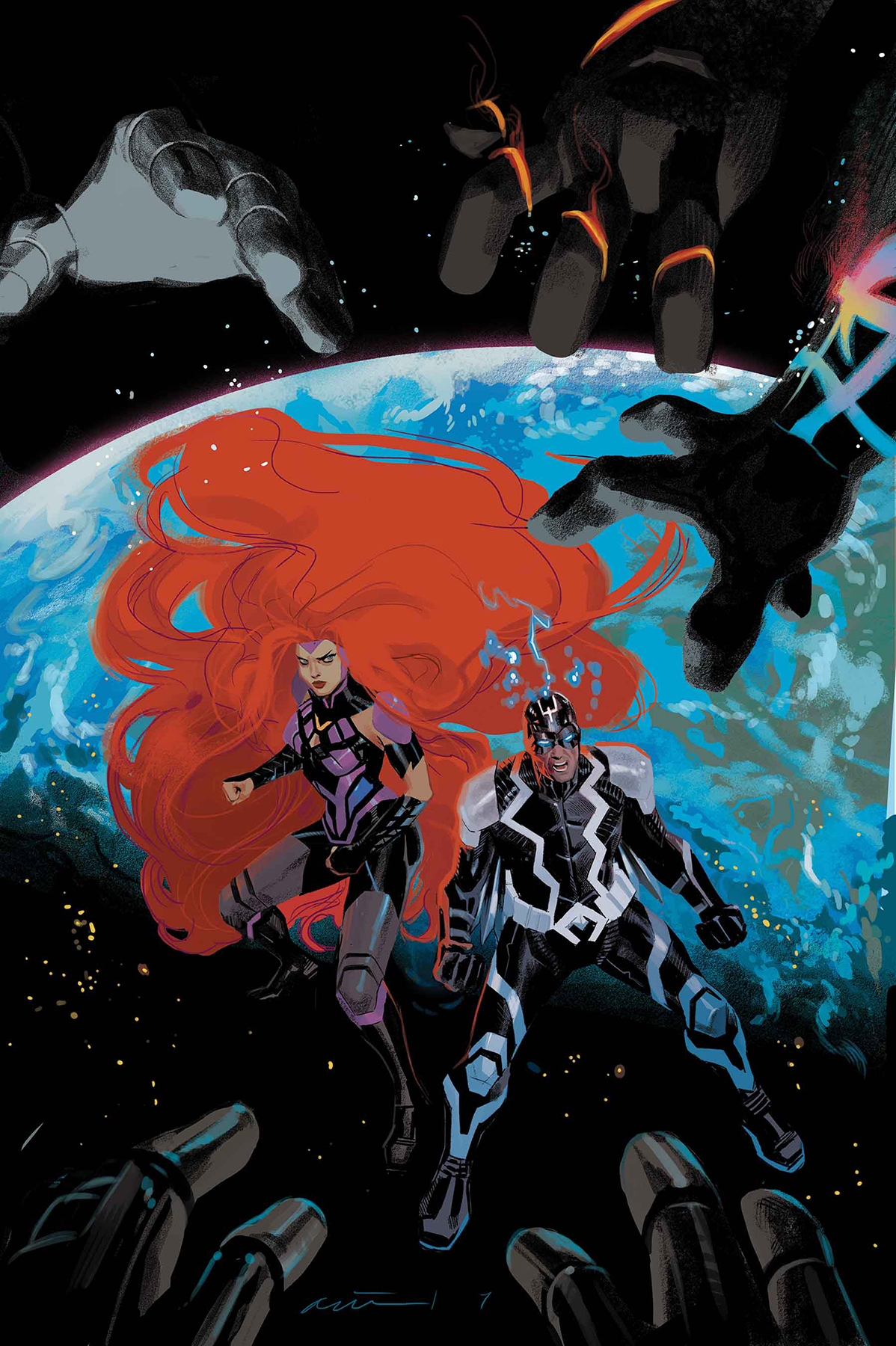 Al Ewing and Mike Del Mundo is a killer combo. We've raved about Del Mundo's work before, but it's worth repeating: a painter who can tell a story like this with sequential art is a wizard. What we haven't talked about extensively is the work Al Ewing has done in the weirdest corners of the Marvel Universe. On Ultimatesand Ultimates 2, Ewing dug his teeth into the abstract concepts of the Marvel cosmic world – Eternity, Chaos, Order, Logos, Galactus, Ego, the very multiverses themselves – and made them insanely fun to read about. The concepts introduced, and the joy with which Ewing wrote, made these books some of my all time favorites. He's not quite hitting the same level with Royals, but that's largely because the Inhumans are tougher raw material to work with. But he's still doing great work, and Judgement Dayis the capstone to the story he's been telling. You should definitely check it out.
INHUMANS: JUDGEMENT DAY #1NOV170940(W) Al Ewing (A) Michael Del Mundo (CA) Daniel Acuna

THE INUMANS FACE THE WRATH OF THEIR CREATORS! The Royal Family has spent months tracking down Primagen, the element that birthed Terrigen and could save the Inhuman race from its slow extinction. But to get it, they confronted the Progenitors – beings older than the Earth itself. They stole fire from the gods. And the gods are angry. The fate of planet Earth once again sits in Black Bolt and Medusa's hands. The Progenitors are here to end their experiment once and for all – and our world with it. Who will be able to stand…on Judgment Day? Rated T+

In Shops: Jan 24, 2018SRP: $4.99
Lion Forge is doing some really interesting stuff to build their new superhero universe. The growth of their Catalyst Prime line (and the alternative that they're providing to creators disillusioned with the Big 2) is a seriously underplayed story from the comics industry in 2017, and will likely get bigger as we move forward. But that's not why we're looking at Incidentals.We like this because Larry Stroman should draw a lot more comics. He got a handful of issues on the second wave of X-Factorthat were fantastic; and he co-created Tribefor Image right before the company's '94 bloodbath. He's been involved in the industry a bunch since then, but having him on something regular is wonderful, and should be encouraged. 
INCIDENTALS VOL. 1NOV171753(W) Joe Casey (A/CA) Larry Stroman

Bo Vincent Chen is a billionare who gained superpowers on the night of "The Event", and he's been plagued by nightmares ever since. His covert team of superhuman operatives is fighting against enemies from all sides to save the superpowered teenager called Seven, but time is running out, and internal conflicts may rip the group apart before they complete the mission. The bigger problem is the secret Bo is keeping from his team, about the real danger heading to Earth.

In Shops: Jan 24, 2018SRP: $14.99
We've raved about Divinitybefore, but that was before two successful follow ups (so far) brought Abram Adams deeper into the Valiant Universe. The original praise stands, though: this was one of the oddest, quietest, weirdest superhero comics of its time, and Matt Kindt and Trevor Hairsine maintained that over the full arc of Abram's story. It is one of the best comics Valiant has put out, and that's even knowing we're only about halfway through Eternity, the third and final volume of the story that wraps a couple of weeks before this hardcover collection comes out. So while this edition is a bit pricey and a little bit of a flier, it's probably a safe bet.
DIVINITY COMPLETE TRILOGY DELUXE HCNOV172041(W) Matt Kindt, Jeff Lemire, Joe Harris, Scott Bryan Wilson, Eliot Rahal (A) Trevor Hairsine, Clayton Crain, CAFU, Robert Gill, Francis Portela

For the first time anywhere, experience all three sold-out volumes of the visionary science-fiction saga that refined the Valiant Universe for the 21st century in one stunning, oversized deluxe hardcover! At the height of the Cold War, the Soviet Union – determined to win the Space Race at any cost – green lit a dangerously advanced mission. They sent a man farther into the cosmos than anyone has gone before or since. Lost in the stars, he encountered something unknown. Something that… changed him. Long thought lost and erased from the history books, he has suddenly returned, crash-landing in the Australian Outback. The few that have been able to reach him believe him to be a deity – one who turned the scorched desert into a lush oasis. They say he can bend matter, space, and even time to his will. Earth is about to meet a new god. And he's a communist. How long can it be before the first confrontation between mankind and DIVINITY begins? From the minds of New York Times best-selling writer Matt Kindt (X-O MANOWAR, Mind MGMT) and superstar artist Trevor Hairsine (X-Men: Deadly Genesis) comes the first complete collection of the multiple Harvey Award-nominated series that Entertainment Weekly calls "a mind bending battle for the ages"! Collecting DIVINITY #1-4, DIVINITY II #1-4, DIVINITY III: STALINVERSE #1-4, DIVINITY III: KOMANDAR BLOODSHOT #1, DIVINITY III: ARIC, SON OF THE REVOLUTION #1, DIVINITY III: SHADOWMAN & THE BATTLE OF NEW STALINGRAD #1, and DIVINITY III: ESCAPE FROM GULAG 396 #1, along with the never-before-collected DIVINITY #0, and over 20+ pages of rarely seen art and extras!
In Shops: Jan 31, 2018SRP: $59.99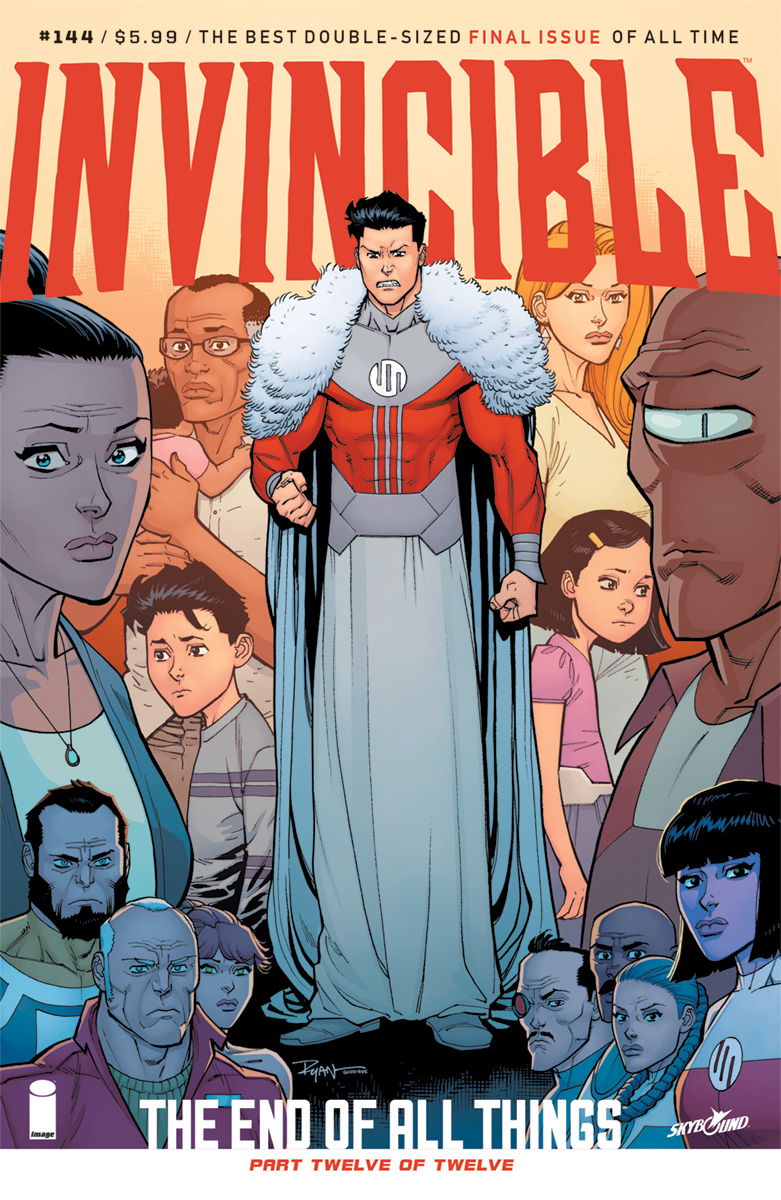 Robert Kirkman walks away from his epic superhero tale after a gross of issues. Invinciblehas been in many ways the perfect second-wave Image title, wearing every influence on its sleeve: from the extremeness of the gore, to the dedication to move in near-real-time, to Kirkman insisting on telling his story and that's it, it seems to have taken a bit from the flagship titles of different founders to become something better. Invinciblehas looked great since issue 1, and the story Kirkman has told never stopped being interesting, emotional, or just plain fun. It will be missed, and it should certainly be lauded.
INVINCIBLE #144NOV170577(W) Robert Kirkman (A) Cory Walker (A/CA) Ryan Ottley, Nathan Fairbairn

SERIES FINALE "THE END OF ALL THINGS," Conclusion Final issue. Everything since issue one has been building to this. Nothing can prepare you.

In Shops: Jan 31, 2018SRP: $5.99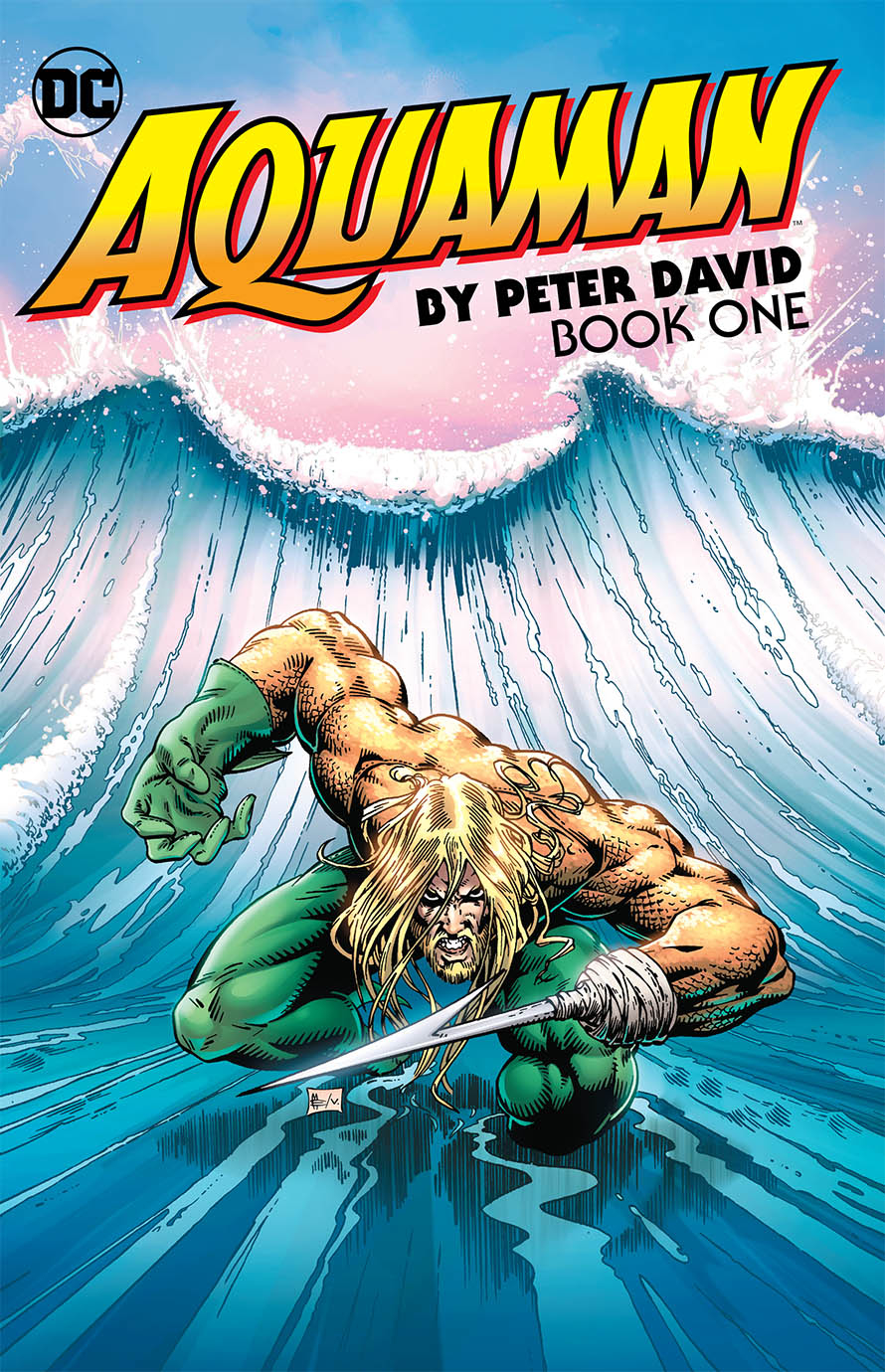 Stroman's creative partner on those X-Factorissues also happens to be the author of the most widely beloved Aquaman stories of all time: Peter David. DC is finally collecting all his work in one place, starting with this book which gives us the hook-handed Arthur Curry that many (if not most) of us grew up with.
AQUAMAN BY PETER DAVID VOL. 1NOV170357(W) Peter David (A) Kirk Jarvinen (A/CA) Brad Vancata, Martin Egeland

Peter David's classic run on Aquaman begins in this volume collecting AQUAMAN: TIME AND TIDE #1-4 and AQUAMAN #0-8. From his abandonment on a reef to his upbringing by a dolphin to his first encounter with surface dwellers, these tales chronicle the origin and ascension of the mythic figure known as Aquaman.  

In Shops: Feb 07, 2018SRP: $29.99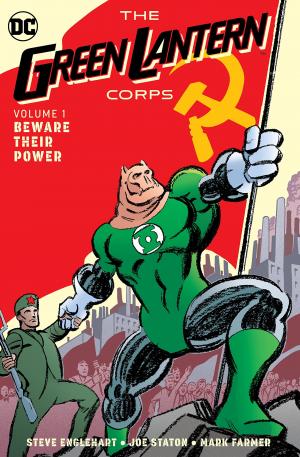 Green Lantern Corps Vol. 1: Beware Their Power
Guy Gardner rejoins the Green Lanterns of Earth, Kilowog leads the battle against the Rocket Red Brigade, while Hector Hammond and Star Sapphire join forces to try and kill Hal Jordan. Plus: a night out on the town leads to ruined romances and nightmare visions. Collects GREEN LANTERN CORPS #207-215 and TALES OF THE GREEN LANTERN CORPS ANNUAL #2.  
This is the first issue in a weekly series set to come out in February, timed well to coincide with Valentine's Day. And let me tell you, if Alex De Campi promises twisted romance, she will deliver romance, and she will deliver twisted. De Campi is an immensely talented comics writer, whose other Image series, No Mercy, is positively merciless (but also a great read). The first story of Twisted Romancetells the story of Heartbreak Incorporated, an agency in 1978 New York City dedicated to breaking couples up. Katie Skelly, the main artist on the first book, is a great cartoonist, and Sarah Horrocks (on the backup story) does really interesting things with the form. This promises to be fun.
TWISTED ROMANCE #1 (OF 4)DEC170607(W) Alex De Campi, Sarah Horrocks (A) Magen Cubed (A/CA) Katie Skelly

FOUR-ISSUE WEEKLY MINISERIES EVENT! Critically acclaimed writer ALEX de CAMPI teams up with some of comics' hottest artists to create tales of love gone wrong, right, and everywhere in between. 

ISSUE ONE: "OLD FLAMES" In New York City in 1978, there are thousands of ways for people to get together. There's only one agency dedicated to tearing them apart: Heartbreak Incorporated. But who is the handsome seducer who runs the agency, and what is the secret he's hiding? Drawn by KATIE SKELLY (My Pretty Vampire). Backup comics story by SARAH HORROCKS (Goro, The Leopard) and prose story by MAGEN CUBED (Crashers).

In Shops: Feb 07, 2018SRP: $3.99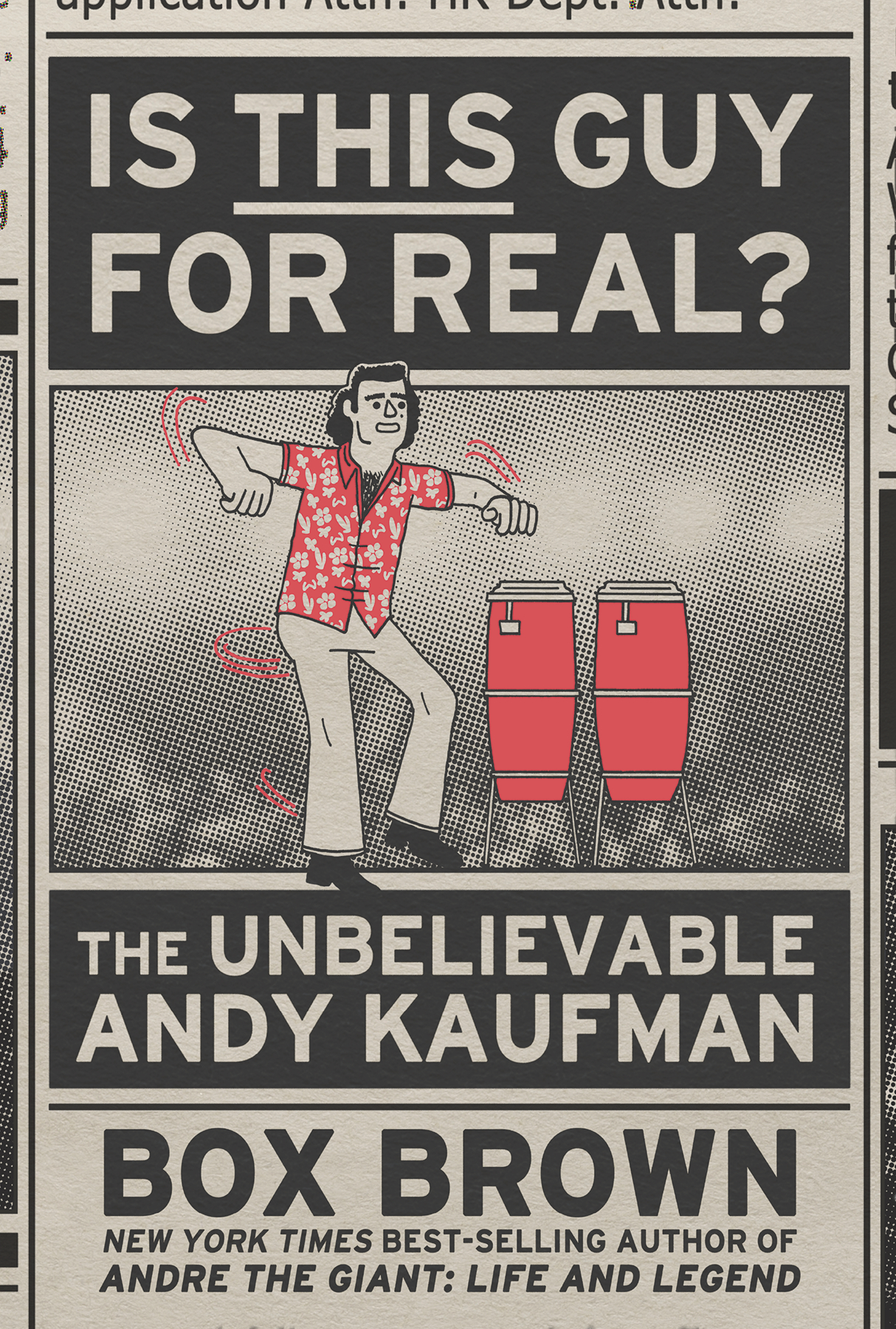 Box Brown has already won a ton of critical love for comics about Andre the Giant and (yes) Tetris. His next subject is like a cross between the two: a gifted performer who would often pretend to be a series of cubes. Andy Kaufman has been the subject of many a biography, filmed and prose, but to my knowledge, this is the first comic about his life. There's a lot of comic of the year buzz behind this already, and based on Brown's track record, it's deserved.
IS THIS GUY FOR REAL GNDEC171601(W) Box Brown (A/CA) Box Brown

Comedian and performer Andy Kaufman's resume was impressive – a popular role on the beloved sitcom Taxi, a high-profile stand-up career, and a surprisingly successful stint in professional wrestling. Although he was by all accounts a sensitive and thoughtful person, he's ironically best remembered for his various contemptible personas, which were so committed and so convincing that all but his closest family and friends were completely taken in. Why would someone so gentle-natured and sensitive build an entire career seeking the hatred of his audience? What drives a performer to solicit that reaction? Graphic novelist Box Brown takes on the complex and often hilarious life of Andy Kaufman.

In Shops: Feb 07, 2018SRP: $19.99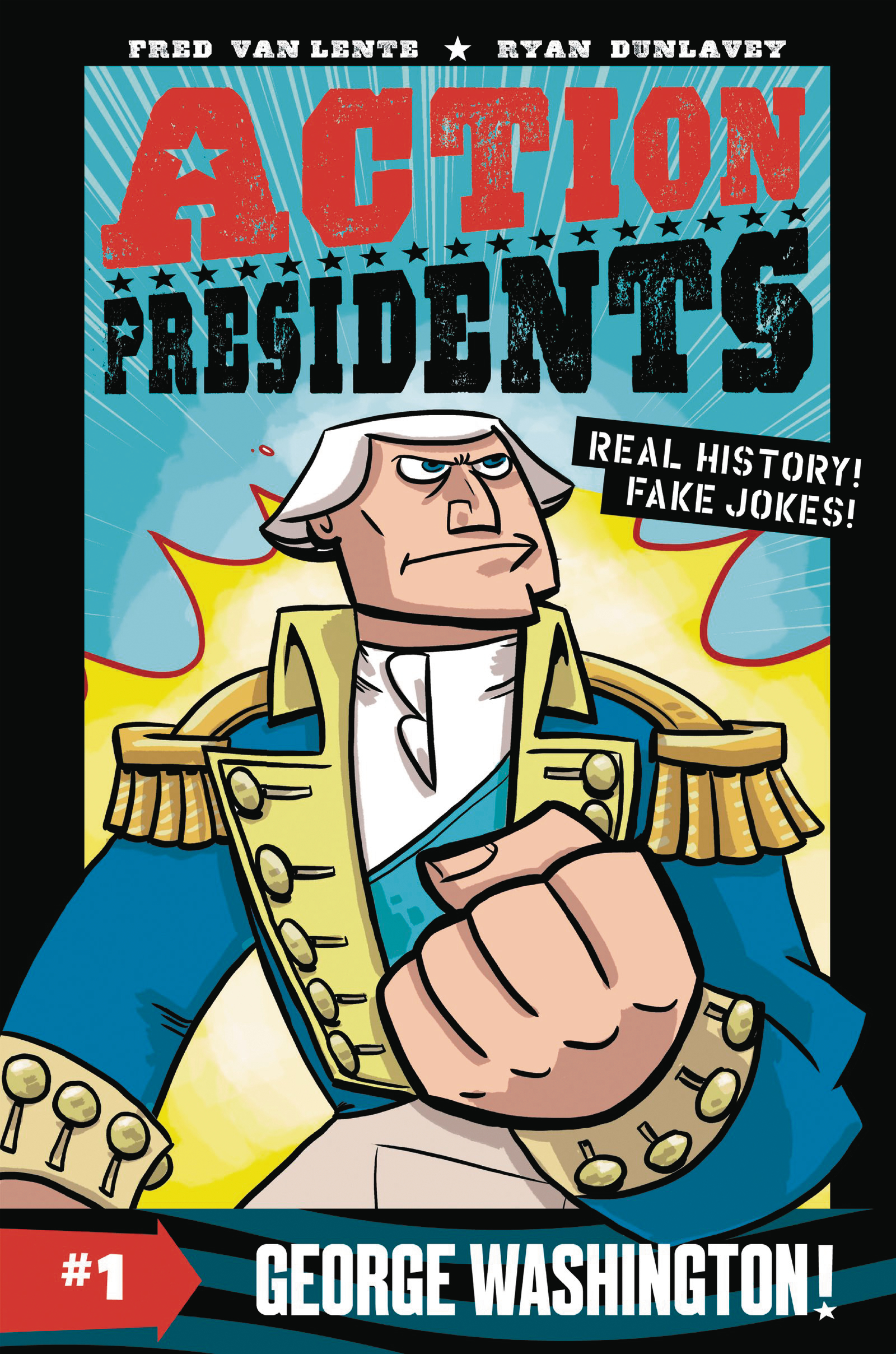 Fred Van Lente and Ryan Dunleavy apply their Comic Book History of Comicsand Action Philosophersformula to a history of US Presidents, and since this biggest event each February in the entire world is President's Day, we get the George Washington and Abe Lincoln entries. I blazed through Action Philosophers, so I'm here for this. I'm just not sure how long Action Presidentscan last. I feel like it'll get ridiculous after 44 or so issues.
ACTION PRESIDENTS BOOK 1: GEORGE WASHINGTONDEC172081(W) Fred Van Lente (A/CA) Ryan Dunlavey

ALA award-winning author-illustrator duo Fred Van Lente and Ryan Dunlavey bring George Washington to life like you've never seen him before, as the hero of a non-fiction comic-style biography in a hilarious, all-too true, fully illustrated paper-over-board middle grade adventure. We all know that George Washington was our first President and a hero of the American Revolution. But did you also know that he didn't want to be president, never thought he would fight in a war, and had teeth so bad that he hated to smile? Told through bold and hilarious comic-style illustrations, the first Action Presidents book features the all-too true history of the ultimate founding father, prime patriot, and awesome American, George Washington.

In Shops: Feb 07, 2018SRP: $9.99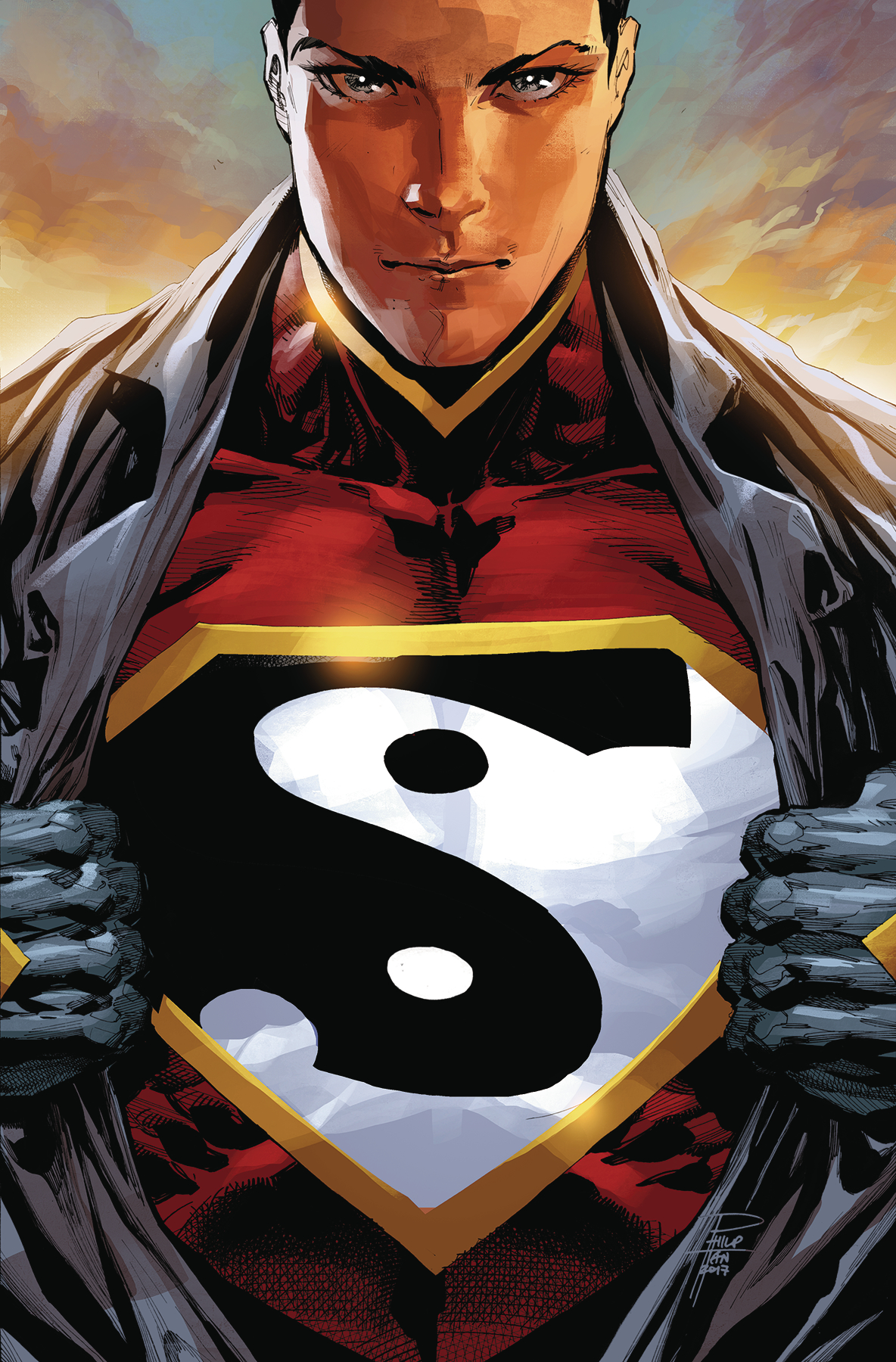 Gene Luen Yang's New Super-Manis wonderful. It is a fresh look at what makes Superman great from a different perspective. Yang has built a world around Kenan that is as interesting as the characters – it's got the geopolitics of a good Priest book, with a dash of mad science and some DC history. New Super-Manis almost like an alternate origin, an origin for the Superman myth, and it's outstanding.
NEW SUPER-MAN AND THE JUSTICE LEAGUE OF CHINA #20DEC170317(W) Gene Luen Yang (A) Brent Peeples, Richard Friend (CA) Philip Tan

"SEAS OF CHANGE" part one! It's the dawn of a new era for the Justice League of China! The New Super-Man of China and his teammates have struck out on their own, and even the Ministry's newly formed Lantern Corps is no match for this renegade force to be reckoned with! But as China's superhero community reorganizes itself, trouble is brewing in North Korea…and from the depths emerges a new metahuman that will change everything.

In Shops: Feb 14, 2018SRP: $3.99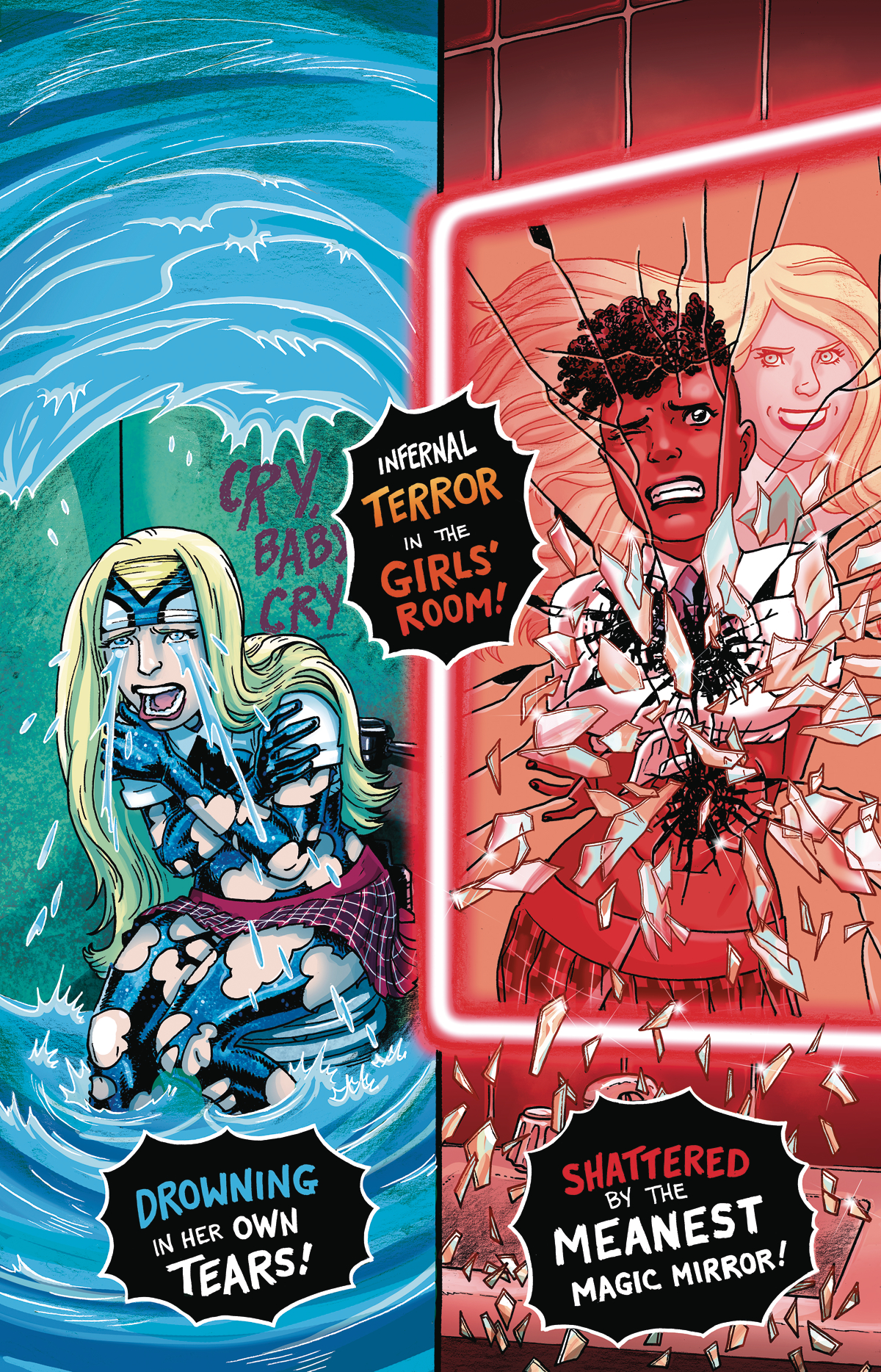 Speaking of No Mercy, De Campi's collaborator Carla Speed McNeil joins Adam Warren in this series to basically make Garbage Pail Kids jokes set in the Empowereduniverse. None of that should be misconstrued as criticism, by the way. McNeil's got real game and can do zany comedy as well as anybody in comics. Expect bizarre hilarity.
EMPOWERED & SISTAH SPOOKY'S HIGH SCHOOL HELL #3DEC170081(W) Adam Warren (A/CA) Carla Speed McNeil

Narrowly escaping death by music class singing competition, Empowered and Sistah Spooky hit a new low in their hellscape ordeal when they stumble into . . . THE LADIES' ROOM! While a trapped Emp drowns in her own tears in a bathroom stall, can Spooky avoid being shattered-literally!-by a Hell-powered magic mirror?  o First Empowered comic book series in standard comics format. o Carla Speed McNeil is the Eisner Award-winning creator of Finder.

In Shops: Feb 21, 2018SRP: $3.99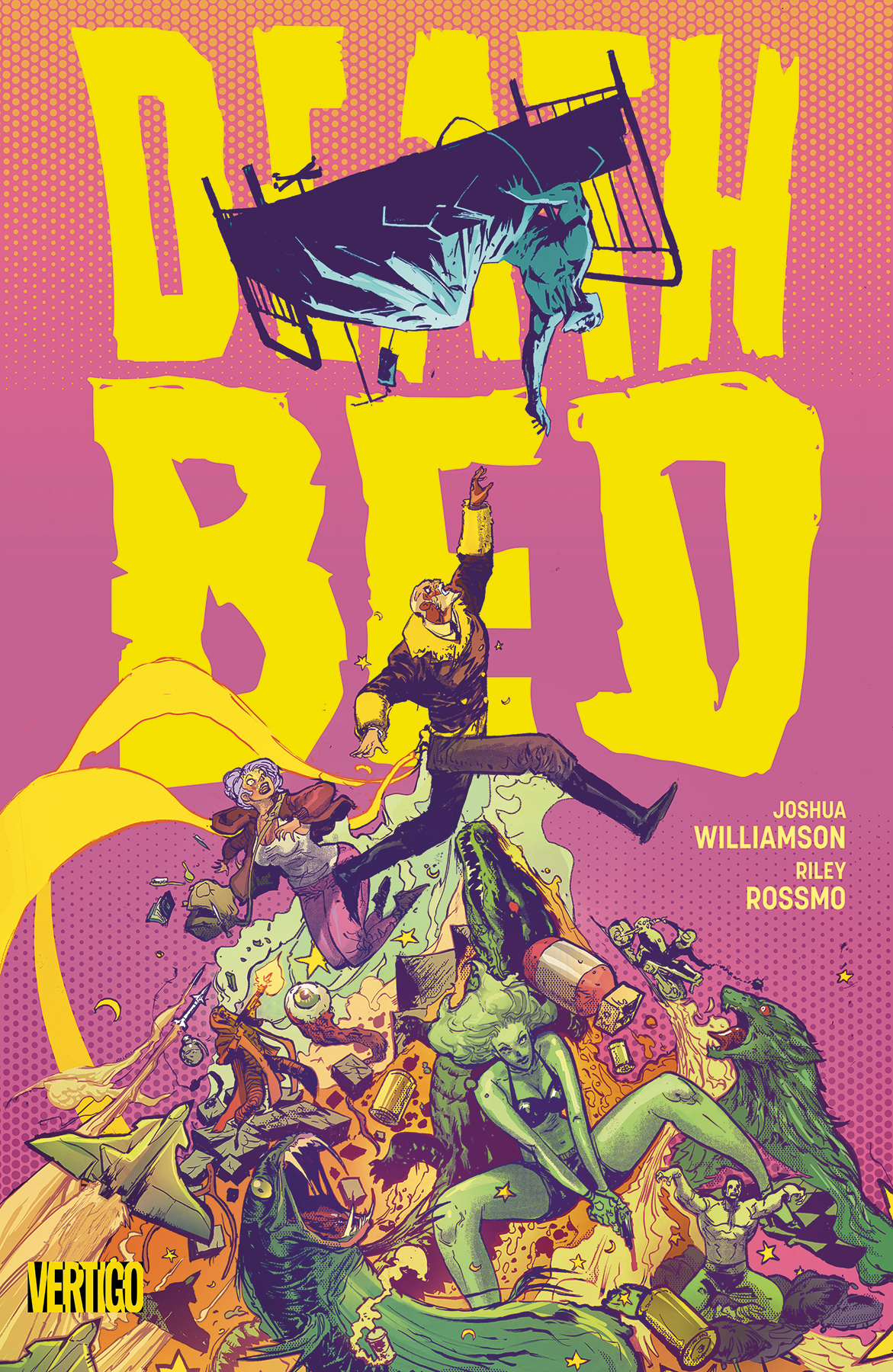 Josh Williamson is in the middle of a fantastic run on The Flash. It's really the perfect comic companion to the TV show, hitting many of the same notes and really enjoying the policework angle on Barry. But Deathbedis on here because Riley Rossmo is a stupefyingly good artist. He takes stuff that should otherwise be trash, like a Metaltie in about Batman becoming the Joker, and makes it incredible to look at. This series is about the world's most interesting man telling his stories on his deathbed, so he should have plenty to work with.
DEATHBED #1DEC170406(W) Joshua Williamson (A/CA) Riley Rossmo

Myth, hack, sex symbol, stark raving lunatic-all of these words have been used to describe Antonio Luna, the world's greatest living adventurer. Or at least he was until 20 years ago, when he mysteriously vanished from the public eye. Now the ninety-year-old has returned and claims to be on his deathbed. Which is where Valentine Richards, a failed novelist turned reporter, comes in. Val is hired to travel to Luna's remote castle home and uncover where the old star has been all these years, and just how much of what he says is actually true. But once Val starts to hear Luna's tale, she finds herself entering into an insane world of psychedelic violence and explosive supernatural adventure. This brand-new series is a bold collaboration between Joshua Williamson (THE FLASH, FROSTBITE) and Riley Rossmo (THE BATMAN WHO LAUGHED). Before it's through, they promise to take you to the Moon and back-and everywhere in between-plus some places that are totally off the map.

In Shops: Feb 21, 2018SRP: $3.99
Marvel's in a weird place lately. The team books have been tough, but when you get past the big flagship books and dig into the idiosyncratic solo books with a strong creator voice, and that's where you find the gems like Mockingbirdor Visionor Iceman. That's fully what I expect here: Daniel Kibblesmith has yet to write a comic that wasn't a blast. And let's be honest, Lockjaw is the best.
LOCKJAW #1DEC170875(W) Daniel Kibblesmith (A) Carlos Villa (CA) Ed McGuinness

WHO'S A GOOD BOY? Part 1 At long last, the dog has his day! Lockjaw spends most of his time defending the Inhuman empire alongside Black Bolt and Medusa. But when he gets a message that his long-lost litter mates are in danger, he'll spring into action to save them! But wait – Lockjaw has brothers and sisters? Can they teleport? Are they Inhuman? Can they possibly be as gosh-darned cute as their big brother? All the answers are here! Get ready for an adventure worth fetching for! Rated T

In Shops: Feb 28, 2018SRP: $3.99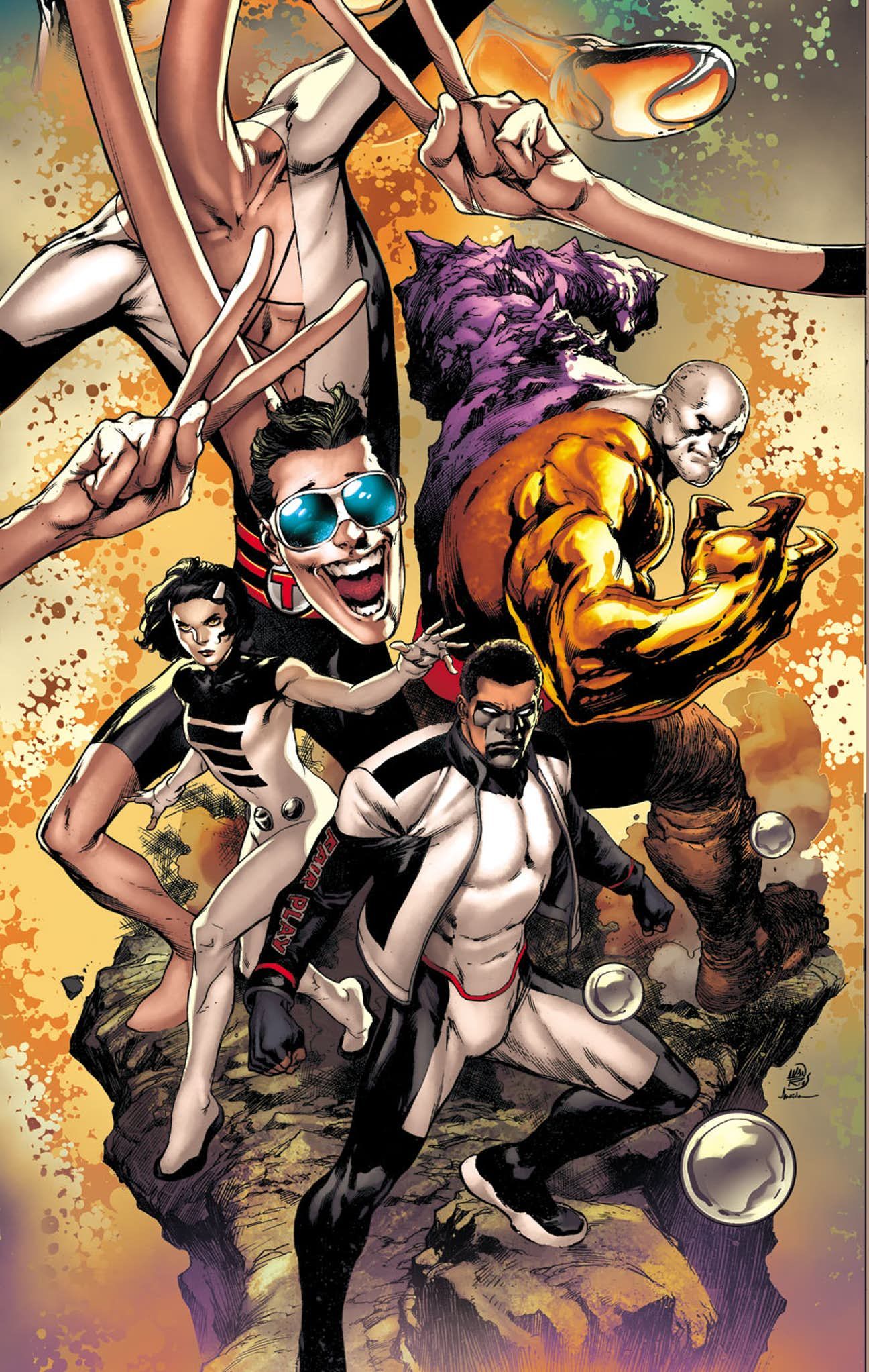 The Terrifics #1
Bound together by fate, united by the spirit of exploration and hope for tomorrow, the Terrifics bound from the Dark Multiverse of Metal! When Mr. Terrific, Metamorpho, Plastic Man and Phantom Girl find themselves literally bound together by a tragic accident, our team of unlikely allies must rely on one another to make their way back home. But a startling revelation on their return trip brings them face to face with a new mystery: where in the universe is Tom Strong? 

in shops: Feb 28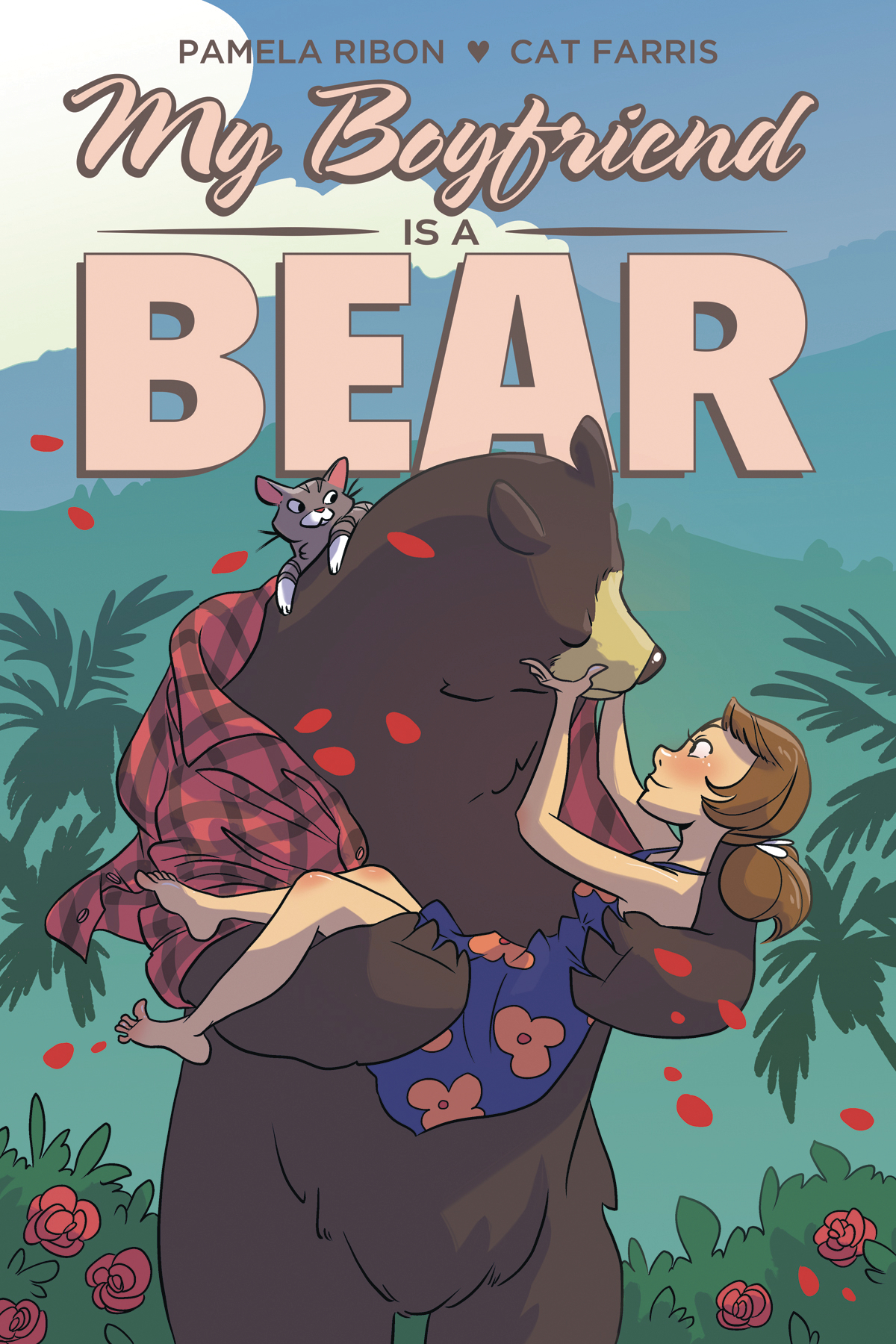 I had like, six jokes written within five minutes of seeing this entry. But I keep coming back to the solicit text: it reads completely serious. I know it won't be – the bear will turn out to be a really hairy man who needs a waxing, or Supergirl's cousin or something. But this book is fascinating to me, just on the off chance that it might be played completely straight and end up being bestiality fanfic.
MY BOYFRIEND IS A BEAR GNDEC171719(W) Pamela Ribon (A/CA) Cat Farris

Bear meets girl.

Nora has bad luck with men. When she meets an (actual) bear on a hike in the Los Angeles hills, he turns out to be the best romantic partner she's ever had! He's considerate, he's sweet, he takes care of her. But he's a bear, and winning over her friends and family is difficult. Not to mention he has to hibernate all winter. Can true love conquer all?

In Shops: Apr 11, 2018SRP: $19.99
THIS SHIRT IS…being manufactured in a medium for some reason.
NOV172289(A) Chris Burnham

The influence of Jack Kirby splits on these two new shirt designs. Darkseid features the art of Chris Burnham screenprint in full-color on a smoke grey shirt. Based on the Animated Superman series, AS: Darkseid is also imprinted in full-color on a white shirt. Very cool, very different.  NOW AVAILABLE for sale in Canada and U.K.

In Shops: Feb 28, 2018SRP: $19.95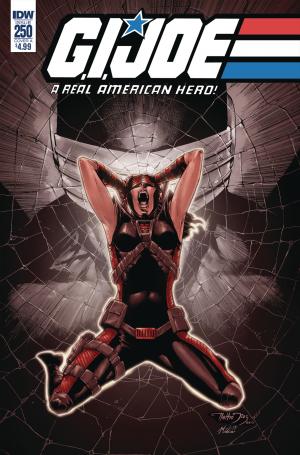 Getting to 250 issues of a comic without running multiple interim volumes and then hastily renumbering and trying to count the different books as the same run when you realize you're approaching a bunch of milestones is almost unheard of these days, so the 250th issue of G.I. Joe: A Real American Herowould lead the list of March books on that alone. But then you see that it's a Snake Eyes issue, and what looks to be the debut issue of a new Snake Eyes at that? This book at IDW is a direct continuation of Larry Hama's Marvel series that brought so many people of a certain generation to the characters, and to comics as a medium. Dude knows what he's doing. Expect more of that here.
G.I. JOE: A REAL AMERICAN HERO #250JAN180450(W) Larry Hama (A/CA) Netho Diaz

"Dawn of the Arashikage," Part 5! Here it is-the conclusion to the latest explosive chapter in G.I. Joe: A Real American Hero lore! Dawn Moreno has battled dangerous enemies and her own inner demons as the ghost of the dead Snake-Eyes threatens to possess her mind and her very soul. Will she survive the psychic onslaught, or be lost to the dark memories of the mysterious ninja for all time? Find out in this special oversized milestone issue! * The birth (and rebirth) of an all-new Snake-Eyes! * A landmark issue!

In Shops: Mar 28, 2018
Pre-order G.I. Joe: A Real American Hero#250 here!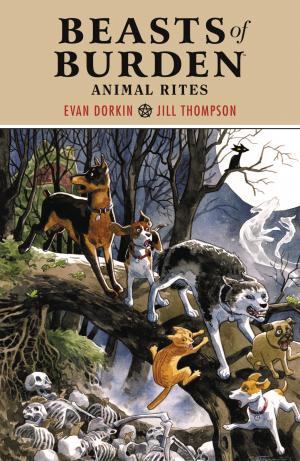 Beasts of Burden: Animal Rites TP (Order Code JAN180121)
There are two hooks to this new collection of several classic Beasts of Burdenstories. The first is the critical praise its received through the years. Artist Jill Thompson could fill a swimming pool with all the Eisners and Harveys she's won for this book and swim around in it, Scrooge McDuck style. It is a stunning work of comic art. 
The second is the hook. For those of you unfamiliar with it, it's a series about a group of dog paranormal detectives who investigate NO COME BACK I HAVEN'T FINISHED YOU CAN WAIT FIVE MORE WORDS TO BUY IT. 
BEASTS OF BURDEN: ANIMAL RITESJAN180121(W) Evan Dorkin (A/CA) Jill Thompson

Black magic, demonic frogs, and zombie road kill are just a few of the problems plaguing this seemingly sleepy little town. Beneath the quiet streets a rat cabal plots vengeance, while in the local cemetery the dead leave their graves. With the human residents unaware of the supernatural danger, it's up to a determined crew of dogs (and one cat) to keep their community safe. Lives will be lost, and bonds forged as the beasts of Burden Hill battle against an unknown evil rooted within their town. Award-winning comics creators Evan Dorkin (Milk & Cheese) and Jill Thompson (Scary Godmother) come together to share the lives of some unlikely heroes. This volume reprints the comic-book series Beasts of Burden issues #1-4, the short stories from the Dark Horse Book of Hauntings, the Dark Horse Book of Witchcraft, the Dark Horse Book of the Dead, and the Dark Horse Book of Monsters,  "Stray," "Unfamiliar," "Let Sleeping Dogs Lie," and "A Dog and His Boy," published by Dark Horse Comics.

In Shops: May 09, 2018
Pre-Order Beasts of Burden: Animal Riteson Amazon!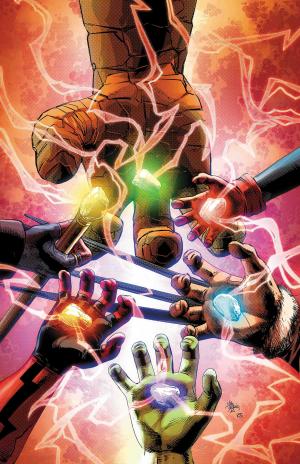 If you're a fan of the Marvel Cosmic universe from the era that James Gunn is mining for the Guardians of the Galaxymovies – pre-Bendis, when the space crew interacted with the Avengers sparingly and all had distinct voices and felt impactful – you really should make a point of checking out Gerry Duggan's run on All-New Guardians of the Galaxy,which culminates in this new Infinity crossover. While Star-Lord and Gamora are still pretty heavily informed by their movie characterizations, Duggan and series artist Aaron Kuder have succeeded in capturing some of the grandeur of the cosmic characters, and have fitted the Guardians into a similar role to where Dan Abnett and Andy Lanning had them. Plus, Kuder is getting great at being a Frank Quitely clone, at least in his figure drawing.
INFINITY COUNTDOWN #1JAN180879(W) Gerry Duggan (A) Aaron Kuder (CA) Nick Bradshaw

The Saga of the Infinity Stones begins!  As the Infinity Stones reappear around the cosmos, the ultimate race for power is on!! Battles will be fought, blood will be spilled, lives will be lost… all as the greatest cosmic heroes and villains vie for possession of the Power Stone, towering over a remote asteroid, somehow grown to the size of a building. Watch as the path to Infinity opens before your eyes and the END lies near… Rated T+ 

In Shops: Mar 07, 2018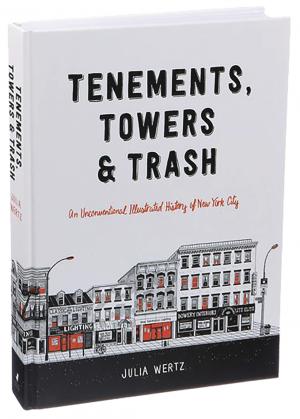 Comics is the BEST medium for historical nonfiction like this. Graphic storytelling is great at adding character to bone-dry recitations of place and time, and it's also outstanding for helping readers suspend disbelief on things that are true but should probably be disbelieved anyway. Julia Wertz's history of some of the oddest joints in New York City likely falls into the latter category, and she's a good enough cartoonist to make it a must read.
TENEMENTS, TOWERS & TRASH HCJAN181298(W) Julia Wertz (A/CA) Julia Wertz

In Tenements, Towers & Trash, Julia Wertz takes us behind the New York that you think you know. Not the tourist's New York, but the guts, the underbelly, of this city that never sleeps. With drawings and comics in her signature style, Wertz regales us with streetscapes "Then and Now" and little-known tales, such as the lost history of Kim's Video, the complicated and unresolved business of Ray's Pizza, the vintage trash and horse bones that litter the shore of Brooklyn's Bottle Beach, the ludicrous pinball prohibition, Staten Island's secret abandoned boatyard, and the hair-raising legend of the infamous abortionist of Fifth Avenue, Madame Restell. From bars, bakeries, and bookstores to food carts, steet cleaners and apartments both cramped and grand, Tenements, Towers & Trash is a wild ride in a time machine taxi from the present day city to bygone days of yore.

In Shops: Mar 14, 2018
Order Tenements, Towers & Trashon Amazon!
Look, this is probably going to be great. Greg Smallwood was a breakout hit on Moon Knight, and there's no reason to believe he won't be as good or better here. My question is where does this madness end? Afterlife with Archieis incredible, with zombie Riverdale. The Chilling Adventures of Sabrinawas also great, making Sabrina the bride of Cthulu. Then we got werewolf Jughead, and now vampire Veronica. What's next? Betty as the Reanimator? Moose becomes a puppet and traps people in elaborate, murderous escape rooms? Devilry with Dilton?
VAMPIRONICA #1JAN181214(W) Greg Smallwood, Megan Smallwood (A/CA) Greg Smallwood

NEW ONGOING SERIES! When Veronica is bitten by a centuries-old vampire, her thirst for blood threatens to turn Riverdale into a haven for the undead. Will she put an end to the vampire threat or give in to her blood lust?

In Shops: Mar 14, 2018
Strangers in Paradise's Terry Moore has been getting a lot of love for telling a realistic, human tale about PTSD that also includes aliens and a talking gorilla. 
MOTOR GIRL HCJAN181089(W) Terry Moore (A/CA) Terry Moore

When a UFO crashes into Samantha's junkyard, she is happy to make repairs and send the little visitors on their way. But E.T. is smitten with the Marine veteran and now an industrial giant wants to buy the land to install their anti-UFO weapon. With the help of her buddy Mike, a 600lb. gorilla, Sam is always prepared to defend those who can't defend themselves, but who will save Sam from the PTSD and shrapnel that threaten her life? To survive, Sam must ultimately face the greatest battle of her life – reality. Available in softcover and hardcover editions.

In Shops: Mar 28, 2018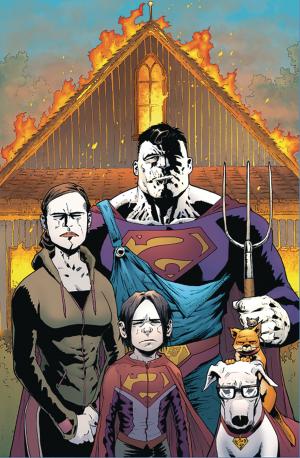 Superman #42 (Order Code JAN180340)
There's a lot to like about this arc. Boyzarro is a lovely concept, a nice development of one of Superman's most entertaining villains. Pete Tomasi and Patrick Gleason are a great pairing, responsible for an incredible run on Batman & Robinand on this volume of Superman.But let's be honest here: I am buying this 100% for bizarro Krypto in glasses and Grumpy Streaky.
SUPERMAN #42JAN180340(W) Peter J. Tomasi, Patrick Gleason (A) Patrick Gleason, Patrick Gleason

"BOYzarro RE-DEATH" part one! It's a bizarre, Boyzarro world-and we just live in it! When Superboy comes face to face with Boyzarro, the Son of Bizzaro, a strange transformation begins to take place. But that's not all that the Kents have knocking on their door! Superman versus Bizarro round one am not just the beginning!

In Shops: Mar 07, 2018
From the solicit text: "For fans of Octavia Butler, Sailor Moonand…David Cronenberg…" Yup. I'm in. 
PRISM STALKER #1JAN180614(W) Sloane Leong (CA) Darius Ou (A/CA) Sloane Leong

For fans of Octavia Butler, Sailor Moon, and the biopunk horror of David Cronenberg comes PRISM STALKER, an ongoing sci-fi adventure series by SLOANE LEONG.  Vep is a young refugee raised away from her devastated home planet as an indentured citizen in a foreign colony. She works tirelessly for her insectoid hosts, but there is no exit in sight in this viscous, dripping citynest. The eye of opportunity is closing. Her duty is to her family and her siblings, but what more can she do for them here? The answer appears faster than she is ready for.

In Shops: Mar 07, 2018
Pre-Order Prism Stalker on Amazon!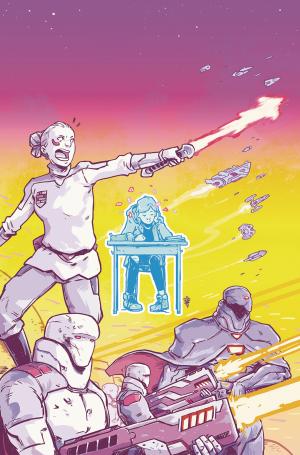 For a guy who wrote a pop punk ballad about falling in love in the Holocaust, "surprisingly sensitive" is kind of blunted as a description. But Max Bemis was, when he came into comics, a surprisingly good comics writer. His Marvel miniseries, Worst X-Man Ever,was a lot of fun and an interesting look at mutant powers. His first book for BOOM! was Oh, Killstrike,where a neurotic guy has a Cable ripoff come to life and teach him how to be a better man. Lucy Dreamingsounds like it has a passing resemblance, and that's a good thing.
LUCY DREAMING #1JAN181322(W) Max Bemis (A/CA) Michael Dialynas

Max Bemis (Moon Knight writer and lead singer of Say Anything) and Michael Dialynas ( The Woods ) present a sweeping, coming-of-age fantasy about living your dreams.literally. In her dreams, Lucy is the hero of all her favorite stories, living each night as a grand adventure. These journeys will teach her more about herself and the real world around her than she ever expected!

In Shops: Mar 21, 2018
Wonder Woman: Forgotten Legends
Trina Robbins' The Legend of Wonder Woman has never been collected until this edition.. That's a crime. Now all is well.
Tales of Wonder Woman in the style of the Golden Age of Comics by Trina Robbins and Kurt Busiek are collected at last! In these stories from the 1980s, Paradise Island is threatened by a mysterious Amazon known as Atomia! This title collects THE LEGEND OF WONDER WOMAN #1-4, WONDER WOMAN #318 and a story from WONDER WOMAN ANNUAL #2.  

in shops: March 21
Aquaman: The Legend of Aquaman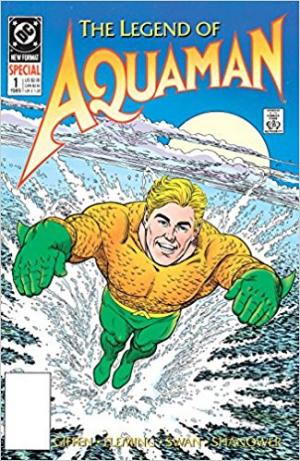 DC is doing wonders with their back catalogue right now, and here's another edition of never-before-collected goodness, from an incredible array of talent, including Keith Giffen, Robert Loren Fleming, and Curt Swan!
Discover Aquaman's humble beginnings before he became ruler of Atlantis! Born as Orin to Queen Atlanna and the mysterious wizard Atlan in the city of Poseidonis, he was abandoned as a baby on Mercy Reef above sea level. To any other Atlantean, this would have been fatal—but Orin survived to travel the ocean until he was found by a lighthouse keeper and renamed Arthur Curry. This new title collects AQUAMAN SPECIAL #1 and AQUAMAN #1-5 from 1989, in which Aquaman must face unseen invaders in Atlantis.

in shops: March 21
THE HAWK AND THE DOVE: THE SILVER AGE TP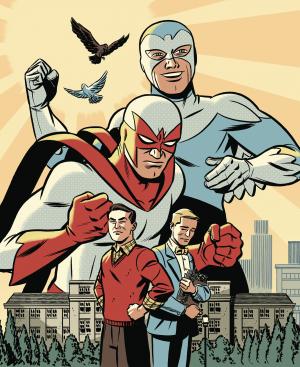 Our favorite words in the english language? "The complete series." And that's what you're getting in this volume, with work from Steve Ditko, Gil Kane, and Neal Adams!
The original run of one of DC's most thought-provoking concepts is collected in its entirety. The Hawk and the Dove were gifted with super-powers by a mysterious voice that sets them on their quest for justice…but their approaches to this mission could not be more different. In the course of these late 1960s stories, the duo battles inner-city crime and corruption as they struggle to get along. Collects SHOWCASE #75, THE HAWK AND THE DOVE #1-6 and TEEN TITANS #21. 

in shops: March 28
Rough Riders: Ride or Die #2 (Order Code JAN181150)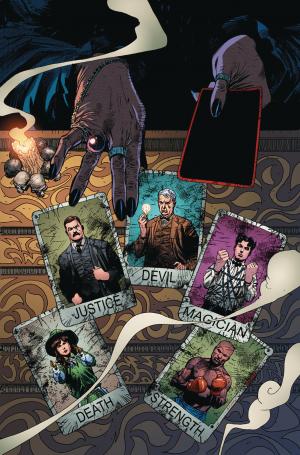 I see Justice, Devil, Magician, Death, and Strength, but I see nothing about Money, Power or Respect. This DMX comic seems to have missed the point.
ROUGH RIDERS: RIDE OR DIE #2JAN181150(W) Adam Glass (A/CA) Pat Oliffe

Volume Three of the hit AfterShock Series! A young and scared H.P. Lovecraft joins the Rough Riders as they ride again against an ancient evil. This threat has returned to our earthly plane from the great beyond, and is hellbent on killing anything in its path. Our heroes soon learn that these unfortunate souls are not deceased, but instead have been turned into an ARMY OF THE DEAD! And the true nature of this ancient evil will change one of our beloved members forevermore! Created and written by Adam Glass (executive producer of Supernatural and writer of Suicide Squad) with artwork by Patrick Olliffe (Untold Tales of Spider-Man).

In Shops: Mar 28, 2018
Pre-Order Rough Riders#2 on Amazon!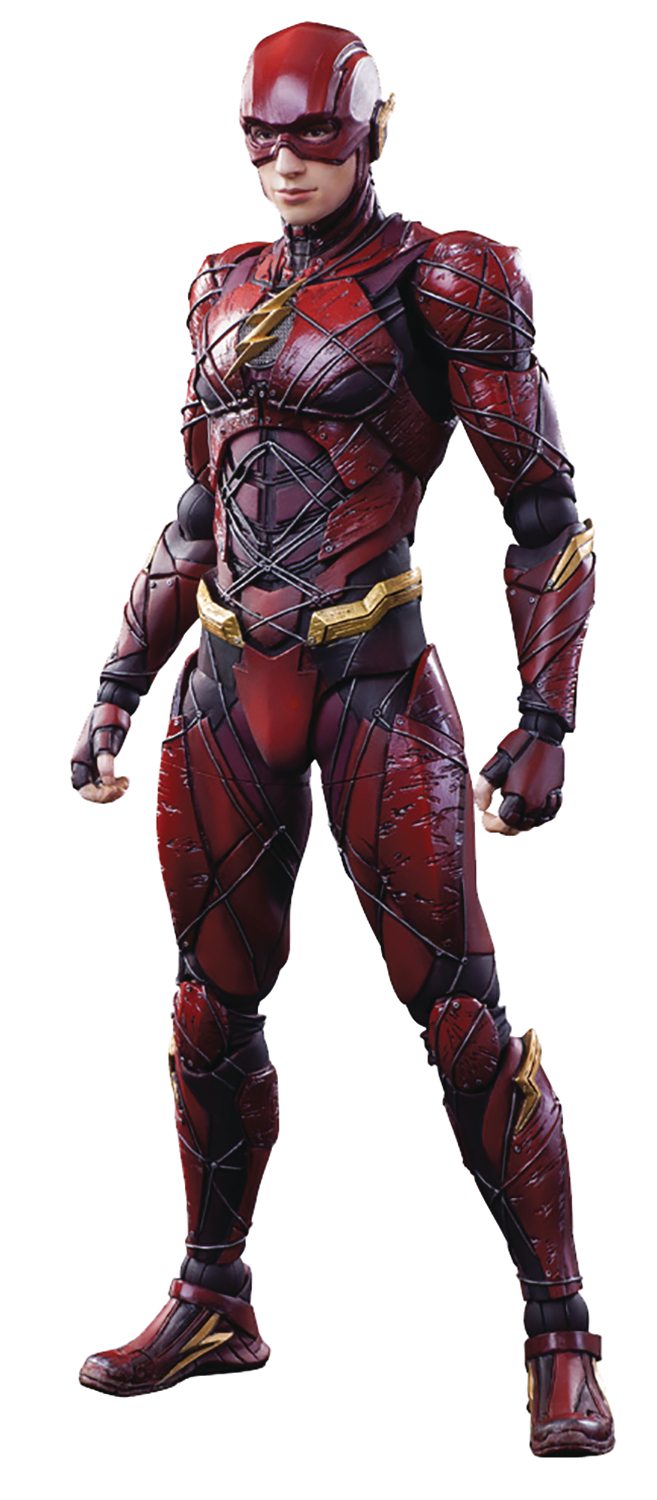 So for those of you who aren't toy people, Play Arts Kai figures are made by Square Enix (yes, the Final Fantasy people). The figures, when they're based on comic characters are always super articulated, immaculately made, but super overdesigned, so busy they give you a headache. Black Panther in the header is from the Play Arts series. And look at it! There are SO MANY LINES on it. 
This Flash figure is from the Justice Leaguemovie, and they appear to have made no changes to the costume.
JUSTICE LEAGUE VARIANT PLAY ARTS KAI THE FLASHSEP178074

From Square Enix. Your favorite DC Comics heroes are redesigned by the artists of Square Enix for the new Justice Leauge Variant Play Arts Kai Series! These figures sport new anime-inspired costumes and designs that capture the essence of the familiar characters while giving them a unique style. Each figure includes variant parts and character-appropriate accessories, plus a display stand. Window box packaging. 

In Shops: May 30, 2018