Features
The Best Comics of 2018
Another year in the books, another batch of incredible comics for you to read! These are the best comics of 2018.
Comics, like all art, can be a mirror on society or a safe harbor from its worst tendencies, and thankfully again in 2018, we got some incredible books this year. I've been watching our pull lists since the calendar flipped in January, keeping an eye out for the best comics to share with you, and we've finally cut it down to just 10. But first, a few honorable mentions.
Yoshitoki Oima's To Your Eternity was probably the best new manga I read this year, but I kept it off the list because as good as the newest volumes are, the first one is stellar and it was published too early. Transformers: Unicron is a great way to end a fascinating era of Transformers comics, one that (oddly enough) spent as much time exploring notions of gender, romantic love, and politics as they did making giant robots punch each other. Sean McKeever and Alexandre Tefenkgi's Outpost Zero isn't on the list, but it was exactly the kind of hard-ish sci-fi I needed at exactly the right time. I spent a lot of the year really wanting an Alien comic to love, and Johnny Christmas' adaptation of William Gibson's Alien 3 script is giving me precisely that. So did Corrina Bechko and Gabriel Hardman's Green Lantern: Earth One. Annie Nocenti and David Aja's The Seeds is baffling but gorgeous, and I think it's going to end up being incredible when it finally wraps. Kel McDonald and Tyler Crook's The Stone King feels like I just started a Zelda game.
And at the big two, there are five writers who are making The Leap. Kelly Thompson and Tom Taylor have both had career years. Sina Grace's Iceman was the first X-book in years that connected with me, and Thompson and Taylor did that for team books in Rogue & Gambit and X-Men Red respectively. They are quite honestly the best X-Men comics in more than five years. And their other comics are just as good – Taylor defined Laura Kinney in All-New Wolverine, and Taylor's story in this year's Batman annual is as good as Tom King's Ace the Bathound story was a couple of years back, while Thompson's West Coast Avengers is a joy to behold.
Chip Zdarsky's career is mind boggling. He used to be the guy who had his own convention in a hotel room in Toronto and wrote a notepad full of porn jokes about Marvel characters, and now he's the guy who wrote the best Fantastic Four comic since Jonathan Hickman left with Marvel Two-in-One and one of the best Spider-Man runs of all time on Peter Parker: Spectacular Spider-Man. If he had been announced on Daredevil two years ago, I would have assumed it was all masturbation and Catholicism jokes, but now I assume it's going to be really good, with a light sprinkling of masturbation and Catholicism jokes.
Speaking of Catholicism jokes, Mark Russell continues to be one of the best writers around. Lex Luthor/Porky Pig Special is as savage to tech culture as The Flintstones was to our…everything else, but Exit Stage Left: The Snaglepuss Chronicles was something else entirely. It was a glimpse at the gay rights movement in the US as it was being born, a muse on celebrity and acts we put on for the rest of the world and also a story where Marilyn Monroe and a pink feral cat hung out while Huckleberry Hound and NYPD Officer Quick Draw McGraw maintained a DL romance. What a world.
Donnie Cates didn't write any historical fiction with Hanna Barbera cartoon characters in it. He just wrote straightforward, over the top comic book fun in Thanos and Venom, and put in an all time classic run on Doctor Strange.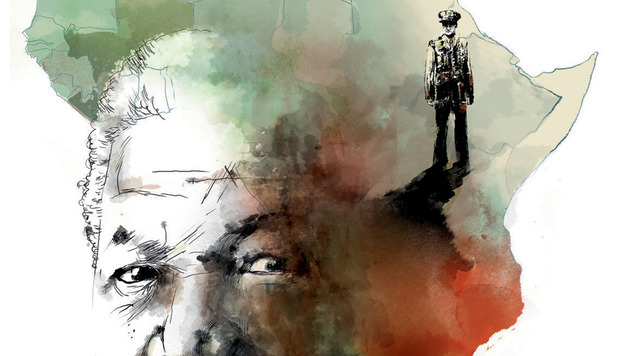 10. Mandela and the General
John Carlin (W), Oriol Malet (A), Plough Publishing House
The true success of Mandela and the General, a comic from the journalist who wrote the source text for Invictus, is its simplicity. It's presented as a story told by Constand Viljoen to Carlin about his relationship with Mandela, entirely from Viljoen's point of view. And, PS, Viljoen was the general who nearly started a war between the South African far right and Mandela's ANC in the '90s.
There's nothing flashy about it. No narrative tricks, no cloying attempt at humanizing or romanticizing people who were clearly wrong and bad. It's got some explanation in it for Viljoen's perspective, but it's largely just "I went here, he said this."
That's a brilliant presentation choice. This subject matter is so charged, especially in today's world, that even the slightest deviation from that straight line narrative might lose some of the audience before a payoff that is as brilliantly simple as the rest of the book: a conversation between Mandela and Viljoen in Mandela's house that ends with them shaking hands and agreeing on a common interest. Malet's art is beautiful and loose where it needs to be, and sparsely but effectively colored. This is a great book to read right now, and probably will be for the next few years.
Buy Mandela and the General here!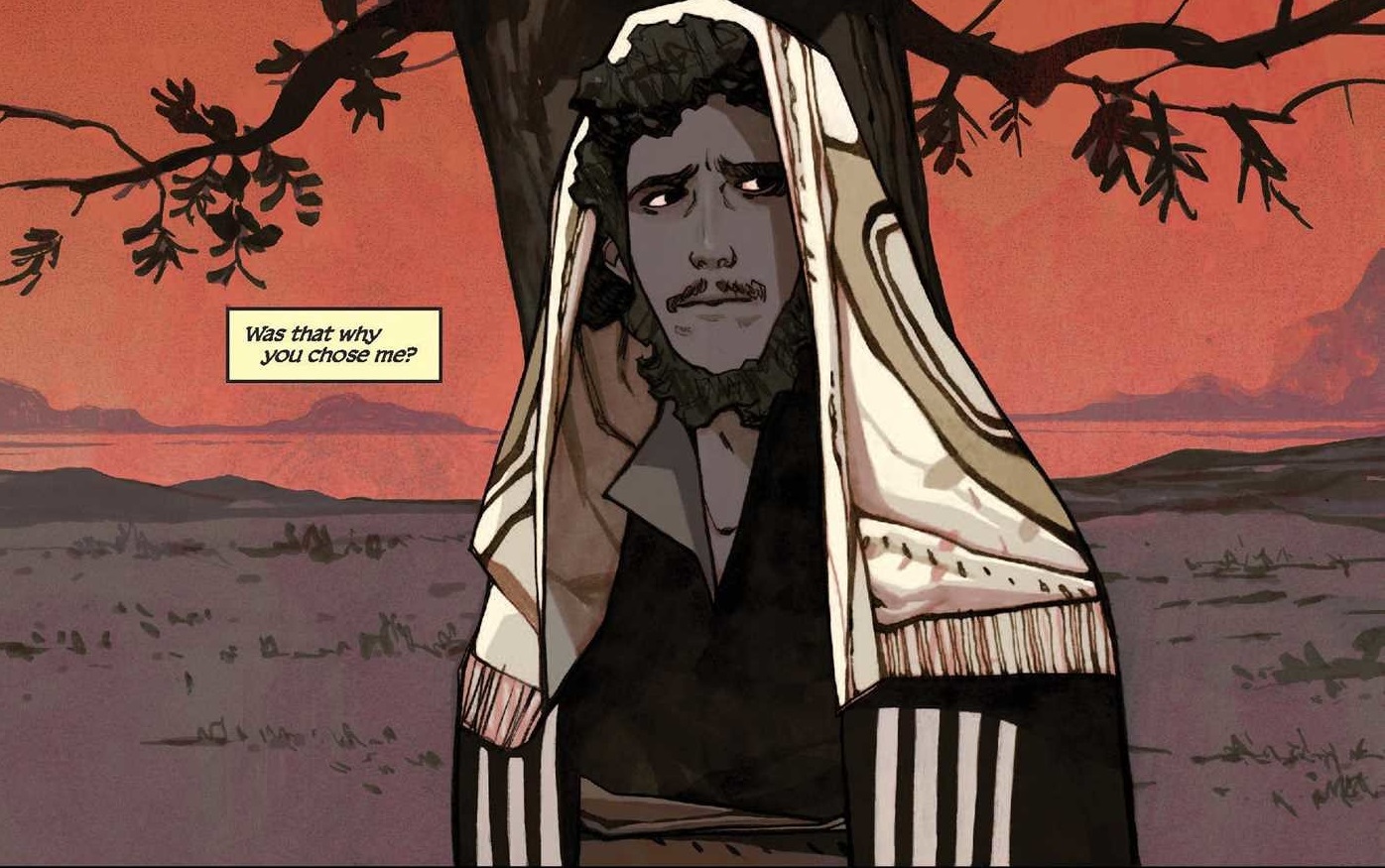 9. Judas
Jeff Loveness (W), Jakub Rebelka (A), BOOM! Studios
Judas is an odd book in that the first half of it feels really blasphemous, while the ending is probably where the hardcore blasphemy actually takes place. Either way, I assume Jakub Rebelka is going to be a lot more famous next year.
Rebelka's art is intricate and detailed. He renders Hell wonderfully, showing the breadth of the horror and the vastness of the realm. He spends no less time on his acting. His characters are expressive and well rendered, and there's a faint hint of Frazier Irving to his figures. I'm not sure if that is his natural style or if he tweaked it for this story, but either way it fit perfectly. The exaggerated long faces really help you get good and sad with these characters. Loveness's story is terrific and unexpected, full of alternating rage and tranquility, horror and purpose. The two together make a fascinating, gorgeous book.
8. Nothing Special
Katie Cook (W/A), Komikaki Studio (C), (Line Webtoon)
Ten years ago, I'm not certain that Nothing Special makes this list. It's a really good webcomic about a fantasy realm and a band of friends questing in it, but the web is littered with the remains of pleasant fantasy webcomics, many of which were as charming or well thought out as Nothing Special. What makes this comic stand out is what a smart storyteller Katie Cook is.
The LINE Webtoon format is basically "Whatever you feel like doing but remember most of our readers are on phones." So while an artist really digging down into a Comixology original might make a standard comic with guided view in mind, Cook sets Nothing Special up for a vertical scroll and then plays with comic storytelling conventions to make the comic reading process work better for her story. There's a hide and seek sequence in chapter 6 of season 2 that just flies because of smart layout. It's a ton of fun to read, and even more fun to dissect.
Read Nothing Special here for free!

7. The Dreaming
Simon Spurrier (W), Bilquis Evely (A), Mat Lopes (C), Vertigo Comics
Spurrier is one of my favorite writers of all time. When he's on, he's incredible and you get comics like The Spire or Numbercruncher or really anything X-Men that he's written. But his non-X company owned work too often feels like "Simon Spurrier Writing Venom" and not "Venom." Not so on The Dreaming.
DC is in the midst of pushing a new Vertigo reinvigoration of sorts, with new books in the Sandman Universe and a wave of interesting indie-feeling series. Of the Sandman books, The Dreaming feels the most like a continuation of the old universe, which is an amazing piece of writing mimicry from such a distinctive voice. It has his own flourishes, but Merv and Lucien and Matthew and the rest of the crew feel like they're still being used by Neil Gaiman.
read more: The Triumphant Return of Vertigo
Bilquis Evely is a revelation as an artist. There's certainly elements of Jim Cheung and Jim Lee in here, but there's as much JH Williams and a splash of indie cartoonist mixed with Dan DeCarlo that I find fascinating to look at. The Dreaming is a ton of fun.
Pre-order The Dreaming on Amazon here!

6. Black Bolt
Saladin Ahmed (W), Christian Ward (A), Marvel Comics
I gave Black Bolt as a Christmas present. That may not seem like a big deal, but think about it for a second. I gave someone a pair of trades starring the leader of a band of moon weirdos who doesn't speak. And when I gave it, I told the giftee "You gotta read this, it's the best Absorbing Man story I've ever seen."
Saladin Ahmed has had a great year in comics with Abbott and the delightful Exiles relaunch I never knew I wanted, but here he took the most ineffable member of the Illuminati, made him sympathetic and even relatable, and then put him in a book that made me root for Crusher Creel and Titania. Hell, I even cried a little at the (spoilers but not really) funeral for Absorbing Man. Unbelievable.
Christian Ward should be allowed to draw whatever Marvel space comic he wants. Whenever he wants it. He has almost no peer in his ability to draw weird abstractions in a way that is so clearly laid out and understood. He's a magnificent storyteller, and he helped make Black Bolt another in a nice stretch of solo character hits for Marvel.
Buy Black Bolt vol. 1 on Amazon here!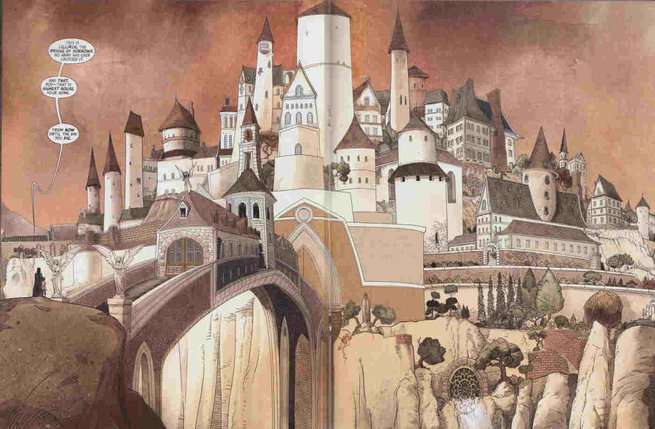 5. The Highest House
Mike Carey (W), Peter Gross (A), Fabien Alquiler (C), IDW Publishing
Carey and Gross are long-time collaborators, working together on Lucifer and The Unwritten. But it's The Highest House where their work reaches its pinnacle. This is a masterful comic by exceptionally talented creators.
Gross and Alquiler get to play around with a different format. The book as it hits shelves is enormous, letting them lay out the comic more like something European than a traditional American comic. The layouts are lush and sprawling, and the detail work is incredibly fine. Gross draws extreme darkness to look almost like scratch art, and it's enthralling.
Meanwhile, Carey's success in crafting the story comes from playing with your expectations. The plot isn't all that innovative – it's a fairly standard fantasy yarn about a slave climbing the ranks of society. But there's a swerve at almost every level: Moth, the slave kid making good, has systemic change in mind, rather than being the wide eyed just-happy-to-be-noticed attitude that too many of these protagonists usually are. Obsidian is actually a monster and a demon, but he's also a good friend to Moth. Lady Shu is introduced like a Disney princess, but by the end of the first arc she's extremely not one. Moth's master, Lord Demini, isn't a domineering monster who's the secret villain of the series but a kind man being dragged to change by Moth. The Highest House is a terrific comic that will probably show up on next year's list too.
Buy The Highest House vol. 1 on Amazon here!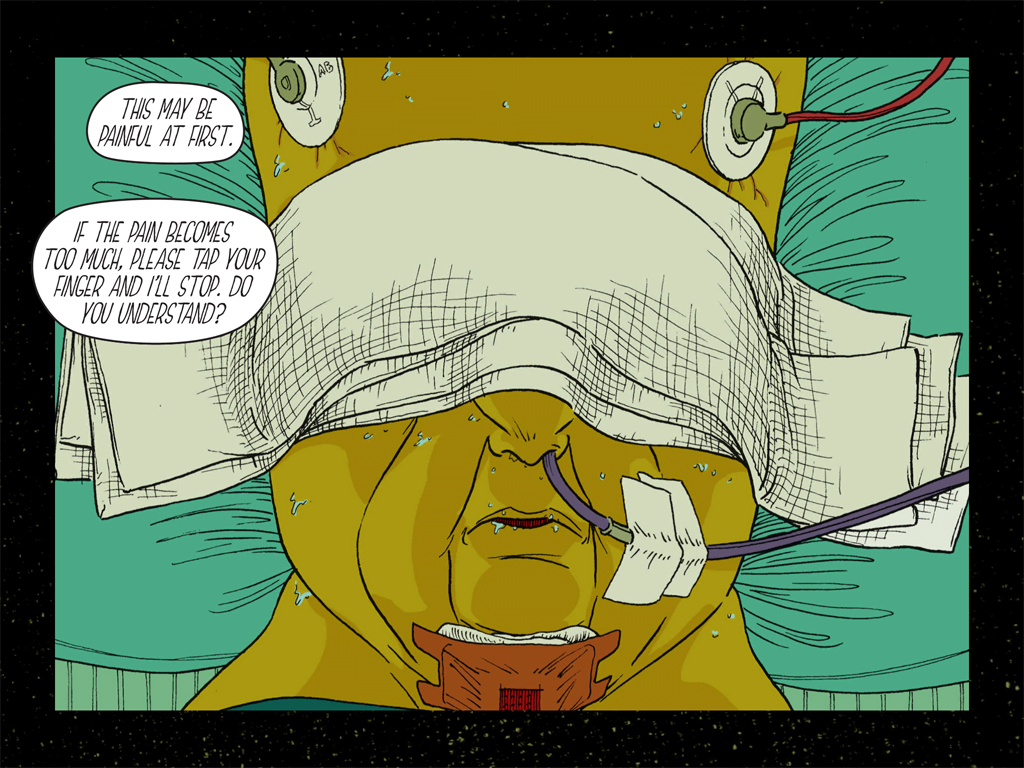 4. Upgrade Soul
Ezra Claytan Daniels (W/A), Lion Forge Comics
Ezra Claytan Daniels has some serious artistic chops. Upgrade Soul has a great story – a sci-fi writer who is a great friend to hard sciences and his brilliant geneticist partner are early investors in an untested longevity project, agree to be the first human subjects, and then get Black Mirror-ed to hell by their own pride.
How he tells that story is amazing. His art is a combination of conventional layouts with hard-indie figure drawing and expressiveness and a superhero artist's sense of pacing and perspective: there's a sequence of several pages early on in the book when gauze is being removed from someone's face, and it's presented from the point of view of the patient as the gauze comes off, with light breaking through and the faintest hints of people behind the gauze. That was the moment I knew Upgrade Soul is something special, and the rest of the book didn't let me down. I'm excited to see what's next from Claytan Daniels.
Buy Upgrade Soul on Amazon here!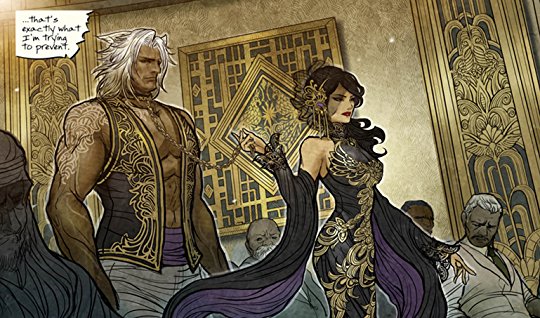 3. Monstress
Marjorie Liu (W), Sana Takeda (A), Image Comics
There's not a lot more to say about Monstress and Marjorie Liu's writing that wasn't already said by the Eisner committee. She cleaned up there this year, and she deserved every award. However, we should probably say a little more about Sana Takeda's art, which gives me hand cramps every time I look at it.
It is some of the most intricate art I've ever seen in a comic. Every page looks like it would take a mere mortal weeks to draw. Even the huge two panel/splash pages have so much detail, so many lines put into it. And the amazing part of the linework is that every one is important. It's not needless nonsense crosshatching like Takeda was inking early X-Force. Monstress is a stunningly beautiful comic that's easily one of the best of the year.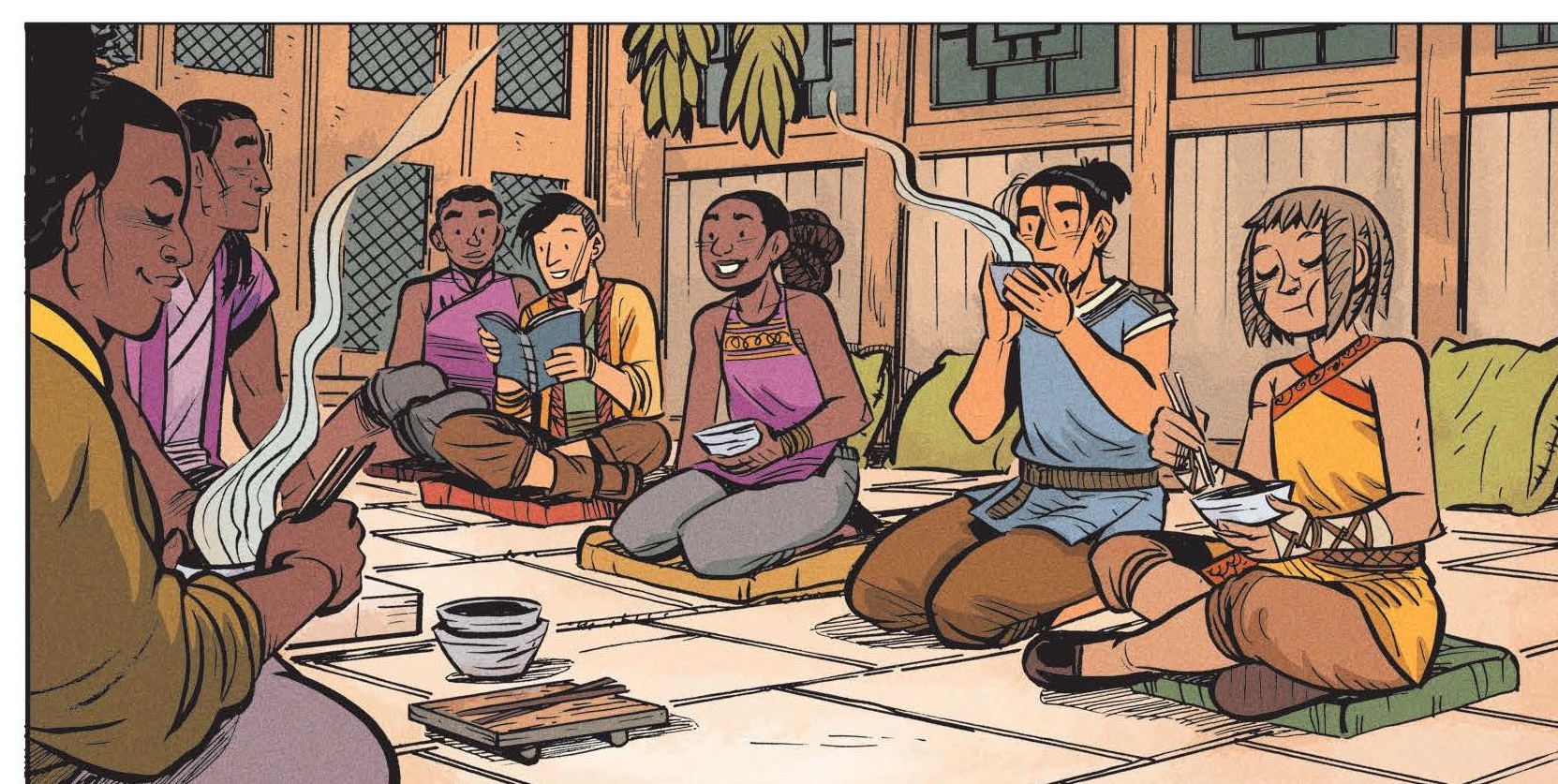 2. The Divided Earth
Faith Erin Hicks (W/A), Jordie Bellaire (c), First Second
Getting a blurb from Bryan Konietzko, one of the co-creators of Avatar: The Last Airbender for a book that shares so much design sensibility with one of the greatest American cartoons ever made, sets the bar really high. And yet, Hicks' first two volumes in The Nameless City trilogy were so good that I made The Divided Earth one of my first trade paperback preorders ever, and I was not disappointed. Everything about this comic is so good.
There is so much energy in every panel. Even shots where Rat or Kai are sitting and reading, the panel is dripping with emotion. Hicks has created a book full of characters who are immediately recognizable and interesting, thoughtful, and vibrant. It looks a lot like Avatar, but it also shares the same hopeful, positive worldview and was every bit as fun to immerse myself in. Faith Erin Hicks is an amazing talent.
Buy The Divided Earth on Amazon here!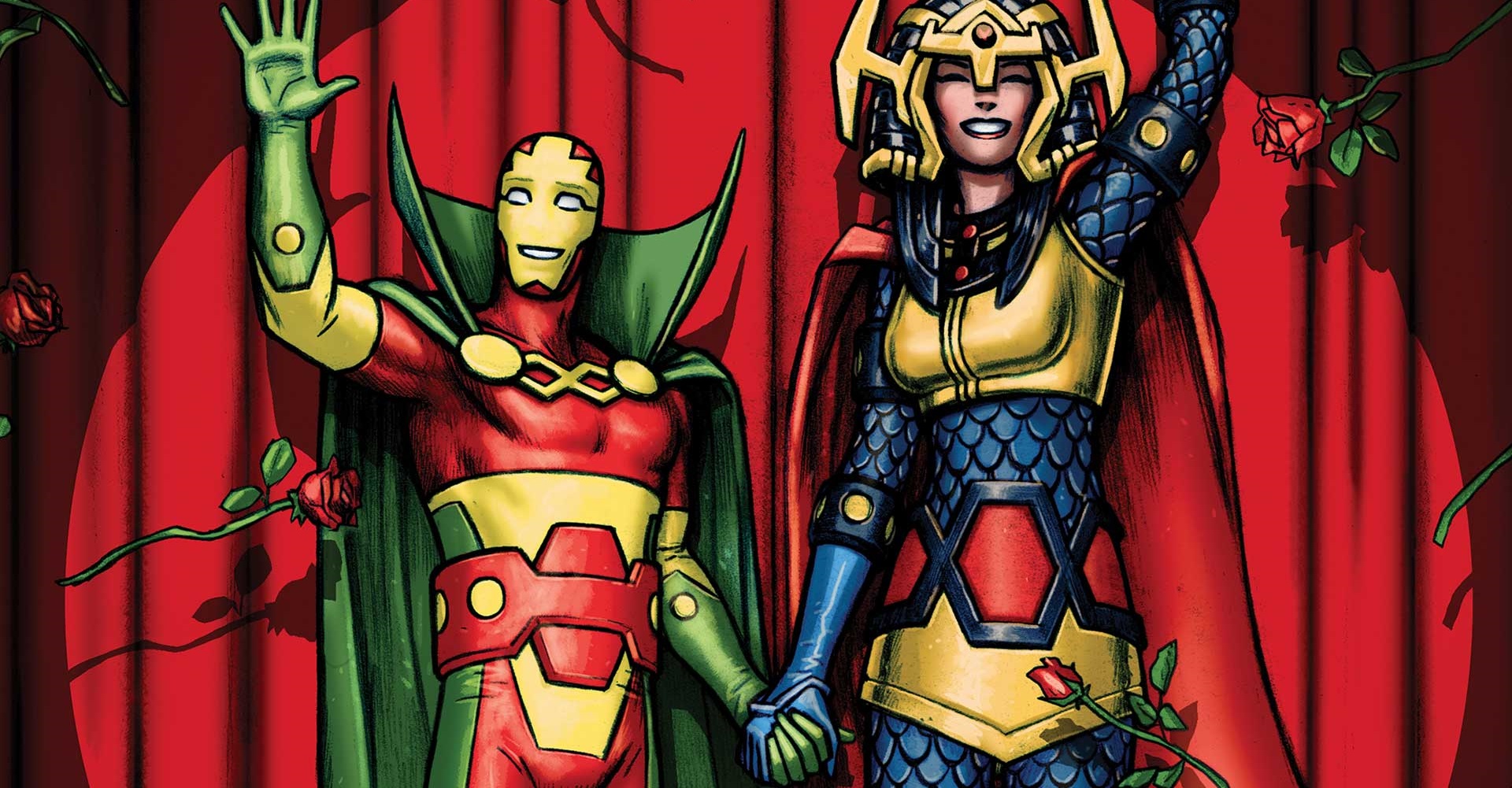 1. Mister Miracle
Tom King (W), Mitch Gerads (A), DC Comics
It wasn't going to be anything else. Mister Miracle was the pick of the year from about issue 6, when Barda and Scott were talking about expanding their condo while breaking into Highfather's palace and I slowly realized why they were talking about it. When I got the payoff (a page before the comic did), at that "Oh shit" moment, I knew that Mister Miracle had moved beyond a good comic and into something I've never experienced before.
read more: The New Genesis of Mister Miracle
At one point I was worried that Tom King and Mitch Gerads weren't going to stick the landing. I was so invested in the end of this story that I was ready to drop another 20,000 words analyzing the placement of the glitches in Gerads' art to try and figure out if Scott, after his suicide attempt in issue 1, was hovering near death or if he was trapped in the Omega Sanction. I was almost certain it was the Omega Sanction and had reference guides lined up for Funky Flashman and Lump, and I had clipped the screenshot from "For the Man Who Has Everything" of Superman's face when he realized the Black Mercy and Mongul made his kid up. I was there. And then the actual ending hit and basically said "sure, it's all real if you want it to be," and my gast was flabbered by how perfect it actually was.
Mister Miracle took the insanity of Jack Kirby's Fourth World and turned it into a slice of life story while keeping the epic mythology operative, twisting your mind around comic continuity, and also managing to be a love letter to the form and to superhero comics in general. I read one of the greatest comics ever published as it was coming out, and I'm extremely happy about that.
PS: I'm not sure what it says that King made King Kirby Scott Free's surrogate father and Stan the Man the one Scott trusted to care for his child, but that realization still makes me cry a little.