News
Archie Comics Introduces STEM to Readers via a New Character
Meet Stacy Banks, the newest member of the Archie Comics family!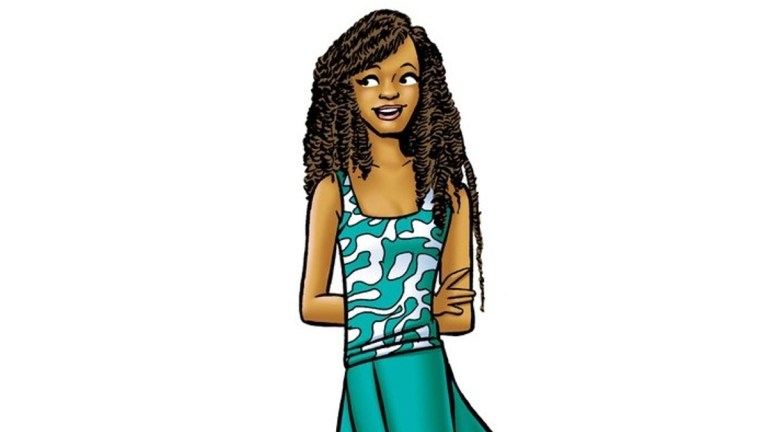 Stacy Banks is coming to Riverdale, bringing her STEM knowledge with her.
Over its eight decades, Archie Comics has brought a variety of new characters to Riverdale with varying results. Some, such as the friendly extraterrestrial Adam the Alien, were flashes in the proverbial pan, while other arrivals like the instantly iconic Cheryl Blossom became mainstays. Earlier this week, the company introduced Grace Alondra, their first hearing-impaired character. On the heels of that announcement comes word of the arrival of Stacy Banks, the latest transplant to "the town with Pep" who also seems determined to make her impact.
Described as "an African-American tech/coding genius," Stacy makes her debut in the Betty & Veronica: Friends Forever: Summer Surf Party one-shot on sale July 13. Written by Archie veteran Jamie Lee Rotante, it remains to be seen how she will interact with Archie and the gang but her story sounds full of possibilities.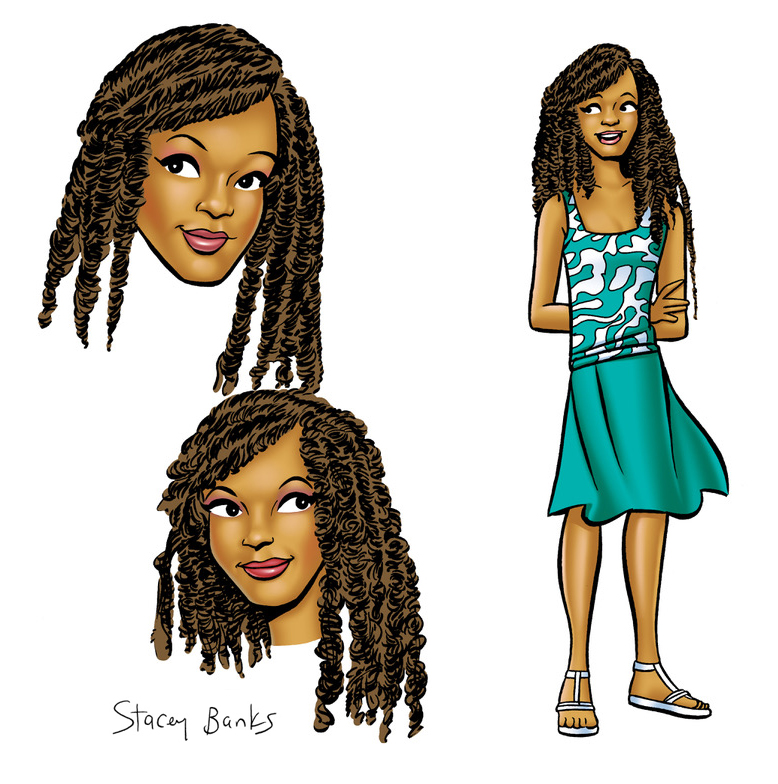 "STEM has become such an important field in today's world–but it also can be incredibly fun," explains Rotante. "The possibilities of what you can do with it are nearly endless, and the doors it can open for students are invaluable," she states. There were thematic elements of STEM in Rotante's Betty & Veronica: The Bond of Friendship graphic novel last year, "but the chance to bring a STEM-focused student into the spotlight in the modern classic-style books is especially exciting."
Here's what we know about Stacy so far. She will play a Dilton Doiley-esque role in the comics as far as being another budding genius in Riverdale, however one who lives in the shadow of her successful, tech firm-owning parents for whom she interns. "Stacy wants to be recognized for her own talents, so as much as she adores them, she also wants to live a life separate from them," Rotante tells us, hinting at some of the potential plotlines for the Banks family.
But as a young black woman, Stacy also will face realistic challenges. "Riverdale is a very lighthearted place but it's still a reflection of the world we live in," says Rotante, "and we like to make sure these types of serious and, unfortunately all too common, issues are addressed in ways kids can understand." So while Stacy will encounter adversity, it will be handled with the grace and humor that has become Archie's trademark.
And make no mistake, Stacy Banks is here to stay.
"Editor-in-Chief Mike Pellerito has a very clear vision with these titles, and all new characters are meant to be integrated into the regular cast," Rotante says. "Riverdale is forever expanding, but we want to make extra sure that none of these new kids get lost in the mix!"
Here is an exclusive look at the cover of Betty and Veronica: Friends Forever: Surf Party, in which Stacy will make her debut. Art by Jeff Shultz with colors by Rosario "Tito" Peña.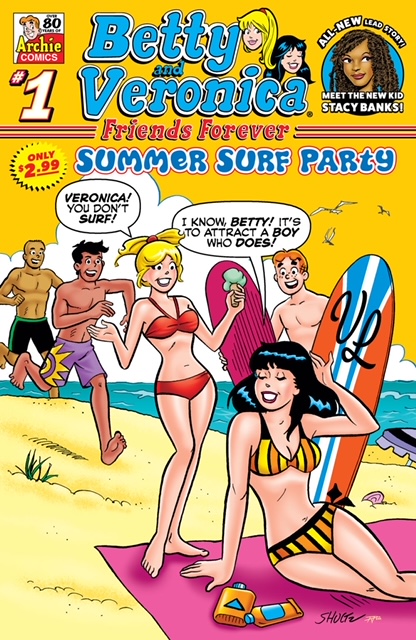 Rotante told us that while Stacy will be quick friends with the core characters, she also will serve a larger role. "Stacy's resources and skill set will also allow her many ​opportunities to act not only as a friend, but as a mentor to those around her," she says.
By inspiring her fellow Riverdale residents to pursue careers in STEM, she will do so for impressionable young readers as well. And that kind of inspiration is just as important as friendship.
Betty and Veronica: Friends Forever: Surf Party is out on July 13.