News
Aquaman Movie: Exclusive Details on The Trench
The Aquaman movie will include the terrifying undersea race known as the Trench. We have the exclusive details here.
Aquaman doesn't have the most distinguished rogues' gallery. The undersea world isn't exactly Gotham City in that regard. But the Aquaman movie is bringing the best of his enemies to the big screen. We'll meet Orm, the Ocean Master, Arthur's half-brother and rival (played by Patrick Wilson), and Black Manta (complete with iconic helmet), played by Yahya Abdul-Mateen.
But the Seven Kingdoms of Atlantis contain other forms of life, and not all of them are friendly. Comic book fans are familiar with The Trench, created by Geoff Johns and Ivan Reis in the pages of DC Comics. The Trench are a lost race of Atlanteans who live in the darkest depths of the ocean, and who have evolved accordingly. They look like a cross between humanoid piranha and Stan Winston's Predator design, and their only concern is food. In this case, food can look an awful lot like you or me.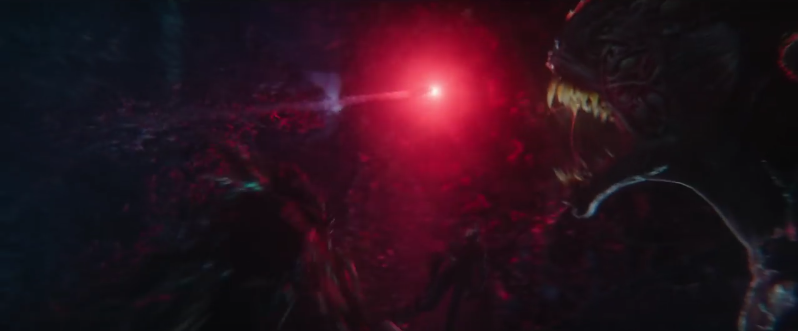 With James Wan directing the Aquaman movie, the Trench are a natural fit, given his background in horror movies. It wasn't necessarily a lock that characters so new (they first appeared in 2011) would appear in the movie, but you can catch their first official look at them on the cover of our Special Edition San Diego Comic-Con magazine. You can see them in the lower right hand corner…
"[The Trench] was a fun one for me, because it really lent itself to my horror movie background and it allowed me to bring a slice of what I'm known for into this world," Aquaman director James Wan says. "I really wanted to capture that the ocean is majestic and magical on the one hand but on the other hand it's a terrifying experience."
read more: Every DCEU Easter Egg in the Aquaman Movie
That "terrifying experience" is part of the different elements of the seven kingdoms that make up Atlantis.
"When we get to see the world of Atlantis it's very magical and high-tech and advanced," Wan continues. "But when we go visit the other kingdoms [some have] devolved over the course of their evolution and they're much more terrifying like the Trench."
further reading: Aquaman Review
Among the creatures who have "devolved," Wan also identifies the "hulking Crustacean race of people" visible on the lower left hand corner of our cover as "the Brine." 
Since the Trench have a classic horror movie look to them, it's good to know that we'll at least get a look at some practical versions of them, too.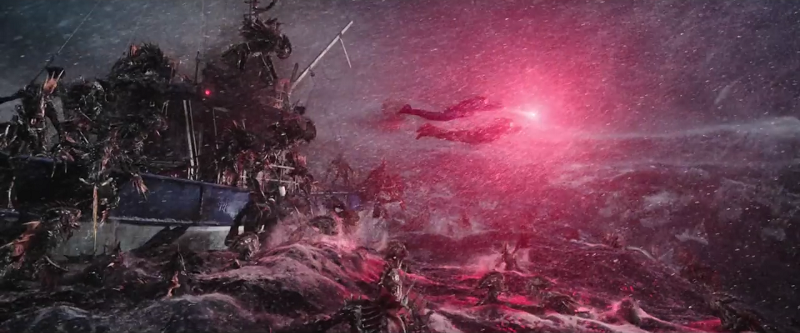 "James always loved the Trench creatures… it was his nod or homage to horror within this world and it was something that absolutely captivated and excited him to do it," Aquaman producer Peter Safran says. "They're a combination of both practical and CG. We built the actual Trench creatures and we used them in some circumstances but as you'll see because there are a multitude of them, there's also a lot of CG that went into it."
So we expect to see a swarm of the Trench in the movie. What do you call a group of terrifying, carnivorous, humanoid fish creatures, anyway? A school? A shoal? 
We have more exclusive details on the Aquaman movie right here.
Read the Den of Geek SDCC 2018 Special Edition Magazine Here!
Aquaman opens on December 21. We should get a trailer at San Diego Comic-Con.