Features
You: Subverting the Nice Guy Trope
The cast & creators of You discuss subverting the Nice Guy trope, making unwitting parallels to Gossip Girl, and changes from the book.
This article contains spoilers for Gossip Girl. Just so you know…
You, both the 2014 novel by Caroline Kepnes and the TV adaptation that is now available to watch on Netflix, gains its power from a brilliant trope subversion. The story takes you inside the mind of Joe (played in the TV series by Penn Badgley), a NYC bookstore manager who falls in obsession with a beautiful stranger named Beck (Elizabeth Lail). Joe uses social media and other modern technology to stalk Beck, molding himself into the perfect boyfriend and removing any obstacles to their burgeoning relationship.
The story is chilling for the ways in which, from a casual outsider's perspective, Joe is the ideal man women have been conditioned to seek out. He's smart, handsome, and literally saves Elizabeth's life when she falls onto the subway tracks in Brooklyn. It's only the viewer, who is given access into Joe's internal monologue and most disturbing of actions, who understands that this isn't a romance; it's a horror.
"My experience with Joe as Beck is great in a lot of ways, in that sense that he rescues me, he reads, he's smart, he's handsome," Lail told Den of Geek at last summer's ATX TV Festival. "Beck's experience of him is a bit of a romantic comedy, in more ways than one."
Kepnes, who was involved in the adaptation, wrote the book as a way of looking at the way our culture can "romanticize people who seem romantic," she said at the ATX TV Festival.
"That's where I started with it," she said. "'Oh, a guy in a bookstore, holding books and being sweet and sensitive.' It's so easy to assume that's it, and this is why taking that dream and looking inside of it and what that experience is really like to be that person, and be in this romance, when we have all this social media, and all this communication, and how it affects us and how it enables us to do things."
read more: You Season 2 Moves to Netflix
Sera Gamble, who created the show alongside Greg Berlanti (yes, he has another show on TV), has proven adept at subverting, exploring, and embracing tropes in her work as showrunner of The Magicians.
"I really love books, or any written word, that take something that you've been taking for granted, and ask you to look at it in a more realistic way, to look under the hood at what's really going on," Gamble said.
And I was really struck by how much I believe in those romantic comedy tropes. I grew up loving Say Anything, and kind of believing that Lloyd Dobler's the perfect guy and reading this book, it made me contemplate that she had said no, and he was standing outside her window at night, not taking no for an answer.
"It really appealed to me that we could make a show that both tells a very modern, very specific, kind of twisted love story," added Gamble, "but also is giving a very hard look at those kinds of stories."
A subversion of the Dogged Nice Guy trope isn't the only meta commentary that is happening in You. Avid teen drama watchers may know two of the show's cast members, Penn Badgley and Shay Mitchell from hits Gossip Girl and Pretty Little Liars, on which they played Dan Humphrey and Emily Fields, respectively.
Both shows share themes of surveillance culture with You, though Gossip Girl in particular treated the use of modern technology to stalk as a mischief-making inconvenience rather than something horrific or invasive. It makes the casting of Badgley in You, whose character turned out to be the eponymous Gossip Girl in Gossip Girl, yet still managed to hold onto his role as a romantic lead, particularly interesting.
read more: You Season 1, Episode 2 Review
"In my mind, the pilot episode's first scene is Dan Humphrey," said Badgley, who admits he didn't notice the similarities before actually viewing the finished pilot. "When I saw it, I was like… that is way more similar than I'd ever personally wanted, but then, what it does is, from the second scene to the last scene of the pilot, it progressively is like, you don't know what the hell you're getting into here."
Did the show's creators set out to cast Gossip Girl himself in You's lead role?
"In all honesty, we never talked about it," said Gamble. "I mean, obviously, we were aware that [Badgley] had done really good work on that show, and I watched some of that show. I really like the meta thing, but that happened organically … If you're doing a show that is partly about the hyper-connectiveness of technology in 2018, then I guess you're bound to find a little meta-thread of any other thing you've ever done."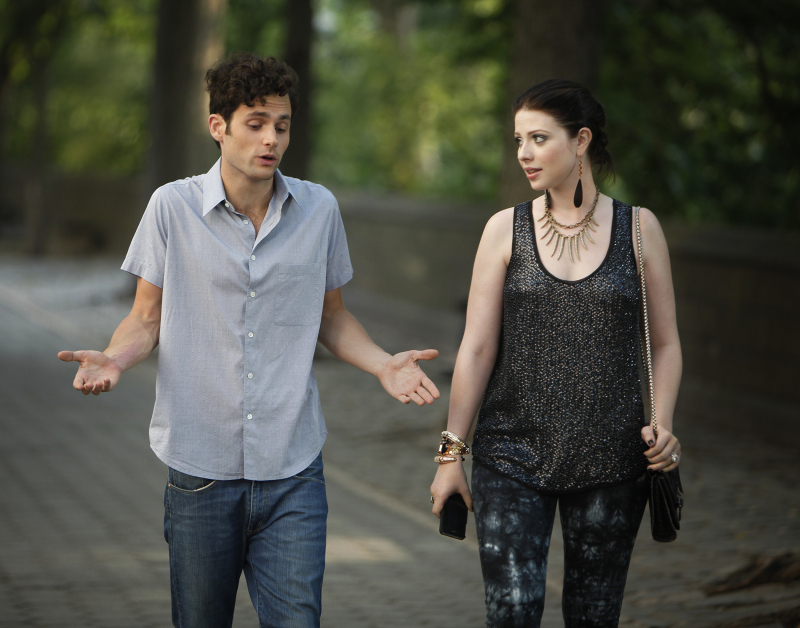 The meta threads may not have been intentional, but that doesn't mean they're not a whole lot of fun for media-savvy viewers who like to make those kinds of connections.
"Now, having seen a lot of the series, and having shot the series," said Badgley, "I actually, personally, am really into that [comparison], so I'll say that."
Of course it's not just previous TV shows You is in conversation with. The adaptation, like all adaptations, is also in conversation with its literary source material.
"Without giving too much away, I will say that we do a lot of the same stuff in the show," said Kepnes. "Not all of it, but a lot of it. However, there are some deviations and surprises for fans of the book."
One of those changes is in the narrative's point-of-view. The book stays claustrophobically close to Joe's perspective, but, while the You pilot stays inside of Joe's head, later episodes will give us Beck's perspective, too.
"In an early episode, we switch to her POV," said Gamble. "We wanted to widen the world and make it more expansive. There is plenty of world inside Joe's head, but I think, to be a functional TV show and also really to earn the relationship when you're watching the characters onscreen, I thought that we had to get to know Beck a little bit better, if we were asking people to watch 13 hours about her."
Another new addition is the character of Paco (Luca Padovan), a young boy neglected by his parents who lives in Joe's apartment building. Joe takes Paco under his wing in what is the most sympathetic moment for the generally unsettling character in the show's first episode.
"This is the genius of Greg Berlanti," said Gamble, noting that Paco was Berlanti's idea. "I think part of the reason that he is maybe the most successful producer maybe in the history of television, certainly one of them, is because he has x-ray vision to find the heart in a story.
I think we talked so much while we were developing the pilot when we were writing it together is that Joe doesn't enjoy doing bad things. He just has a very strong personal code. And he has an especially strong personal code when it comes to the woman that he cares about. And there's this sort of, almost an old-fashioned chivalrous affect to it, but he believes in and it gives his life a certain kind of meaning, ina way. He knows what side of his code he always wants to be on and so Greg was just like, 'You know what we need is a kid. We need a five-year-old kid.'
Badgley said he loved working with Padovan, the young actor who plays Paco and he sees the scenes featuring Paco as "evidence of where Joe is trying to do the right thing." For Badgley, the addition of a character like Paco is the kind of change from source material to on-screen adaptation that makes perfect sense.
"The narrative paradigm that Caroline's used [in the book], that it's all in Joe's head, is so compelling and chilling," said Badgley. "But you can't do that in a visual medium … That is why it was really necessary to have something like Paco, whereas in the book, I think the fact that something like that doesn't exist is similarly brilliant. The book is a little bit like: 'You're not getting Paco.' He's nowhere to be found."
As the actor inhabiting the character of Joe, Badgley's scenes with Padovan were "a respite" from the darkness of Joe's mind and his obsession with Beck.
"With Paco he's like, 'I'm actually going to be really open with you' in a way that he is not with others, surely due to all of his unwitting misogyny," said Badgley. "He doesn't have that with this young boy who reminds him of himself, for better or worse, often for worse…"
The You book is available for purchase on Amazon or your local independent bookstore.
Kayti Burt is a staff editor covering books, TV, movies, and fan culture at Den of Geek. Read more of her work here or follow her on Twitter @kaytiburt.