Features
Why The Living Dead May Be George A. Romero's Most Epic Zombie Tale Yet
The Living Dead audiobook readers Lori Cardille and Bruce Davison say the novel unleashed the late Romero at last.
Before George A. Romero passed away in 2017, the legendary filmmaker was working on a novel — his first — called The Living Dead.
Conceived as an epic reboot/reinvention of the zombie horror genre he defined with his landmark 1968 film Night of the Living Dead, the book was set to encompass the entire world of Romero's six Dead movies — including classics like Dawn of the Dead and Day of the Dead — while giving him the kind of free creative reign he never quite enjoyed with his films.
But we sadly lost Romero at the age of 77 three years ago, and The Living Dead — which he had been writing on and off for several years — was left uncompleted. Enter novelist Daniel Kraus (who co-wrote The Shape of Water with Guillermo del Toro), who with the encouragement and assistance of Romero's widow Suzanne Desrocher-Romero and his agent, Chris Roe, took on the task of completing Romero's epic tale.
The Living Dead arrives this week as both a massive 635-page novel and an audio book, with the latter having the benefit of being read by two extraordinary actors: Lori Cardille, who played the heroic Sarah in Romero's Day of the Dead, and Bruce Davison, nominated for an Oscar for his work in 1989's Longtime Companion and best known to genre fans for the title role in Willard (1971) and as Senator Robert Kelly in the first two X-Men movies.
For Cardille, doing the audiobook (she and Davison read half each) took her back to fond memories of her father, the late Pittsburgh TV host Bill "Chilly Billy" Cardille. "I think it goes back to my dad's days, the smell of the studio and watching him," says Cardille. "He was a booth announcer in those days… my dad had a very beautiful voice, and my brother has a beautiful voice. So I have this deep voice, and I studied a long time, and I really enjoyed working that way. So it was such an honor."
Of course, reading a novel written in part by George A. Romero, who gave Cardille a role for which she is still acclaimed by horror fans 35 years later, also pushed certain emotional buttons in the actress.
"Absolutely," she says when asked if she could hear Romero's voice in the book. "You can feel George's humor. You can feel his passion, his quirkiness. Absolutely. That made me sad, and it made me miss him. I mean, I knew George, and I knew him for many years, and I knew how talented he is. And he's always been a good friend, but you know how we sort of take our friends for granted sometimes? So in reading his work again, I just thought, "Wow. Gosh, George, you were so damn talented.'"
Cardille adds that Daniel Kraus expertly blended his voice with Romero's while completing the book, saying, "I can't wait to sit down with Daniel and say, 'I bet you wrote this,' or, 'George wrote this, right?' Because it's not that it was completely different, but I think it blended beautifully. It's two different writers, yet with their hearts sort of melded. Daniel really got George, and he takes it from George lovingly and continues the story in a different way."
Bruce Davison and George Romero were also friends (and shared the same manager), but the actor says that they never got the chance to work together on a film. "We always talked about things," recalls Davison. "But I would see George mostly at the conventions, the signing things, the horror show conventions and stuff. And because of my connection to Willard, that's how we got to know each other there. But the last time I saw him, we were eating bratwurst and he was having a beer and it was all about what we were going to do next."
For Davison, reading The Living Dead was finally an opportunity to work, if indirectly, with Romero on what in some ways was his most ambitious project yet. "I think George's trying to encapsulate the world (with this book)," Davison says. "To get involved in the darkness of it, which he just takes it to the nth degree, and then Daniel takes it completely to the edge with his story. It was quite an experience. All I could think of at the time doing it was how timely it is."
Cardille agrees that Romero's zombies — which were always a metaphor for whatever social issues Romero wanted to address at the time — are a perfect menace to address the state of the world now, as it continues to be ravaged by a worldwide pandemic, economic instability and global unrest.
"It starts from the beginning of this first zombie," she says about the book. "It's not like a continuation of anything else. It's its own story and its own themes. And that's what is so beautiful about it, because it's a fresh take on it." She continues, "I think the audience is in a different space, especially with the pandemic right now. It is so prophetic. He was always ahead of his time. And it's just so strange that this is happening now. He would've said, 'I told you so. Of course, this is happening.'"
The dark, cynical view of human nature that has pervaded all of Romero's work, but especially his Dead movies, is very much apparent in The Living Dead. "He's been saying this for a long time," says Cardille. "He's been saying: look at what's happening, the people fighting, the factions fighting each other, and what's real, what's not real, and how people approach death, and attitudes towards death. It's all in this book, but those themes have been in George's work all along."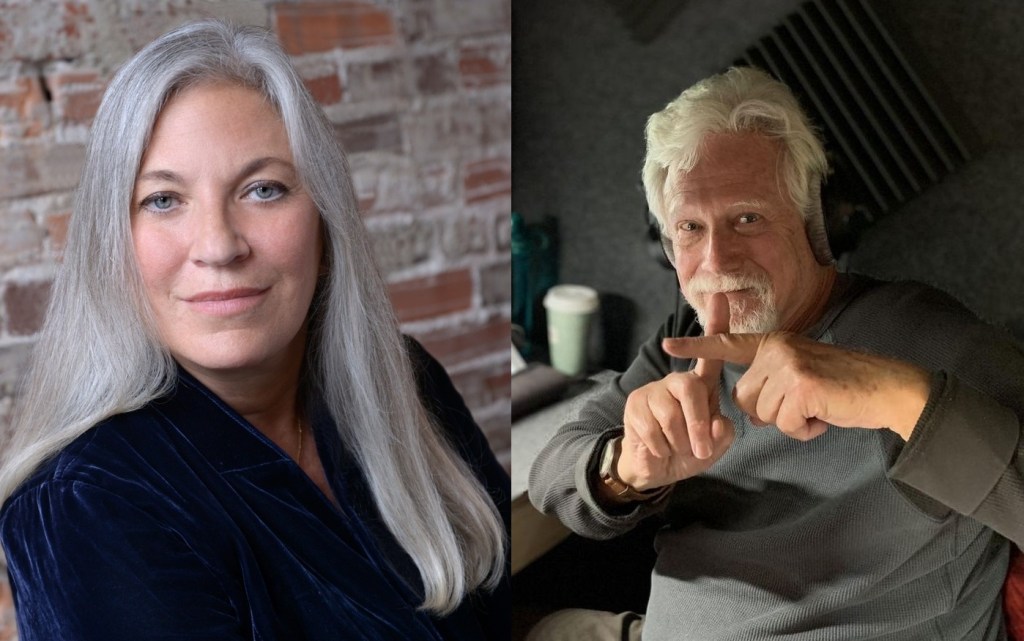 Both Cardille and Davison say that one of the book's most unusual aspects is the inclusion of several chapters told from the point of view of a person who becomes a zombie.
"Its first person observation of a zombie, the way they feel and what they don't feel and what they think," explains Davison. "I found it so interesting and such a great metaphor for people and events and the way we're living. We've been so inculcated with the media and a constant bombardment of things that you just suddenly withdraw to this place in your head. It's almost like a little dot and you become a zombie for your own protection, shutting out anything else that's entering."
While cheerfully admitting that the book is "swimming" in Romero's trademark gore, Davison insists that The Living Dead is much more complex and emotional than even fans of the zombie genre might expect. "There was so much complexity in a lot of the writing, as far as character description and action, when so much is happening," he says. "This book is epic. It's really an epic story, and when you're telling an epic story, you've got to have an awful lot of perspective from a lot of different places coming in."
It's not just a zombie book, that's for sure," says Cardille. "In fact, I thought, 'Wow, if this was a movie, this would be epic.' I mean, it would be a big budget, but they should make it. He deserves that."
Whether or not The Living Dead ultimately makes it to the screen and provides Romero with the posthumous vision of his zombies that he always strived for while he was alive, Cardille says that she's pleased to once again be a part of the continuing horror legacy that the filmmaker left behind. "If you can say that a book about zombies and death is beautiful, it was beautiful," she enthuses about the book. "It's beautiful. It's poetic, and I'm so proud to be a part of it."
The Living Dead is available now in hardcover, eBook and audio book.