News
Veronica Roth Records Divergent Movie Commentary
Revisit the Divergent movie (and learn some fascinating behind-the-scenes facts) with this new commentary track from book author Veronica Roth.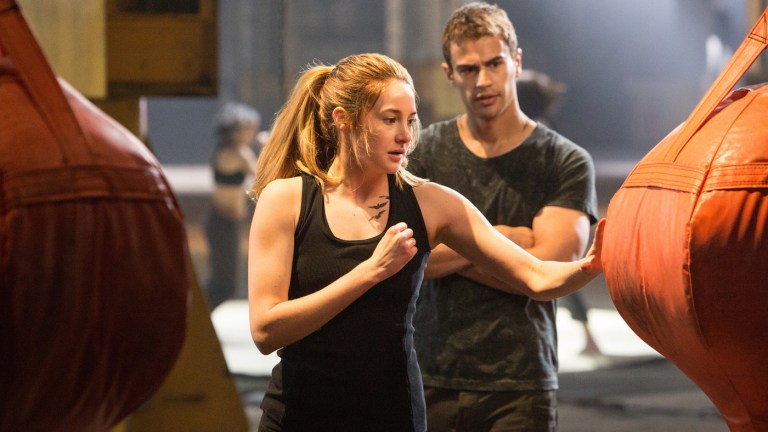 Divergent—both the 2011 book and the 2014 film—belongs to a simpler time. A time when our fictional dystopias weren't in such close competition with our real-life dystopia. If you'd like to spend a few hours escaping into that simpler time, Divergent book author Veronica Roth (whose latest book, an adult speculative fiction thriller called Chosen Ones, hit shelves in April) just recorded a special commentary track to accompany the first Divergent movie, and it's filled with insight into the adaptation process. Generally, it's just a nice way to pretend like you are at the movie theater (remember movie theaters?), watching a movie with some friends (remember friends?)—except you don't have to whisper.
Topics discussed include casting Shailene Woodley in the role of protagonist Tris, Ashley Judd's dogs, and why certain decisions were made as these bestselling books were adapted into blockbuster movies. Interestingly, Roth mentions that the movie series became more science fiction over time as an attempt to distinguish it from Lionsgate's other YA book adaptation franchise: The Hunger Games. That being said, we also learn that the look of the world's costuming changed after the first film to make the outfits look less "futuristic." But I don't want to give away all of the commentary's secrets!
The conversation is between Roth and writer and Epic Reads founder (currently of Oni Press) Margot Wood. Roth and Wood have not only known each other since Insurgent, the second book/movie in the series, came out almost a decade ago. Wood also visited the Insurgent movie set and attended the Chicago-based Divergent movie premiere.
You can either listen to the commentary on its own or (recommended!) with the Divergent movie, which is available to purchase on most streaming platforms. You can access the commentary track by subscribing to Roth's newsletter. Once you have access to the dropbox file, here's what Roth recommends:
"So how is this supposed to work? Well, here's the idea:
Download the mp3 and cue up the Divergent movie wherever you want to watch it.
Start playing the commentary track—there are a couple minutes of intro before we start the movie. Listen for the CHIME, which will signal that it's time for you to press play. It will be very obvious. (The movie begins playing just before the Lionsgate logo appears, in case your version of it is slightly different from mine.)
Watch the movie with us!"
You can chat about the experience of watching the movie with the new commentary by using the hashtag #DivergentCommentary.