Features
Top New Science Fiction Books in November 2021
Go beyond the blockbusters to today's smartest, most exciting science fiction novels and novellas. Here are our top picks for November 2021.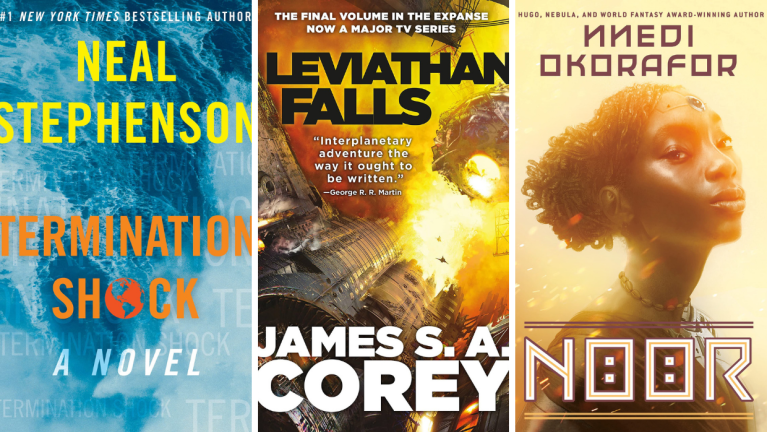 This November is a big month for some of the most well-known names in the genre, from a new addition to The Expanse to Brandon Sanderson's space opera. Here's what we're looking forward to in November 2021 …
Leviathan Falls by James S.A. Corey
Type: Novel
Publisher: Orbit
Release date: Nov. 30

Den of Geek says: Does The Expanse need an introduction? The hit series (also made into a hit TV show) comes to an end this month after a ten-year run.
Publisher's summary: The Laconian Empire has fallen, setting the thirteen hundred solar systems free from the rule of Winston Duarte. But the ancient enemy that killed the gate builders is awake, and the war against our universe has begun again.

In the dead system of Adro, Elvi Okoye leads a desperate scientific mission to understand what the gate builders were and what destroyed them, even if it means compromising herself and the half-alien children who bear the weight of her investigation. Through the wide-flung systems of humanity, Colonel Aliana Tanaka hunts for Duarte's missing daughter. . . and the shattered emperor himself. And on the Rocinante, James Holden and his crew struggle to build a future for humanity out of the shards and ruins of all that has come before.

As nearly unimaginable forces prepare to annihilate all human life, Holden and a group of unlikely allies discover a last, desperate chance to unite all of humanity, with the promise of a vast galactic civilization free from wars, factions, lies, and secrets if they win.

But the price of victory may be worse than the cost of defeat.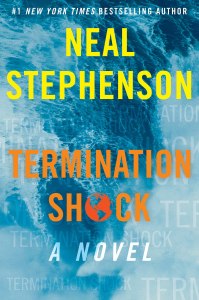 Termination Shock by Neal Stephenson
Type: Novel
Publisher: William Morrow
Release date: Nov. 16
Den of Geek says: From the writer of high-concept tomes like Seveneves comes one of our favorite things these days: "cli-fi." This looks like it'll be a book of big ideas toward the harder side of the SF spectrum.
Publisher's summary: Neal Stephenson's sweeping, prescient new novel transports readers to a near-future world in which the greenhouse effect has inexorably resulted in a whirling-dervish troposphere of superstorms, rising sea levels, global flooding, merciless heat waves, and virulent, deadly pandemics.
One man – visionary billionaire restaurant chain magnate T. R. Schmidt, Ph.D. – has a Big Idea for reversing global warming, a master plan perhaps best described as "elemental." But will it work? And just as important, what are the consequences for the planet and all of humanity should it be applied?
Ranging from the Texas heartland to the Dutch royal palace in the Hague, from the snow-capped peaks of the Himalayas to the sunbaked Chihuahuan Desert, Termination Shock brings together a disparate group of characters from different cultures and continents who grapple with the real-life repercussions of global warming. Ultimately, it asks the question: Might the cure be worse than the disease?
Epic in scope while heartbreakingly human in perspective, Termination Shock sounds a clarion alarm, ponders potential solutions and dire risks, and wraps it all together in an exhilarating, witty, mind-expanding speculative adventure.
Buy Termination Shock by Neal Stephenson.
Noor by Nnedi Okorafor
Type: Novel
Publisher: DAW
Release date: Nov. 16

Den of Geek says: Ever since her debut Okorafor has been a hit for her Nigerian-inspired science fiction world-building. This tale of bodily autonomy and the messiness of being a cyborg looks to fit nicely in the same vein.

Publisher's summary: Anwuli Okwudili prefers to be called AO. To her, these initials have always stood for Artificial Organism. AO has never really felt…natural, and that's putting it lightly. Her parents spent most of the days before she was born praying for her peaceful passing because even in-utero she was "wrong". But she lived. Then came the car accident years later that disabled her even further. Yet instead of viewing her strange body the way the world views it, as freakish, unnatural, even the work of the devil, AO embraces all that she is: A woman with a ton of major and necessary body augmentations. And then one day she goes to her local market and everything goes wrong.
Once on the run, she meets a Fulani herdsman named DNA and the race against time across the deserts of Northern Nigeria begins. In a world where all things are streamed, everyone is watching the "reckoning of the murderess and the terrorist" and the "saga of the wicked woman and mad man" unfold. This fast-paced, relentless journey of tribe, destiny, body, and the wonderland of technology revels in the fact that the future sometimes isn't so predictable. Expect the unaccepted.