Features
Top New Fantasy Books in December 2021
Dimension-hopping Librarian spies, demonic cultivators, and the Dandelion Dynasty make up December 2021's top new fantasy books.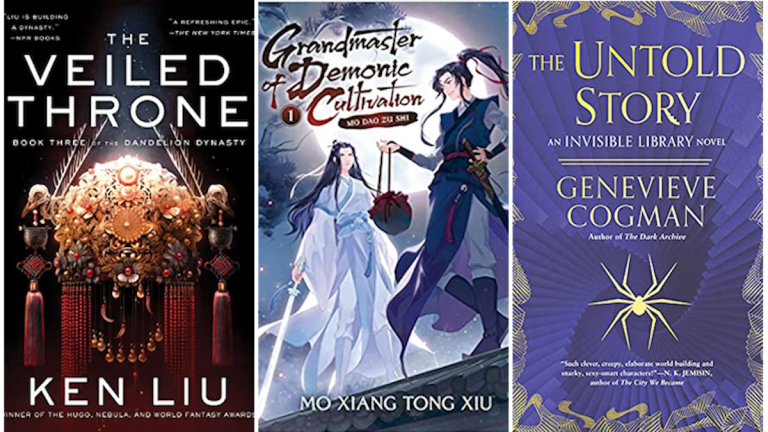 December 2021's most anticipated fantasy books include the next installments of epic silkpunk and urban fantasy—plus the inspiration for Netflix's The Untamed! Check out our top picks.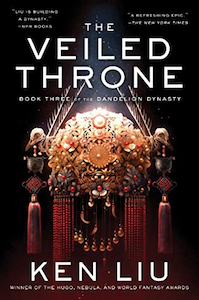 The Veiled Throne by Ken Liu
Type: Novel
Publisher: Saga Press
Release date: Dec. 7
Den of Geek says: Ken Liu's dynamic silkpunk fantasy series amps up for the quartet's conclusion next year…
Publisher's summary: With the invasion of Dara complete, and the Wall of Storms breached, the world has opened to new possibilities for the gods and peoples of both empires as the sweeping saga of the award-winning Dandelion Dynasty continues in this third book of the "magnificent fantasy epic" (NPR).
Princess Théra, once known as Empress Üna of Dara, entrusted the throne to her younger brother in order to journey to Ukyu-Gondé to war with the Lyucu. She has crossed the fabled Wall of Storms with a fleet of advanced warships and ten thousand people. Beset by adversity, Théra and her most trusted companions attempt to overcome every challenge by doing the most interesting thing. But is not letting the past dictate the present always possible or even desirable?
In Dara, the Lyucu leadership as well as the surviving Dandelion Court bristle with rivalries as currents of power surge and ebb and perspectives spin and shift. Here, parents and children, teachers and students, Empress and Pékyu, all nurture the seeds of plans that will take years to bloom. Will tradition yield to new justifications for power?
Everywhere, the spirit of innovation dances like dandelion seeds on the wind, and the commoners, the forgotten, the ignored begin to engineer new solutions for a new age.
Ken Liu returns to the series that draws from a tradition of the great epics of our history from the Aeneid to the Romance on the Three Kingdoms and builds a new tale unsurpassed in its scope and ambition.
Buy The Veiled Throne by Ken Liu.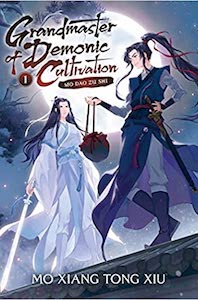 Grandmaster of Demonic Cultivation: Mo Dao Zu Shi Vol. 1 by Mo Xiang Tong Xiu
Type: Novel
Publisher: Seven Seas
Release date: Dec. 14
Den of Geek says: If you swooned over Netflix's sweeping fantasy series The Untamed, get ready for this English-language translation (with illustrations!) of the epic WangXian love story.
Publisher's summary: Also known as MDZS, the blockbuster danmei/Boys' Love novels from China that inspired comics, animation, and the live-action series The Untamed—which amassed billions of views, including on Netflix!

This historical fantasy tale of two powerful men who find each other through life and death is now in English, for the very first time.
Wei Wuxian was once one of the most outstanding men of his generation, a talented and clever young cultivator who harnessed martial arts, knowledge, and spirituality into powerful abilities. But when the horrors of war led him to seek a new power through demonic cultivation, the world's respect for his skills turned to fear, and his eventual death was celebrated throughout the land.

Years later, he awakens in the body of an aggrieved young man who sacrifices his soul so that Wei Wuxian can exact revenge on his behalf. Though granted a second life, Wei Wuxian is not free from his first, nor the mysteries that appear before him now. Yet this time, he'll face it all with the righteous and esteemed Lan Wangji at his side, another powerful cultivator whose unwavering dedication and shared memories of their past will help shine a light on the dark truths that surround them.

This Chinese xianxia fantasy novel series built around the romanticized love between two men (danmei) has been translated into numerous languages and spawned a multimedia franchise that has taken the globe by storm, including the massively popular live-action series The Untamed available now on Netflix, YouTube, and more. The Seven Seas English-language edition will include exclusive, all-new cover art from Jin Fang (jinzillaa), interior illustrations from Marina Privalova (BaoshanKaro), and a translation by Suika (yummysuika) with editor Pengie (pengiesama).
Buy Grandmaster of Demonic Cultivation: Mo Dao Zu Shi Vol. 1 by Mo Xiang Tong Xiu.
The Untold Story by Genevieve Cogman
Type: Novel
Publisher: Ace
Release date: Dec. 28
Den of Geek says: In the eighth installment of Genevieve Cogman's Invisible Library series, a parallel universe-hopping Librarian must save not just precious books, but also a precious human life.
Publisher's summary: In this thrilling historical fantasy, time-traveling Librarian spy Irene will need to delve deep into a tangled web of loyalty and power to keep her friends safe.

Irene is trying to learn the truth about Alberich—and the possibility that he's her father. But when the Library orders her to kill him, and then Alberich himself offers to sign a truce, she has to discover why he originally betrayed the Library.
With her allies endangered and her strongest loyalties under threat, she'll have to trace his past across multiple worlds and into the depths of mythology and folklore, to find the truth at the heart of the Library, and why the Library was first created.