Features
Silverwood: The Door — Writers Roundtable Interview
Den of Geek talked to the Silverwood team about crafting the speculative fiction serial...
In 2012, Silverwood debuted on Black Box TV, the most subscribed and most watched sci-fi/horror channel on YouTube. Part science fiction, part horror, and all entertaining, Silverwood is an anthology series of a small California town where strange and supernatural things happen.
Called "unique, chilling" on The 7th Matrix and "spine-tingling" by the New York Post, the series is making the move from streaming-screen to serial prose in Serial Box's Silverwood: The Door, the first episode of which launches on October 4, 2018.
Like other Serial Box titles, Silverwood: The Door is the result of a collaboration of a writing team; in addition to creative guidance from creator and director Tony E. Valenzuela, the team is led by novelist and comic writer Brian Keene (also the brain behind The Horror Show with Brian Keene podcast), joined by Richard Chizmar, Stephen Kozeniewski, and the Sisters of Slaughter, Michelle Garza and Melissa Lason.
"When the series ended in 2013, I felt like I had only barely scratched the surface of what made Silverwood a place, 'where dreams come true and nightmares begin,'" Tony told Den of Geek. "It's been both exciting and intimidating to return to Silverwood in 2018 with a single goal in mind, namely give Silverwood the story it deserves."
Silverwood: The Door takes place after the YouTube series, which ended with the town being nearly wiped off the map. The prose series, Tony describes, is "thematically more about what remains years after the familiar has fallen away and darkness has taken root—kinda like that scene from Twin Peaks where Laura Palmer is attacked by her father in that cozy, pink bedroom of hers—minus the cozy, pink bedroom."
The rebirth of the series in the prose format has allowed the team to bring back some of the screen characters, exploring their characters in greater depth, and expand on the original setting.
"Because Silverwood has its own inherent mythos, we wanted to stay true to continuity, so the events from the YouTube series and the graphic novel tie in to our prose series," Brian elaborated. "But at the same time, we wanted to make it one hundred percent accessible to readers who have never watched Silverwood or read the comic book." Readers can expect a return to some of the original themes, as well as the promise of "some Lovecraftian monstrosities lurking in the forests," according to Stephen.
Serial Box producer Lydia Shamah originally approached Brian to become the showrunner for the series, and together they created a list of writers they wanted to work with.
"When I caught wind from various hints on social media that Brian was putting together a team for a major upcoming project…. I thought to myself, 'Please, please, please, pick me, pick me, pick me' but also, 'Nah, Brian knows everybody worth their salt in this industry, there's no way he'll pick a neophyte like me.'" Stephen described. "So I was just shocked and pleased when I got the call from Serial Box that they wanted to invite me aboard."
The Sisters of Slaughter were also nervous about working on a team of best-sellers. "When we sat down at the writing table that fear was dashed away because Brian is not only a great writer and super nice guy, he's also a great teacher," they described.
Richard was a bit wary of the team aspect of the writing, but ended up really enjoying working with the other writers. "I learned a lot and ended up feeling a real sense of renewal when it came to my own writing," he explained. "Working with Brian, Tony, Lydia, Stephen, Michelle, and Melissa was a treat. They brought so much good energy to the table, not to mention wonderful ideas, fine writing, and a complete lack of ego."
In honor of both the launch of the new serial and the coming Halloween season, the creative team sat down with Den of Geek to answer some questions and talk shop about what readers can expect, and the types of surprises they should prepare for…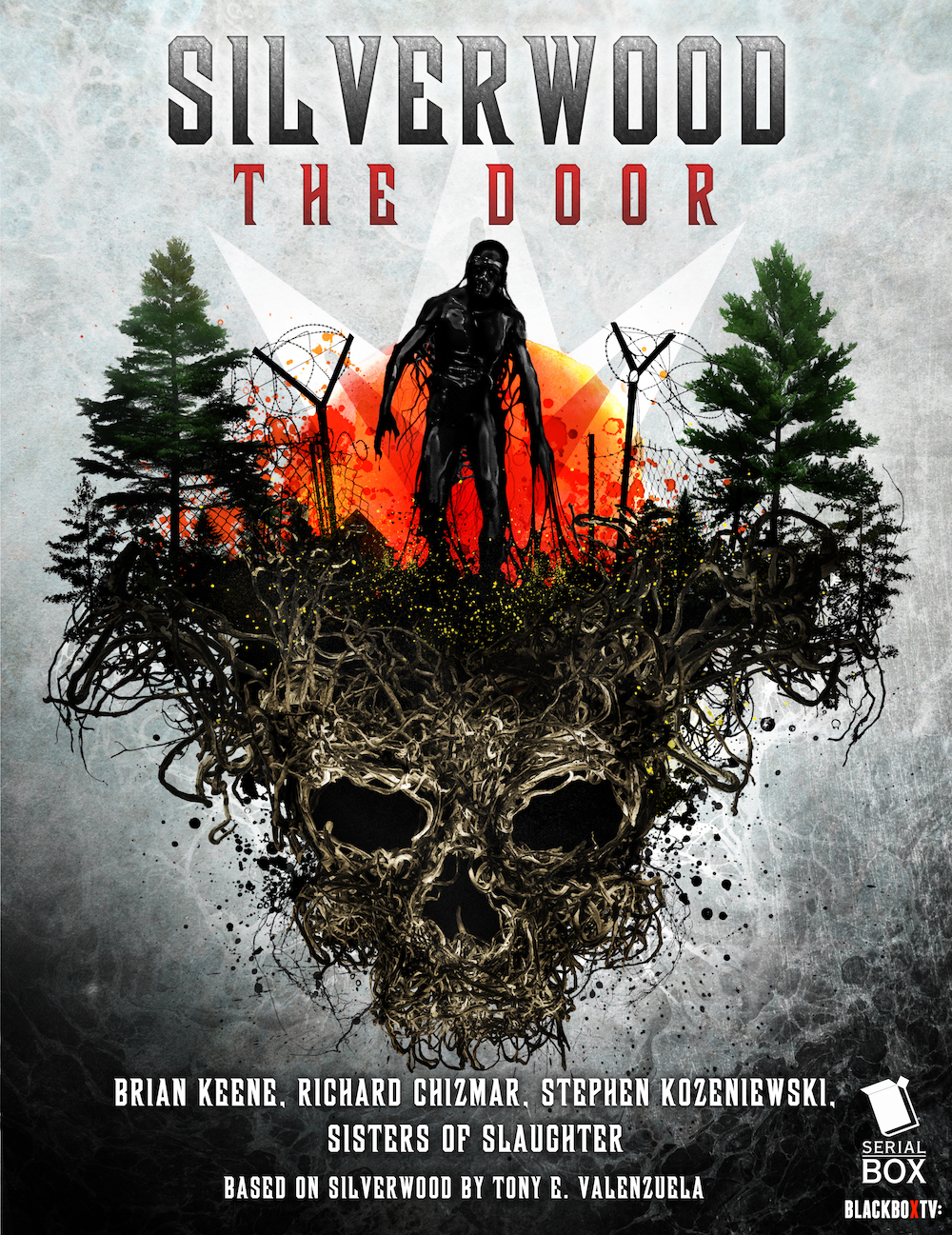 Den of Geek: Were any of you fans of the original Silverwood YouTube series right from the start?
Richard: I was not, but as the others involved with Silverwood: The Door can attest to—remember the Siri incident, guys?—I'm not very up to date when it comes to modern technology (if YouTube can even be considered that). Anyway, I wish I had been a fan from the start. I missed a very cool show and the work of an immensely talented writer/director… until recently, that is.
Brian: My oldest son was, and it was one of those things I meant to watch when I got time—but my list of movies to watch and books to read when I get time pretty much has its own zip code at this point. So, it wasn't until Serial Box approached me about showrunning the series that I finally watched it. I don't know why the hell I waited so long!
Stephen: Being notably younger than Brian, I was, of course, familiar with Tony's work.
Brian: Watch your mouth kid, or you'll find yourself floating home.
Stephen: That's a quote from some old movie, right? Anyway, highest marks go to "The Hunger" from the original Silverwood for me. When we got to the writer's retreat one of the first things I asked was whether I could do the "red meat" episode.
Sisters of Slaughter: We had seen a few of the Silverwood episodes but hadn't watched them all until we were asked to be a part of the writing team. We were so excited by the material that we almost couldn't believe our luck to get to continue the storyline. It had such a Twilight Zone feel to it that it was as if we were making one of our dreams come true to work on such a project.
Speaking of The Twilight Zone, Silverwood has been described as the heir of shows like The Twilight Zone, Tales from the Crypt, and Tales from the Dark Side. Silverwood: The Door has added inspirations like X-Files and Twin Peaks to the mix. How much will readers feel the impact of those screen-told stories?
Tony: All the shows you mentioned place most of their stories within towns or settings that appear, at first, to be populated mostly by friendly, familiar tropes. The 50s pin-up beauty, the FBI agent, the scenic country road forever leading to a quaint wish-I-lived-here-town. What gave these show their bite was their ability to deftly switch focus to things happening outside their well-lit edges and deeper within their twilight zones.
Richard: I think the oddball storytelling, plotting, and characterizations of Twin Peaks and the small town setting with huge implications set against a worldwide government conspiracy of The X-Files all play a significant role in Silverwood: The Door. That's the cool thing about it: it's a mash-up of a lot of different genres, but a really cohesive and (hopefully) addictive story.
Brian: The beauty of every one of those shows is how it utilized all aspects of the horror genre. Cosmic horror, splatterpunk, quiet horror, supernatural, slashers, science-fiction horror, weird fantasy… everything. We've strived to do the same thing with this new series. It explores all corners of the horror genre, weaving them into one tale.
As we're approaching both the launch of Silverwood: The Door and Halloween… what are your favorite things about this time of year?
Richard: Pretty much everything. The cooling weather and the changing of the trees and the different scents in the autumn air. I feel invigorated during the fall, more alive in spirit, and it puts me in a wonderful frame of mind when it comes to creating new stories.
Brian: Taking my ten-year old trick or treating.
Stephen: Ooh, so much. Dressing up as a ten-year old so I can hold hands with Brian comes to mind. But Autumn also brings thoughts of apple picking, haunted hayrides, going to the Renaissance Faire, and, of course, watching Rocky Horror.
Tony: I've been a huge Ray Bradbury fan since the age of eleven, and this time of year always reminds me of The October Game and Something Wicked This Way Comes. I'm hoping one day I might see Cooger & Dark's Pandemonium Shadow Show roll into Echo Park. Fingers crossed.
What are your scariest Halloween memories from your childhood?
Richard: Watching horror movies on television with my friends. Walking around in the dark taking turns telling stories and scaring each other. Trick or treating at the Myer's House, our local neighborhood haunted house. The simple pleasures of being a kid on the spookiest night of the year.
Tony: I've always loved Halloween. It's a time when people publicly get to show the thing they privately want to be. It's wonderful.
Sisters of Slaughter: Our Halloween memories weren't super scary, except maybe for the time our uncle took us out to go trick-or-treating and he wasn't cool with the amount of people who turned their lights off and refused to hand out candy so he went beating on people's doors demanding they toss treats into our pillow cases. We weren't concerned with monsters attacking us or anything supernatural, more that we were going to get shot. Hahaha. That was the last Halloween he was allowed to take us collecting candy.
Stephen: There was always that one guy that had to dress as a scarecrow and sit stock still on his front porch in a rocking chair. Then he'd leap at you and your parents would laugh at you and the guy would laugh at you and you'd die a little bit inside.