Features
Shazam! interviews: the star and director talk DC's newest superhero
Zachary Levi and David F. Sandberg on pooping in a super-suit and the hero we need right now.
This article originally appeared in the Den of Geek magazine distributed at MCM Comic-Con and contains details and minor spoilers for Shazam!
Zachary Levi and Den of Geek are giggling about wee. Apparently peeing in a super-suit is really tricky, according to the 38-year-old star of DC's upcoming superhero tentpole Shazam! "You need assistants just to unzip your groinal area, in order to take a leak. And if you need to take a number two, you actually have to take the whole suit off!" he explains.
We're laughing because there's actually a moment in trailer that references this very issue ("Superpowers? I don't even know how to pee in this thing!" Shazam tells his teenaged best mate Freddie, played by It star Jack Dylan Grazer), so we'd actually planned to ask Levi about that.It would never happen with Batman.
Shazam! Is a massive DC comic-book blockbuster set very squarely in the DC Extended Universe (more on this later) but from the trailer and from our chats with Levi and director David F Sandberg, this is clearly a very different prospect.
"I think the easiest way to sum it up is: the movie Big meets the movie Superman," Levi describes. "It's all wish-fulfilment. It's all about a 14-year-old kid who's just trying to find his way in life, and then all of a sudden, because of the purity and strength of his heart and [his] fortitude, he becomes the recipient of this incredible power. But he's still 14 inside. How do you go live life and still get to be a kid?"
If the trailer is anything to go by, it includes testing out his super-powers, foiling a convenience store robbery, charging people's phones with his fingers and buying beer. The first trailer which landed at comic-con to wild appreciation was funny, silly, good hearted and visually bright, and it looks a million miles from the grim grit of Batman v Superman: Dawn of Justice, Suicide Squad and Justice League. That's not a bad thing. Actually Shazam! Might just be the hero we need right now.
Mystery Man
If little known heroes Iron-Man and The Guardians of the Galaxy were big risks for the Marvel Cinematic Universe, the same is surely true for DC's Shazam! In fact the character wasn't even called Shazam until 2012, going instead by Captain Marvel (not to be confused with the MCU character soon to be brought to the big screen by Brie Larson), even though Shazam! was a DC property by that point.
Indeed even director David F Sandberg wasn't especially familiar with the comic-book man-child."I knew of the character, but I didn't know a terrible lot. I had to read up on it first. But I just loved the idea of it, the character, and the concept of this kid who could turn into an adult superhero," says Sandberg. "What kid doesn't dream of being Superman?"
Certainly Shazam's powers are notably similar to Supes' but his background really isn't. A re-cap for the uninitiated then. Billy Batson (Asher Angel) is a troubled but ordinary 14-year-old who's been bouncing from foster home to foster home until he's taken in by the Vasquez family where he meets other foster kids including Freddie Freeman (Jack Dylan Grazer). After standing up for disabled Freddie in a fight, Batson escapes via the Metro and after a magical intervention suddenly finds himself face to face with a wizard (Djimon Hounsou) who tells Billy he's chosen him and that Batson can channel the wizard's powers simply but uttering his name: Shazam!
Thus begins an origin story which will see Billy/Shazam experimenting with his new found powers with the help of Freddie and eventually facing off against the movie's big bad Doctor Sivana played by Mark Strong.
"At its heart, it really is a film for all audiences. I think hopefully what we've done is, we've tackled it in a way that speaks to the child in all of us, but also still has a lot of cool gravitas and edge to it," Levi explains. Though as Sandberg agrees, that doesn't mean it's a straight up comedy.
"Funny things are funnier if you have some moments of depth as well," he says. "That makes you feel more for the character as well, if they go through some pretty emotional stuff. So it's trying to keep that dynamic range of not just being funny, and especially not just being dark, but to have a nice balance."
Unexpected heroes
If Warner and DC have taken a leap of faith choosing a lesser known character to add to the DCEU roster, that has only played out further with its director and star. Swedish Sandberg has had a stellar rise in movies beginning with his debut feature, horror Lights Out in 2016, based on the very scary no-budget short of the same name he made with his wife, which he followed up with Annabelle: Creation, a much-better-than-it-had-any-right-to-be prequel to The Conjuring prequel Annabelle – both for Warner Bros – before picking up his first big budget superhero film."I'm not sure why they thought I would be suitable for [Shazam!], after doing horror movies with them, but I guess they saw something there that worked for them – working with kids, maybe. I don't know," he says humbly. The fact that both those films were critically and financially successful can't have hurt, and if the trailer and the first reactions to it are anything to go by, Shazam! could follow suit.
Star Levi shows a similar sense of self-deprecation when we ask about how he came on board."I was unemployed, so that helped. Just having a job is always a good thing," he laughs. "But the job actually found me, in a lot of respects. Knowing the business that we work in, I know that oftentimes they're looking for really, really big names to open movies. So I didn't think I was a big enough name or a big enough person, really, to fill these shoes.
"Very much like Billy Batson doesn't really think that he is worthy of being chosen by the wizard, I didn't really think I was the right guy for the job. It turned out that I did end up being the right guy for the job. Once I found myself in the job, I couldn't have been more grateful for it. These roles come around very seldom. To be the title character of a superhero franchise is like winning the lottery seven times over. The whole thing, it continues to be very surreal, and I'm beyond grateful for it."
From our chats with Levi and Sandberg we can see why he's a great fit.
"He just felt like a big kid. He felt perfect," agrees Sandberg, who worked with Levi and Angel to help them convince the audience they were the same person, finding little mannerisms and patterns of speak that matched. "They look somewhat similar," Sandberg says. "You could believe that Asher would grow up to be him."
For Levi the trick was not overthinking things.
"There's kind of a bit of a Peter Pan in me, which I think definitely led to me getting this job. But all that said, I'm still very much a nearly 40-year-old adult. Life gets complicated and jaded, and it's very easy for us to lose that naiveté. I found myself in a few scenes here and there thinking, 'OK, what are the stakes here? What's going on?' And then I would have to catch myself and say, "Hang on a second – Billy Batson would not be thinking about any of this stuff. He would just be reacting to whatever is going on!'"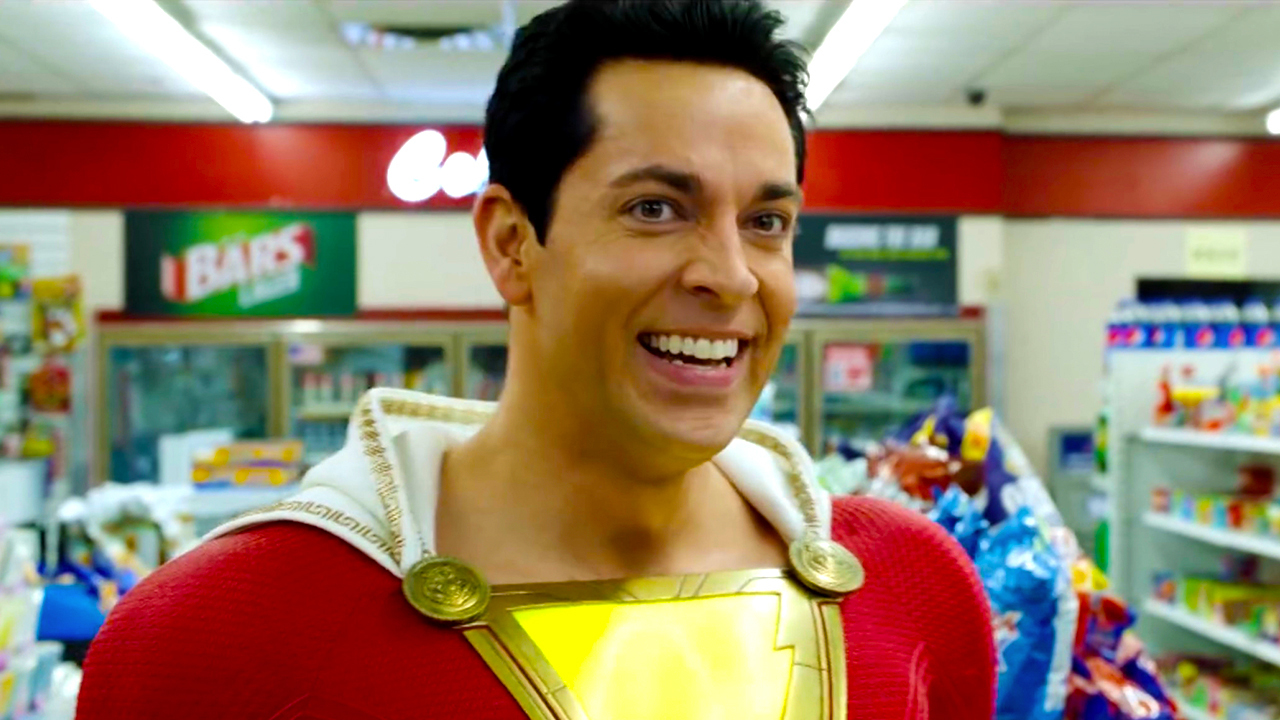 Same universe, different world
It's undeniable that compared to the DCEU movies that have come before (Man of Steel, Batman v Superman: Dawn Of Justice, Suicide Squad, Wonder Woman and Justice League, with Aquaman on the way in December), Shazam! looks and feels different. But the film definitely exists within that universe providing plenty of opportunity for cute nods and winks back to the previous films.
In Shazam! The Justice League and and their surrounding sidekicks and nemeses are real figures who inhabit Billy and Freddie's world.
"I would say that we might be the most self-aware of any DC movie," Levi explains. "Because it's about kids who are fans, or at least in the case of Freddy Freeman, who's a massive superhero fan. He knows all about Aquaman and Wonder Woman and Batman and Superman. He has trinkets and paraphernalia, because all of that is really happening in our world, and we get to talk about it and reference it in ways that other DC movies just don't."
Does that mean we can expect even more Easter Eggs for the wider DCEU to look out for? "Yeah. But I can't spoil them!" laughs Sandberg, though he's not giving any more away despite our efforts to persuade him.
Sandberg assures us that the process of making movie was a very positive collaborative experience for him."Already in pre-production, as we were developing the script with Henry [Gayden, screenwriter], we'd have these meetings with Geoff Johns [Chief Creative Office of DC at the time] and talk through it. It felt like we were all on the same page. Yeah, it's been a very smooth process so far."
While Levi speculates that the variation in tone could be Warner and DC pivoting slightly away from Zack Snyder's original vision to allow different styles and flavours to become part of the DC Universe, each to best fit the style of the material, particularly after the great success of Wonder Woman which boasted a very different aesthetic and emotional core to previous DCEU fare.
"It seems to me that they're allowing filmmakers to really make the version of these movies that they feel like are best for that franchise," says Levi. "And if they can fit together in a larger sense, then they'll try to do that. So I think the idea with Shazam! was: 'Let's go do what's best for Shazam!', and then simultaneously, depending on the direction of the other movies and where they go, maybe we'll all be able to collaborate and do stuff together."
A growing family
Where could Shazam! and the extended 'Shazamily' (as Levi refers to it) go next within the bigger DC Universe then? Certainly initial plans were for anti-hero Black Adam to appear in Shazam!, though the character, who's still earmarked to be played by Dwayne 'The Rock' Johnson, now won't make an appearance.
Instead plans seem to be that Black Adam will get his own standalone movie – this was rumoured to be heading into production in 2019, though this could of course change. Reports for a time hinted that Henry Cavill's Superman was set to make a cameo at some point in Shazam! (possibly in a post-credits sequence) though this too looks to be off the table.
But that certainly doesn't rule out further adventures for Batson and his grown-up alter-ego. Sandberg says there are definitely places he'd like to take Shazam, and not just him alone, either.
"It's also some of the characters that appear in this movie that I would want to see more of in a sequel, together with Shazam," he says. "The whole foster family, you just want to see more of them, because they're just such great kids. They have such a great dynamic, you know? They've got that Goonies kind of feel to them."
Levi agrees. "It's a story about redemption and finding family, even where you least expect it. It's full of heart, and full of levity and action and fun."
So would he be happy to reprise the role, even if it meant getting back that assistant for his groinal area?"It's a small price to pay to be a superhero," he laughs. "I would gladly don that suit and do the same thing again!"
Shazam! opens in UK cinemas on 5 April 2019