Reviews
Every River Runs To Salt by Rachael K. Jones Review
Quietly's college roommate steals the Pacific Ocean in this wonderfully-imaginative speculative fiction novella from Rachael K. Jones.
This Every River Runs To Salt review contains some spoilers.
Environmental activism is a staple of forward thinking speculative fiction for a reason: we don't take care of the earth, and maybe she won't take care of us back. The Great Pacific Garbage Patch has been behind several stories and a pretty cool graphic novel series (Great Pacific by Joe Harris)—and it's a real thing in serious need of environmental action. (You can read more about the reality of the situation in National Geographic's article from March 2018.)
All of that aside, it is safe to say that no one has ever treated the Great Pacific Garbage Patch with as much mythologically-laden lyricism as Rachael K. Jones. In her long-form debut Every River Runs To Salt, a novella out today from Fireside Press, Jones turns ideas and metaphors into living, breathing characters. She designs an underbelly to a university town that's both underworld and a chance for redemption, maybe in the same breath. She underscores all of these big, mythologically inclined characters by grounding her narrative in love—what it means to hold on, and let go, and come around changed on the other side.
If this sounds like a lot to handle in a slim, 54-page novella (per the page count in the ePub edition I received for this review), it may well be, but Jones handles it with such aplomb and such gloriously beautiful prose that it will carry you—as long as you're willing to let it take you for the ride.
Oceans in jars
I keep an ocean in a jar on my nightstand and a handful of coffee beans in my pocket. My roommate Imani once held the Pacific Ocean hostage in our living room, but that was before she died and I followed her down to the Under-Ath to fix the mess she left.
Narrator and protagonist Quietly doesn't believe Imani when she first announces that she's stolen the Pacific Ocean over their university summer break. Imani, who has a glacier for a great grandparent, is irate the way only a glacier can be: once she's made a decision, she's an unstoppable force, moving over everything until she's accomplished her goal.
The Great Pacific Garbage Patch was, truthfully, discovered in 1988; as Imani points out, it's older than both Imani and Quietly, who are perpetual college students putting off graduation by one more class every semester. No one is doing anything about it, so Imani decides she's going to show the world just how much they've taken the Pacific for granted—by bringing it home with her in a mason jar.
One taste tells Quietly that the water Imani's brought home is something big, but the whole ocean? Sure enough, the news forecasts begin to report the missing ocean. All of it, gone, including the gyre (a circulating system of ocean currents) that harvests all the garbage for the Great Pacific Garbage Patch. Of course, the garbage is still there, waiting to be picked up. Quietly suggests that Imani needs to return the ocean before something really bad happens, but Imani is resolute: no ocean returned until the garbage is gone.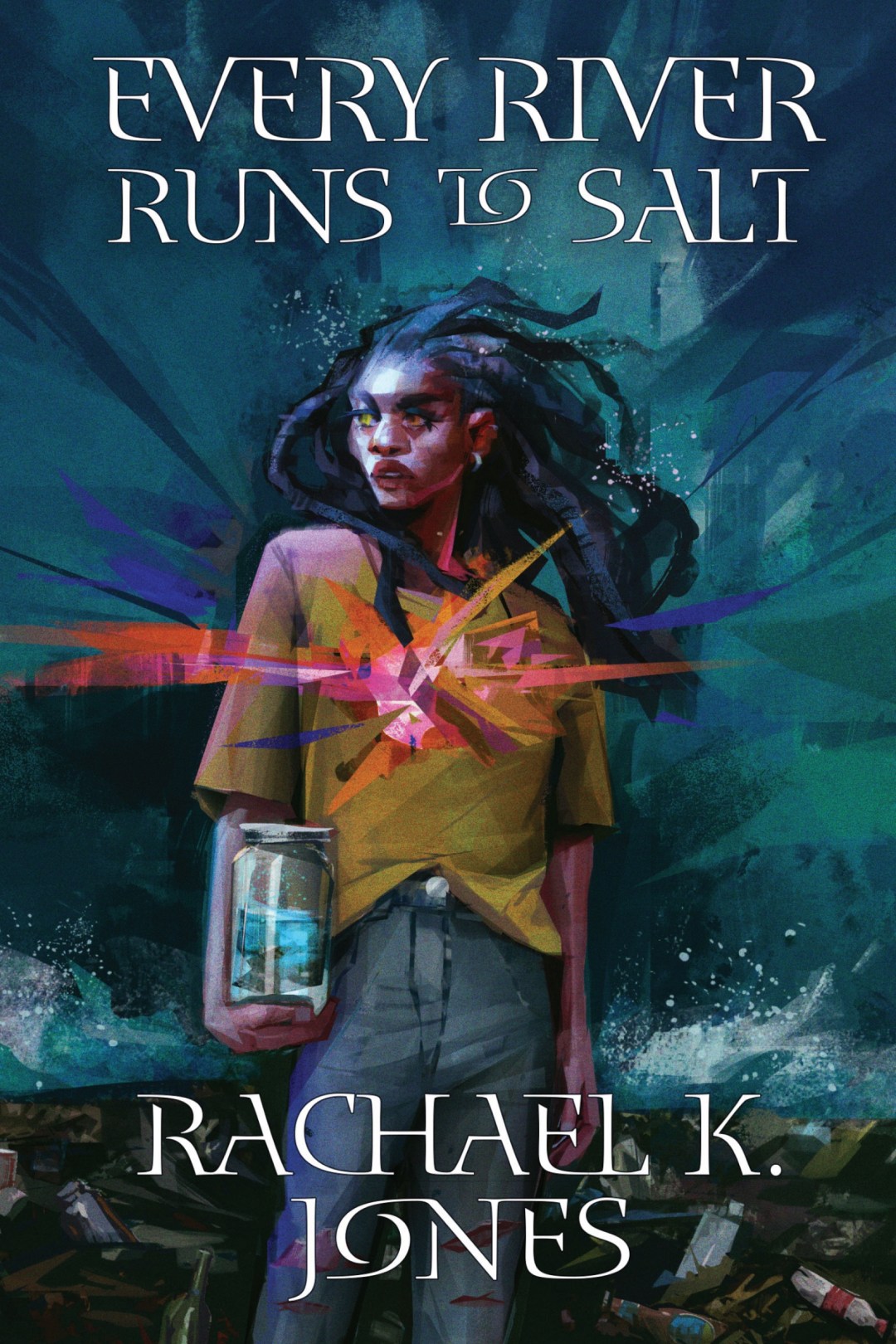 The "hypotheticals"—personifications of place
That's before California comes calling. A personification of the idea of California, the being appears, demanding the return of the Pacific, and giving Imani the gift of yearning. It's a curse, but a disguised one: the University of Georgia protects its students in Athens, and no true curses can get through it's guard.
Instead, Imani is overcome with love for the Pacific, and even if she wanted to give it back, she finds she's unable to do so. When Oregon and Washington arrive, things get even worse, and the gifts they give Imani turn her, like Lot's wife, into a pillar of salt. This leaves Quietly to figure out how to get the ocean home, before they claim her as well for that single taste of ocean she took at the beginning of the story.
Divided between Athens, Georgia, and Under-Ath, the gyre beneath the old university town, where its own waste—the wash ups and has beens—flows, the novella offers a rich setting at every turn. Here, the places truly are characters, sometimes literally in human form. A glacier can have children, an ocean can be in love, and a river can offer friendship to a student with nowhere else to turn. Jones's real-world details are exquisite, and needed because so much of the world of the story is bigger than real, larger than life.
While Jones is not African American herself, her two lead characters are LGBTQ African American women, whose friendship is also a love-in-potentia, a relationship that hasn't yet changed into something more than platonic. But Quietly admits to herself that the reason she hasn't yet graduated college is because she doesn't want to graduate from Imani, to move on and leave her.
When Imani dies—or, because she's also possibly an ocean, doesn't quite—Quietly has to learn how to navigate both the world of jobs and whatever happens after college, beyond the university's protection, and the dangers of the magical Under-Ath without her. Luckily, Quietly finds a loud voice, and to claim agency for not only her own story, but for the world.
For the sheer beauty of the prose, and for the reinvention of American mythology, Every River Runs To Salt is well worth the read.
Every River Runs To Salt is now available to read.
Read the latest Den of Geek Special Edition Magazine Here!